Kraków has become my temporary wartime home. When Russia began it full-scale invasion of Ukraine on February 24, 2022, I made the difficult decision to leave my home in Lviv and depart for Poland. I didn't know how long I would be gone or where I would end up; but once I made it to Kraków I realized that this was the best place for me – it was the closest both geographically and culturally to Lviv. I had many offers to stay with friends around Europe or even go to Copenhagen to my company's headquarters, but I wanted to stay somewhere familiar, I wanted to stay in Galicia. Not only has the city proven to be very welcoming, but Poland in general has done so much for Ukraine and the Ukrainians that ended up in their country. I couldn't imagine being anywhere else at this time. Though some people are starting to return to Lviv, I will wait a little longer, especially as friends from Kyiv are currently living in my apartment in Lviv and since my company opened an office in Kraków.
***
Lviv / Lwów / Lemberg was the capital of the Austrian crownland of Galicia, while Kraków, the second major city of the region, was considered the unofficial capital of the west of Galicia. Under the Austrian Empire, both cities underwent construction booms in the second half of the nineteenth century up to WWI, where the same styles, in particular Vienna-influenced Historicism and Secession, were widely employed. This shared architectural heritage is one of the reasons I feel almost at home here in Kraków.
Furthermore, many similar – if not identical – architectural details can be found in the urban fabric: there were companies that supplied and/or manufactured architectural details for both cities; architects that worked in both cities; and the same societies, which also left there physical mark on the city, that functioned in both cities.
Below I have gathered 12 ways that the cities are connected through their historical built environment.
I. Identical Buildings and Tile Patterns
Similar architectural styles were employed in both Kraków and Lviv making the overall feel of the cities very similar. At times, one can even find connections that are not just similar but practically identical.
1. (Almost) Identical Railway Workers Building Complexes
The first big reminder of Lviv that I found in Kraków was this railway workers complex. One day I stumbled across this complex of neo-Gothic buildings, which is almost identical to a railway workers complex in Lviv.
I had a feeling the complex in Kraków was built for a similar purpose – and indeed I found that the complex, built 1908-1909, designed by Stanisław Ujejski, and located at 6, 7, 8, and 9 Blich Street, was designated for officials of the Imperial Royal State Railways.
The Railway Workers Complex in Kraków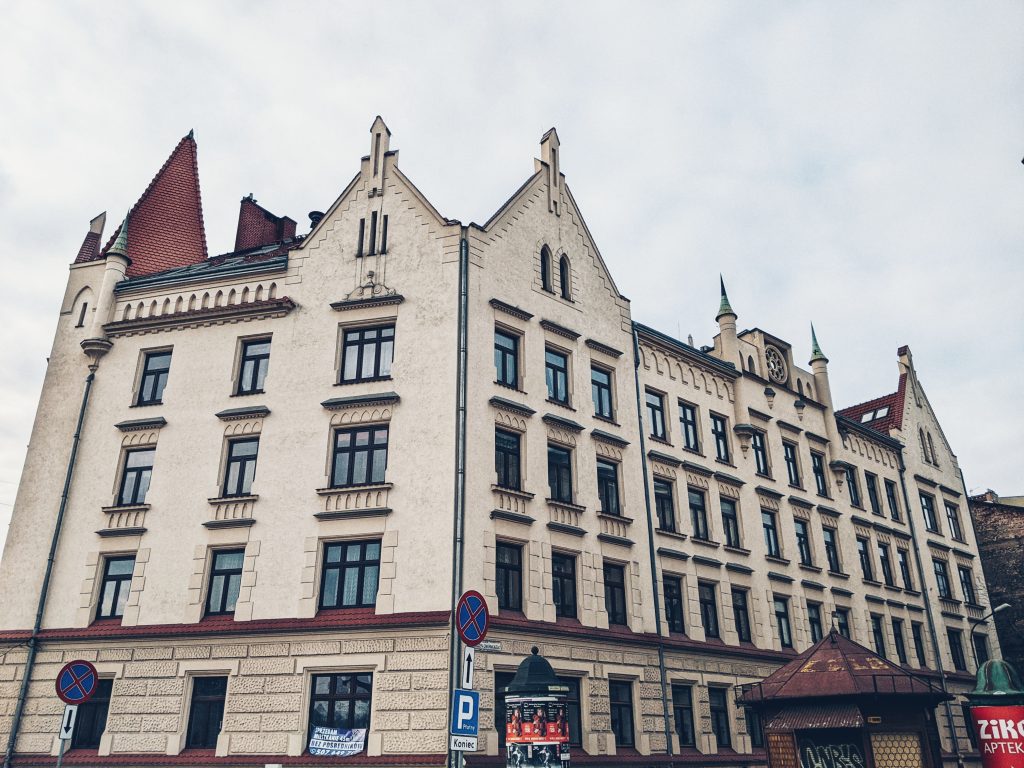 The Railway Workers Complex in Lviv
The complex in Lviv, located at 165, 167, 169, 171, and 173 Horodotska Street, near the main railway station, was built in 1909-1912 for Lviv railway workers. I haven't been able to find who the architect was, but it is possible it was the same as the one who designed the complex in Kraków – Stanisław Ujejski. In any case, it cannot be just a coincidence that the buildings are so alike – at the very least one was inspired by the other.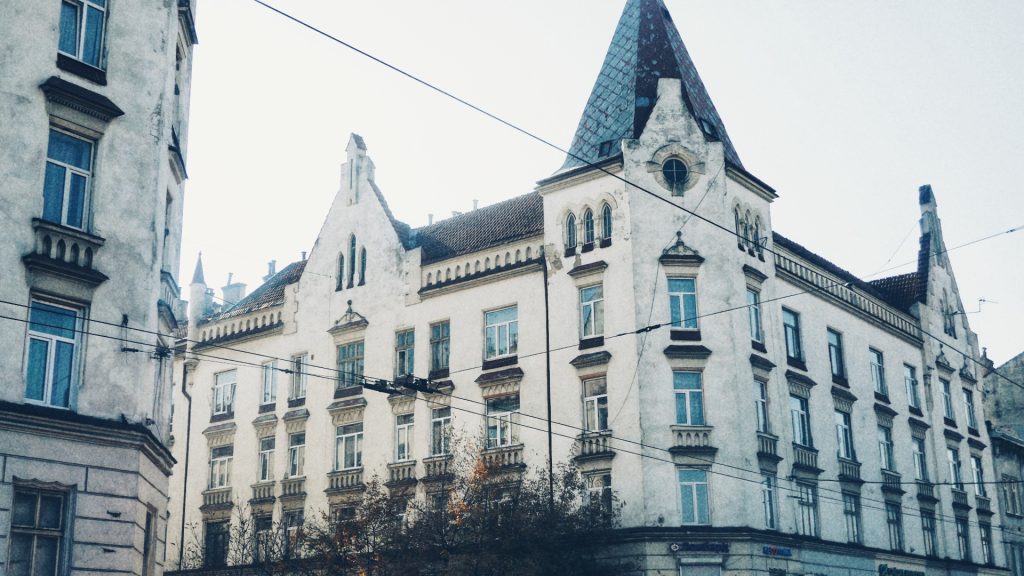 2. Identical Tile Patterns
Every time I pass an open door, I cannot help myself but enter and check out the floor tiles and other details in the entryway. Within the first couple of weeks I was in Kraków, I had found identical floor patterns to ones I had documented in Lviv. The explanation is quite straight-forward: many of the same companies worked across Galicia, and thus supplied the same tiles to different cities and towns in the region. (More about this below.)
The images on the left are from Kraków; the images on the right from Lviv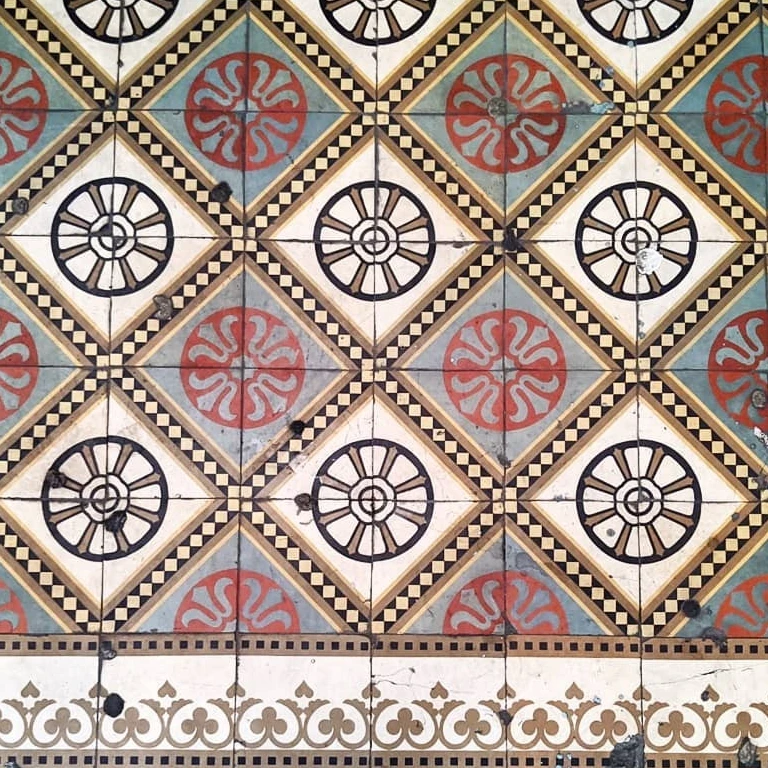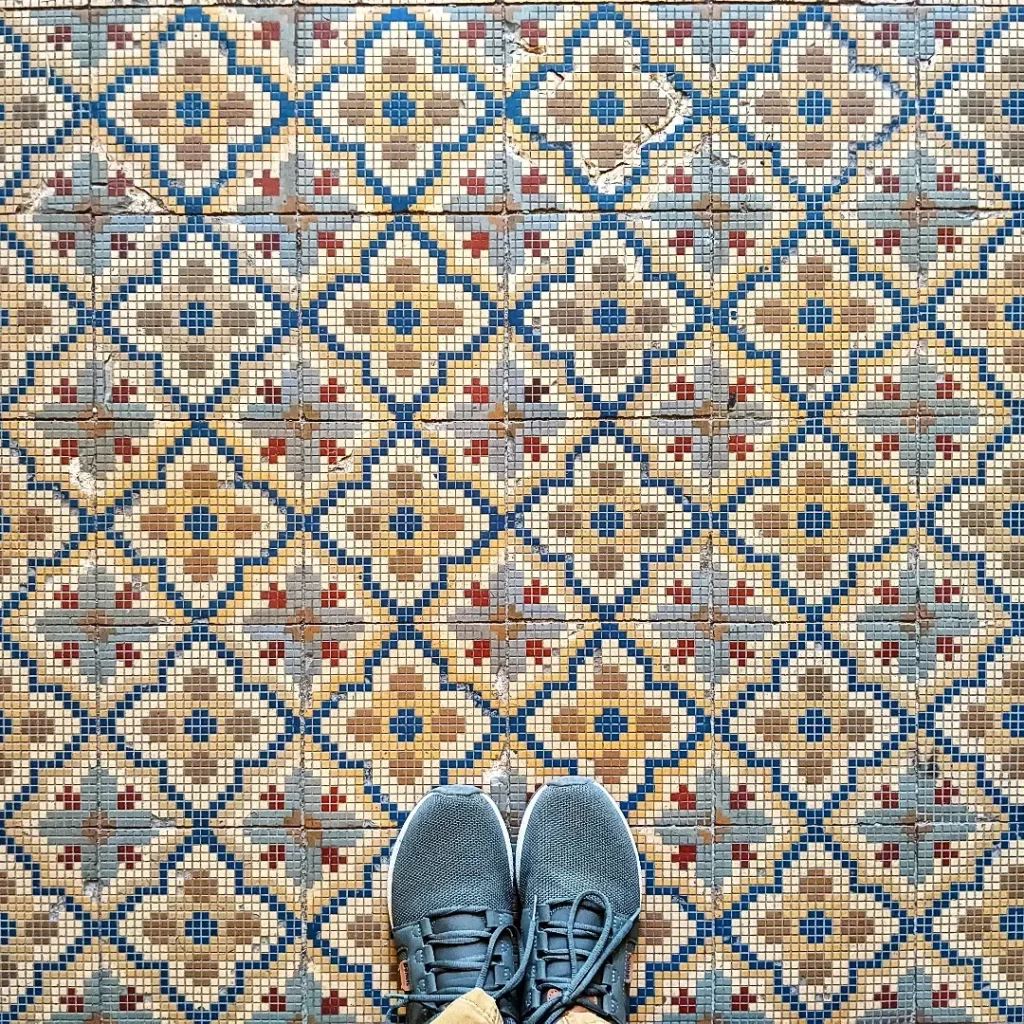 II. Lviv-Kraków Architects
There are two architects who immediately come to mind when thinking about the two cities; two architects who lived and worked in both cities, who designed buildings across Galicia, but especially whose work can be found in Kraków and Lviv. These architects are Teodor Talowski and Jan Sas-Zubrycki.
3. The Architecture of Teodor Talowski
One of the architects associated with both Kraków and Lviv is Teodor Talowski – one of the most important Polish architects of the late nineteenth and early twentieth centuries. He has been described as the "Galician Gaudi" or the "Polish Gaudi" because he combined a variety of historic influences. His works include apartment buildings, churches, chapels, and public buildings in Kraków, Lviv, and other cities and towns throughout Galicia.
Teodor Talowski (1857-1910) was born in Zasów near Tarnów, and attended a gymnasium in Kraków. Later he moved to Vienna, where he studied architecture under Karl König. After two years he moved to Lviv, to study under Julian Zachariewicz at Lwów Polytechnic, from which he graduated in 1881. He came back to Kraków to be a professor at the Higher School of Technology and Industry. In 1901 he was appointed the chair of the Department of Drawing and later the Department of Medieval Architecture Composition at Lwów Polytechnic. Talowski died in Lviv but was interred at the Rakowicki Cemetery in Kraków.
On the left: Talowski's personal residence Under the Spider (1889), Kraków; On the right: Former St. Elizabeth Roman Catholic Church (1904-1911), Lviv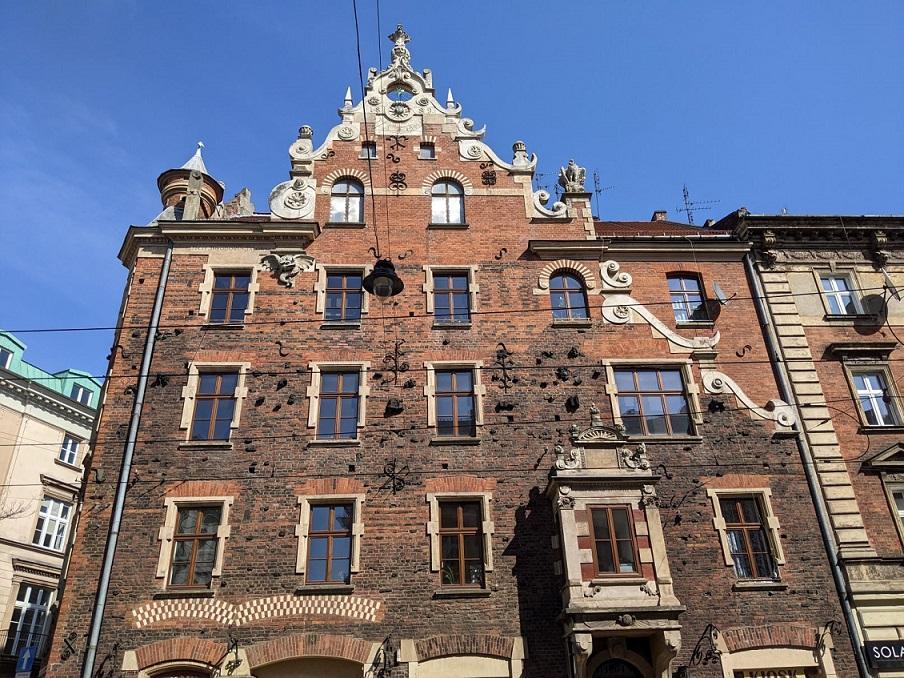 4. The Architecture of Jan Sas-Zubrycki
The other architect closely associated with both Kraków and Lviv is Jan Sas-Zubrzycki – a Polish architect, historian, and theorist of architecture. Zubrzycki was known for his work in the neo-Gothic style and is the originator of the so-called Vistula Style. He designed dozens of churches as well as residential and public buildings across Galicia.
Jan Sas-Zubrzycki (1860-1935) was born in Tłuste (today, Tovste), Galicia. In Stanislawów (now Ivano-Frankivsk) he graduated from a secondary school and the Imperial-Royal Gymnasium. In 1878–1884 Zubrzycki studied at the Faculty of Architecture of the Lwów Polytechnic. In 1886–1912 he lived in Kraków. From 1912, he lived and worked in Lviv. He is buried in Lychakiv Cemetery in Lviv.
On the left: Church of Our Lady of Perpetual Help (1905), Kraków; On the right: Former Church of St. Francis of Assisi (1925-1930), Lviv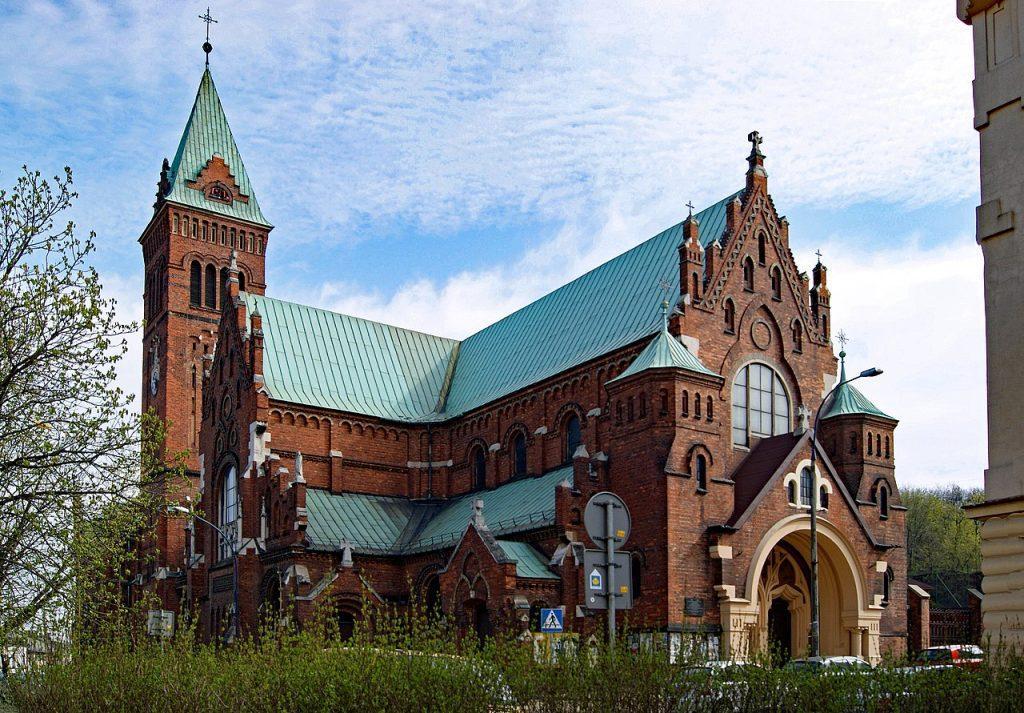 While living in Kraków, Jan Sas-Zubrzycki lived in a house on Słowackiego Street that he designed and built (1895-1899) for himself. To this day, it remains the property of the architect's descendants. In Lviv, from 1913, Jan Sas-Zubrzycki lived in a villa built 1891-1892 by architects Julian Zachariewicz and Ivan Levynskyi. While not designed by him, it is indeed one of the most unusual villas in Lviv – very fitting for this colorful architect. Interestingly, the villa in Lviv is also still in the hands of his descendants, who have preserved the authentic details of the house.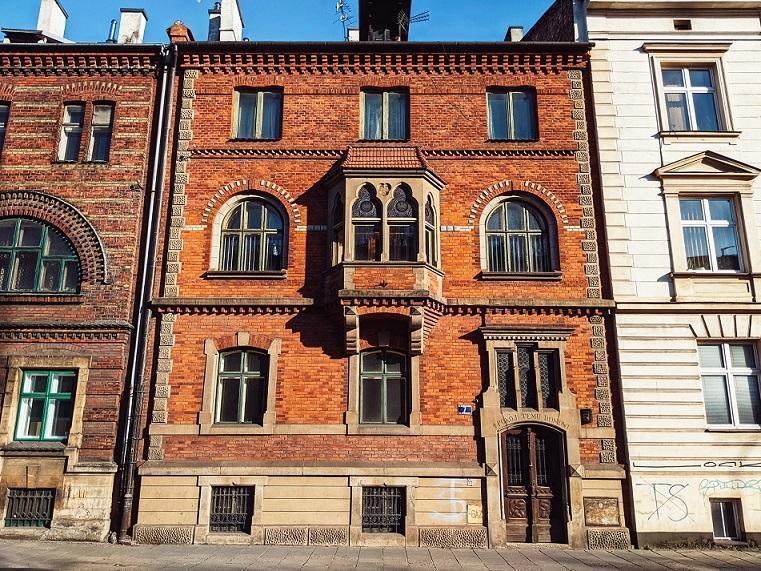 III. Building Material Companies That Left Their Marks on Both Cities
Many building material companies and factories worked across the region and the empire. Thus it is not surprising to find in both cities details (such as roller shutters, ceramic tiles, stained glass, metalwork, and terrazzo floors) manufactured or supplied by the same companies: companies based in Kraków, in Lviv, or even elsewhere.
Thanks to this, one can literally find Lviv's mark in the urban fabric of Kraków: the inscription "Lwów" (e.g., Bielicki i Weitzen Lwów and L. & G. Kaden Kraków – Lwów). The same is true the other way around – "Kraków" can be found in the urban landscape of Lviv (e.g., Krakowski Zakład Witrażów S.G. Żeleński and L. Zieleniewski – Kraków). Furthermore, there were several companies who had branches in both Galician cities and so it is even possible to find an inscription that includes the name of both cities.
5. Roller Shutters by N. Bielicki i Weitzen Lwów
On one of the first days I was in Kraków, while at an anti-war rally on the town square, I noticed an old roller shutter with the N. Bielicki Lwów inscription. I knew this name well as most of the antique shutters that still remain in Lviv were made (or more likely just supplied) by N. Bielicki, whose company was located at ul. Gródecka 43 (Horodotska St.).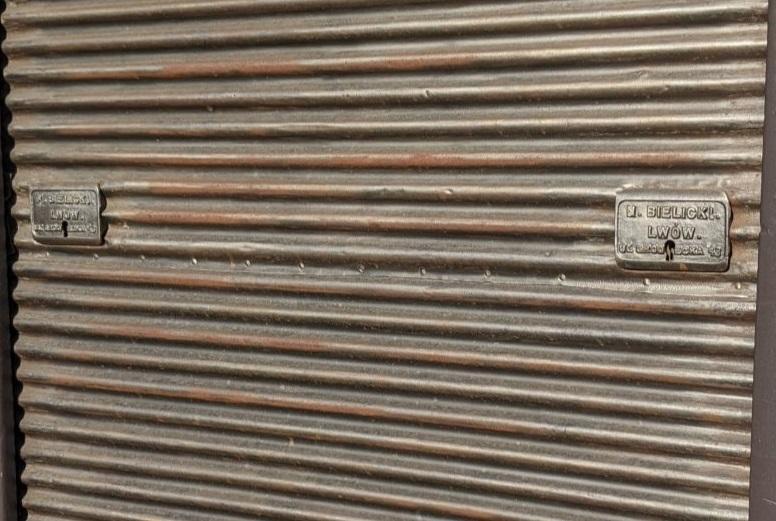 At some point N. Bielicki partnered with Weitzen, and the company was named Bielicki i Weitzen. Plates with this inscription can also be found in both Kraków and Lviv.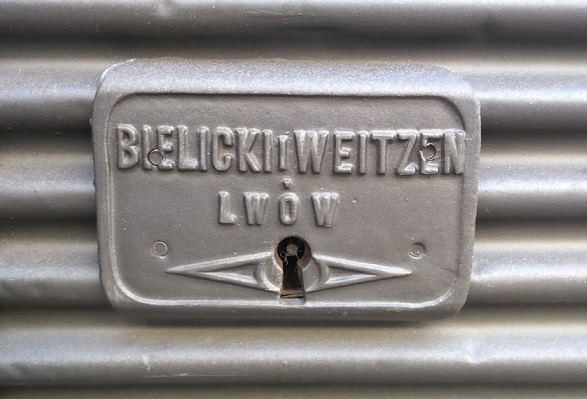 6. Roller Shutters by Vienna-Based Companies
There were at least three Vienna-based companies that supplied roller shutters across the empire, including to Kraków and Lviv.
Johann Anderle – Wien V/I
On the roller shutters with the N. Bielicki lock plates in Kraków, there is also an inscription from Vienna-based company Johann Anderle. Likely Anderle manufactured the roller shutters in Vienna, while Bielicki supplied them to Kraków and other Galician cities. Roller shutters with the Anderle inscription can also be found in Lviv.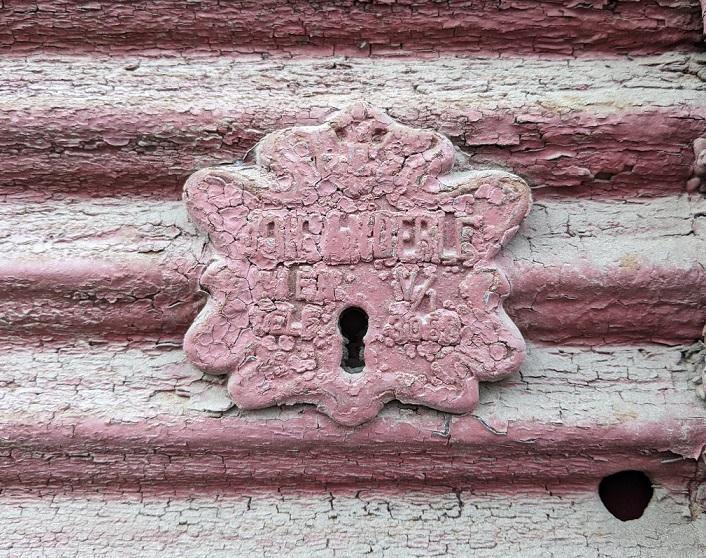 Johann Schuberth – Wien
Johann Schuberth's Vienna-based company also worked across the empire.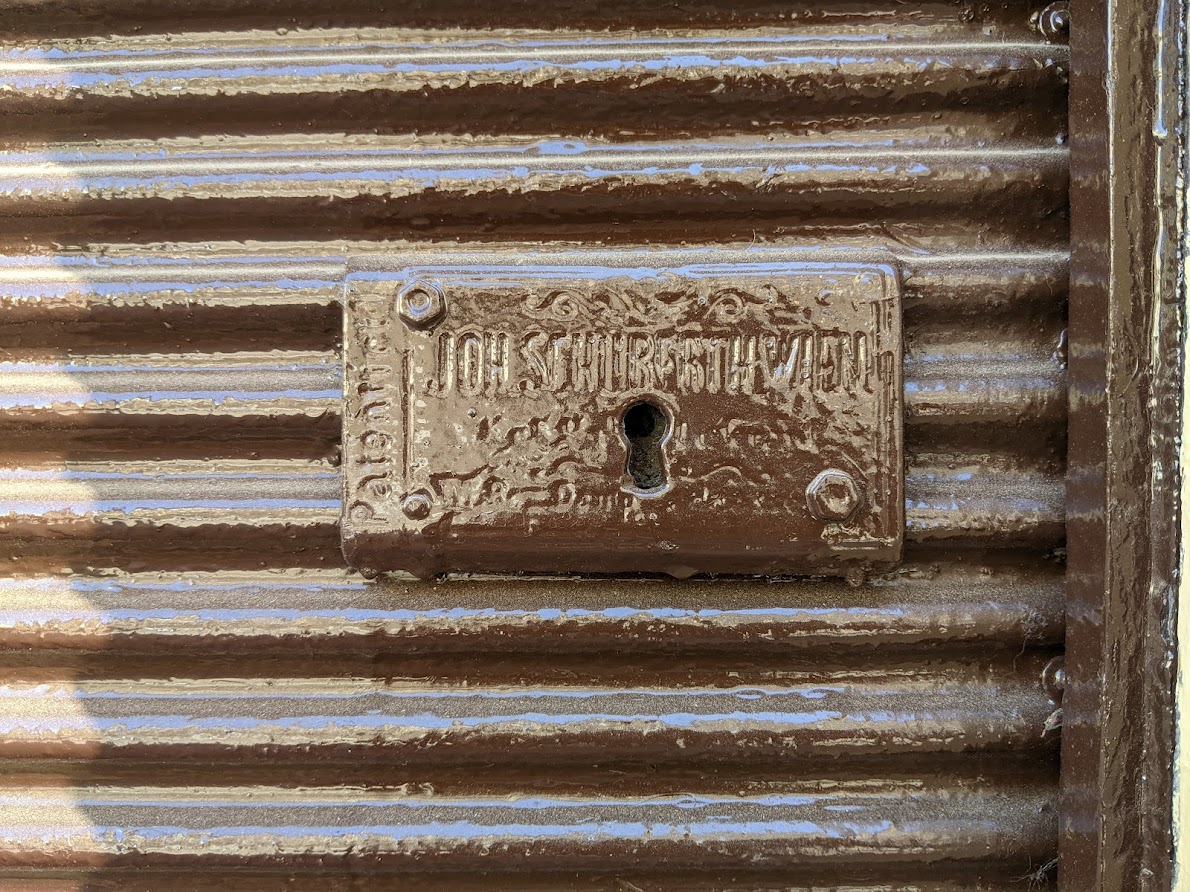 E.S. Rosenthal's Erben Wien XV/I
As did E.S. Rosenthal's Erben's Vienna-based company.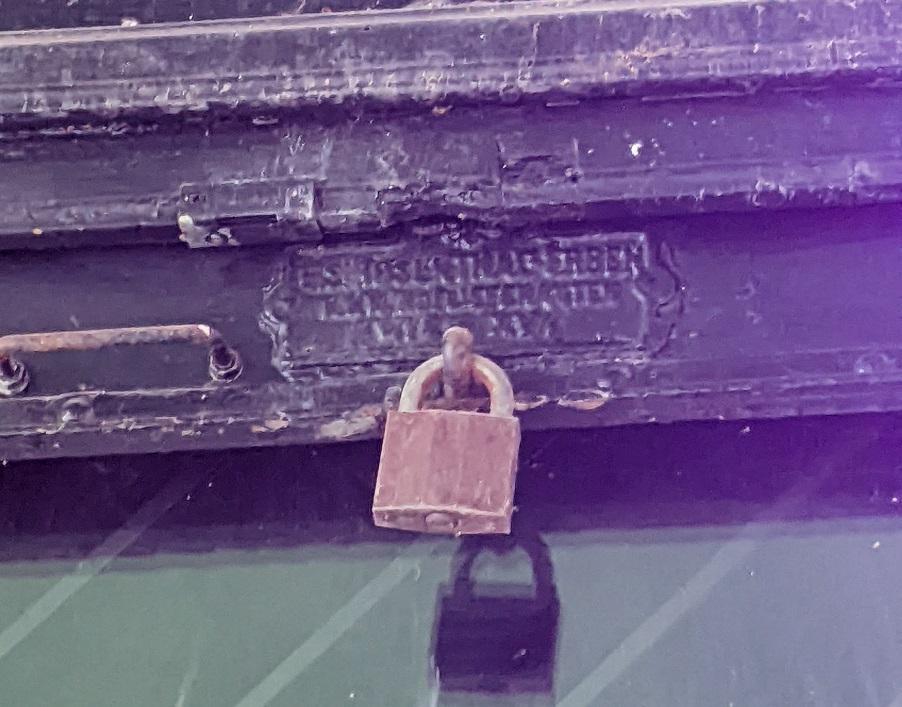 7. Ceramic Tiles by L. & G. Kaden Kraków – Lwów
The names "Kraków" and "Lwów" can be found together on the same inscription thanks to Ludwik and Gustaw Kaden's company. In the 1880s, they founded their company in Kraków, and in 1912 opened a branch in Lviv. They sourced, sold, and installed ceramic tiles produced by other companies, for example of the Czech company RAKO.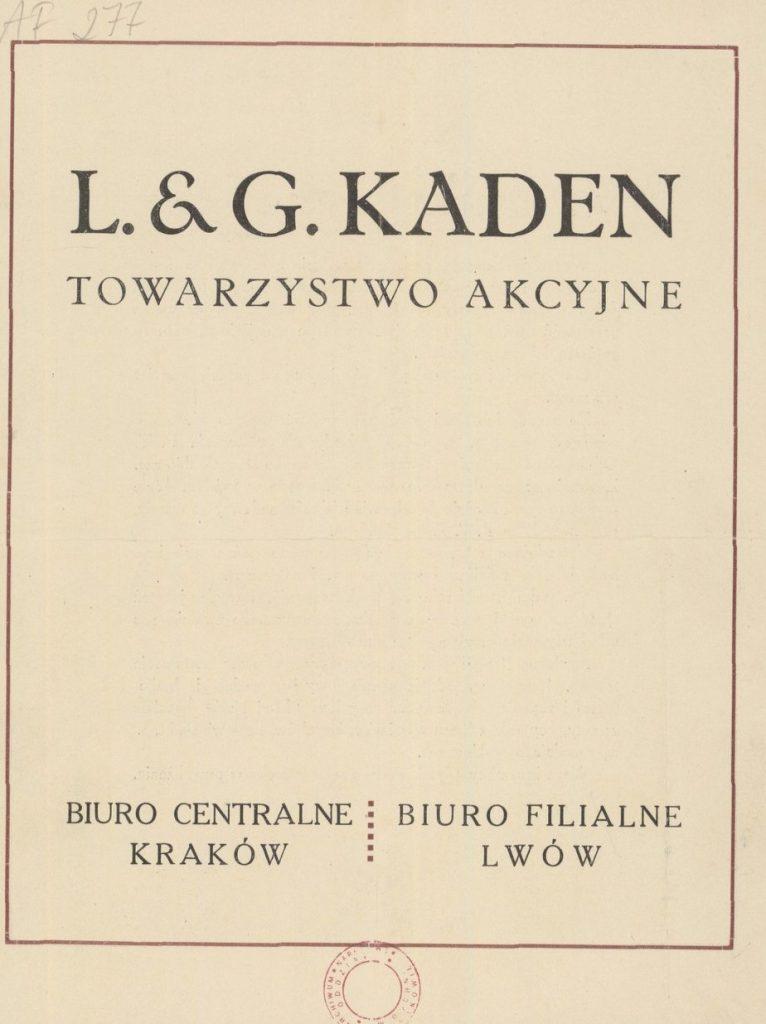 Their tiles can be found not only in Kraków and Lviv, but in other places, such as in Tarnów and Drohobych.
Kraków Examples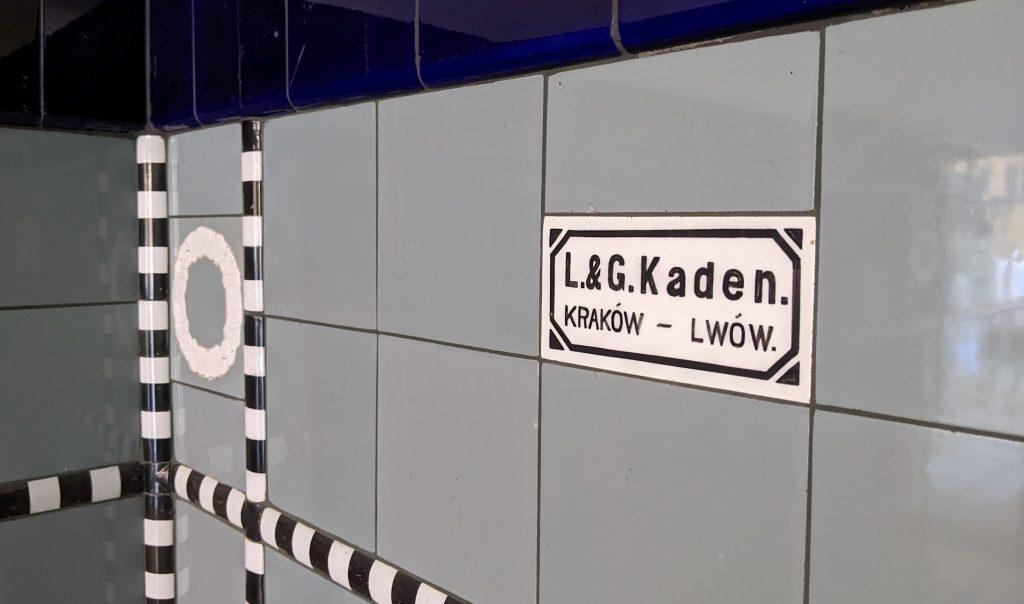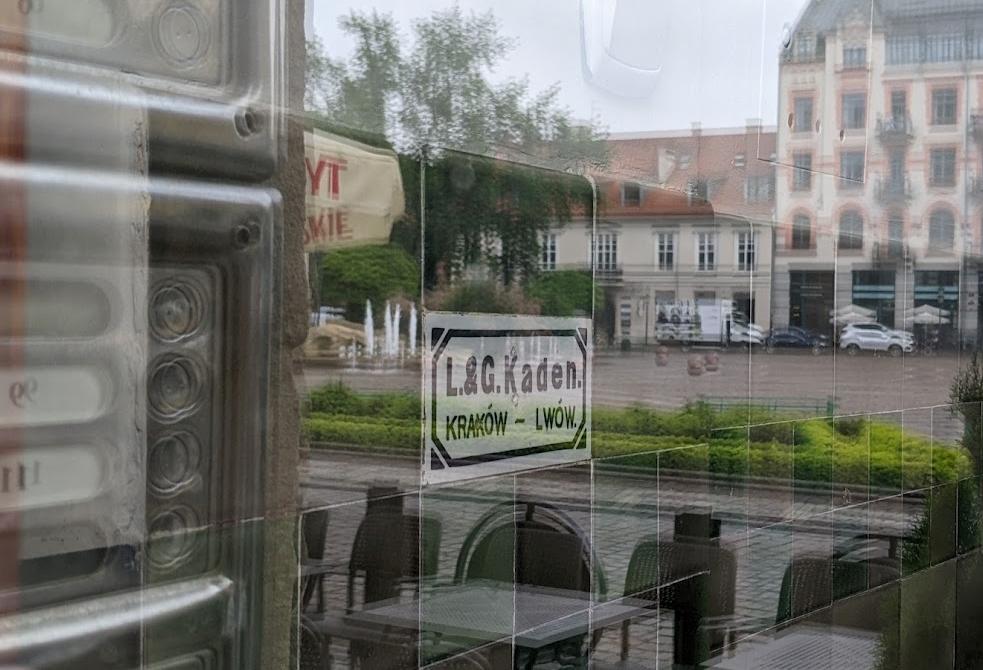 Lviv Examples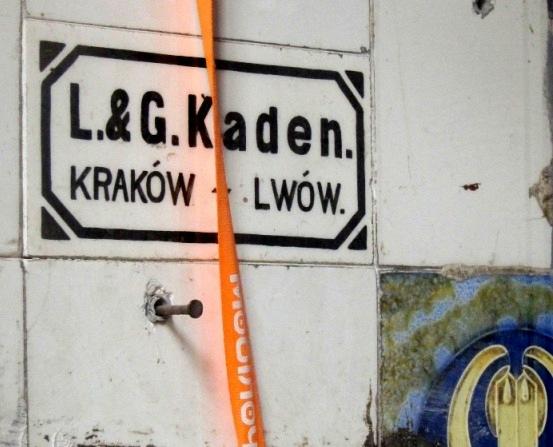 8. Stained Glass by S.G. Żeleński
Kraków is known for it beautiful stained glass windows made by S.G. Żeleński Kraków Stained Glass Company (Krakowski Zakład Witrażów S.G. Żeleński). Quite a few examples of such stained glass windows can also be found in Lviv – executed by the same Kraków company.
Kraków Stained Glass Company was established in 1902 by Stanislaw Gabriel Żeleński, an architect. After Żeleński died in 1914, his wife Izabela took charge of the enterprise. In 1952 the workshop was nationalized and remained in the hands of various worker cooperatives until 2000 when Piotr Ostrowski bought out the workshop. Now, like at the beginning of the 20th century, the workshop produces prestigious works of art. S.G. Żeleński is the oldest existing stained glass workshop in Poland.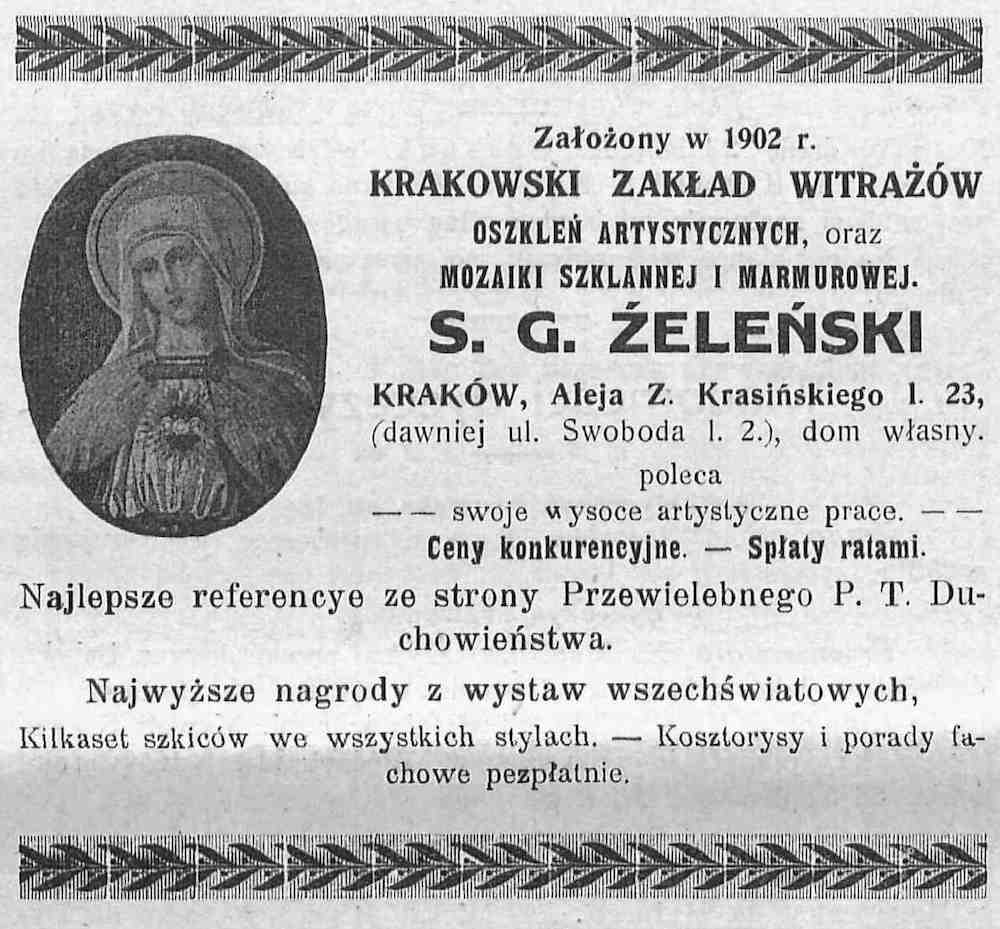 Before the First World War, the Kraków firm was one of the largest in Central Europe. It fulfilled orders not only across Galicia and Bukovina, but also for France, England, and America. One of the most important factors in its popularity was Żeleński's collaboration with famous Polish artists, such as Jan Matejko, Stanisław Wyspiański, and Jozef Mehoffer.
From 1910, the Żeleński factory was the main producer of stained glass in Lviv, receiving very prestigious orders both before the First World War and during the interwar period. Among famous Ukrainian artists that Żeleński collaborated with were Modest Sosenko, Petro Kholodnyi, and Yulian Butsmaniuk. Until 1939, Żeleński's firm was practically the only implementer of all large stained glass projects created for the churches of Galicia.
Kraków Examples
Stained glass by Żeleński's firm can be found in many places in Kraków, in churches, public buildings, and residential buildings. Quite often I come across their work as I explore the city. The examples below are in residential buildings.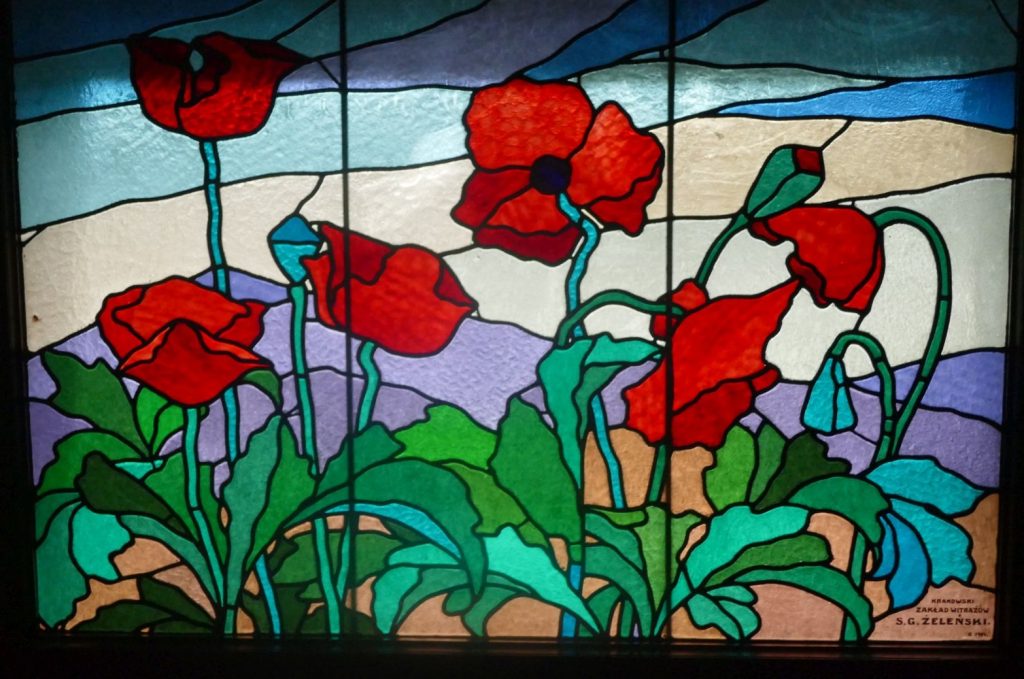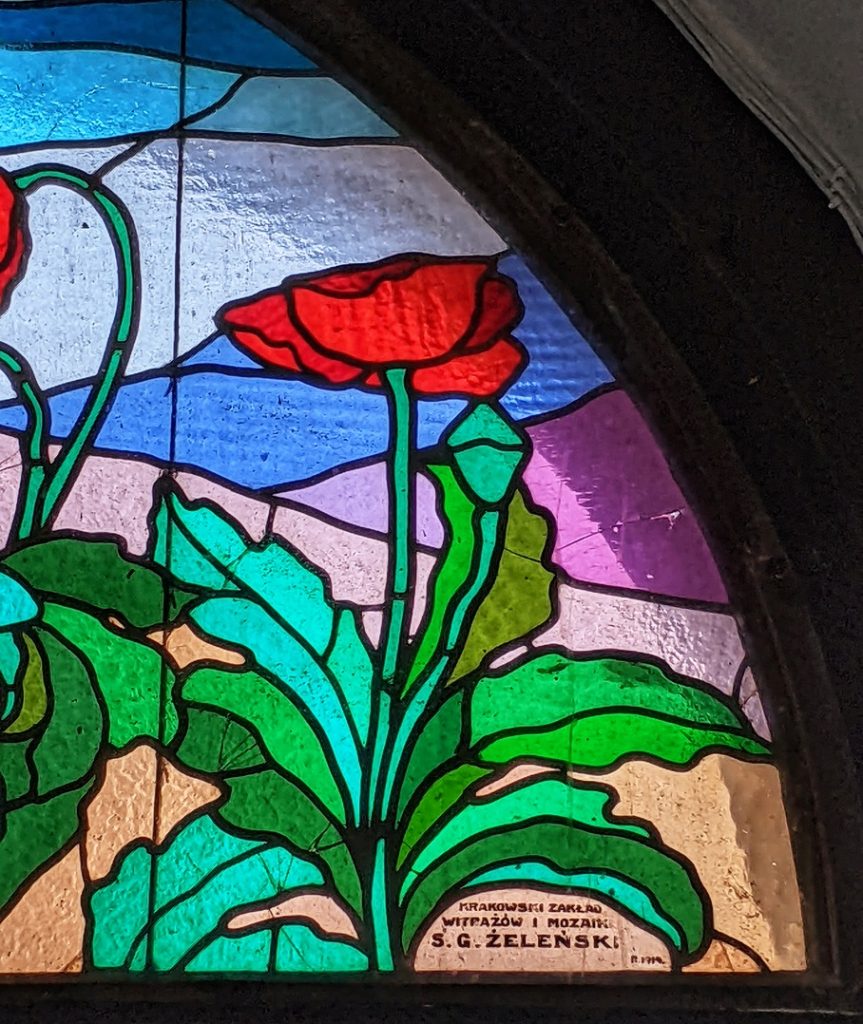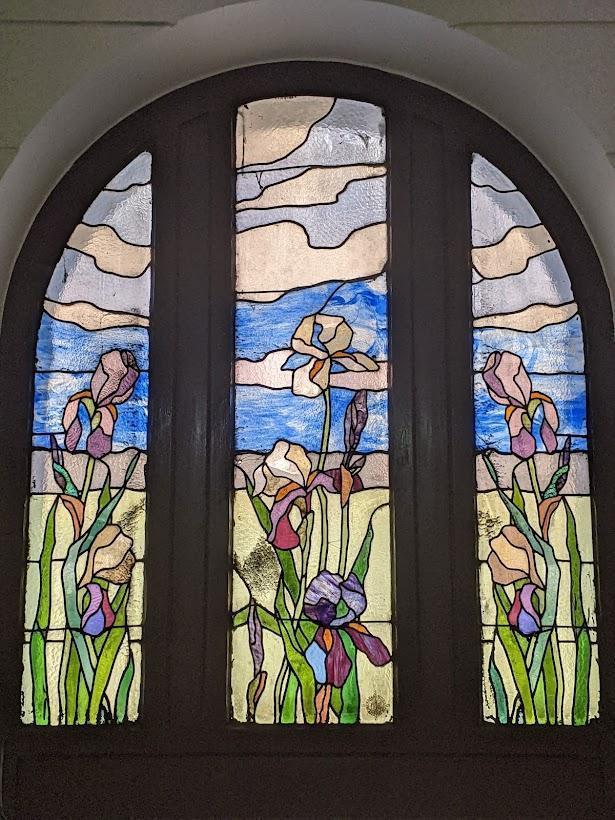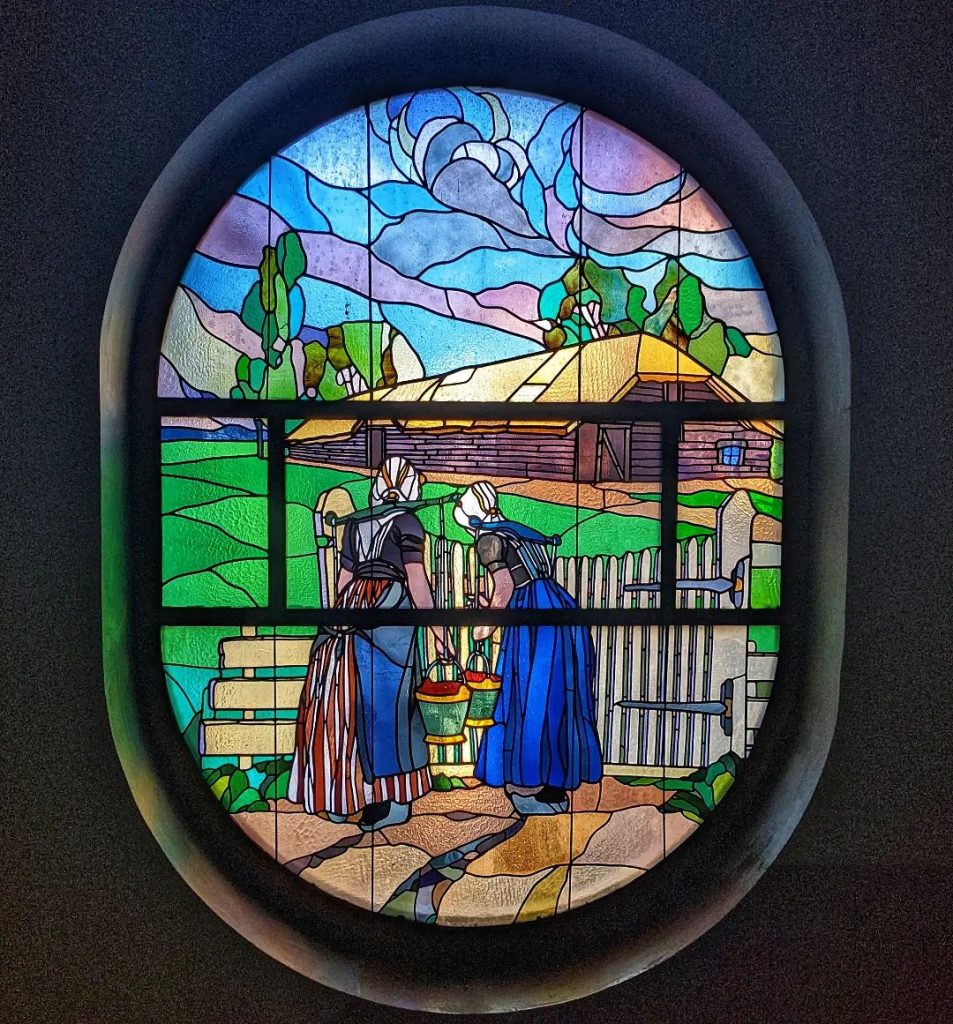 Lviv Examples
In Lviv I have seen a several stained glass windows made by S.G. Żeleński, both in public buildings and in residentials ones.
Stained glass window in the former Technical Institute (1907-1909), designed by Stefan Matejko: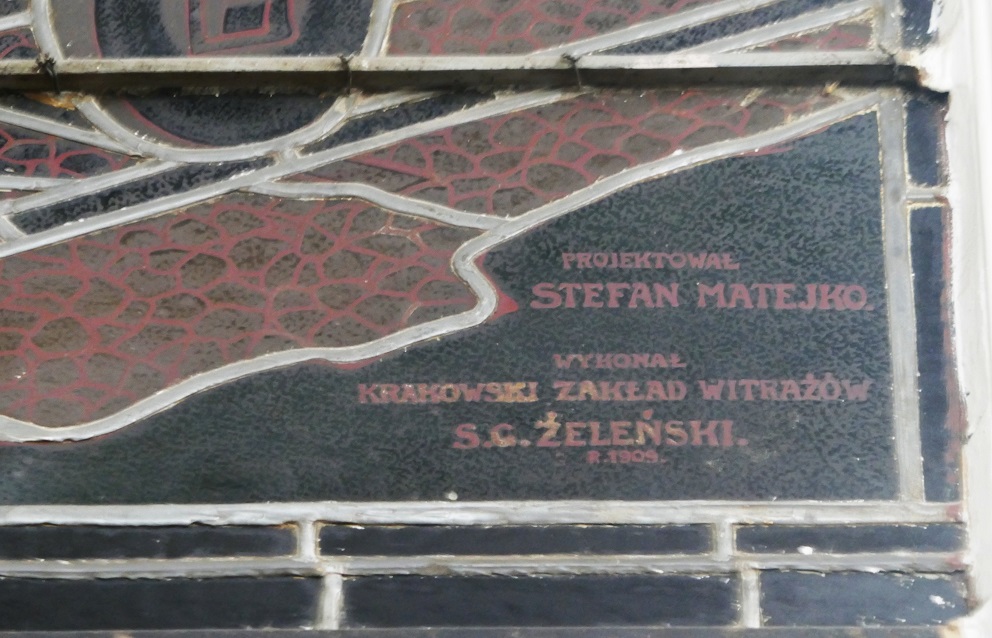 Stained glass windows made in 1914 for the former Austro-Hungarian Bank building (built 1912-1913):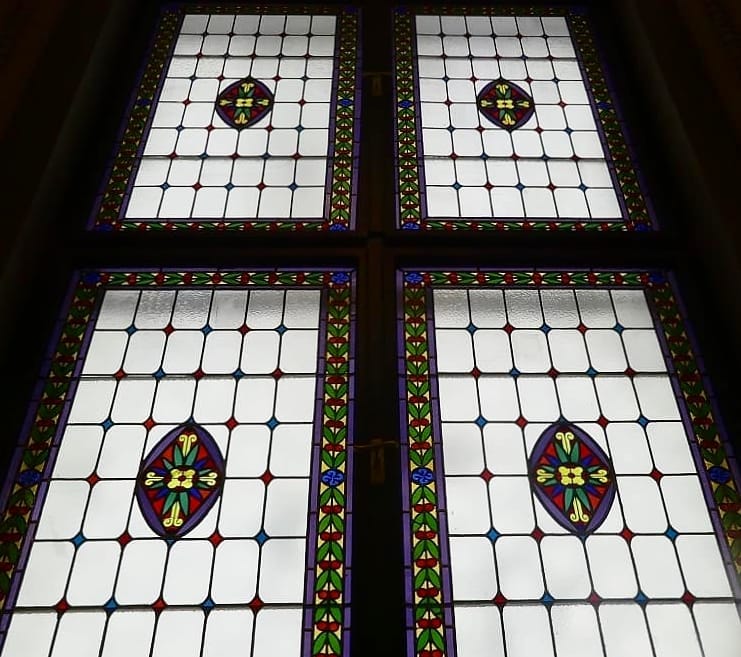 Stained glass made in 1931 for a villa in Lviv: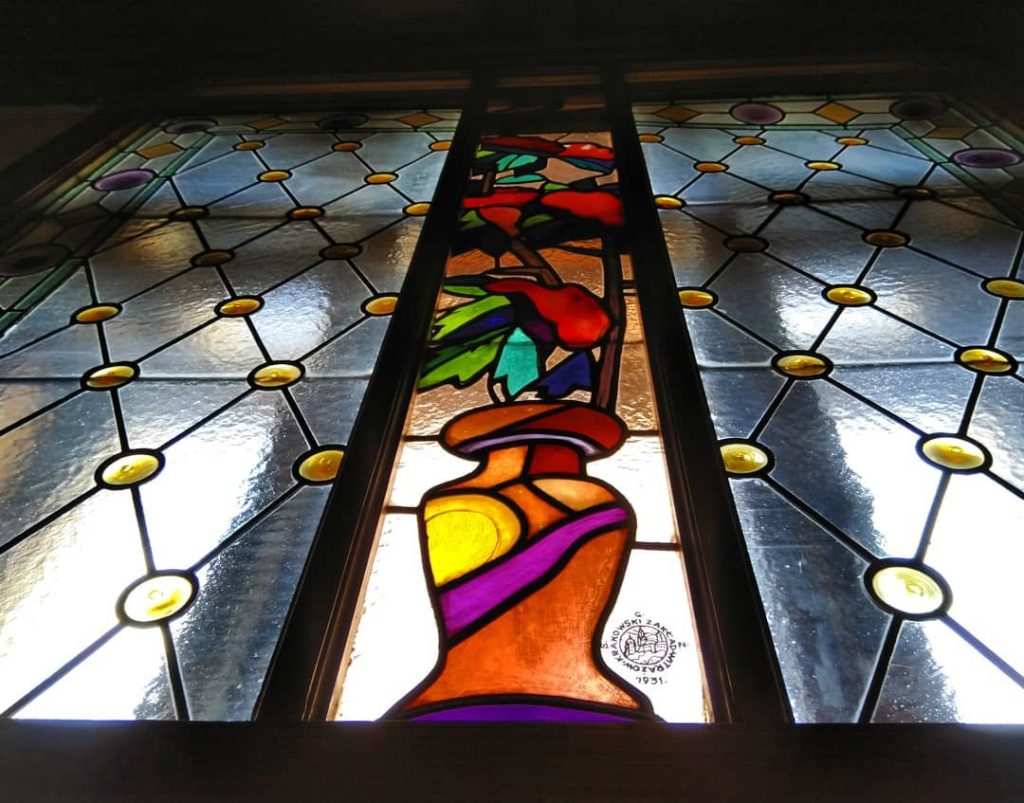 9. Metalwork by L. Zieleniewski – Kraków
In Kraków, one of the most common manufacturer's marks is "L. Zieleniewski": this inscription can be found around the city on all sorts of historical metal objects.
L. Zieleniewski was the first factory in Kraków and one of the first in Poland – and the company is still operating today. Founded in 1804 as a forge (the original forge can still be found in the Old Town) by Paweł Nowakowski, then taken over by Antoni Zieleniewski and later Antoni's son Ludwik, the company produced a wide range of metal parts, equipment, and machines.
For example, L. Zieleniewski produced metalwork for train stations of the Galician Transversal Railway (1882–1884) – their label can be found on the columns of the platforms. And notably, Zieleniewski produced the impressive train shed over the platform of the Lviv Railway Station (1903).
In 1906, the Zieleniewskis transformed their family business into a joint-stock company. In 1913, the company bought the Prince Lubomirski's Machine Factory in Lviv and in the same year merged with the First Galician Society for the Construction of Wagons and Machines in Sanok. The company changed its name to Polskie Fabryki Maszyn i Wagonów – L. Zieleniewski w Krakowie, Lwowie i Sanoku SA (Polish Machinery and Wagon Factories – L. Zieleniewski in Kraków, Lviv, and Sanok), becoming the first multi-plant industrial concern in Galicia.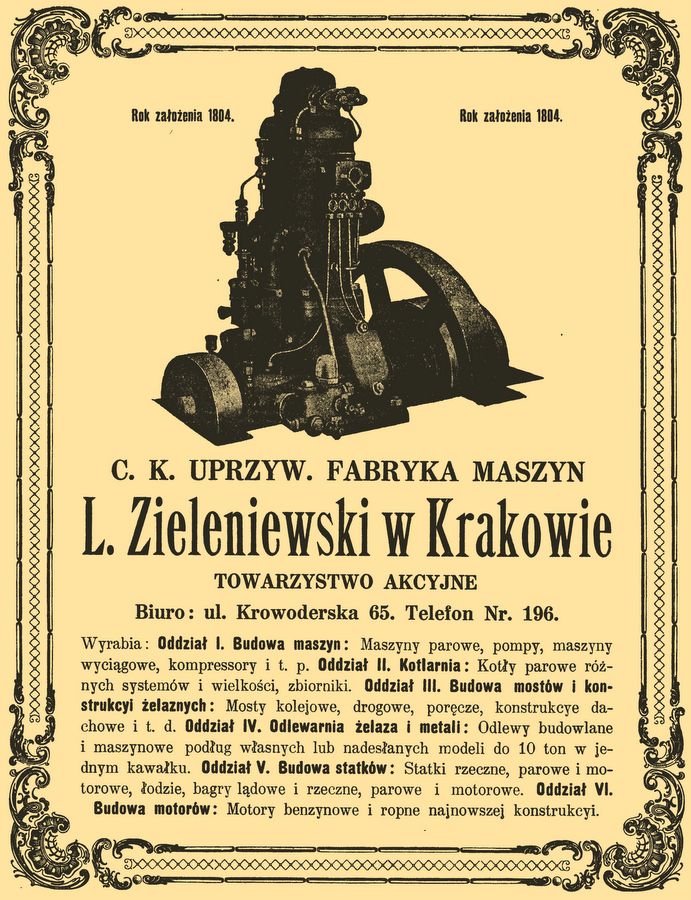 Kraków Examples
In Kraków the Zieleniewski inscription can be found on such objects as storm drains, metal fences, guard stones, and downpipes.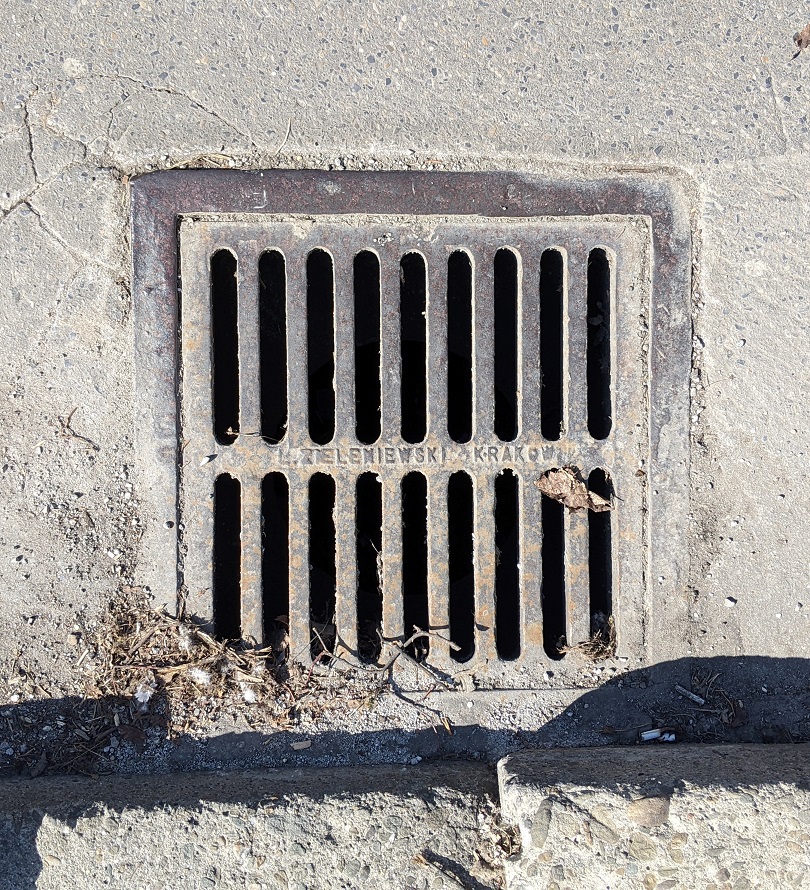 Lviv Examples
In Lviv, the Zieleniewski inscription can be found on lampposts, metal work in the railway station, and on manhole covers.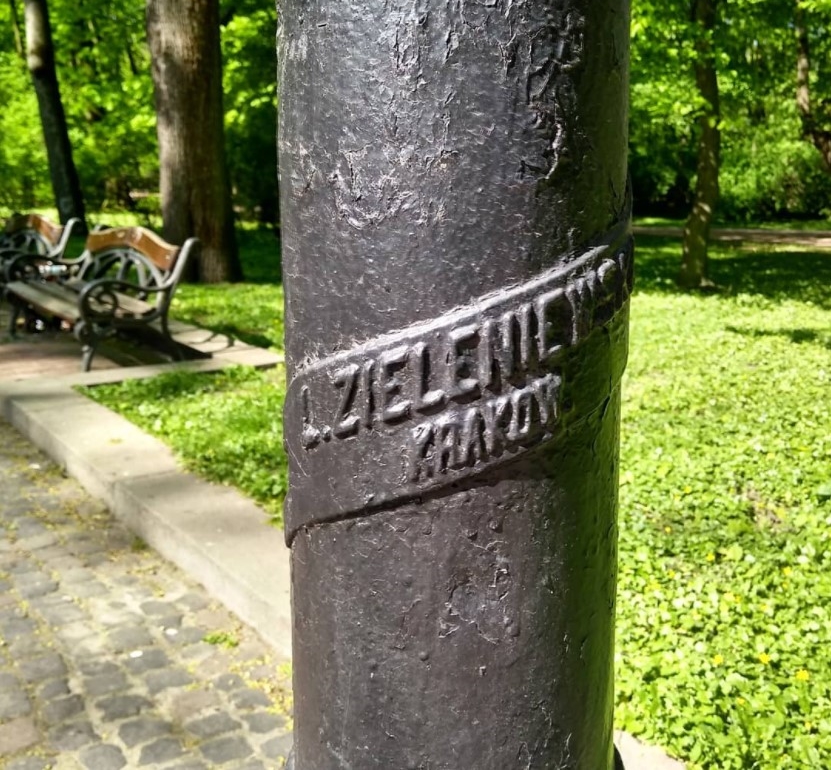 10. Terrazzo Floors by G. Zuliani
One of my favorite things about having my blog is connecting with the descendants of the people whom I write about, the people who literally helped build and decorate Lviv and other parts of Galicia before WWII. From them I have also discovered more about the lives and fates of their ancestors. This connection makes me feel like I know the people who built the cities. Subsequently, every time that I come across their names inscribed in the urban landscape, I feel like it is a personal greeting from them. (Most notably, this happened when I met the granddaughter of engineer Bolesław Słowik who had a metalworks factory in Lviv.)
This happened to me again recently in Kraków: I posted images of terrazzo floors in Kraków and Lviv made by Giovanni Zuliani and his great-great granddaughter who lives in Kraków commented on the post, and shared with me more information about him.
Giovanni Zuliani's Lviv-based company specialized in mosaic and granite terrazzo prepared in Venetian style, marble ornamentation of walls and furniture, and all kinds of cement work. The company had branches in three other Galician cities: Stanisławów (Ivano-Frankivsk), Chernivtsi, and Kraków.
From Giovanni's great-great granddaughter I learned that Giovanni Zuliani was originally from Istrago – Friuli-Venezia Giulia. He started his career in Lviv as a manager in the stonemasonry shop of Leopold Schimmer. After Leopold's death he opened a company with his brother – Bracia Zuliani. In 1982 Giovanni became the sole owner of the company named Zuliani, and in 1901 the company began to use the inscription "G. Zuliani i Syn." His son Francesco Zuliani lived in Kraków and he was a owner of the last company in Kraków after his father's death in 1909.
Francesco is buried in Rakowicki Cemetery in Kraków and according to one source Giovanni is buried in Lviv in a grave together with Leopold Schimmer.
She also shared that Giovanni Zuliani executed earthworks for the construction of Lviv National Opera (with Chyliński and Chądzyński) and together with Ivan Levynsky's company, he realized the design of the opera floor.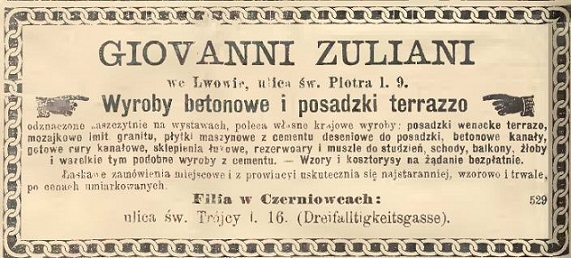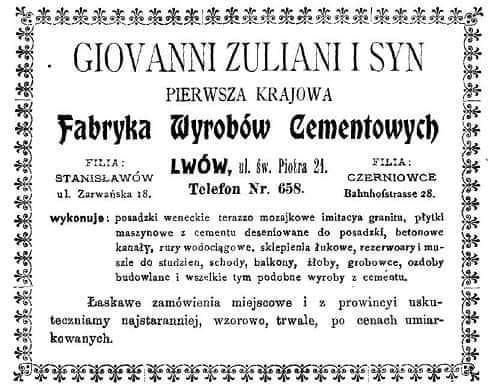 Kraków Examples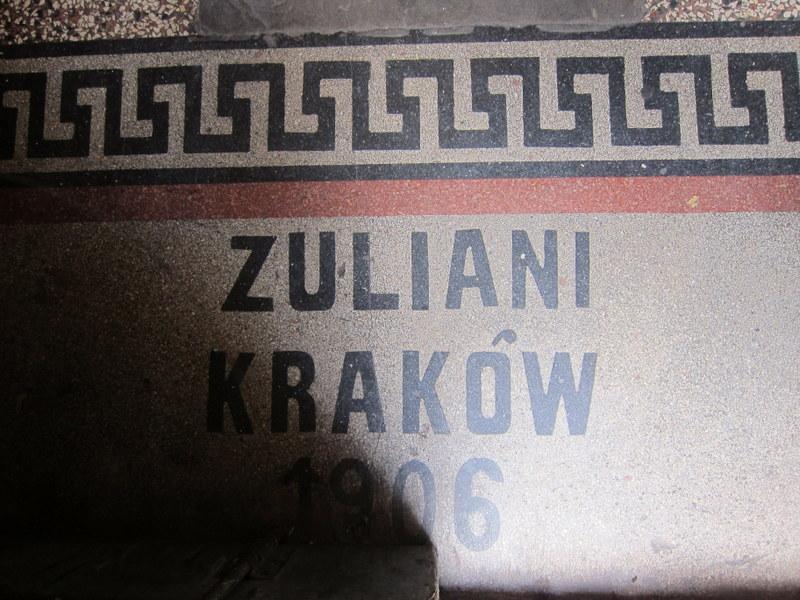 Lviv Examples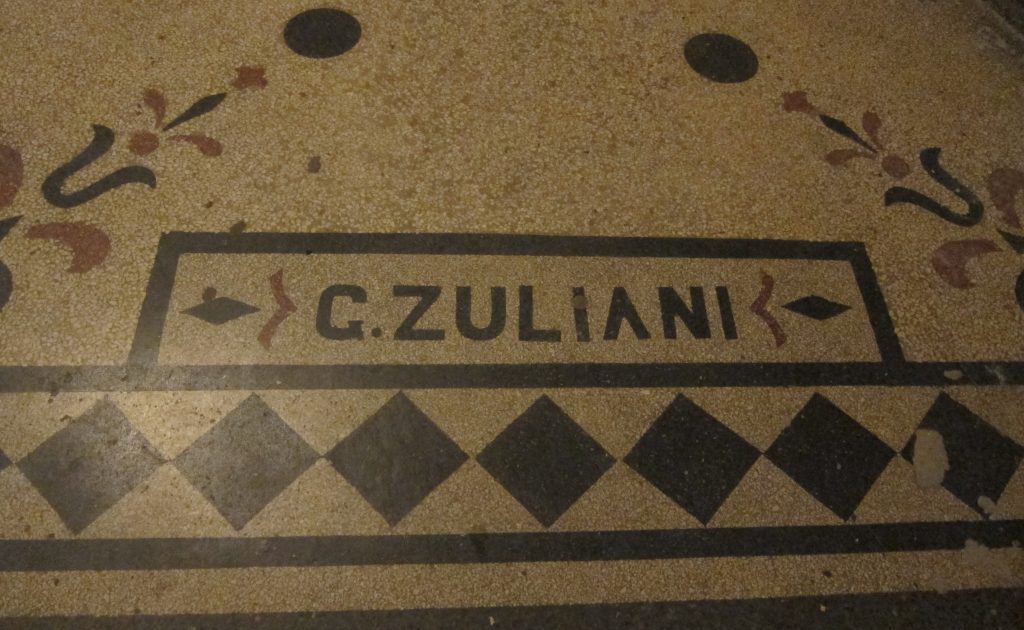 IV. Associations
Many societies and associations functioned in both cities. Two that immediately came to mind when I arrived in Kraków were Sokół and the Kraków Mutual Insurance Society, in particular, because their architecture or mark can be found in the built environment of the cities.
11. Buildings of the Sokół Polish Gymnastic Society
There are certain building types that can be found in just about every Galician town, and one of my favorite is the Sokół building.
The Sokół Polish Gymnastic Society was established on February 7, 1867, in Lviv. The basic aims of the society were the promotion of gymnastics and national revival in all parts of partitioned Poland. In Lviv, Sokół built a building in 1884 to serve as a sports center and a headquarters of the society. Around the turn of the century, other branches of Sokół also started to build their own buildings. Today, the former Sokół buildings stand in the center of most Galician towns on both sides of the Polish-Ukrainian border.
The Sokół Building in Kraków
The Kraków Sokół building was built in 1889 according to the design of Karol Knaus. In 1894, Teodor Talowski enlarged the building and decorated its façade with Romanesque and Gothic elements.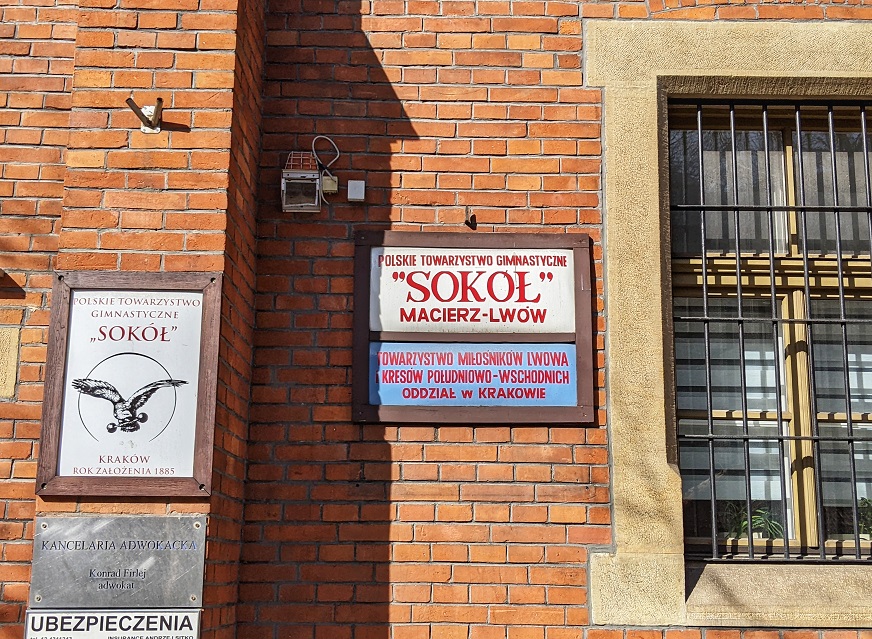 The Sokół Building in Lviv
The Sokół building in Lviv, designed by architect Władysław Halicki, was built in 1884. Financial support was given by Jan Dobrzański, who was the chairman of the society for many years (1871–1886). In 1907, a second building, designed by Alfred Kamienobrodzki, was built and merged with the original one.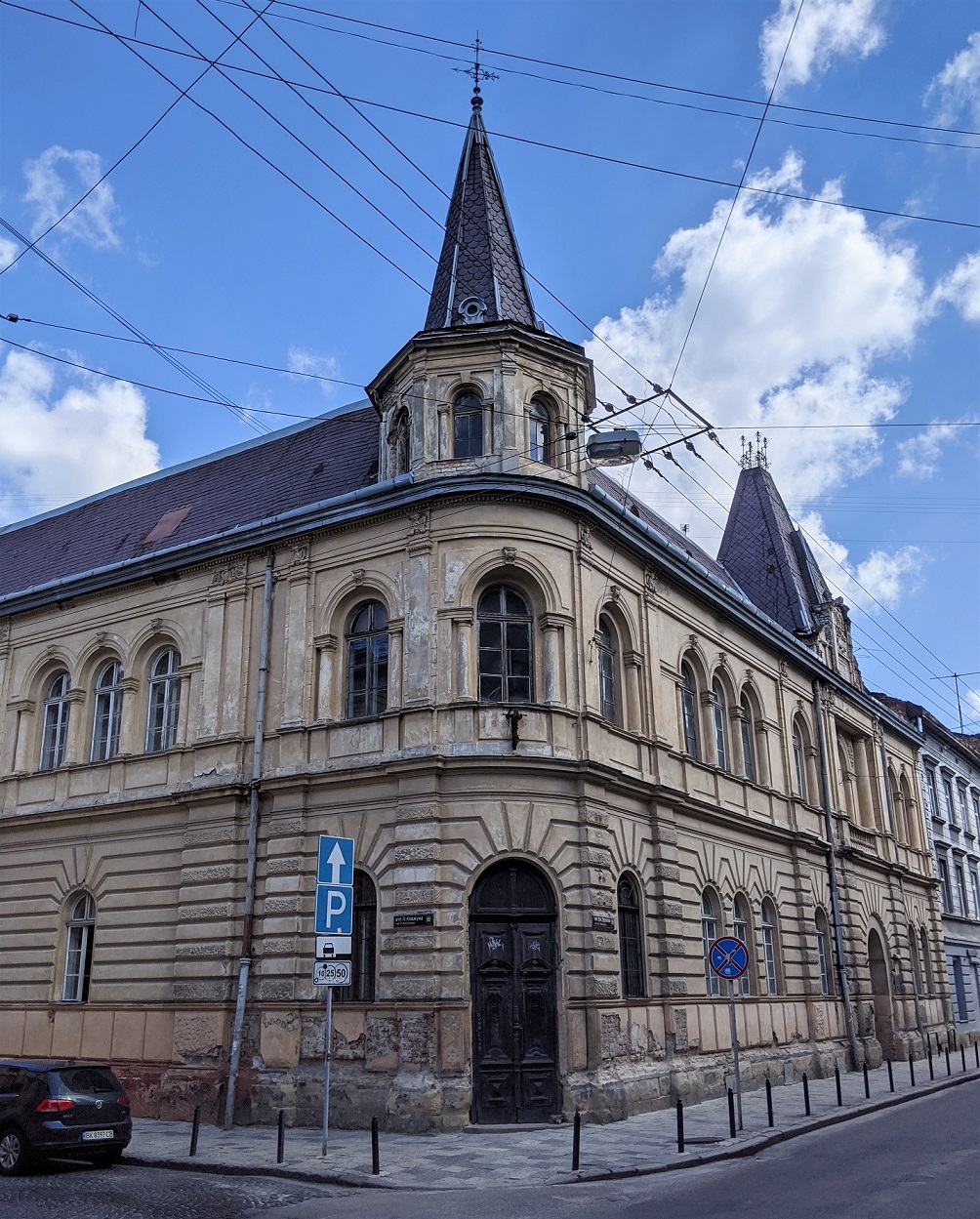 12. Fire marks from the Kraków Mutual Insurance Society
Shortly before the war started, I was working on an article about fire insurance companies that worked in Lviv in Austrian times. Due to that, I had learned about the Kraków Mutual Insurance Society, and knew that their former headquarters still stood in Kraków. Thus, I made a point to visit the building.
The Mutual Insurance Society (Towarzystwo Wzajemnych Ubezpieczeń), established in 1860, was an insurance and financial institution based in Kraków. During its activity, the society opened a representation in Lviv, covering the area of ​​Eastern Galicia and Bukovina.
The Former Mutual Insurance Society building in Kraków
Its main seat after 1885 was at 6 Basztowa Street in a building built specially for the society. The neo-Renaissance building, today home to a music academy, is topped with an openwork attic and a statue of St. Florian, the patron of the society.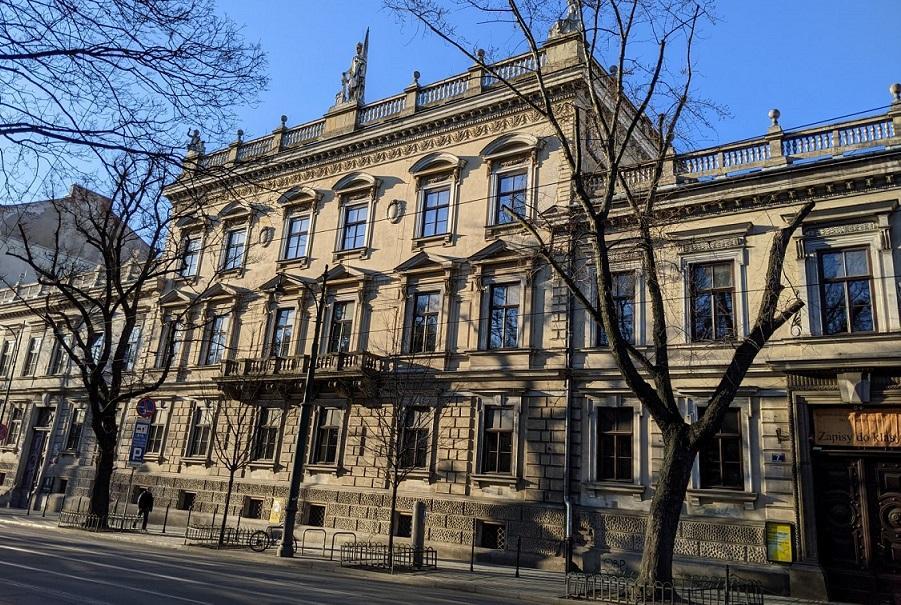 Kraków Mutual Insurance Society Fire Marks in Kraków
One of the services of the society was insuring buildings from fire. Like other fire insurance companies at the time, they used fire marks – plaques indicating that a building was insured against fire. St. Florian, the patron saint of firefighters, featured on the company's emblem, was used on the company's fire marks.
In Kraków at least two such marks still exist, here's one of them: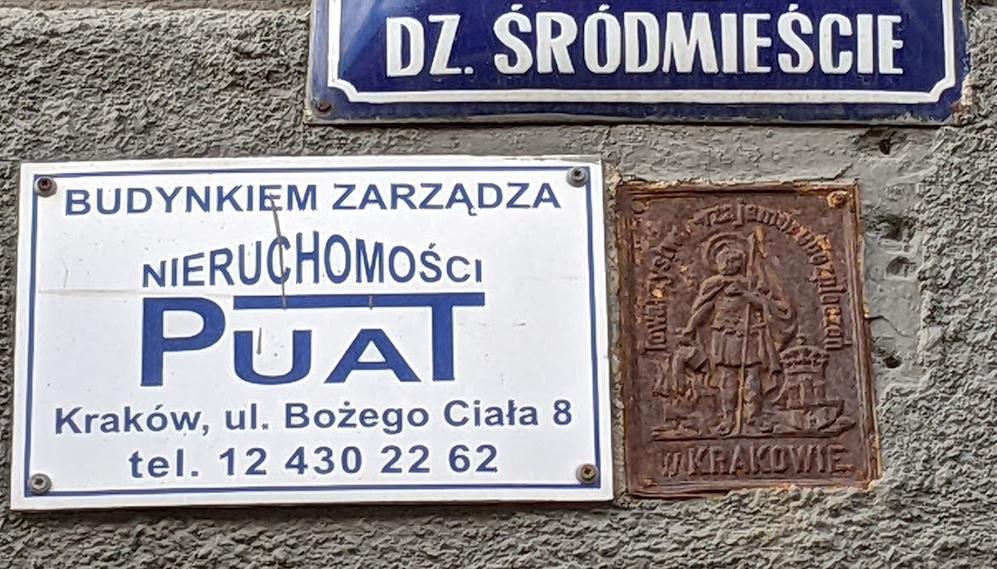 Kraków Mutual Insurance Society Fire Mark in Lviv
Many years ago I took this photo – what it is of I discovered only recently while researching the Kraków insurance company. I realized that it is a fire mark, and as it depicts St. Florian, I am pretty certain it was from the Kraków insurance company. Furthermore, it looks a like it could be the Kraków coat of arms in the lower right corner. Unfortunately, the letters are indecipherable, but their placement is similar to the lettering on the Kraków fire marks.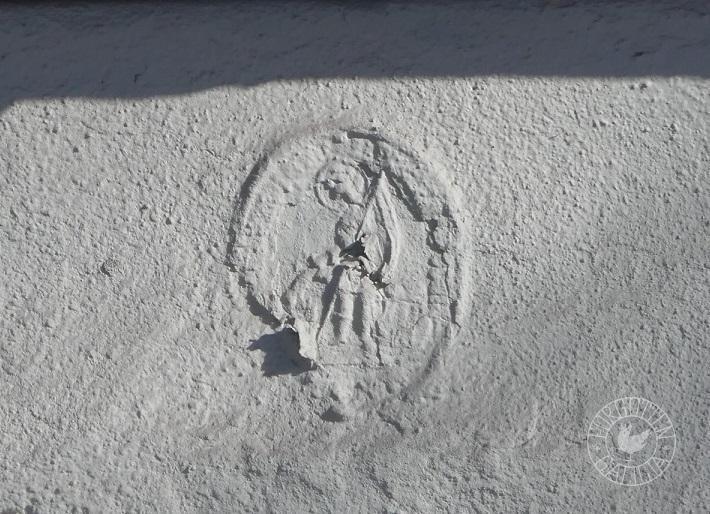 ***
I want to give a special shout out to Jakub from the Facebook page Igraszki z czasem, which is dedicated to historical architectural details in Kraków. Jakub gave me many tips and in particular told me where I can find the fire marks!
By Areta Kovalska
Sources:
Zakłady Budowy Maszyn i Aparatury im. Ludwika Zieleniewskiego
Przemysł maszynowy – cz.1 – Zakłady Zieleniewskiego
Muzeum Witrazu
Храмовий вітраж Галичини