Teodor Talowski is one of the most important Polish architects of the late nineteenth and early twentieth centuries. He has been described as the "Galician Gaudi" or the "Polish Gaudi" because he combined late Historicism with Secession (Art Nouveau) and Modernist influences. His works include apartment buildings, churches, chapels, and public buildings in Kraków, Lviv (Lwów), and other cities and towns throughout former Austrian Galicia.
Talowski was born in 1857 in Zasów, near Tarnów in western Galicia. After attending a gymnasium in Krakow, he moved to Vienna where he studied architecture under Karl König. Two years later he moved to Lviv to study under Professor Julian Zachariewicz. After receiving his degree in architecture, he returned to Kraków where he became a professor at the Higher School of Technology and Industry and at the same time began his professional activity. In 1901 he was appointed chair of the Department of Drawing and later the Department of Medieval Architecture Composition at Lviv Polytechnic. He died prematurely in 1910 in Lviv after several years of poor health and was interred at the Rakowicki Cemetery in Kraków.
Apartment Buildings in Kraków
Talowski's apartment buildings in Kraków are known for their picturesque facades made of raw brick, which feature fanciful ornamentation, Latin or Polish phrases, volutes, and anchor plates. Talowski also liked to leave his signature on his work – an inscription of his name and the year of construction.
Under the Spider (Pod pająkiem) | 35 Karmelicka St. | Built 1889
Talowski's personal residence. Features Talowski's signature asymmetry and irregular stone and brick work. The building's name comes from the bronze web and spider found in a large porthole on the gable.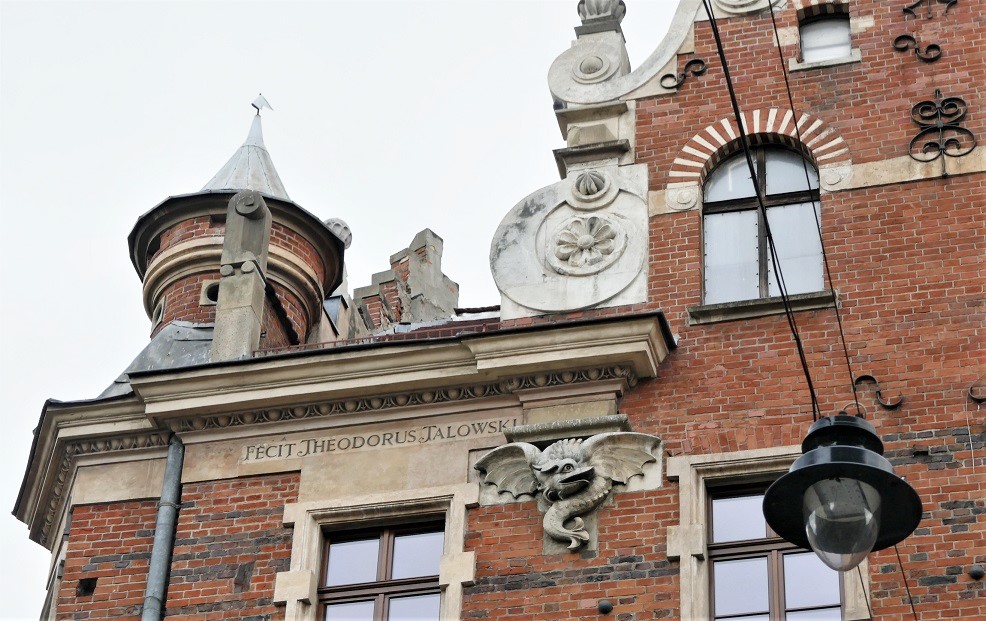 Under the Singing Frog (Pod śpiewającą żabą) | 1 Retoryka St. | Built 1889-90
One of Talowski's most famous buildings. Designed as a school, featuring strips of sheet music. The ukulele-playing frog at the top of the facade was in homage to the frogs that used live in the area when a tributary of the Wisla ran through the middle of Retoryka's green median.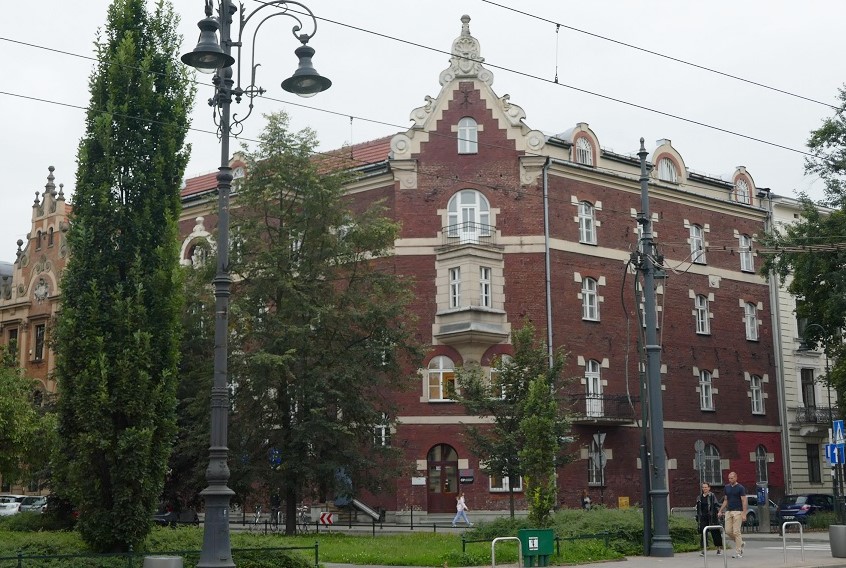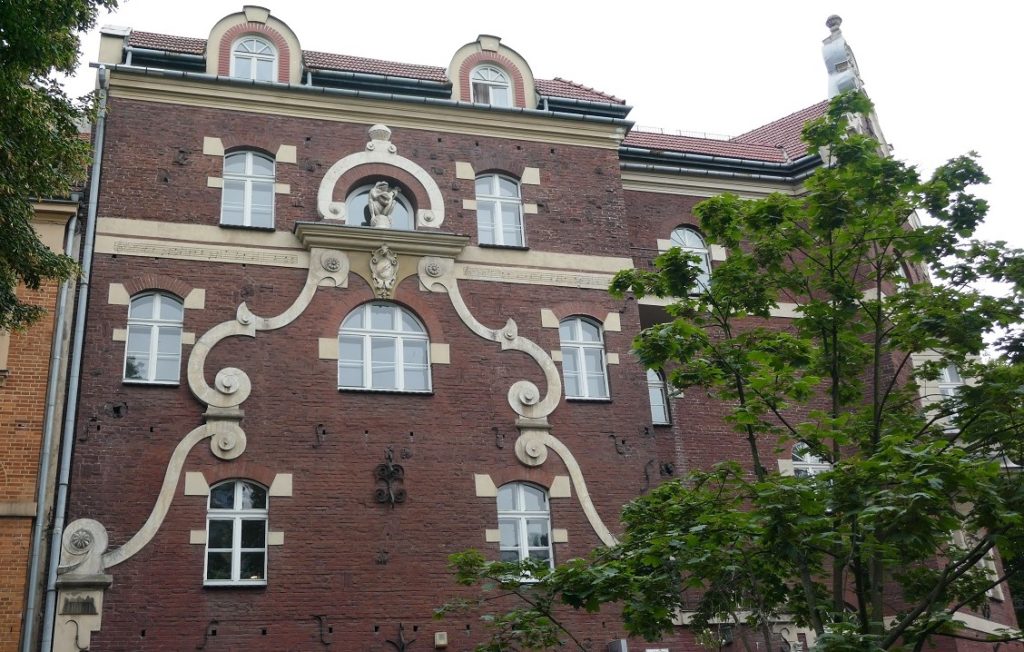 Building at 3 Retoryka St. | Built 1891
No inscription was added to this facade. The attic features volutes and a cartouche with the data of construction.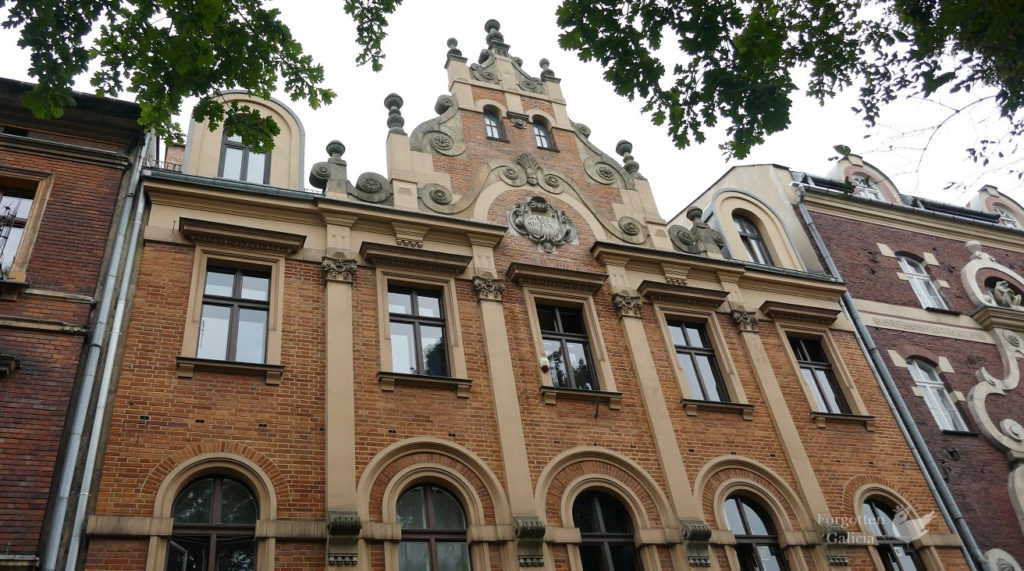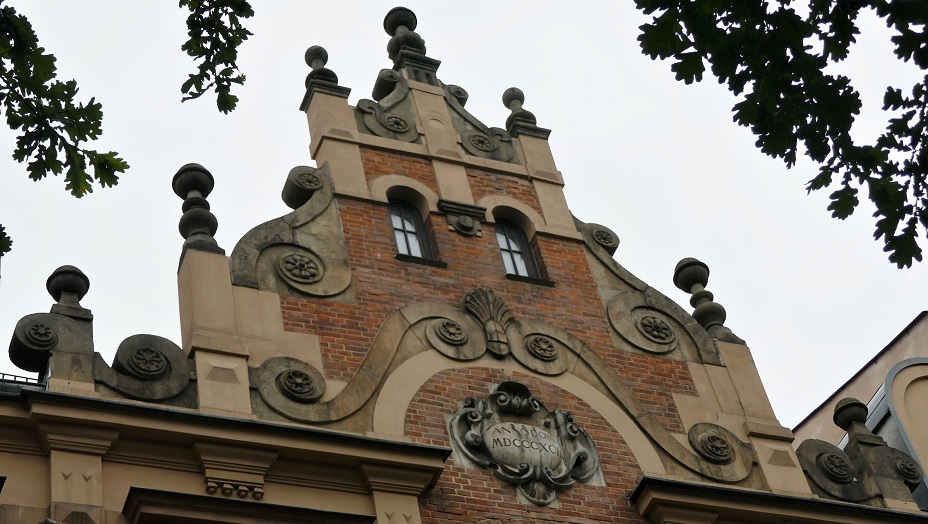 Festina Lente | 7 Retoryka St. | Built 1887
Talowski's first building in Kraków. Features two Latin inscriptions – "Festina lente" (Hurry slowly) and "Ars longa vita brevis" (Life is brief, art long-term) – as well as a cartouche with the architect's name.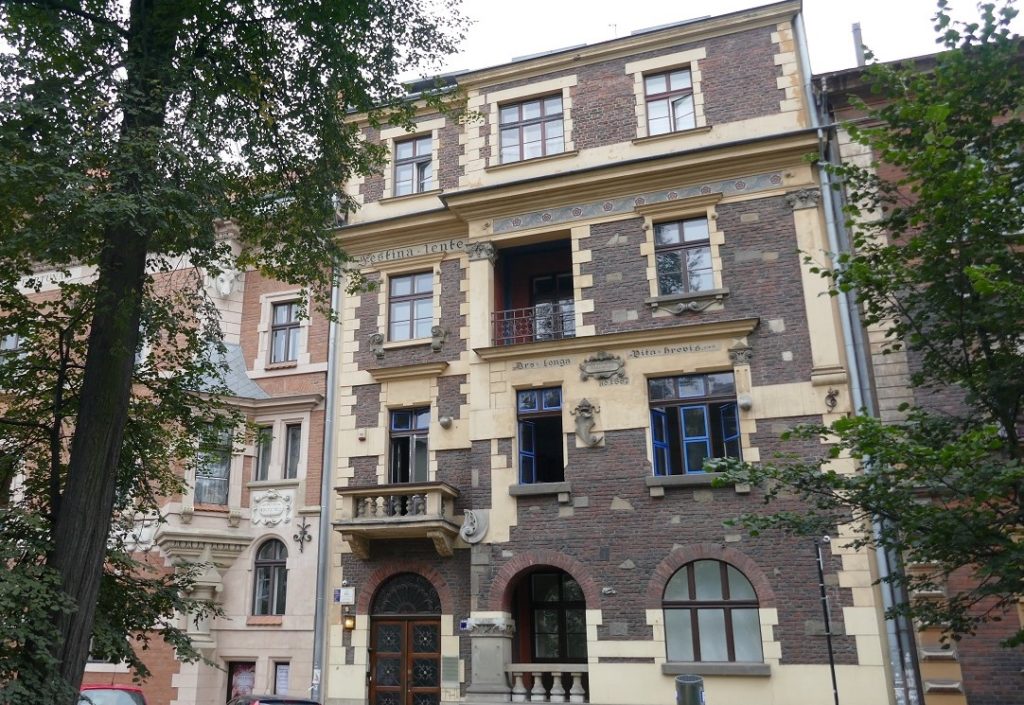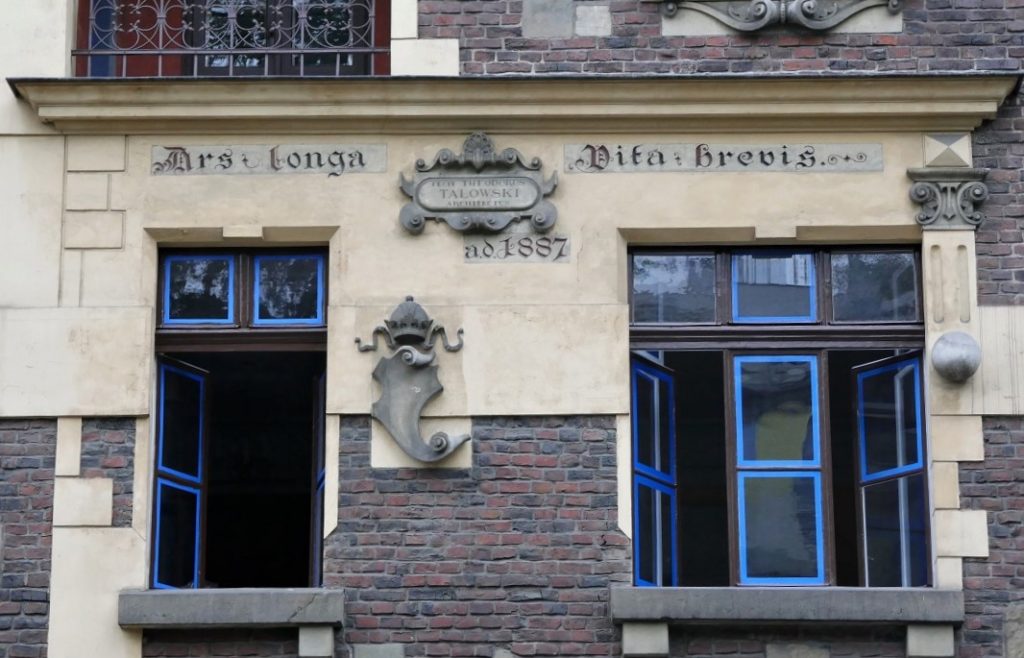 Under the Donkey (Pod Osłem) | 9 Retoryka St. | Built 1891
Features the inscription "Faber est suae quisque fortunae" (Every man is the maker of his own fortune) and the bust of a crying donkey.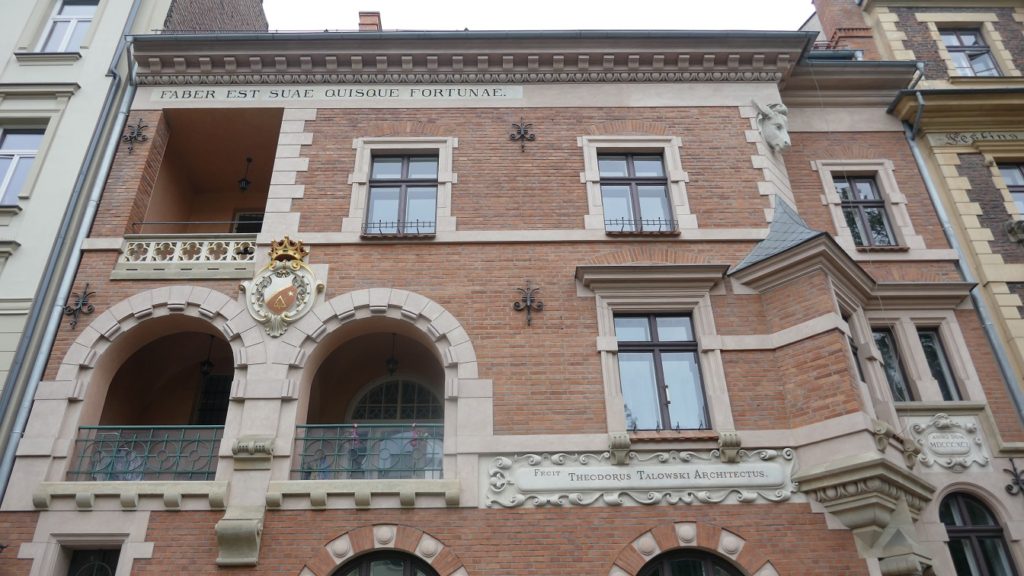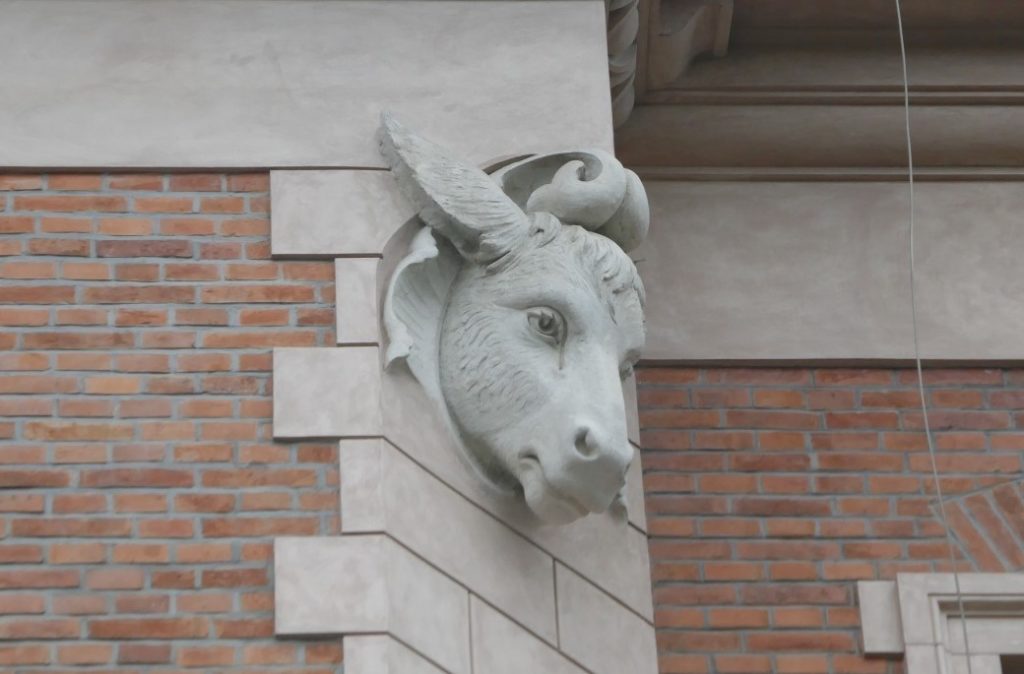 Think Long, Act Fast (Długo myśl, prędko czyń) | 15 Retoryka St. | Built 1888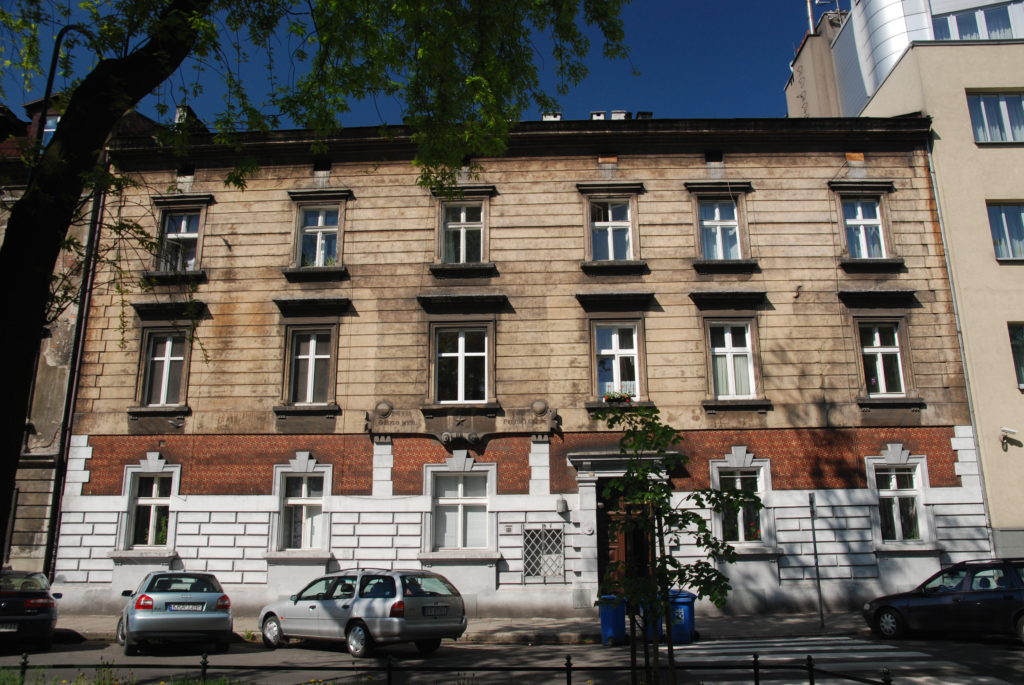 Under the Dragon (Pod Smokiem) | 18 Smoleńsk St. | Built 1887
Features a large bronze dragon on the gable.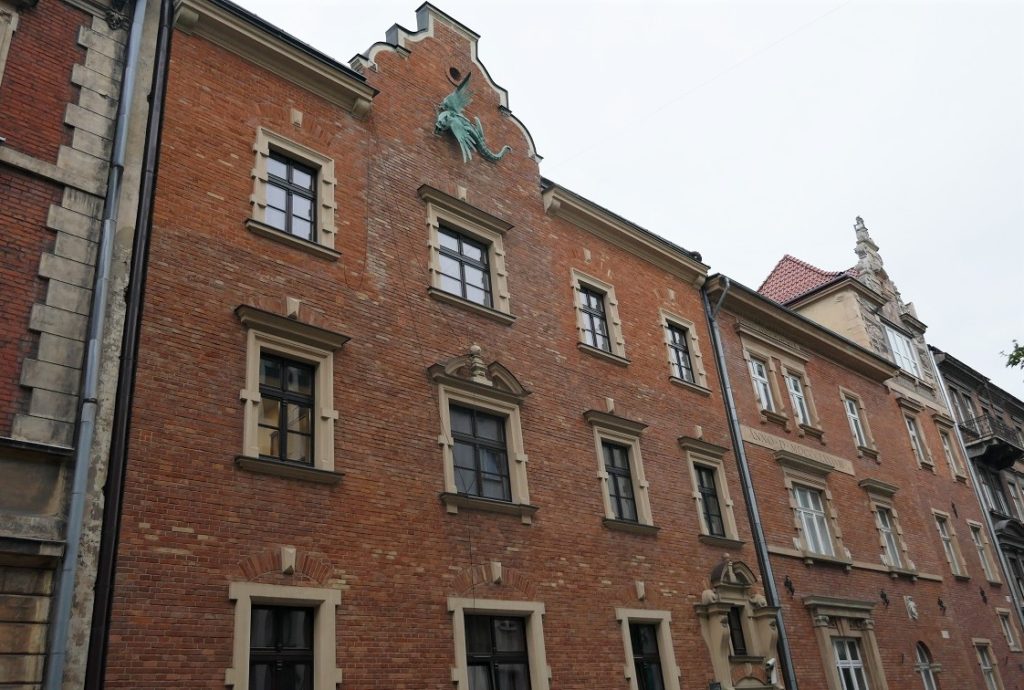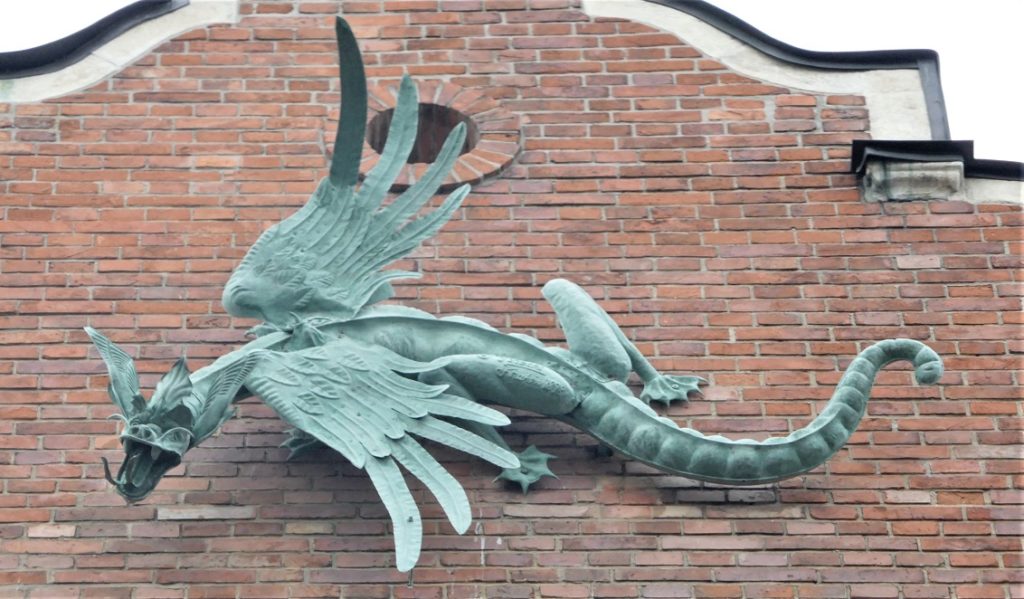 Building at 20 Smoleńsk St. | Built 1888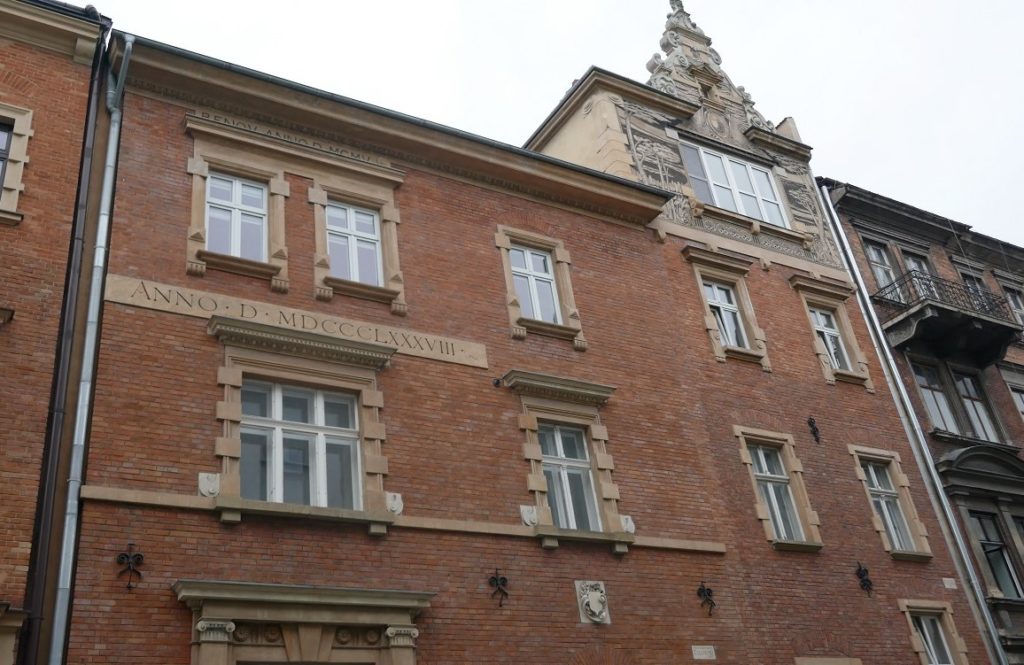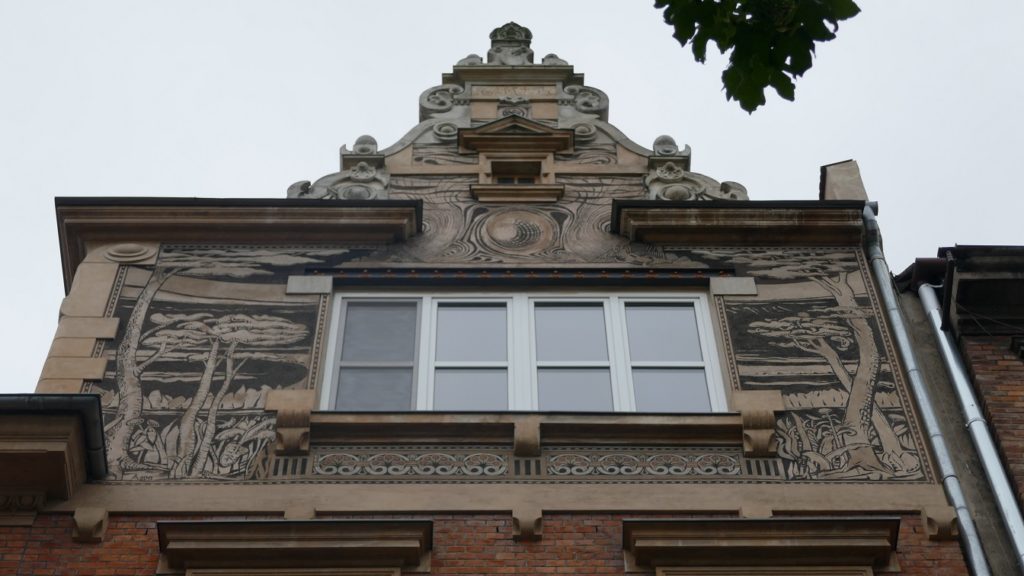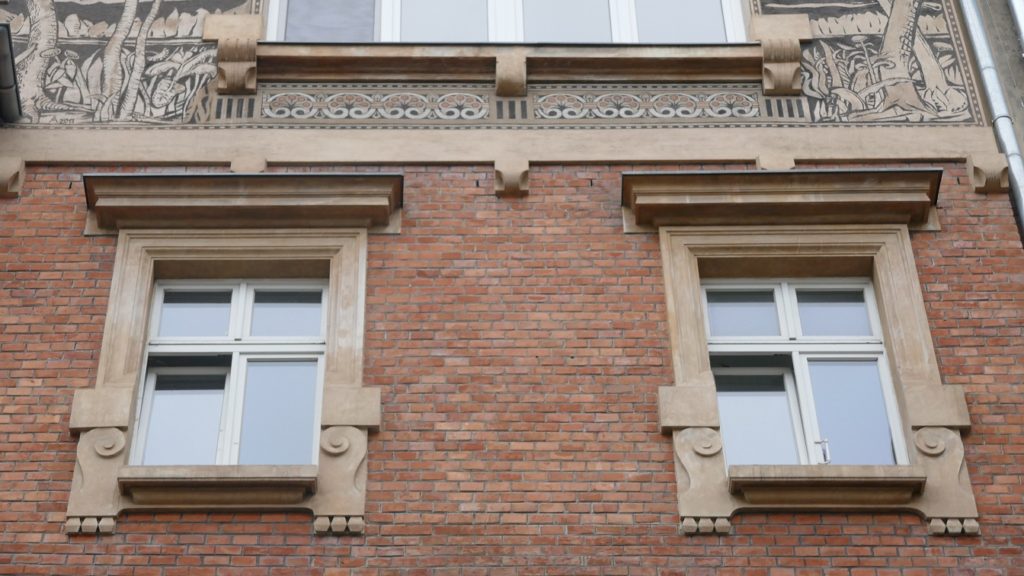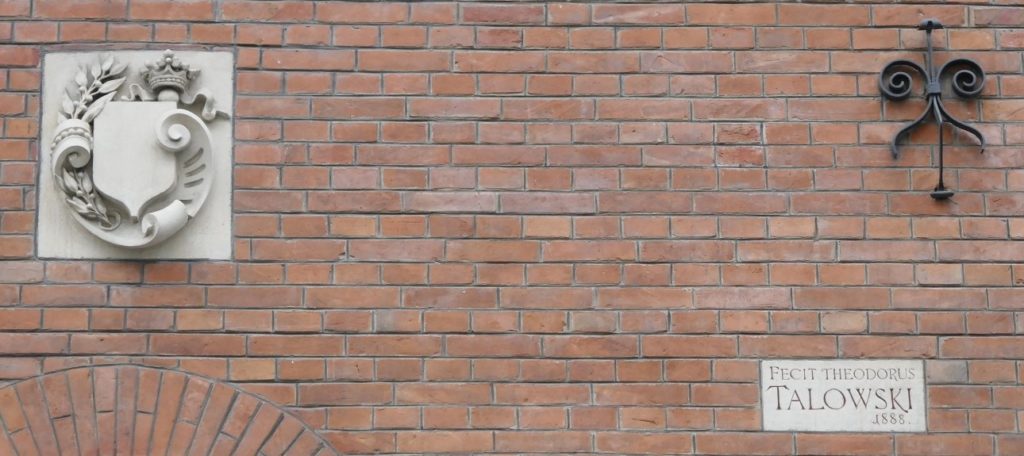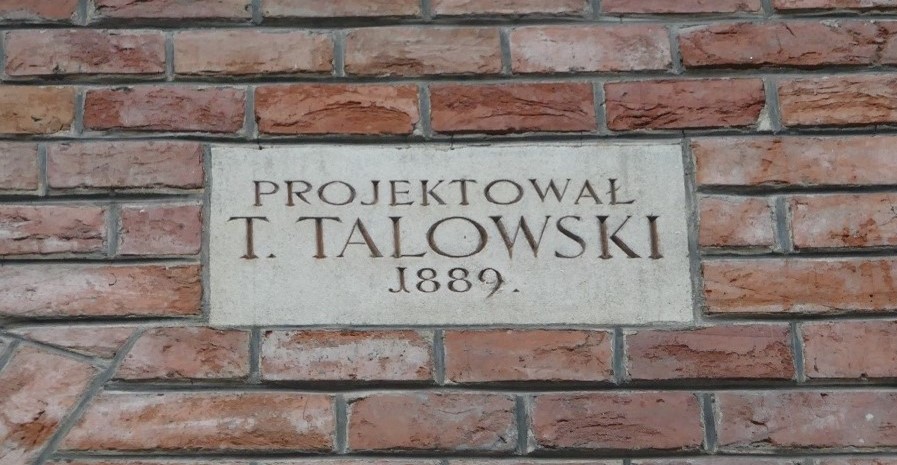 Churches
Talowski designed over 70 churches across Galicia. Here a few examples from eastern Galicia, today in Ukraine:
Church of St. Elizabeth in Lviv | Built 1903–11
Originally built as the Roman Catholic Church of St. Elizabeth. After the war, the neo-Gothic structure was used as warehouse and fell into ruin. In 1991 the church was reconsecrated as the Greek Catholic church of Sts. Olha and Elizabeth.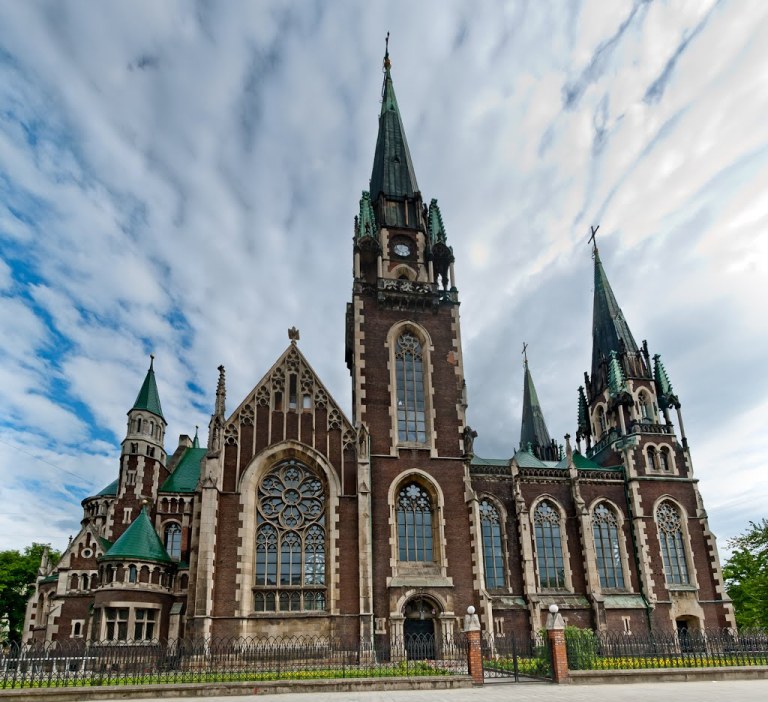 Assumption of St. Mary Church in Kamianka-Buzka | Built 1910-1911
A Roman Catholic church in Kamianka-Buzka, formerly Kamianka Strumilova / Kamionka Strumiłowa, a town in north-east Galicia.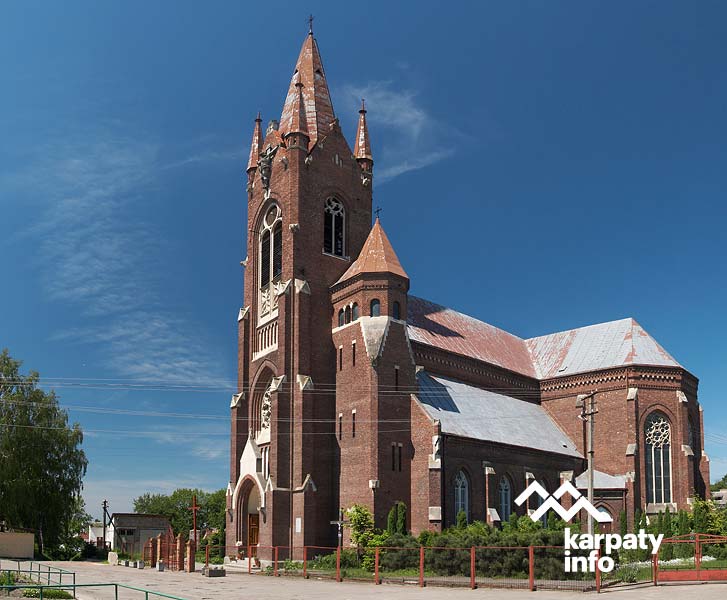 St. Mary of the Perpetual Assistance Church in Ternopil | Built 1903–08
The neo-Gothic church functioned as the parochial church of Ternopil's (Tarnopol) Roman Catholic community. It was one of his alternative projects for the Church of St. Elizabeth in Lviv. The church was demolished in 1954 by Soviet authorities.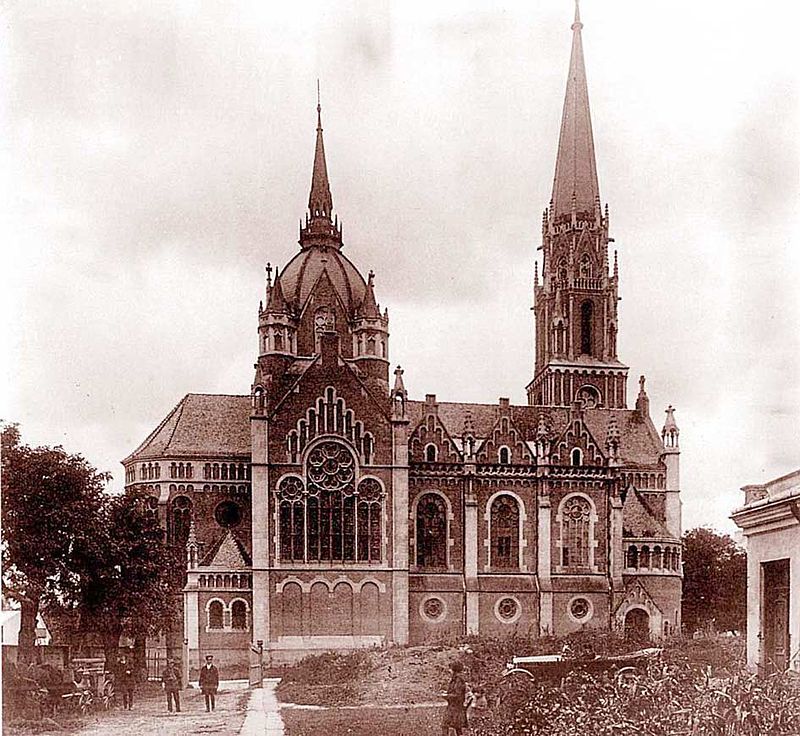 Other Works
Talowski designed a number of public buildings, manor houses, palaces, and tombs. Here a few examples:
Sokoł Building in Jarosław, Poland | Built 1899-1900
Built for the Sokół Gymnastic Society.
Cat's Castle Villa (Willa Koci Zamek) in Bochnia, Poland | Built 1895
The villa was built for county doctor Mieczysław Dembowski. The a front wing is adorned with a stone cat's head which gave the villa its name "Cat's Castle."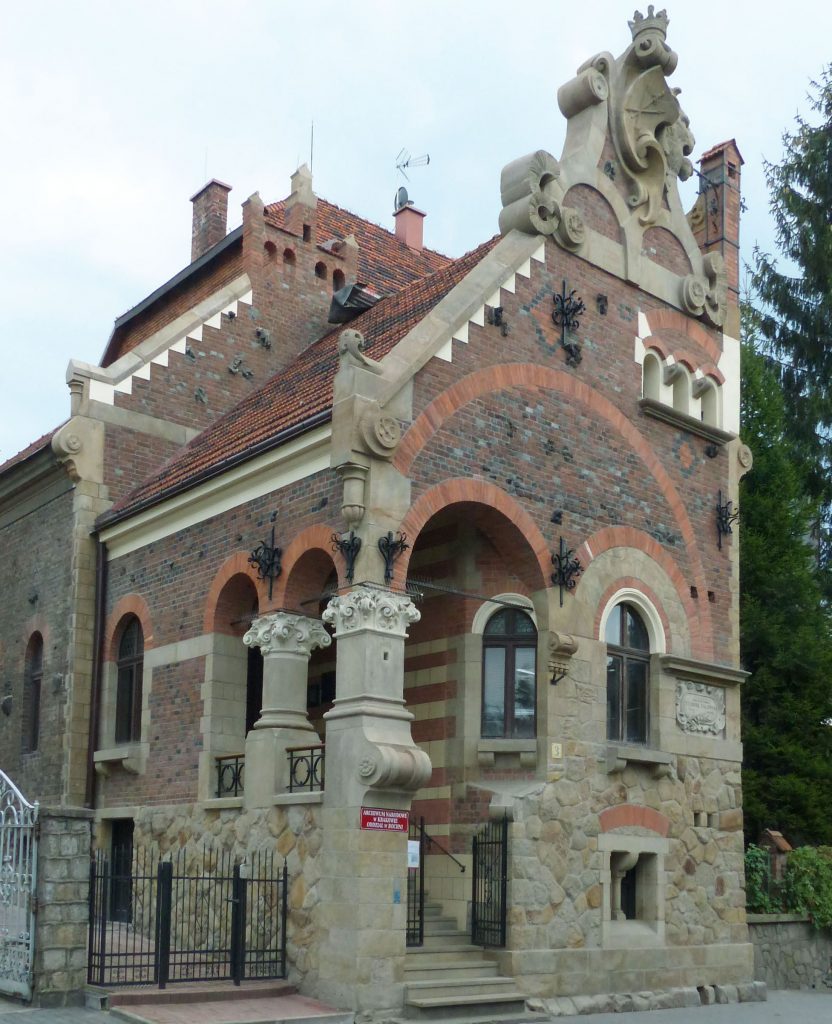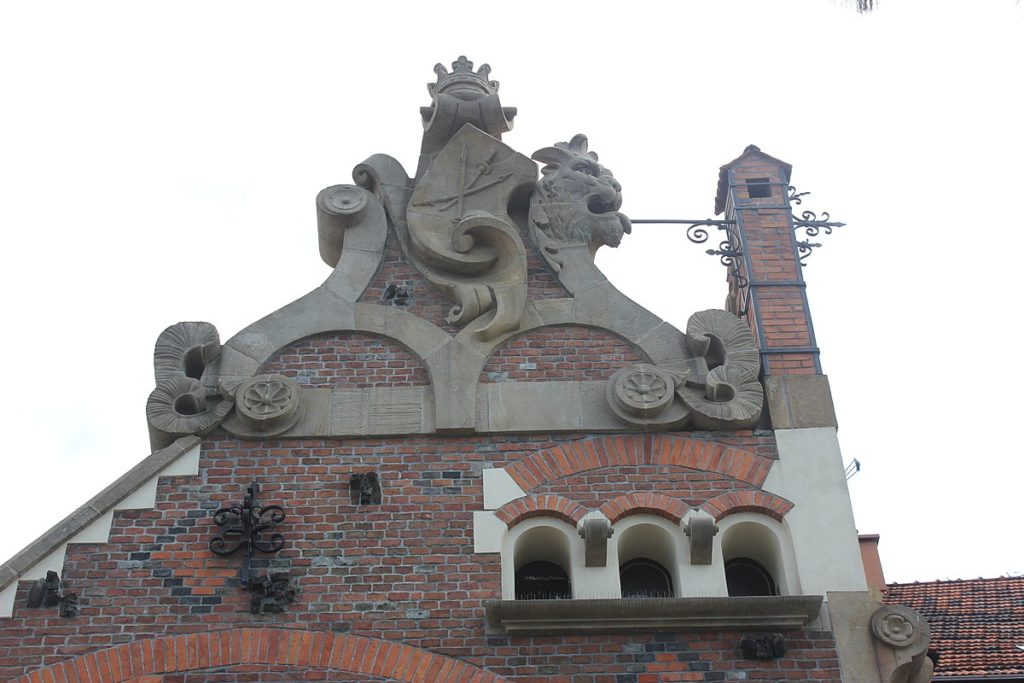 Manor House in Michałowice | Built 1892 – 1897
Built in National Romantic and Historicism style for the Żądło-Dąbrowski family.
By Areta Kovalska