The Volute in Architecture
The volute is the spiral, scroll-like ornament found in the capital of the Ionic column, and which was later used in Corinthian and Composite column capitals. Deriving from the Latin word voluta ("scroll"), the ornament has many possible origins including the curve of the ram's horns, the Egyptian lotus, a spiral shape derived from nature, naturalistic forms such as the nautilus shell or fern, the natural spiral of the ovule of a common species of clover native to Greece, or a geometric origin.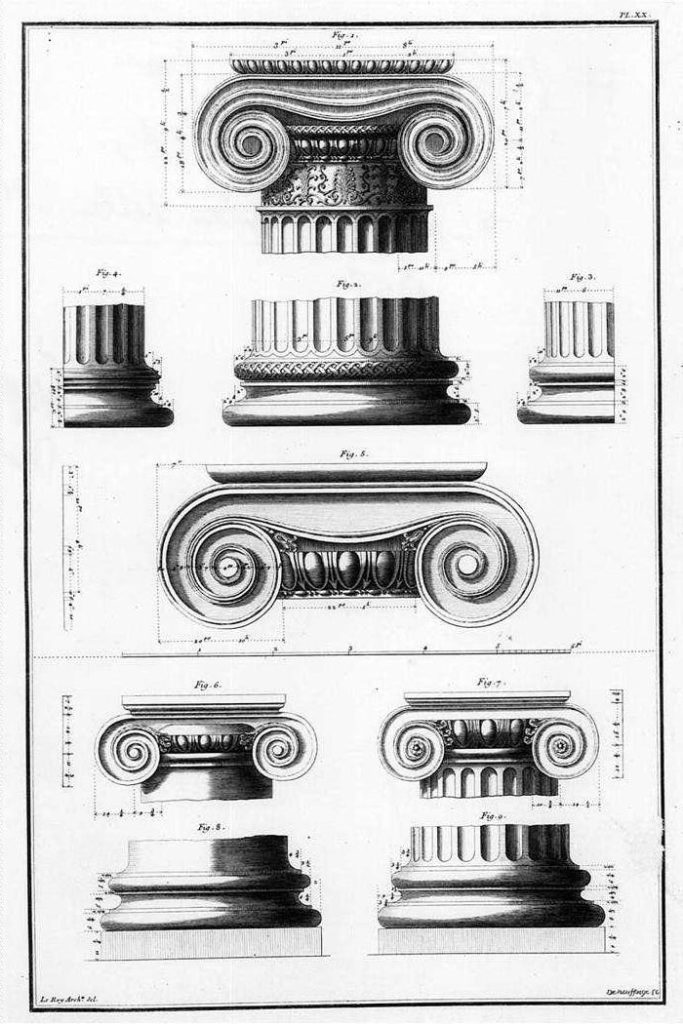 The volute was used in Renaissance and Baroque architecture, where it can be found as an ornament on various architectural elements from counsels (corbels), columns, pilasters, window pediments, architraves, portals, cartouches, to elements of the interior, such as staircases.
The volute was then passed on to other movements, especially revival architecture, but also to Art Nouveau and Art Deco, both of which modernized familiar ancient and classical patterns and ornaments.
As a Link from Wide to Narrow
When applied to facades, especially to gable ends, the volute acted not only as an ornament but also solved a longstanding architectural problem of how to transfer from wide to narrow storeys.
The first-ever usage of large S-shaped volutes to link lateral and lower portions of a facade to its central higher part is on the early Renaissance facade of the Basilica of Santa Maria Novella (1420) in Florence. This practice was then copied in other Renaissance-era churches throughout Italy – and abroad. It is also found оn "the first truly Baroque façade" of the Church of the Gesù (1580) in Rome, where the volutes terminate in large and more prominent scrolls. This facade is considered to have introduced the Baroque style into architecture, and the church served as a model for innumerable Jesuit churches all over the world.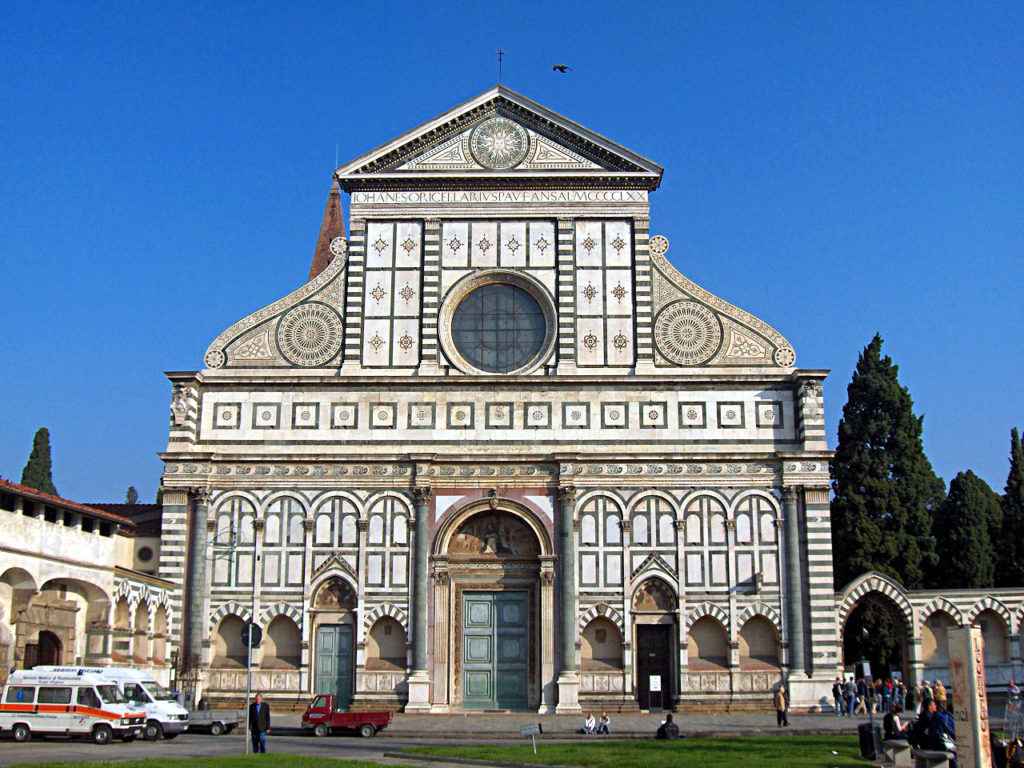 Furthermore, the volute was used to connect wider and narrow sections of other architectural elements, such as the sides of windows to the edge of door portals, roof edges, or cornices below. Oftentimes this creates what looks like a mini facade or gable, especially when the volutes flank an aedicule (Latin for "Little House"), an opening such as a door or a window framed by columns on either side, and a pediment above (first image below).
As an Ornament on Gables
Today we can find the volute on the upper-part of the facade, especially on gables, of all kinds of buildings of various architectural styles.
We owe this to its first application on the Basilica of Santa Maria Novella, but also thanks to the Dutch gable (or Flemish gable) – a gable end whose sides have a shape made up of one or more curves, typically terminating in volutes, and topped with a pediment. This type of gable originated in the Low Countries and then spread to the rest of Europe. It was a notable feature of Renaissance and later Baroque architecture, and was later revived in the mid-nineteenth century during the revival movements and again by Art Nouveau.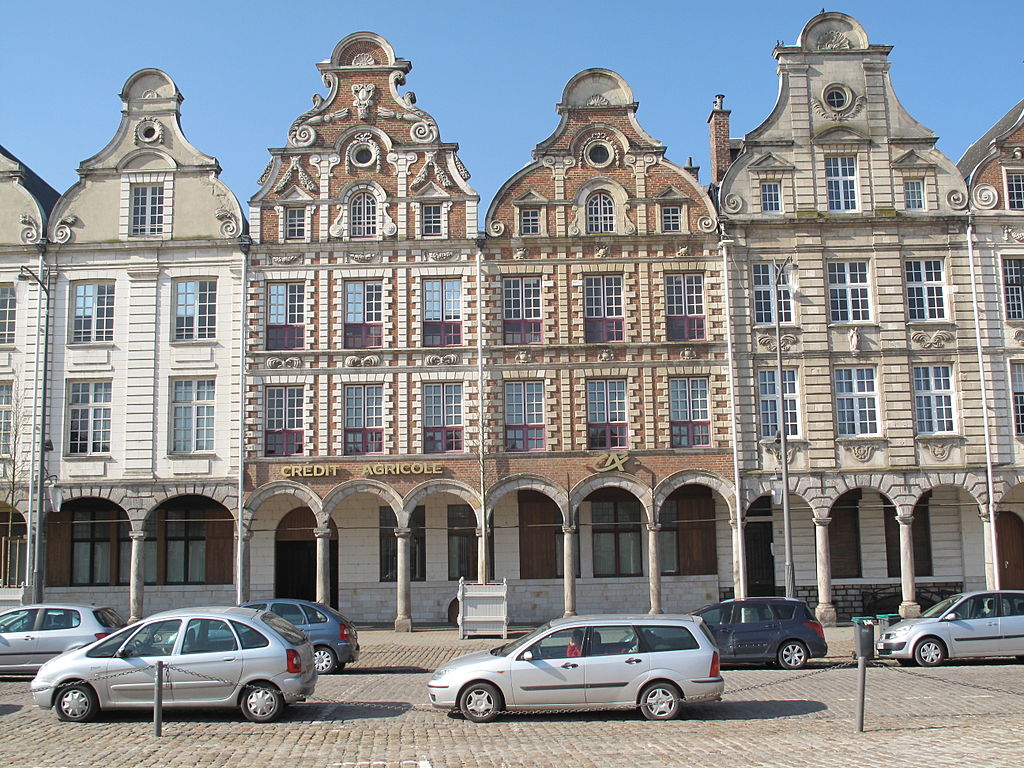 Gable Volutes in Lviv
In Lviv, the volute can be found on the gables of Renaissance, Baroque, Neoclassicism, Historicism (in particular, neo-Renaissance and neo-Baroque), Secession, Art Deco, and Polish Manor Style architecture. Each style interpreted the gable volute differently – from the more classical version in Renaissance and Baroque to a highly stylized symbolic version in Secession.
While the focus of this post is how the volute has been incorporated into the gables of Lviv, I've also included examples of how it was used on Renaissance attics, as well as a few other examples, especially when the volute softens corners and links different levels.
Renaissance and Baroque
Renaissance architecture prevailed in Lviv from the sixteenth to first half of the seventeenth centuries. It was followed by Baroque, which lasted until the eighteenth century. It was in these styles that the volute was originally used on gable ends.
Sacred Architecture
St. Andrew's Church (1600-1630) Late Renaissance.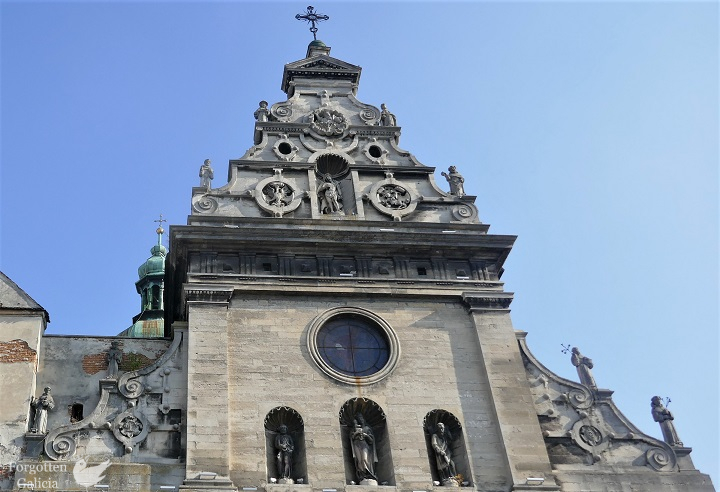 The former Jesuit Church (1610-1630) Early Baroque with elements of Renaissance.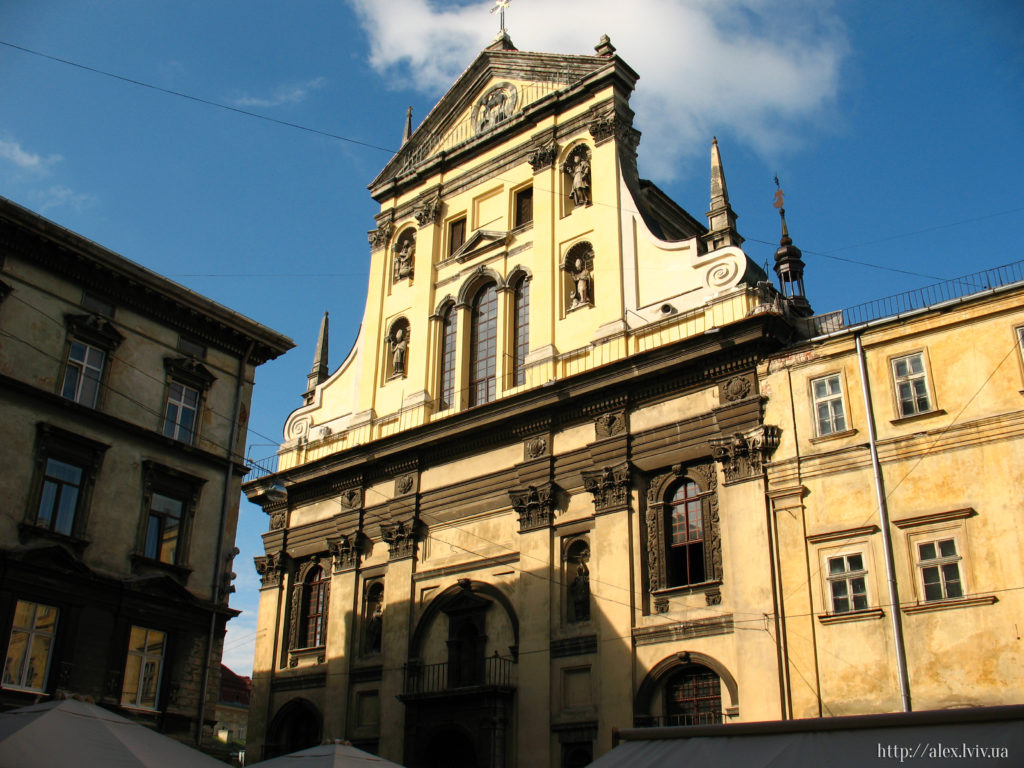 Church of the Meeting of the Lord (1644-1692) Roman Baroque.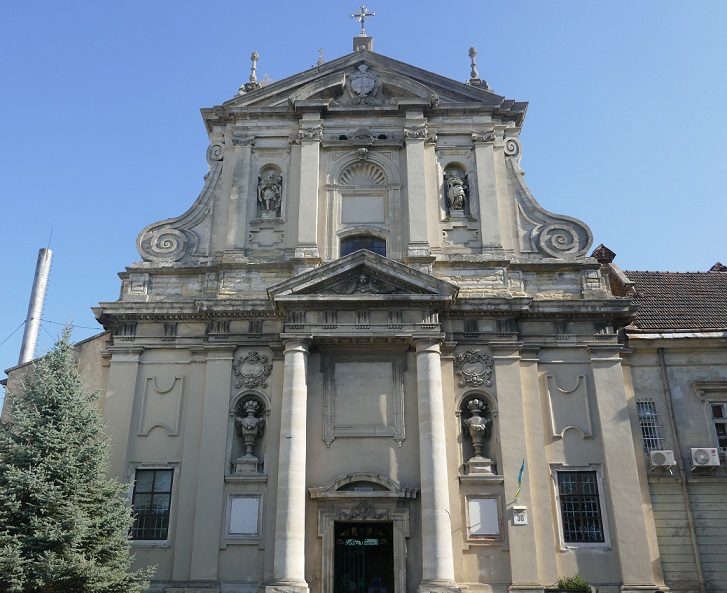 Dominican Church (1749) Baroque.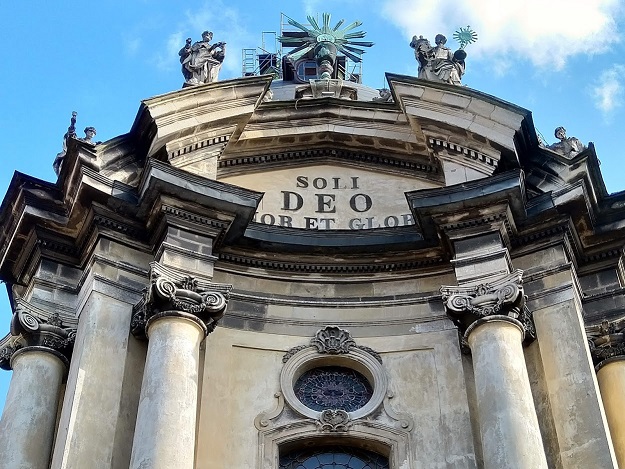 Civil and Residential Architecture
Fatebenefratelli Hospital (built 1659 as a monastery; in 1687 rebuilt as a hospital; in 1783 given the military to be used as a hospital) Early Baroque.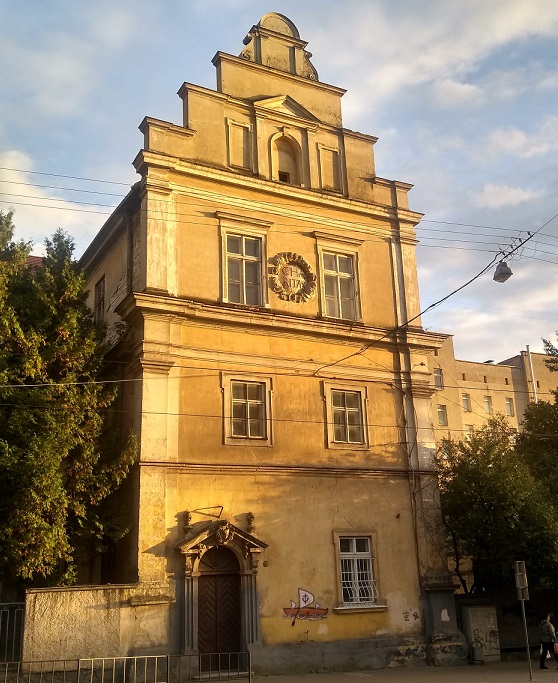 The Royal Arsenal (1639-1646) with a Baroque gable (left); the Jesuit Collegium (built 1608, renovated 1723, 1872) (right)
Bandinelli Palace (1589) Renaissance. Ornamental reliefs of stylized dolphins creating volutes, linking the wide door portal to the narrow window frame.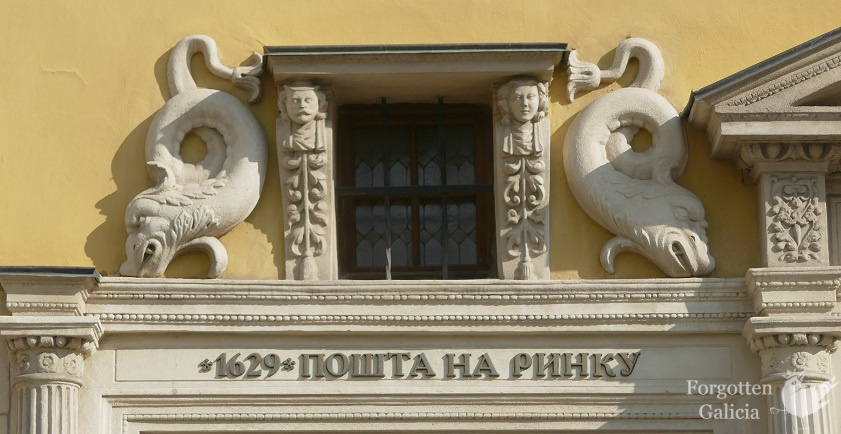 Dąbrowska Townhouse (17th c.) Renaissance. Volutes flanking an aedicule.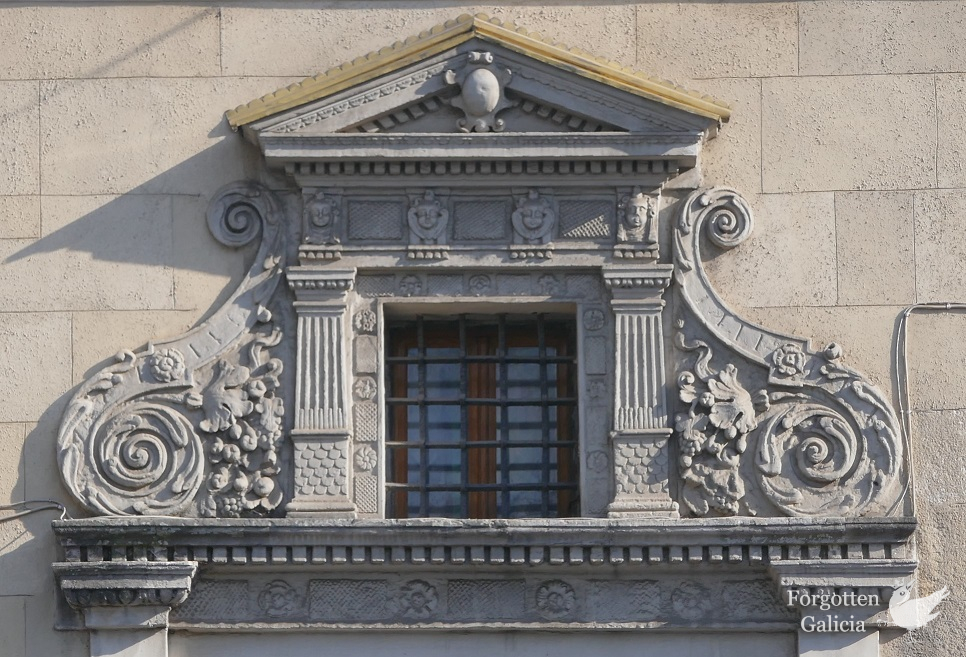 Historicism
Historicism is the use or revival of different architectural and historical styles in modern buildings or works. This style appeared in Lviv in the second half of the nineteenth century, where neo-Renaissance and neo-Baroque were especially popular and often combined, but other styles were also revived such as Gothic, Romanesque, and Classicism. In Lviv there are also many examples of the Dutch gable with volutes.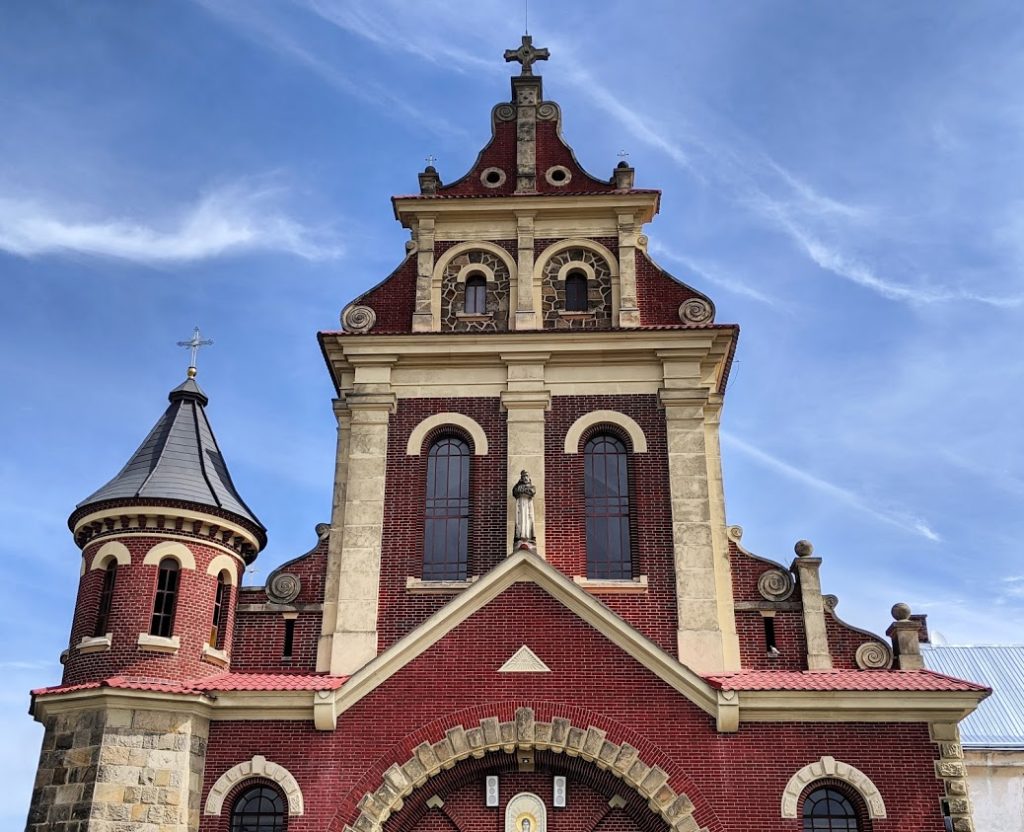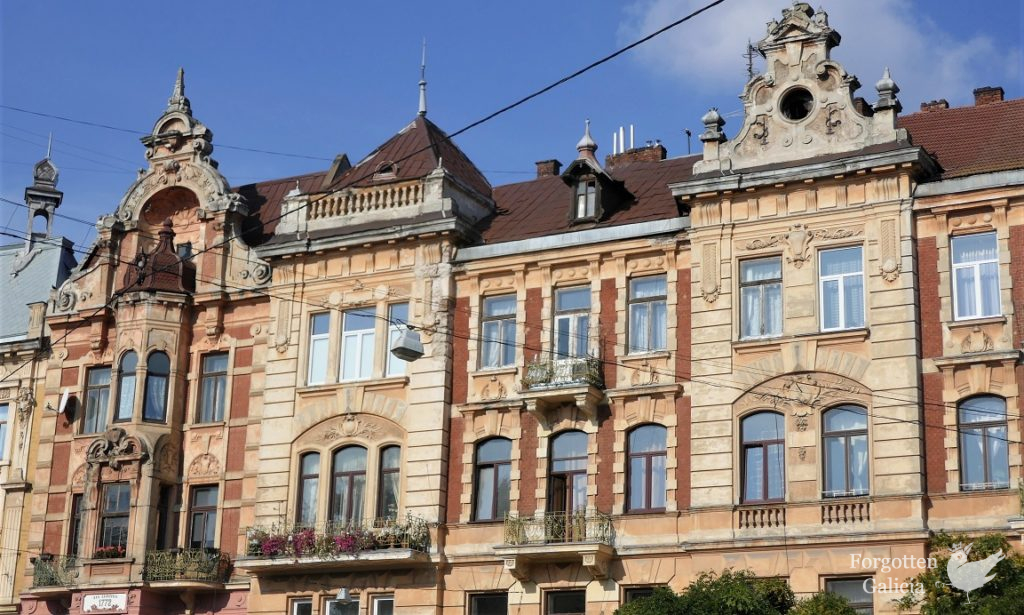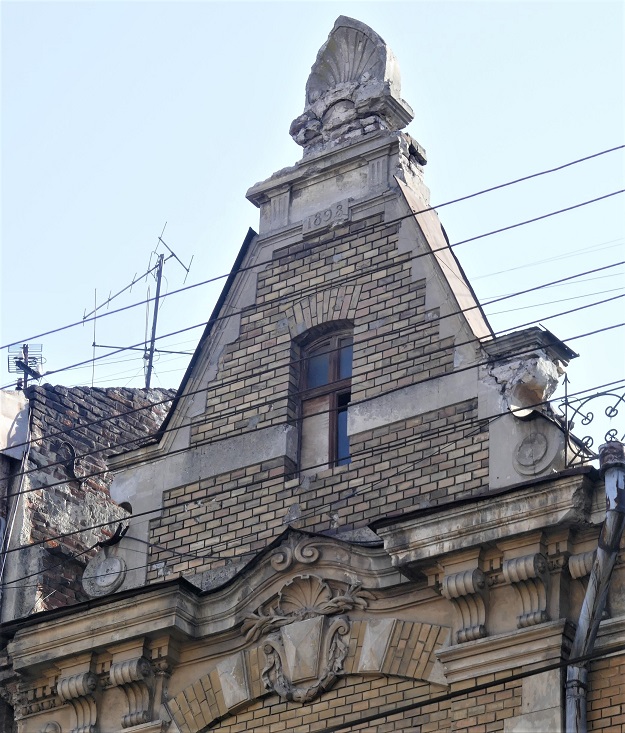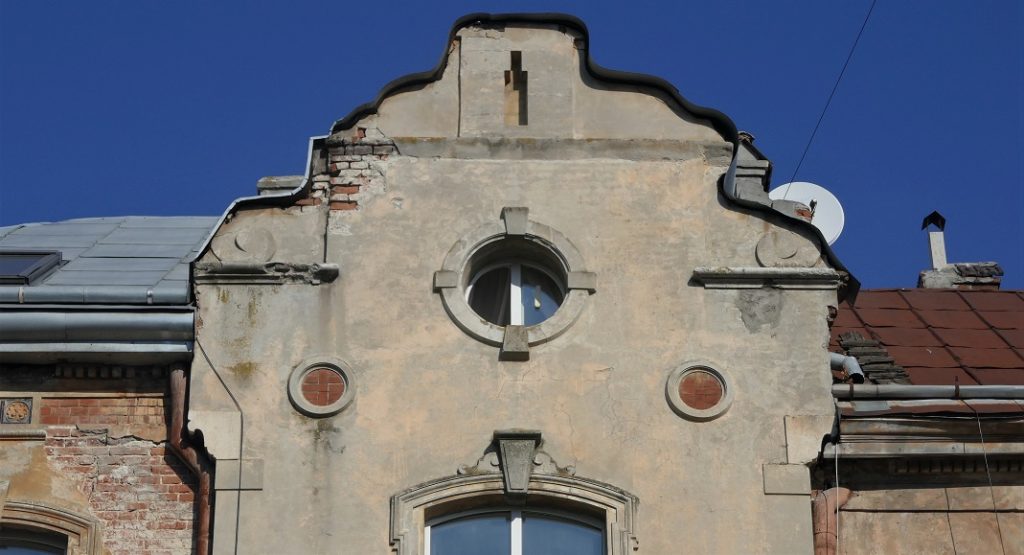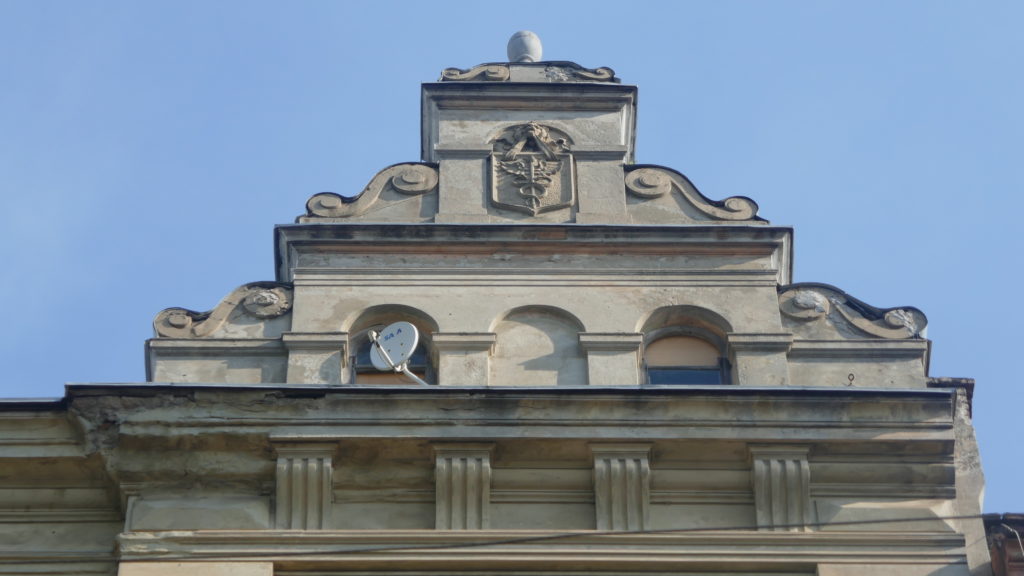 House of Felicja Rylska, built in 1913, designed by Jan Noworyta. On the attic, volutes and a bas-relief "Battle of the Gladiators" by Jakób Rysiak.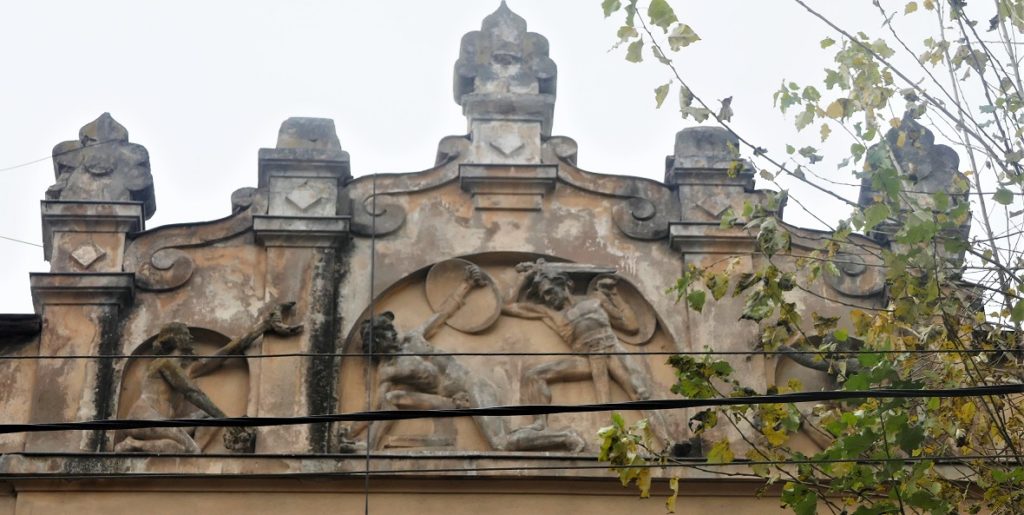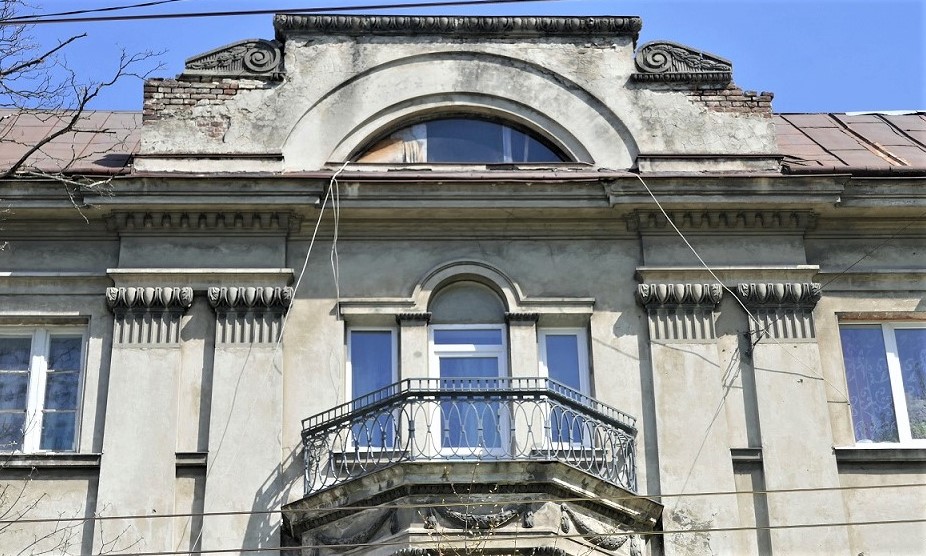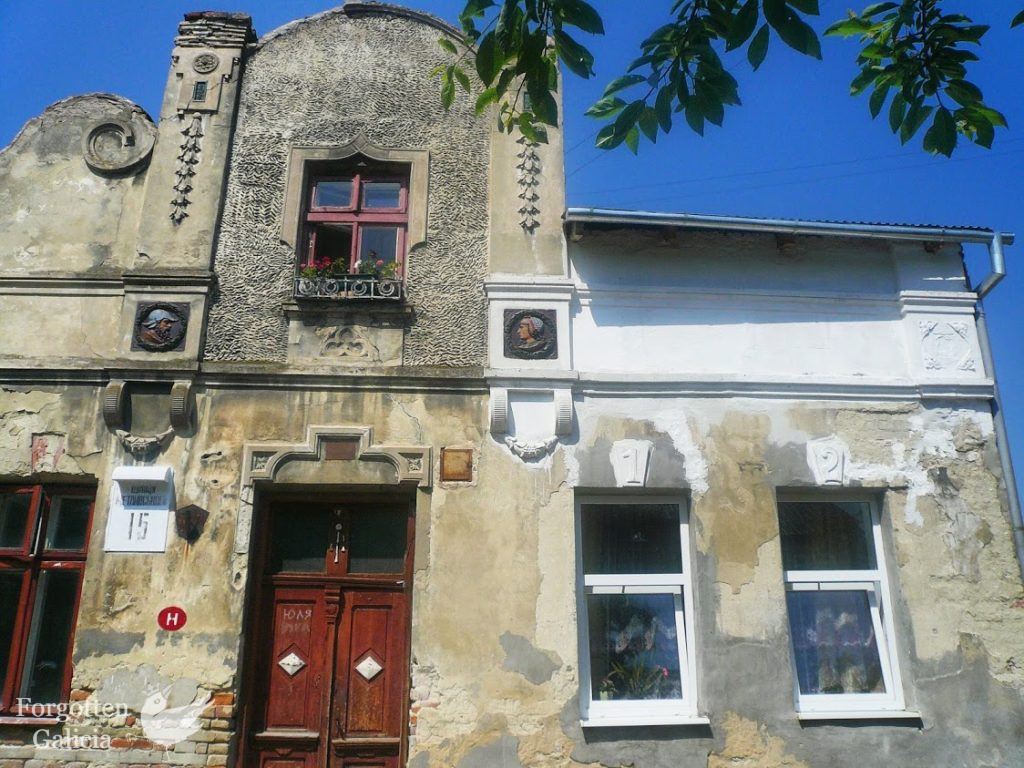 Flanking Windows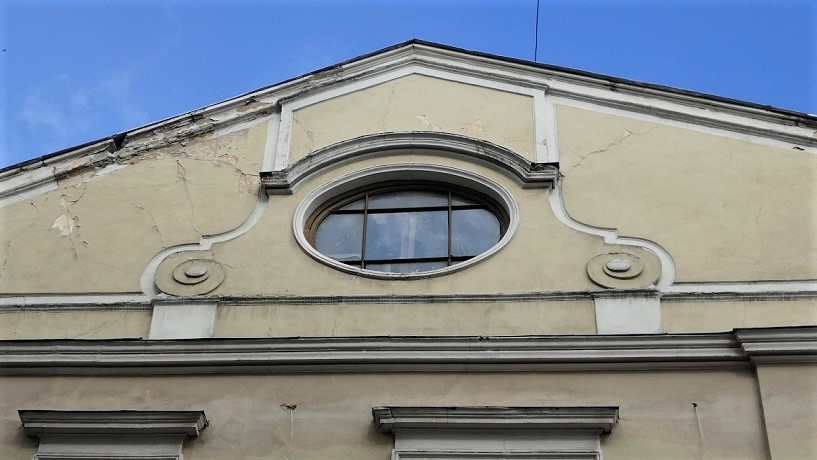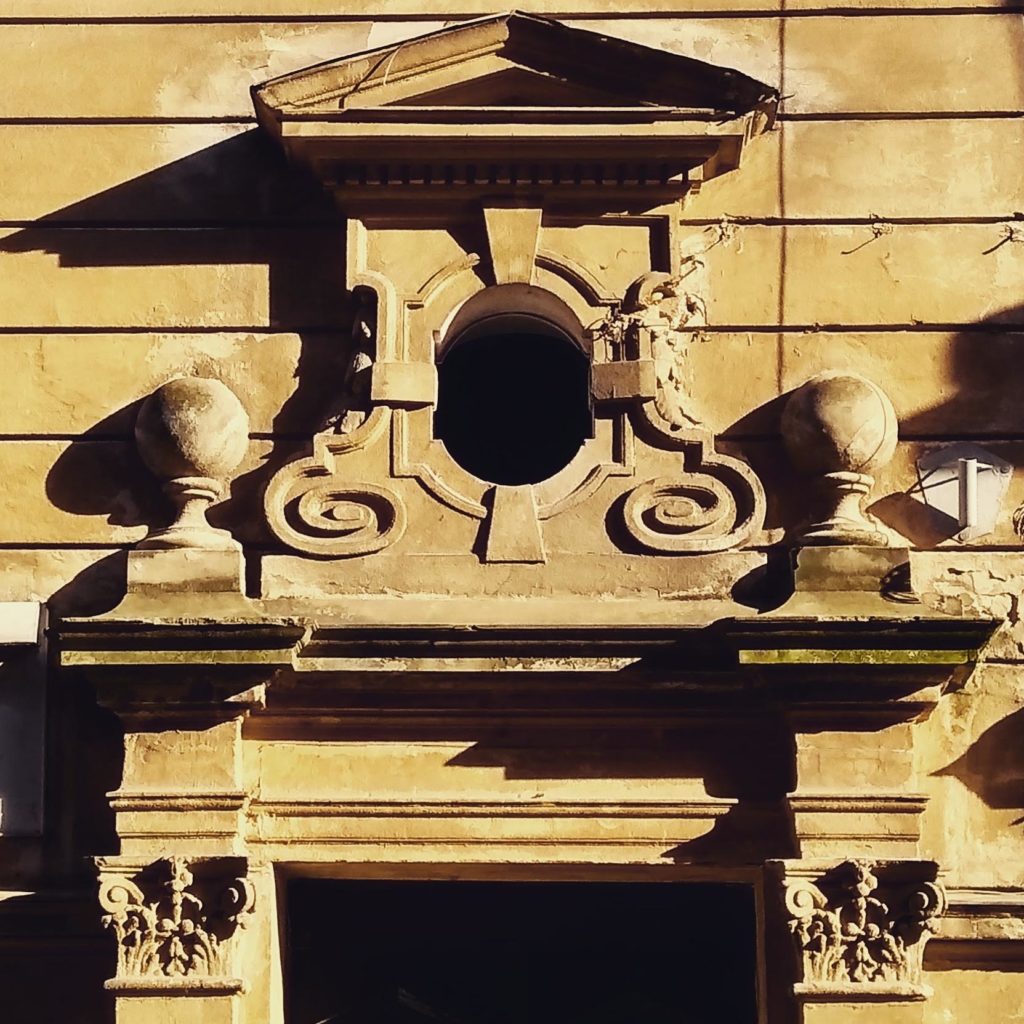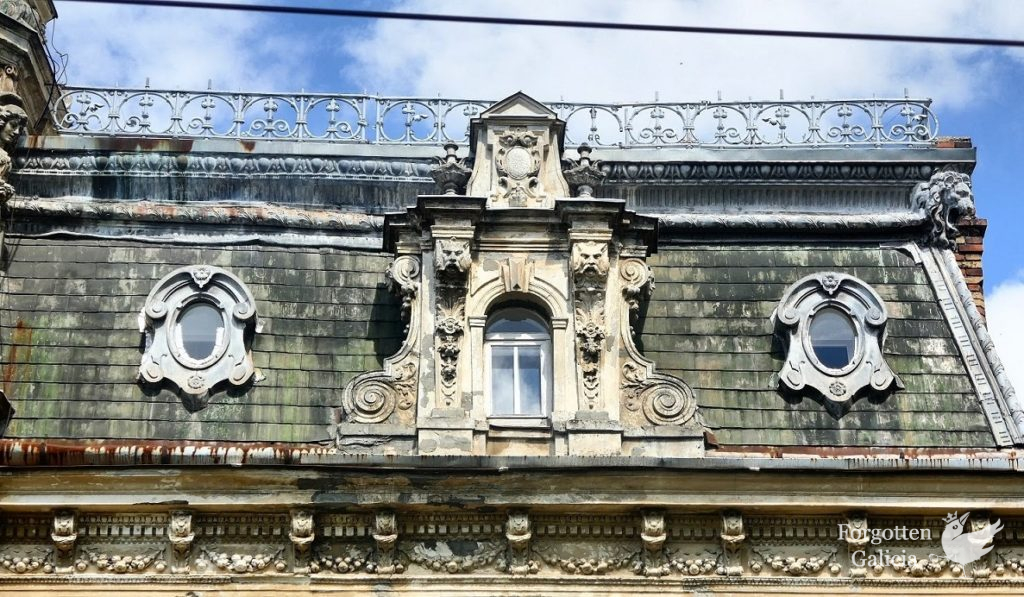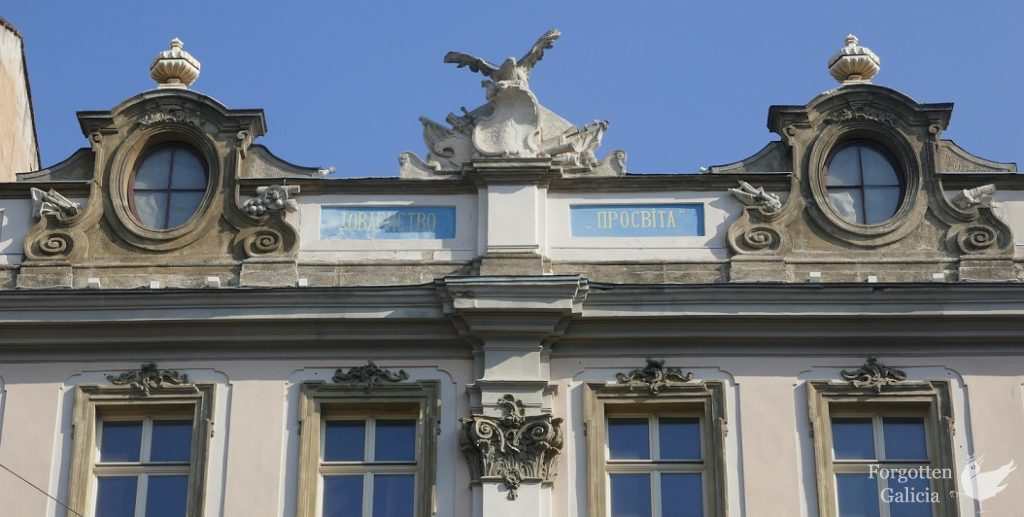 Flanking Doors
Other Examples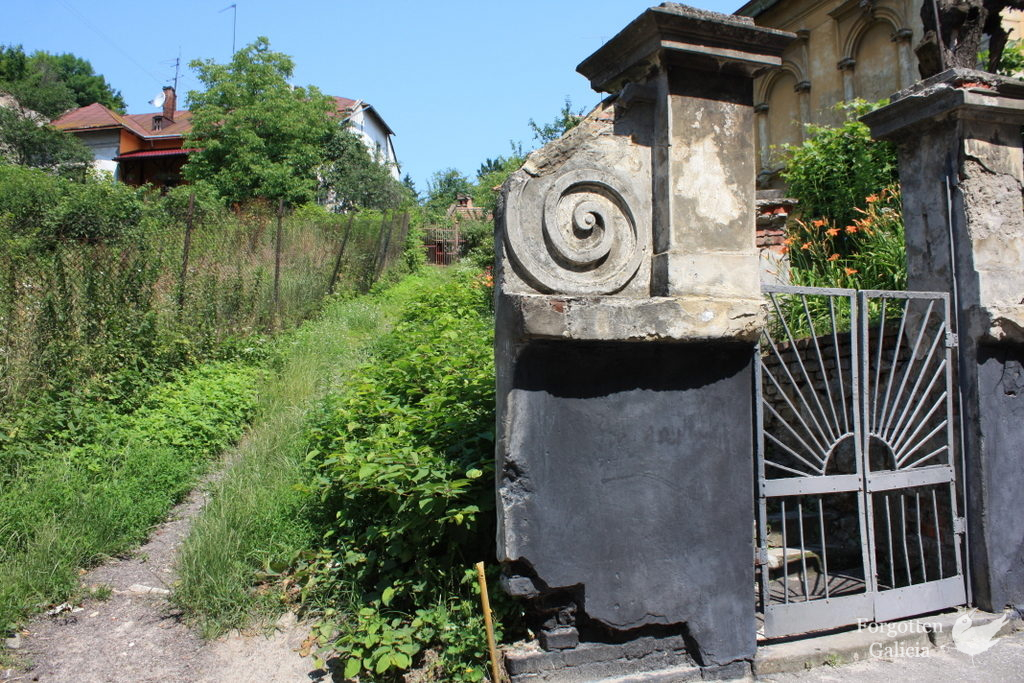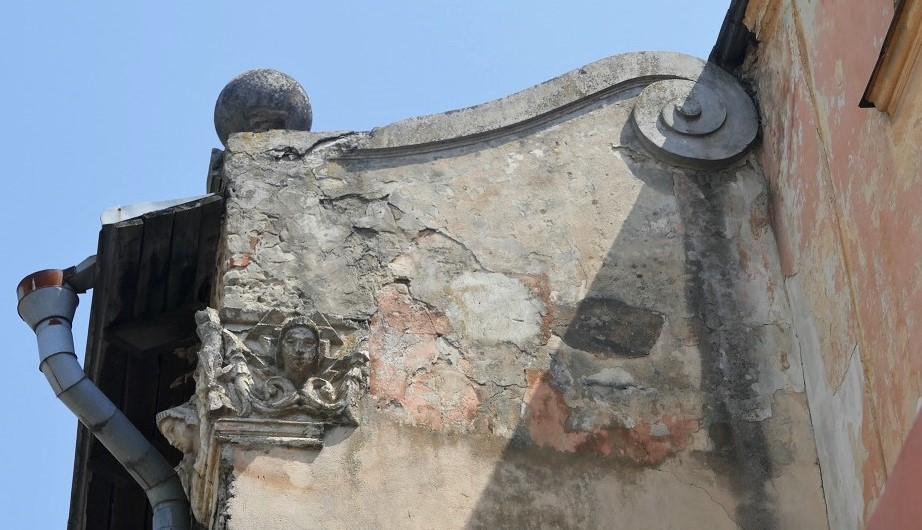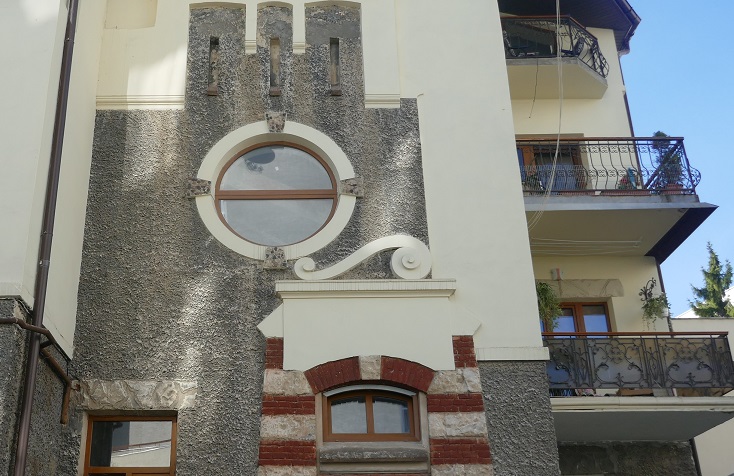 Polish-Style Mannerism
Mannerism (also known as Late Renaissance) architecture in Poland dominated between 1550 and 1650. A horizontal attic embellished with volutes is characteristic for this style.
Krakow Cloth Hall Renaissance building from 1555 with famous attic and gargoyles, a precursor of Mannerism style in Poland
Chełmno Town Hall in northern Poland, rebuilt in Manneristic style (under Italian influence) in 1567-1572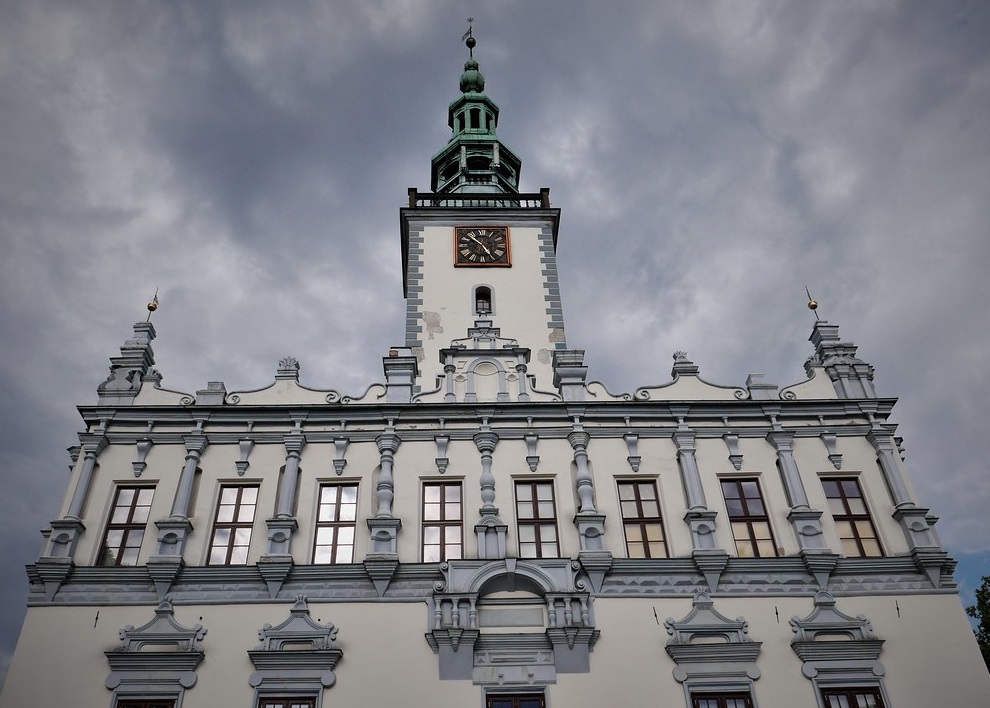 ***
In Lviv, these types attics can be found on both original Renaissance buildings (16th-17th centuries) as well as on Historicism, neo-Renaissance, and Secession buildings (19th-early 20th centuries).
Renaissance
Black Townhouse (1577) Renaissance.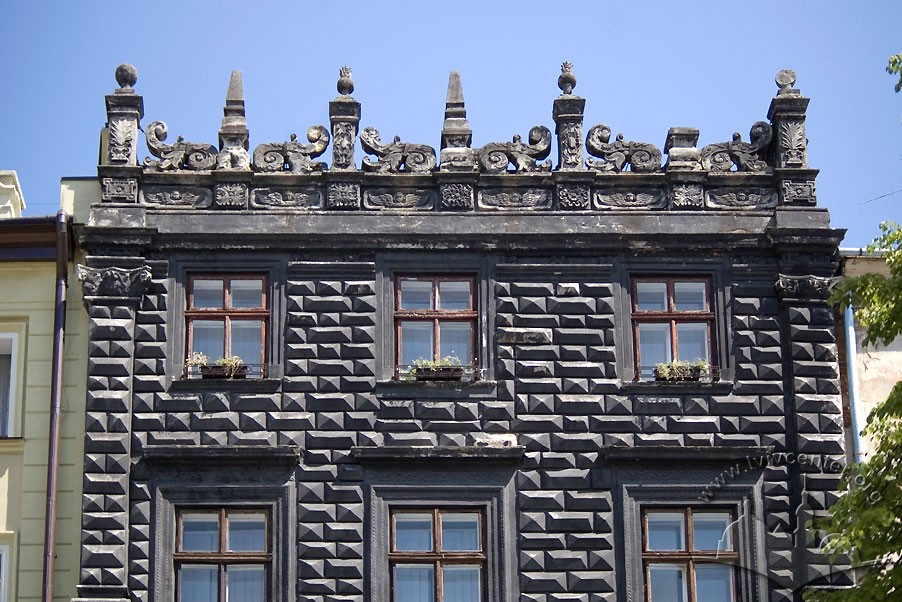 Korniakt Palace (1580) Renaissance. Here volutes are formed by dolphins.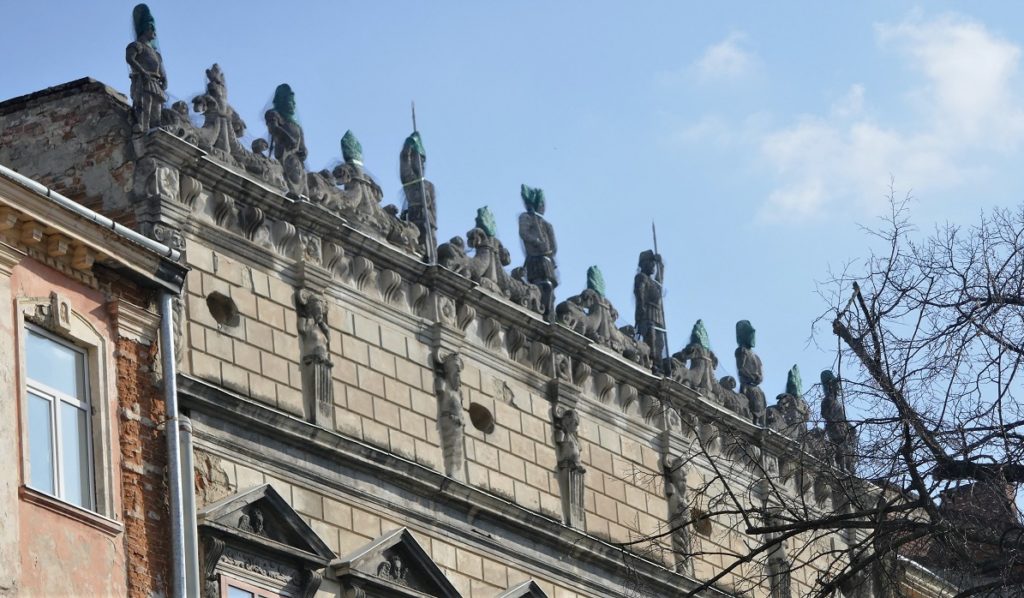 Glaczówska Townhouse (16th century) Renaissance.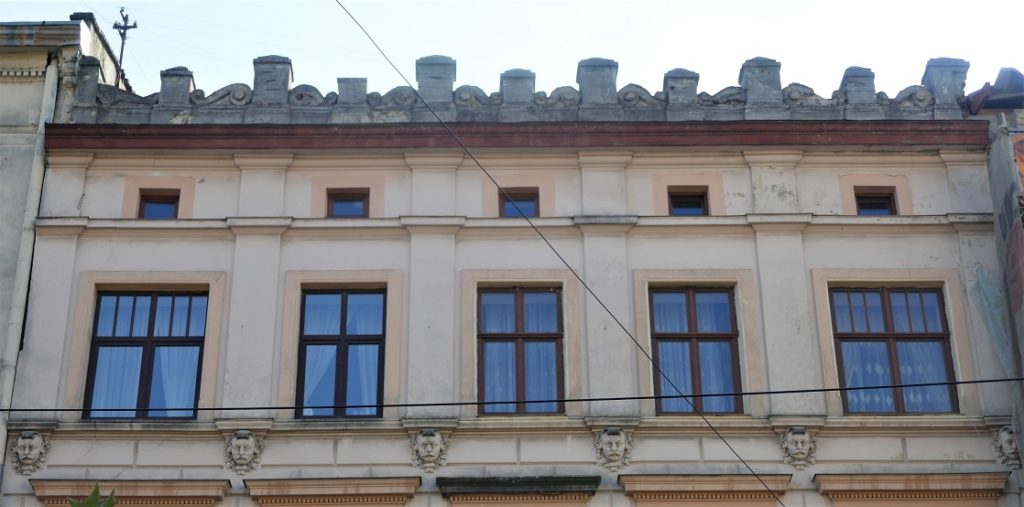 Townhouse (1580) Renaissance. Attic-like door pediment with volutes.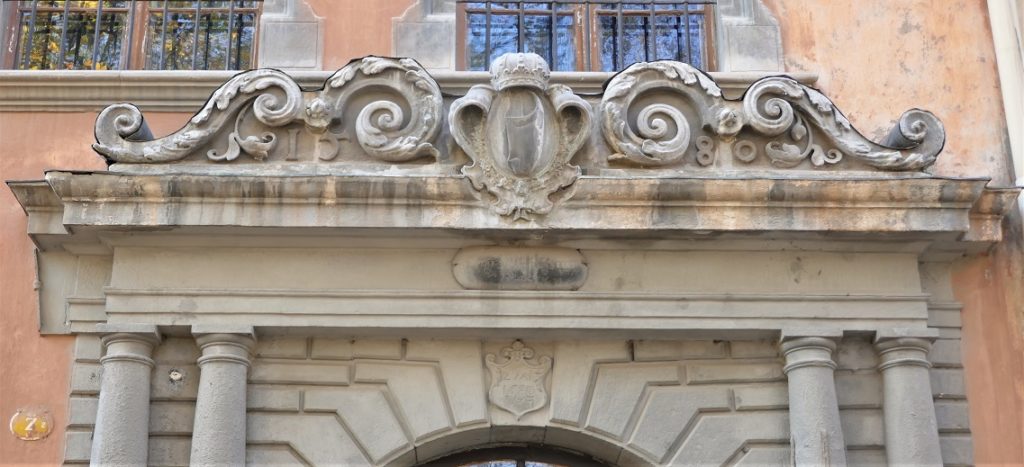 Neo-Renaissance, Historicism, Secession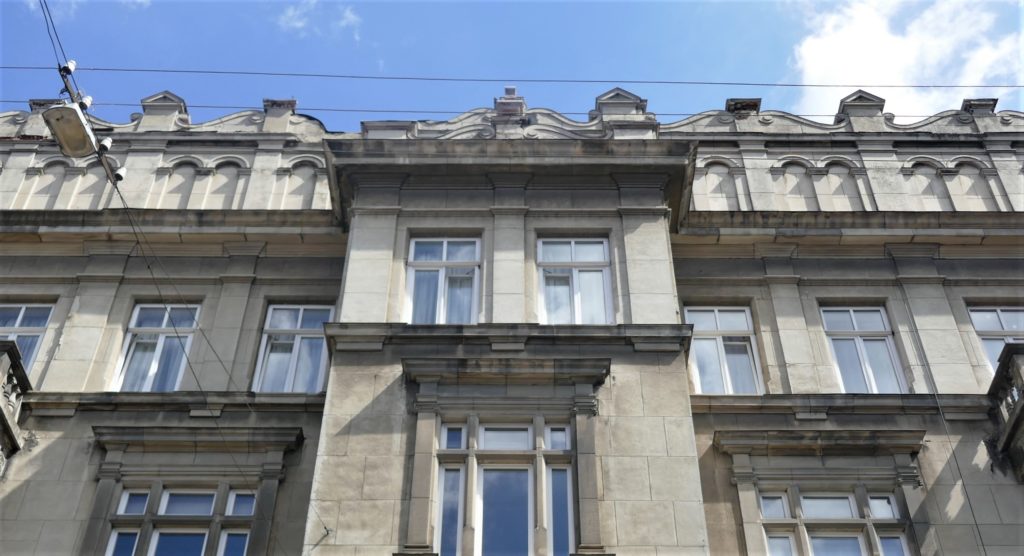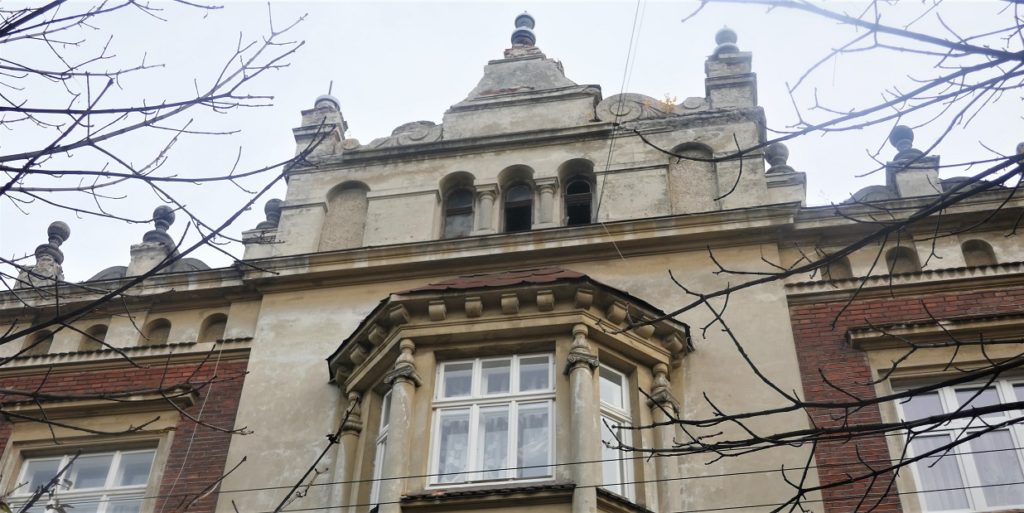 Former Felicja Boberska's Women's Bursa, built in 1912, arch. Tadeusz Mostowski.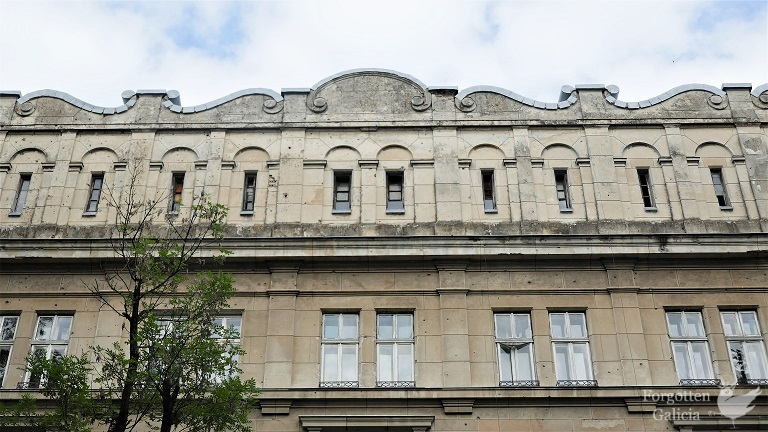 Former apartment building of Maurycy Sprecher and Dr Max Sprecher. Built 1910–1912, architect Karel Boublík. Decor combines elements of neo-Renaissance, neo-Gothic, and Secession, topped with a neo-Renaissance attic with volutes.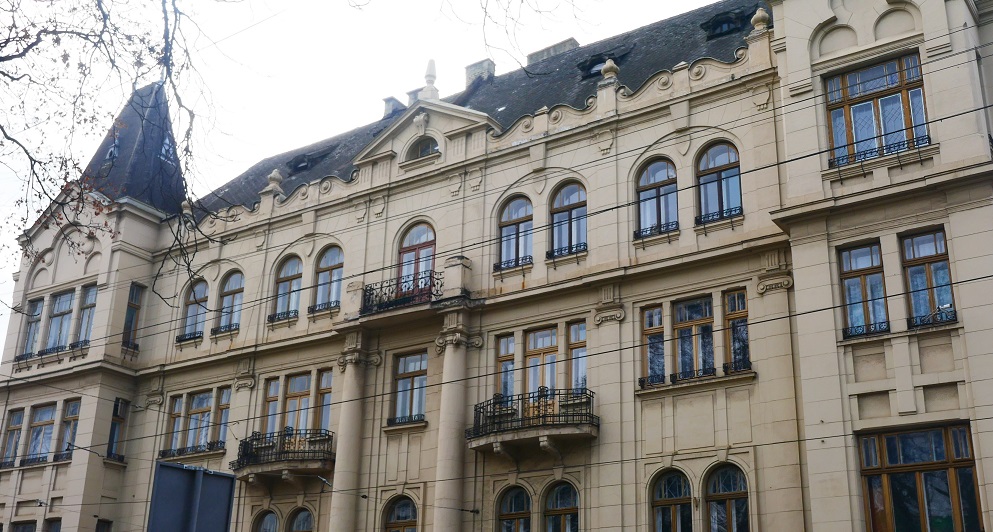 Zipper's Trading House, built in 1912, Art Nouveau style with elements of historicism. The facade incorporates modernized Renaissance forms with the characteristic "Polish" attic modeled on Krakow's Cloth Hall.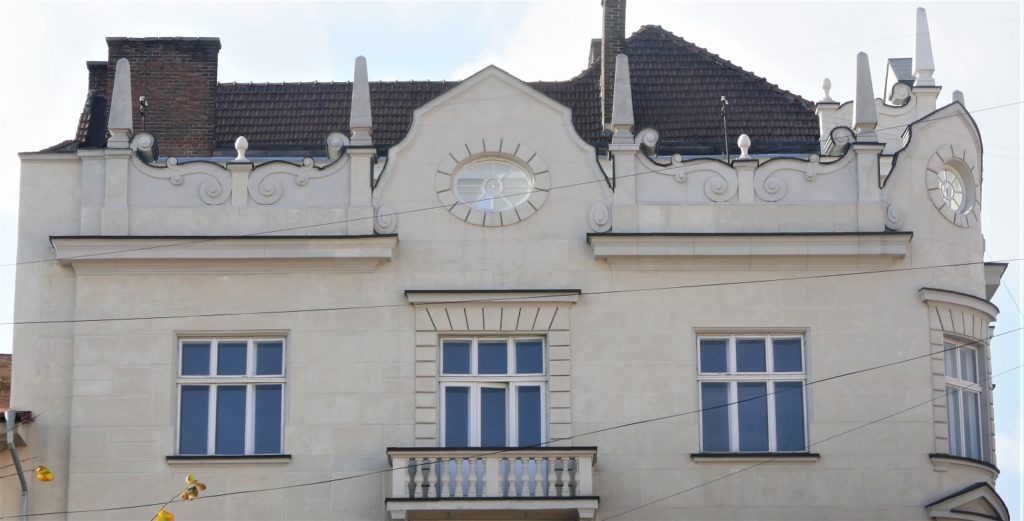 Former Śniadecki Mathematics and Natural Studies Gymnasium, built in 1914, architects Alfred Zachiarewicz and Jozef Sosnowski.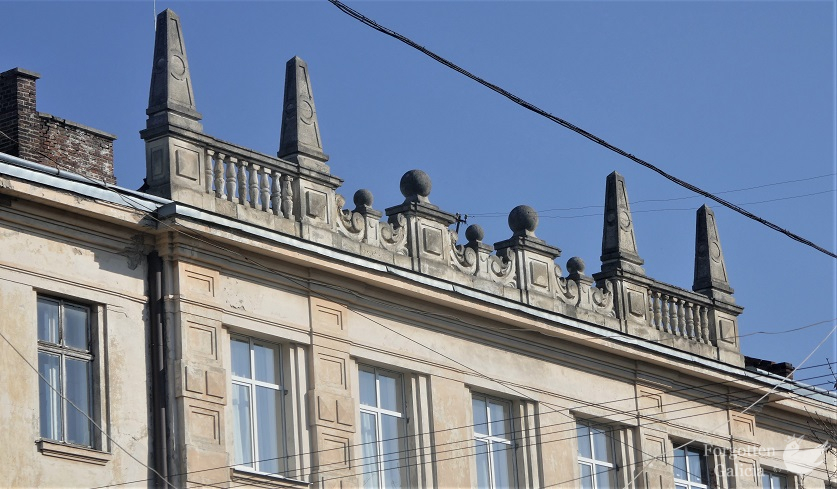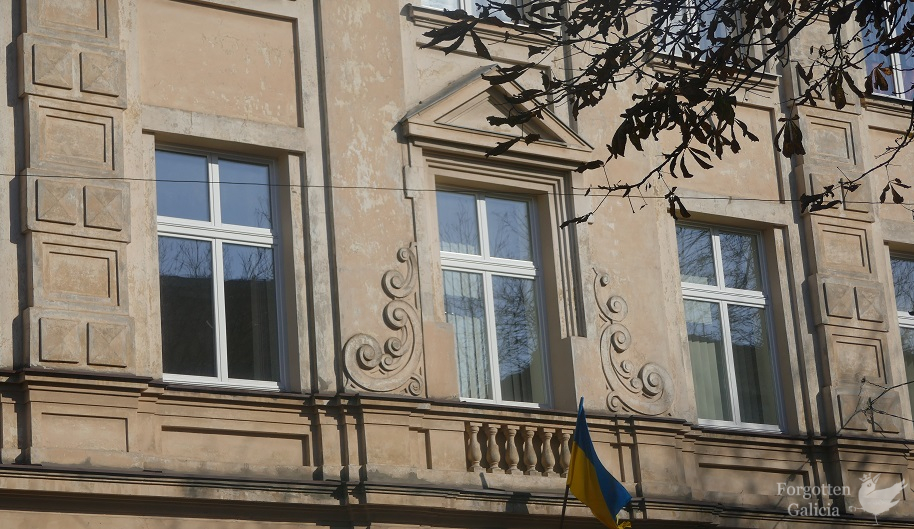 Former Imperial-Royal Financial Prosecutor's Office. Construction began before WWI, completed in 1921. Eclectic style with neo-Renaissance attic.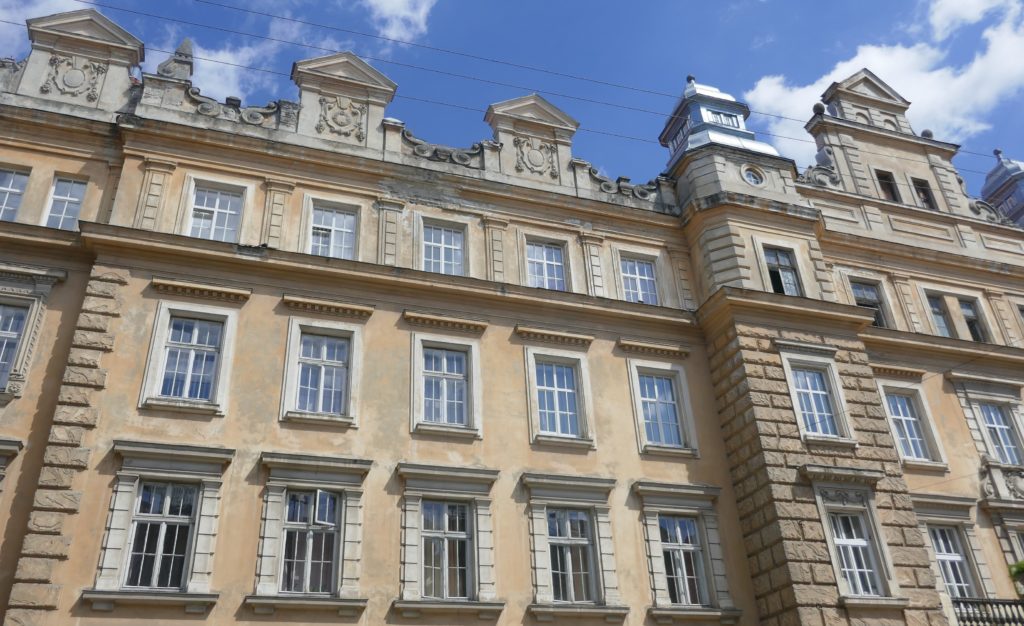 Secession (Art Nouveau)
Secession in Lviv spanned from 1898 to 1914. There were two main movements: Ornamental Secession (1898-1907) characterized by curving lines and shapes inspired by natural forms; and Rational Secession (1908-1914) also called Late Secession, heavily influenced by Neoclassicism and post-Historicism. In these styles, especially in Ornamental Secession, the volute is highly stylized and modernized.
Ornamental Secession
Residential building, built in 1905-1906. An exemplary monument of Secession architecture in Lviv.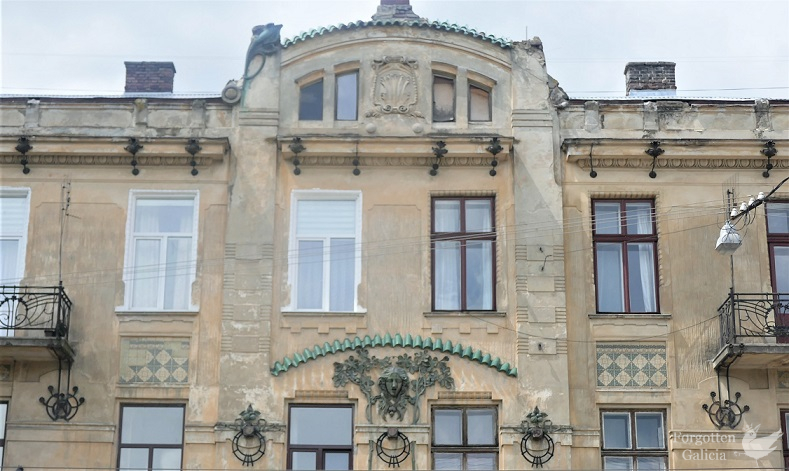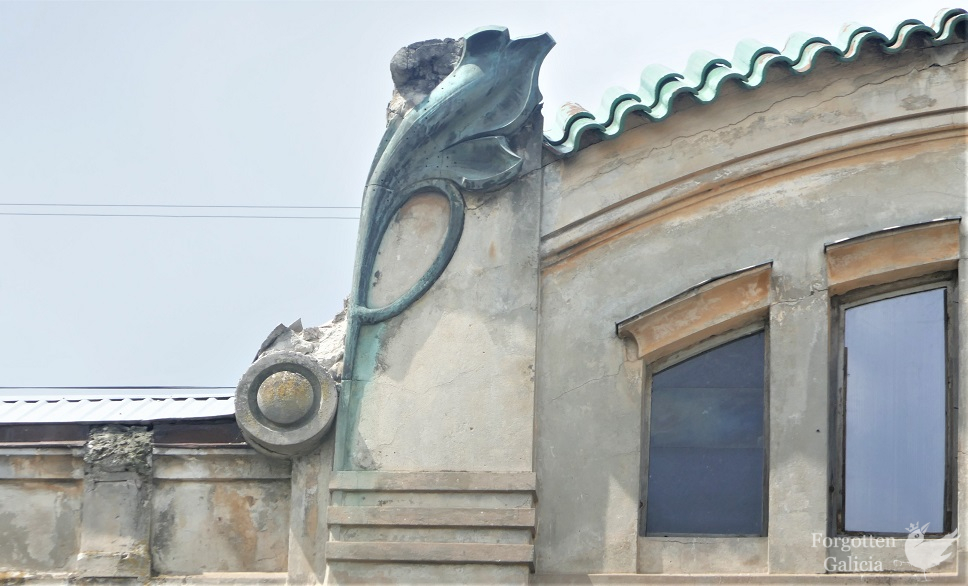 Former Galician Music Society, built 1907, architect Wladyslaw Sadlowski. Today the Lviv National Philharmonic.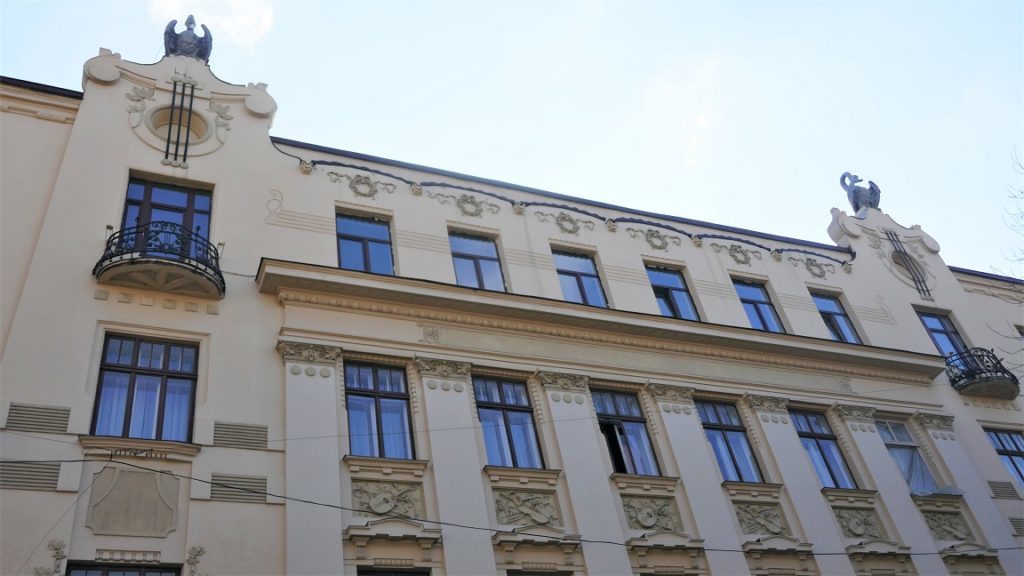 Residential building, built in 1907, architect Tadeusz Obminski. One of Lviv's best examples of ornamental Secession.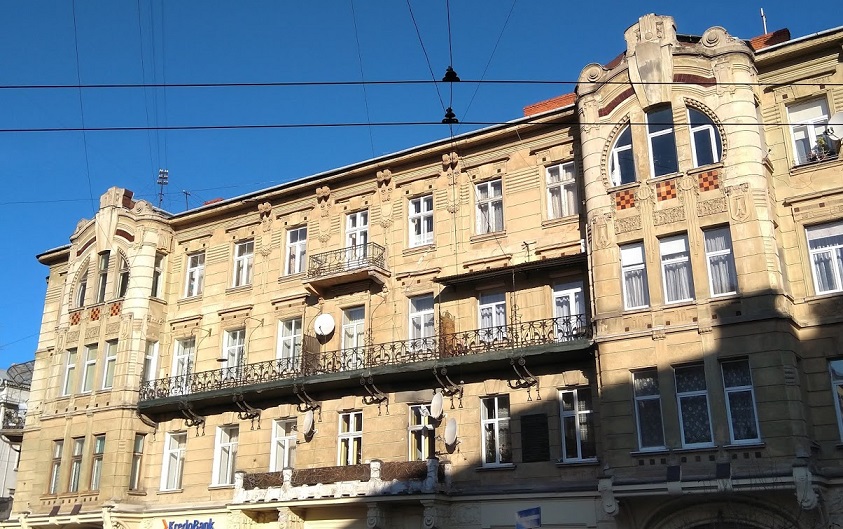 Building on Khmelnytskoho Street.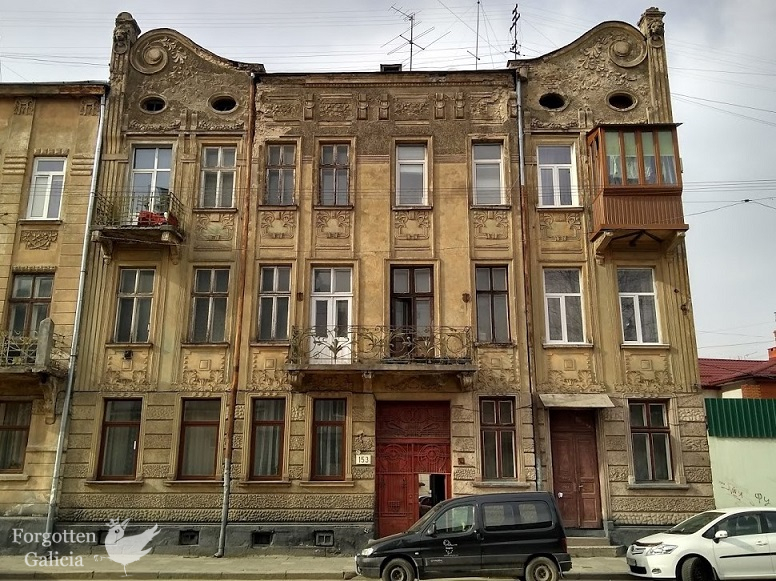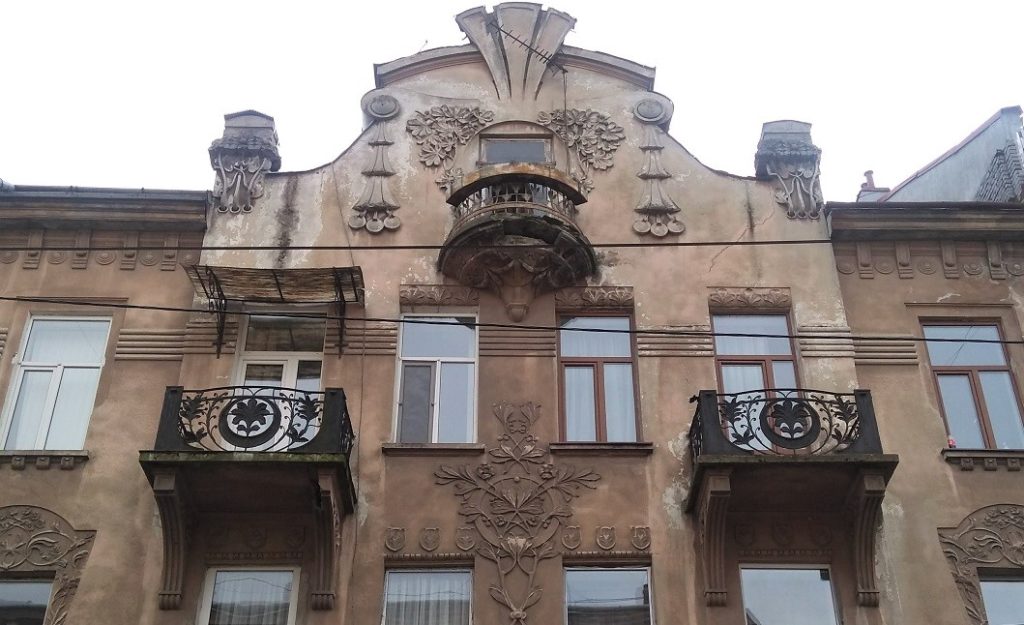 Rational Secession
Former Technical Institute, built 1907-1909, arch. Tadeusz Obmiński. Back facade. Today the Lysenko State Music Academy.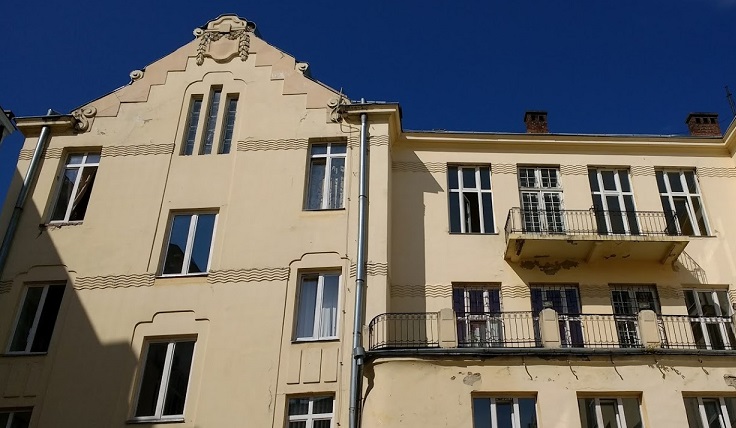 Former Henrik Mikolasch villa, built 1910-1911. Neo-Baroque & Secession style.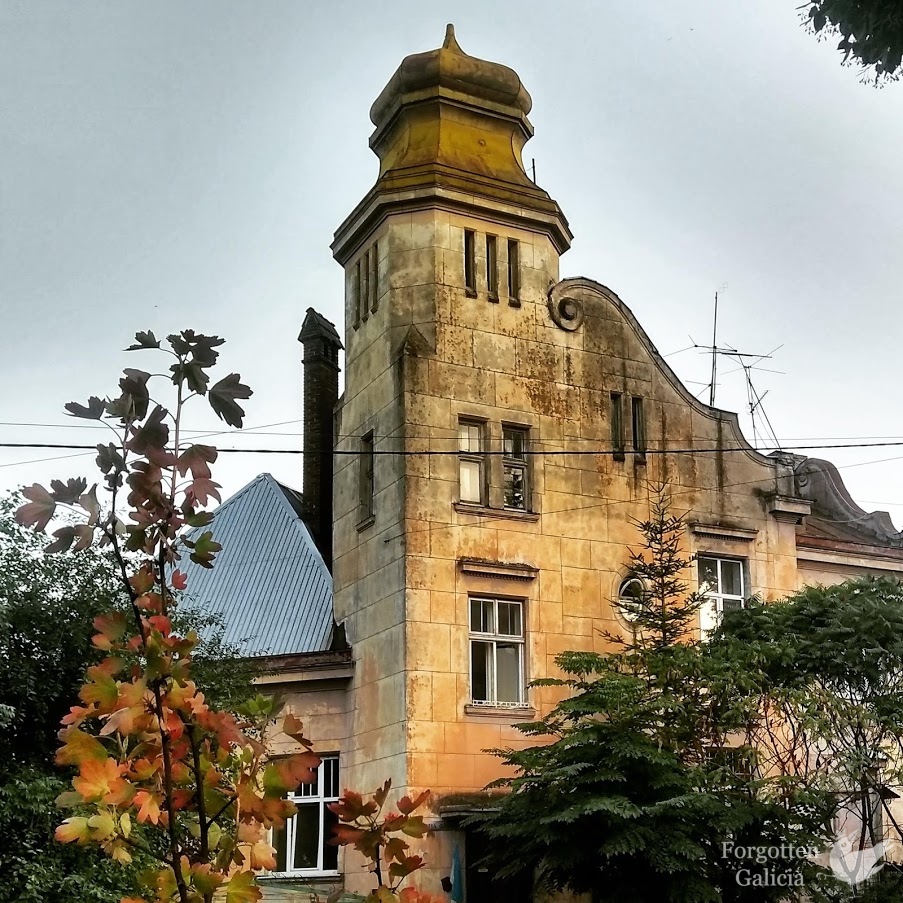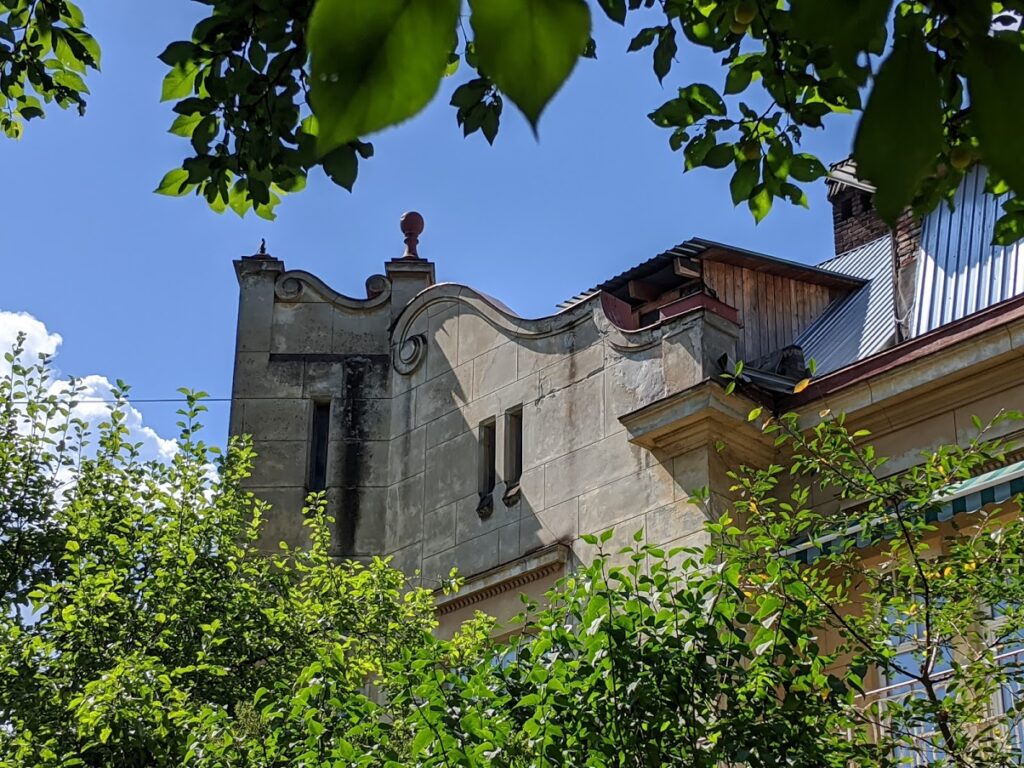 Dragon House, built 1910-12. Decorated with Gothic elements and two reliefs of dragons by Ivan Severa. Tongue-like volutes in the mouths of the dragons.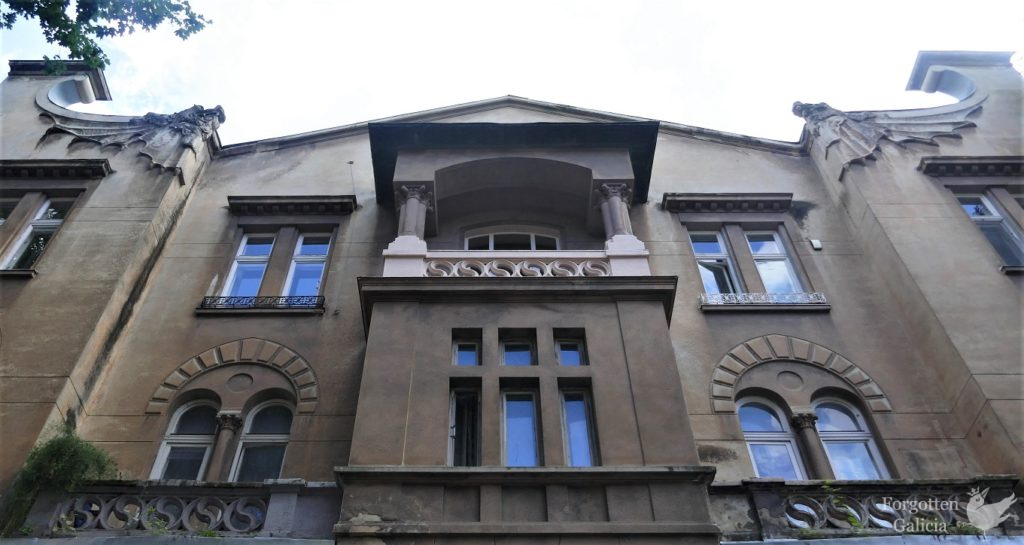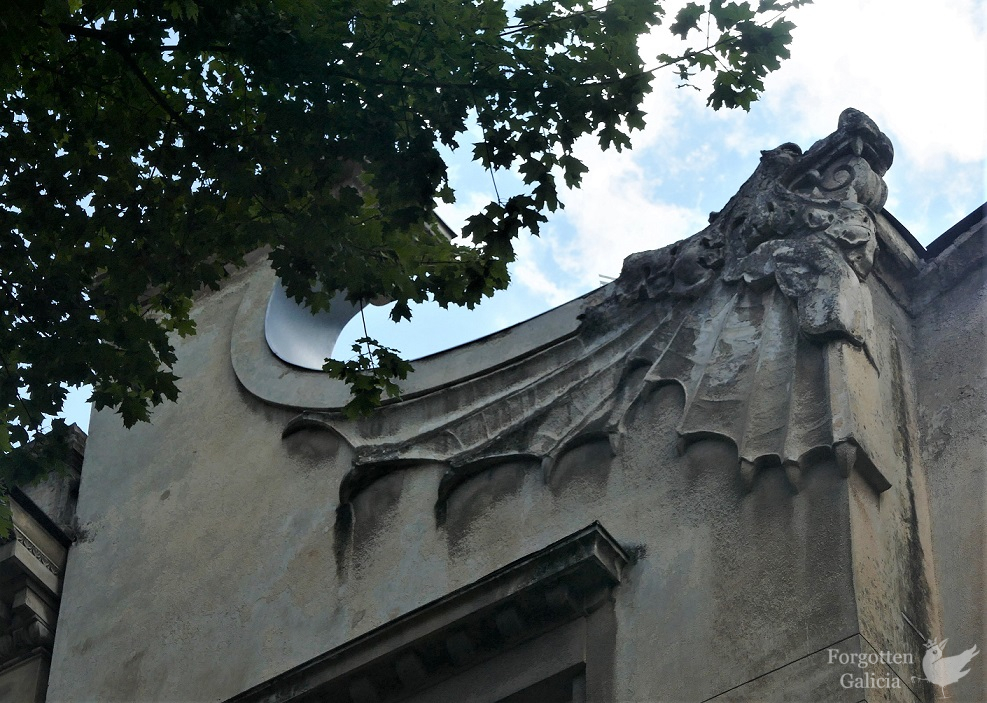 Residential & Office building, built 1910, architects Józef Sosnowski and Alfred Zachariewicz.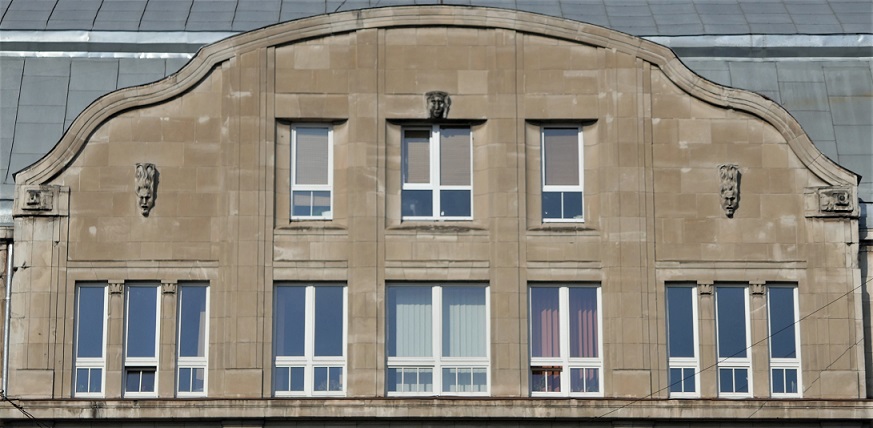 Building on Tarnavskoho Street.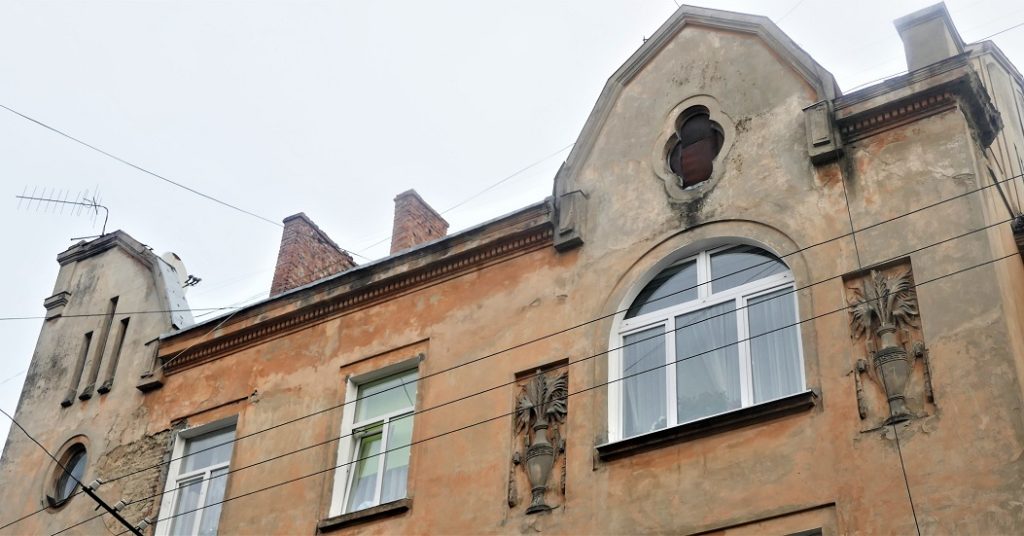 Moses Rohatyn House, built 1911-1912. Late Secession.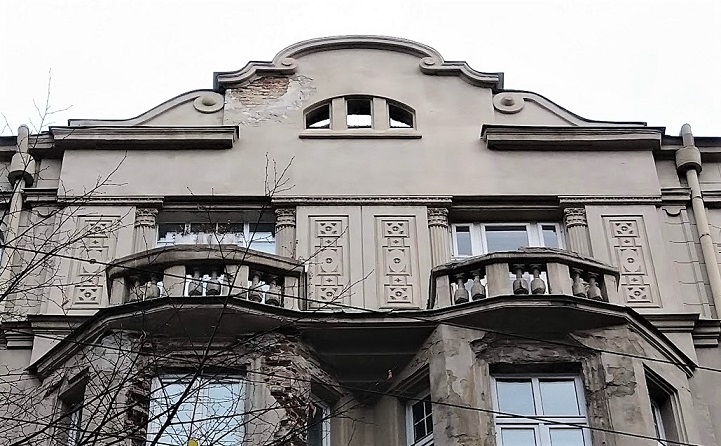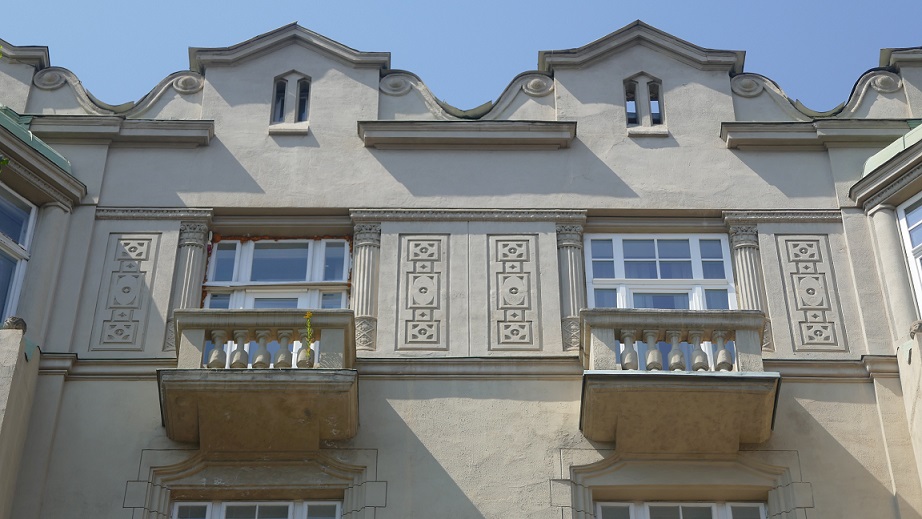 Former M. Lysenko Musical Institute, built 1913-1916. Neoclassicism/Secession.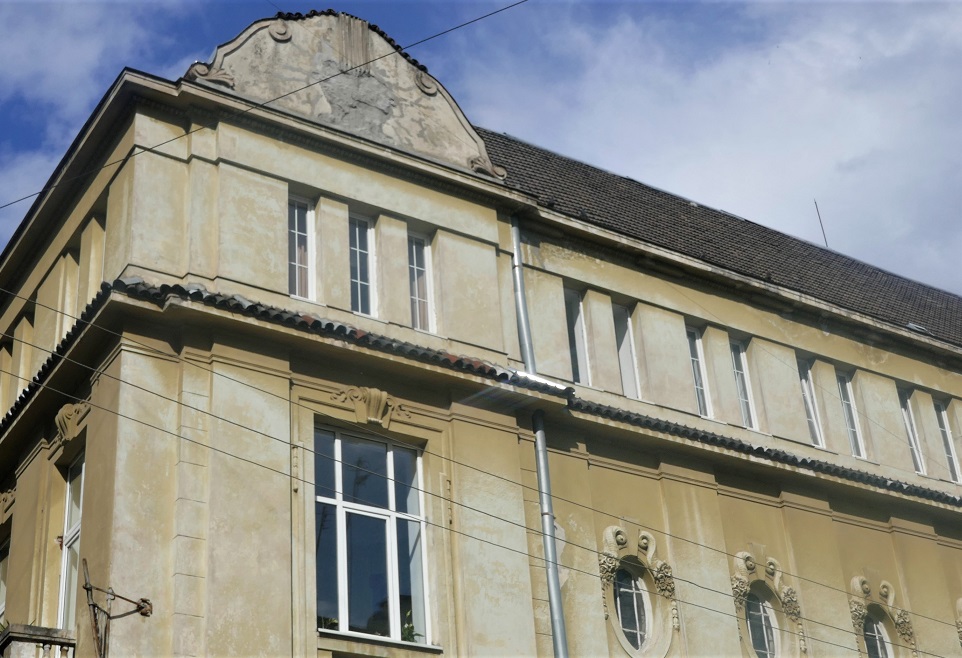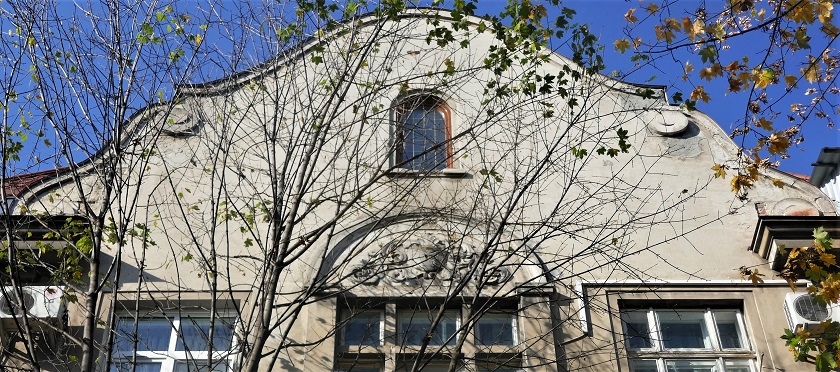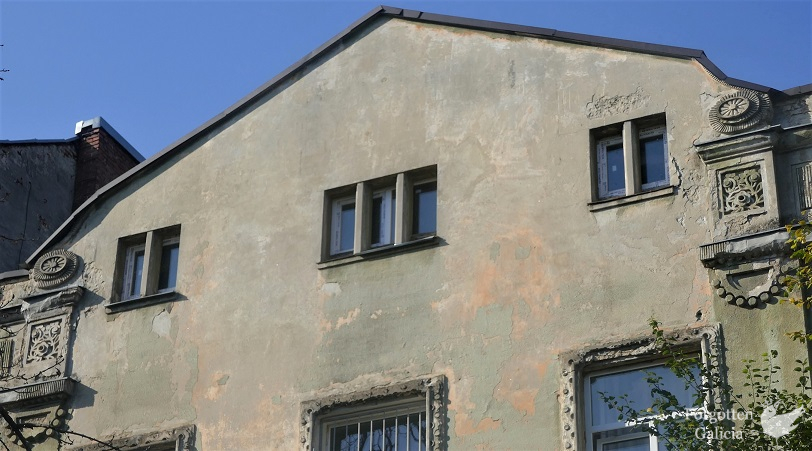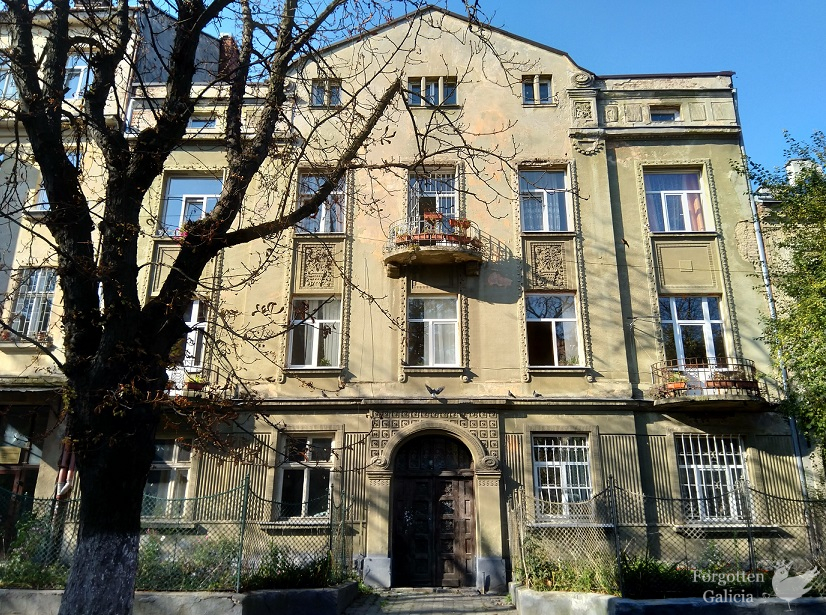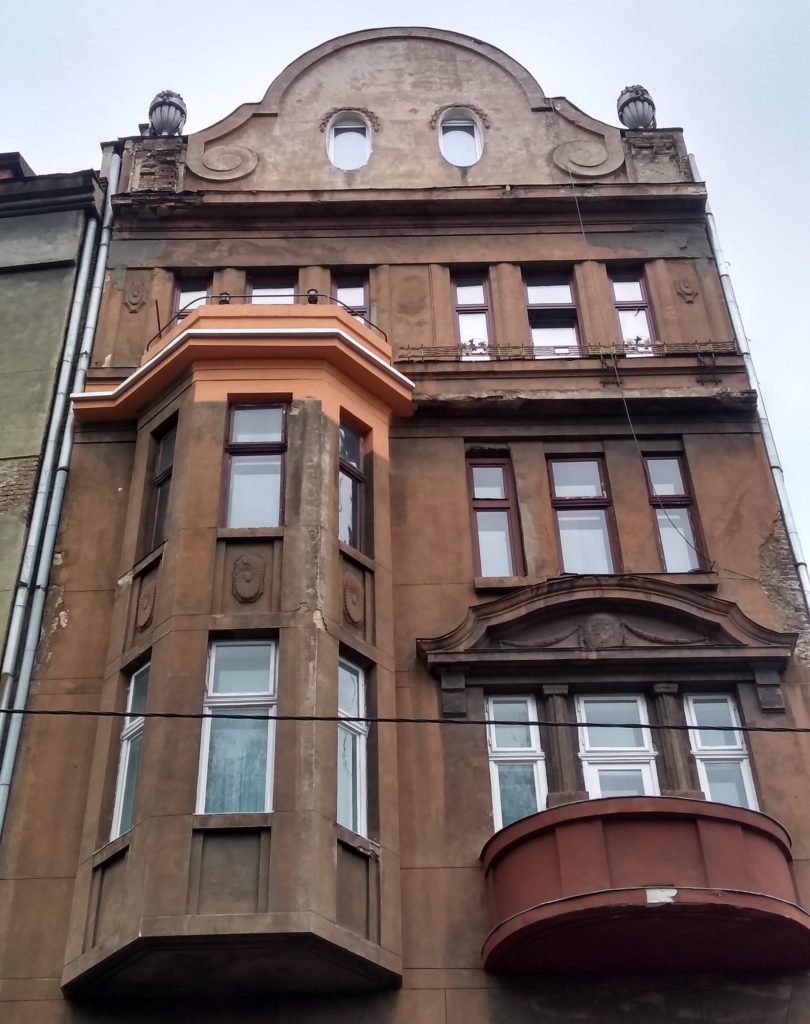 Art Deco
Art Deco in Lviv was popular in the interwar period, from 1919 to 1930. This movement was a mix of many different styles, sometimes contradictory, united by a desire to be modern. In Lviv, influences of Classical, Renaissance, and Baroque architecture as well as the exotic style of ancient Egypt are especially apparent.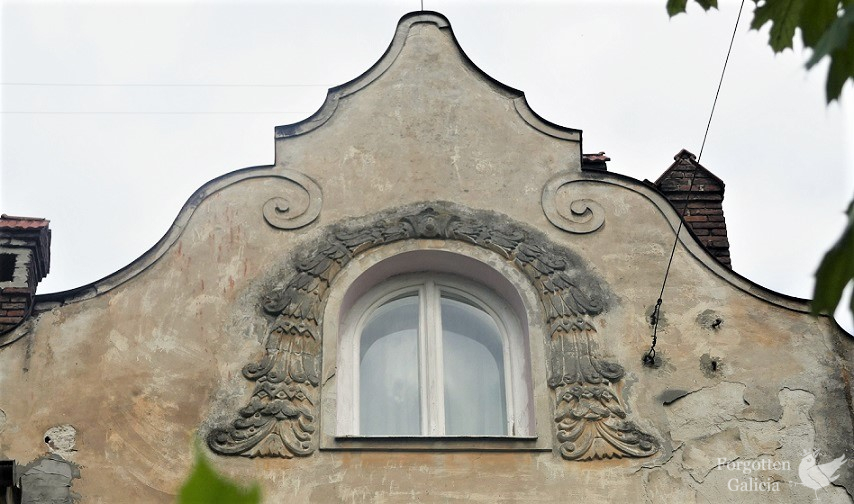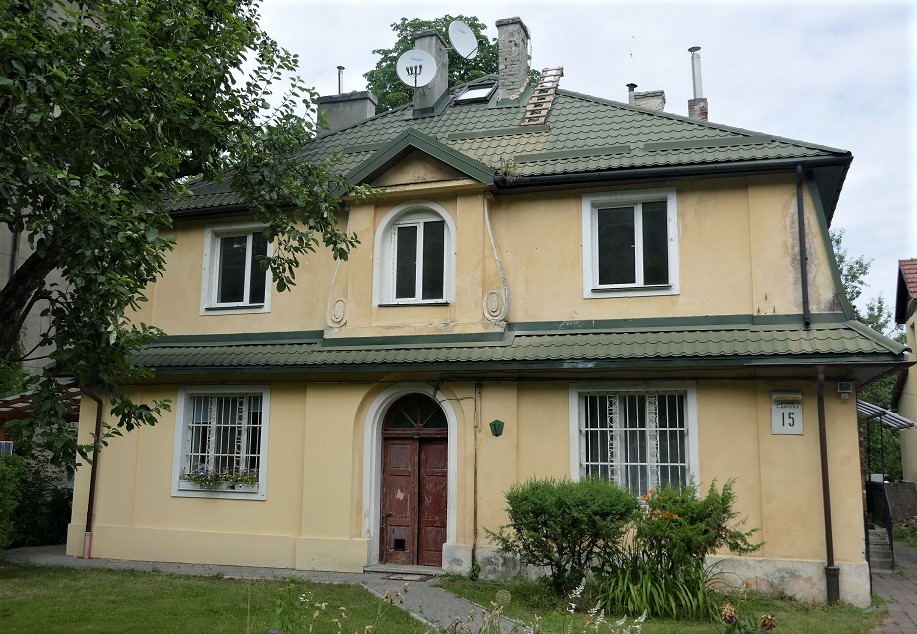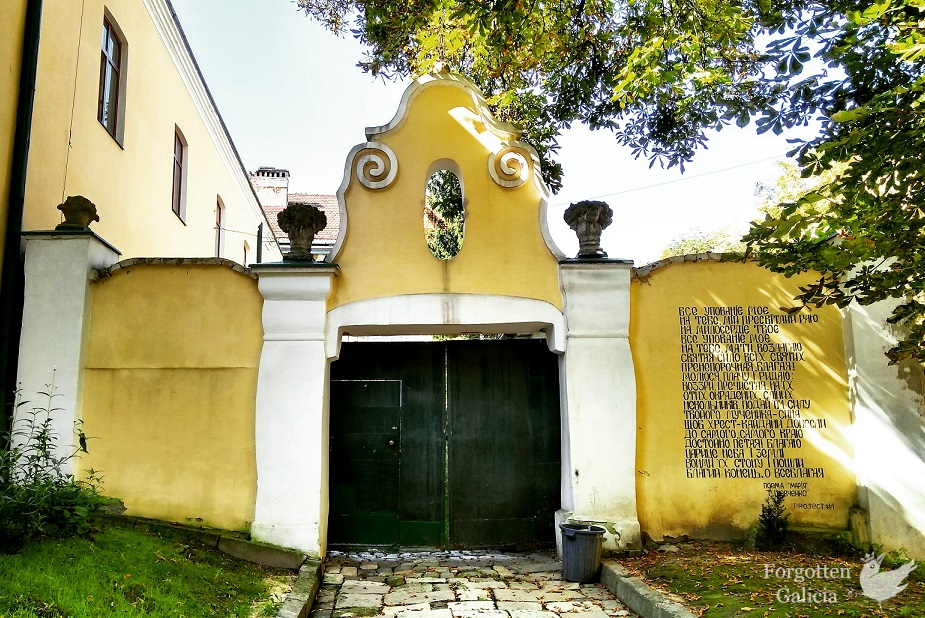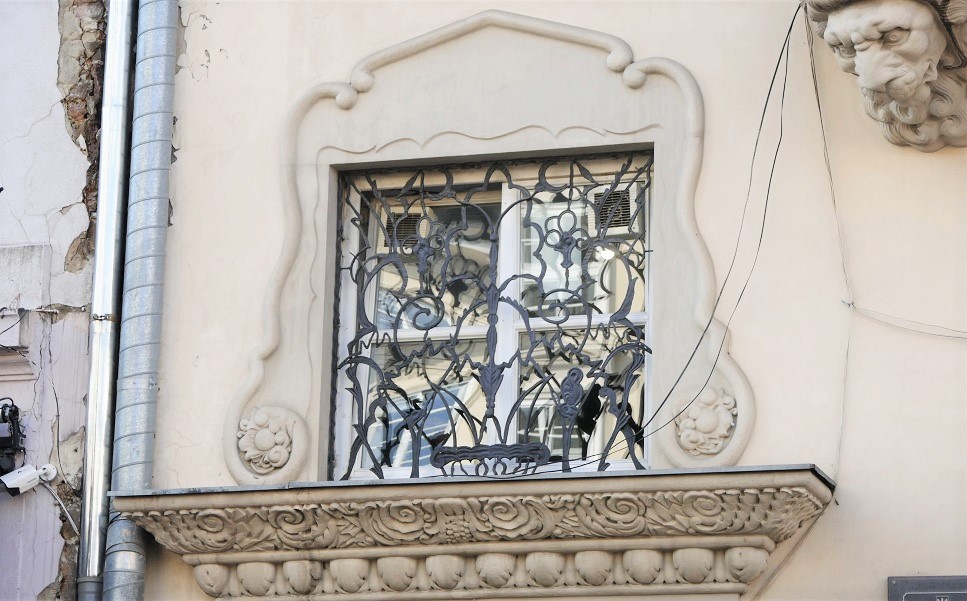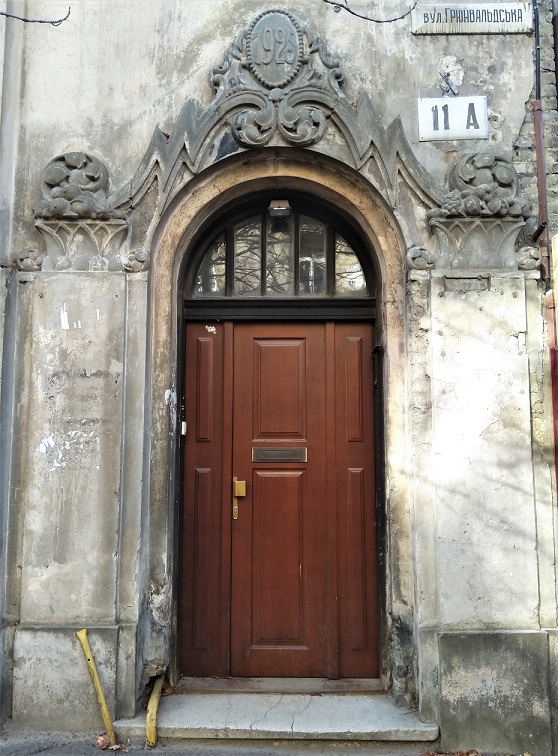 Polish Manor Style
Polish manor style (styl dworkowy), an architectural style popular in the interwar period, resembled Polish manor houses of the seventeenth and eighteenth centuries.
Manor house in Koszuty, Poland, built c. 1760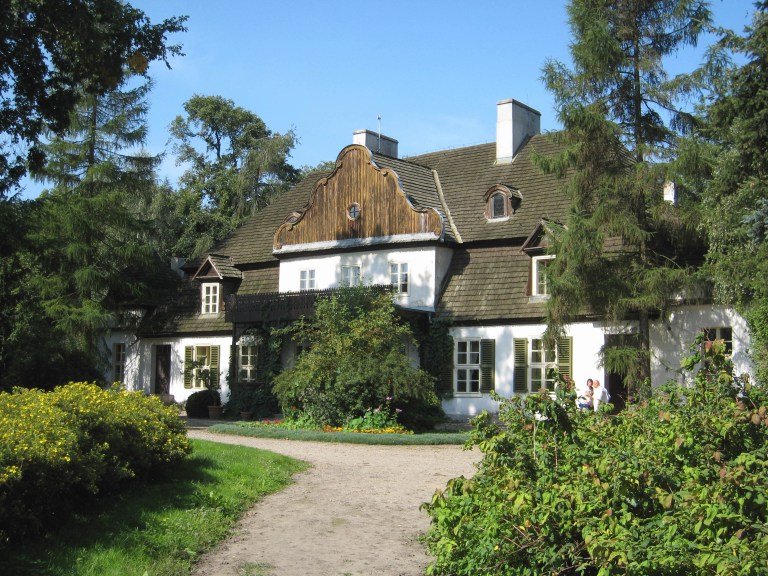 Manor house in Czarnożyły, Łódź province, Poland. This building no longer exists.
***
In Lviv, several housing developments were built in this style. The houses typically had high, two-level hipped roofs (also known as Polish roofs), with soft gable lines that terminated in volutes, oval gable windows, and column porticos at times reduced to pilasters.
Officers' Colony Manor Style houses with elements of Art Deco (1923-31)
Vlasna Strikha cooperative manor style houses (1928-1932)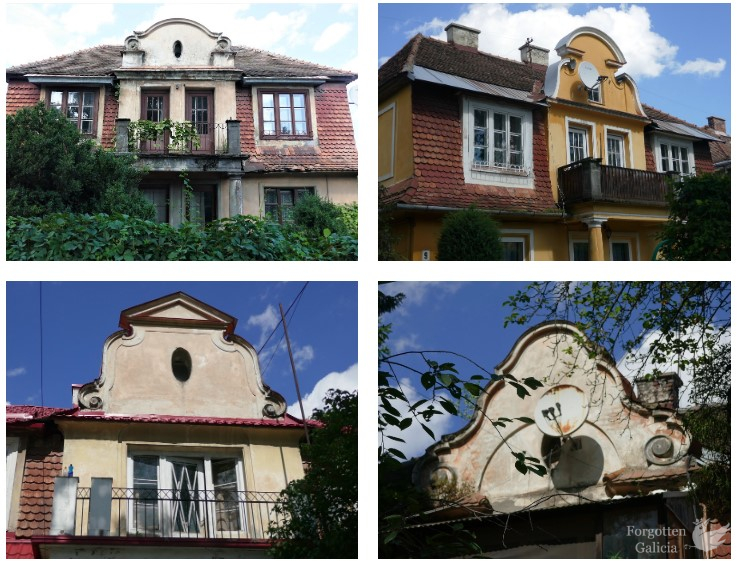 Other Examples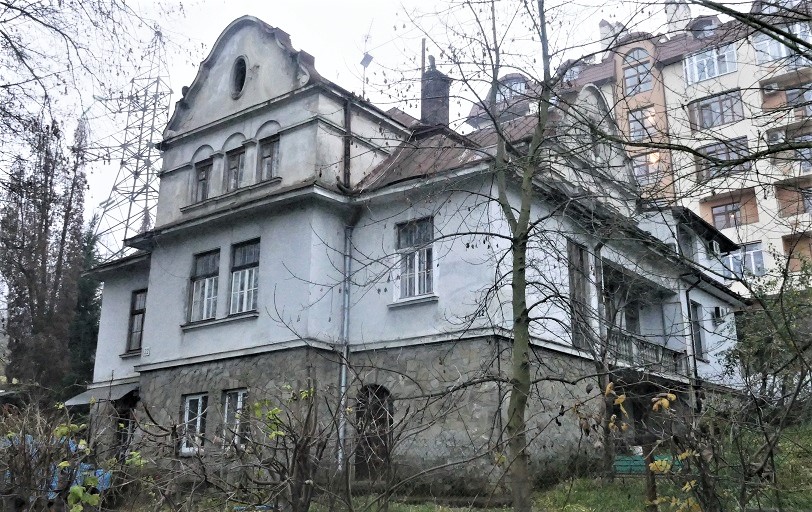 By Areta Kovalska
Sources:
"Dutch gables: examples from Amsterdam," Snail in the City
https://architecturestyles.org/renaissance/
"Volute," Wikipedia
"Santa Maria Novella," Wikipedia
"Mannerist architecture and sculpture in Poland," Wikipedia
"Volute," House Design Coffee