One of the most colorful and decorative traces of the times of Austrian Lviv (Lemberg) can be found right under our feet — in the entrances, vestibules, and stairwells of many of Lviv's buildings, from the floors of the finest banks and institutions to ordinary residential apartments in the city's outskirts.
In the second half of the nineteenth century, ceramic tiles with smooth or mosaic surfaces started to be widely used in Lviv to cover the floors of public spaces in buildings — instead of oak parquetry or terrazzo floors which were common in Early Historicism.
At first, this new floor covering material was designed in monochrome or with a two- or tricolored palette, but with time more contrast combinations appeared.
As Historicism looked to past architecture styles for inspiration, Classical, Renaissance, and Medieval motifs were often used. Ceramic floor tiles created metrical carpet compositions surrounded with a frieze, which could vary depending from the owner or architect's choice.
Ceramic tiles were also widely used in the interiors of Secession (Art Nouveau) buildings, where new motifs, especially floral designs, were used in the design.
The spread of ceramic tiling was accelerated in the 1890s with the establishment of building material companies such as those of Jan Lewiński, Barta&Tichy (1889), Wyrób Rakownicki (1883), Henryk Eber (1896), and Bracia Mund (1898).
Many of the manufacturers of these tiles sold their products across the region. And not only were locally made tiles used in Lviv, but also tiles produced by companies located in other parts of Galicia — or even outside the province. As a result, the same designs can be found in many Galician cities and towns, and sometimes even in Poland or other central European countries.
Today, hundreds examples of these tiles can be found around Lviv. For over 100 years they have been bringing color and beauty to those who enter. But after so many feet have walked on them, many are now faded and cracked, many a tiles have gone missing — sometimes replaced by others, sometimes left as a void.
Tiles with Company Mark
In the late nineteenth and the early twentieth centuries, several companies that were manufacturing or supplying ceramic tiles were active in Lviv.
The name of the manufacturer or supplier — often including the name of the city of the company's location or branch — was sometimes stamped on a special tile and laid in the entrance way near the front door of the building. These served as an ad for the company and were deliberately placed so that it was the first thing a person saw upon entering a building. But in some cases the stamped tiles were placed in other areas and even on different levels of a stairwell.
Not surprisingly, none of the Lviv-based companies is around today. However, a couple of the foreign companies, namely Villeroy Back and Hardmuth, as well as some of the manufacturers of tiles installed by Bracia Mund, are still around.
Quite a few of these stamped tiles remain in Lviv.
Bracia Mund Lwów
One of the most successful businesses in Galicia, Bracia Mund Lwów was founded in 1898 in Lwów by three brothers Maurycy, Jakób, and Ignacy. While they had a factory which produced various building materials, they did not produce their own tiles but supplied and installed tiles made elsewhere.
Due to their prolific activity, it is no surprise that the name Bracia Mund is today one of the most commonly found inscriptions in Lviv's urban landscape.
Jan Lewiński Lwów za Barta & Tichý w Pradze
In the 1880s, Ukrainian architect and entrepreneur Jan Lewiński (Іван Левинський) began selling products from Prague's Barta & Tichý — one of the most famous ceramic factories in Europe. In 1890, thanks to the thanks to the Czech stock in trade, Lewiński started to produce his own ceramic tiles using special technology.
L. & G. Kaden Kraków – Lwów
Ludwik and Gustaw Kaden founded their company, which produced tiles and gypsum, in the 1880s in Kraków. In 1912 they opened a branch in Lviv.
Wyrób Rakownicki
A Czech company established in 1883 in Rakovník and which still exists today as RAKO.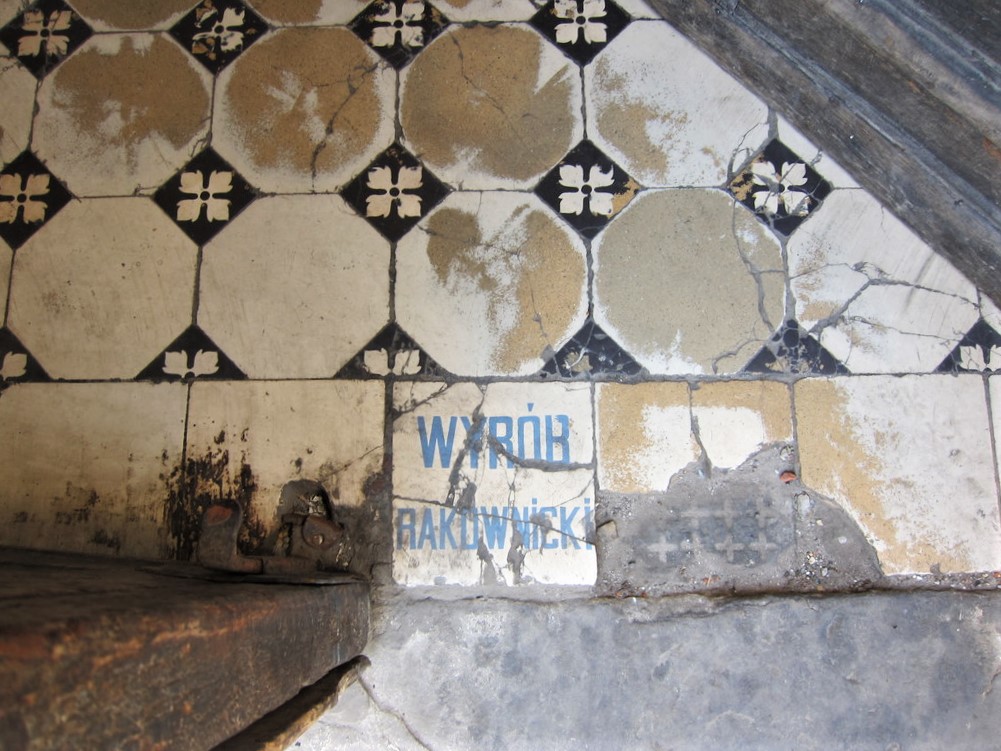 Przedsiebiorstwo Henryka Ebera we Lwowie
Henryk Eber founded his building material company in 1896 in Lviv.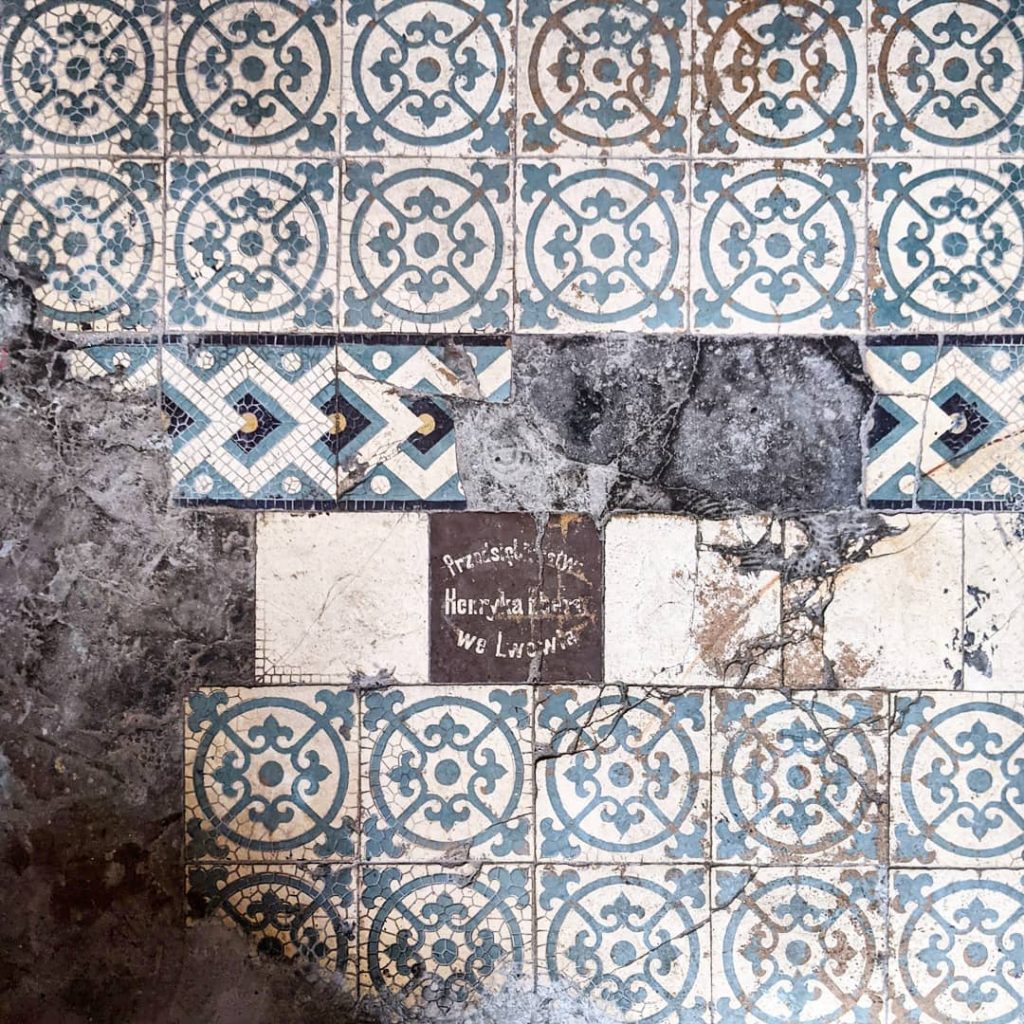 Itamer Hirschtritt Lwów
A Kraków-based company with a branch in Lviv.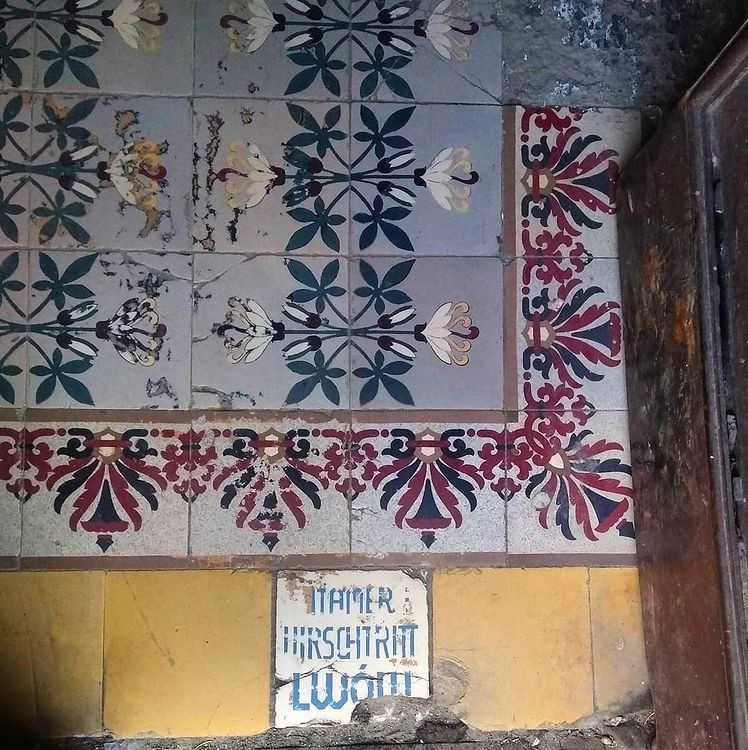 Hirschtritt i Eber Lwów
Itamer Hirschtritt and Henryk Eber worked together at some point.
Interestingly, in one entrance way the tiles were placed in the wrong order (bottom half of picture below).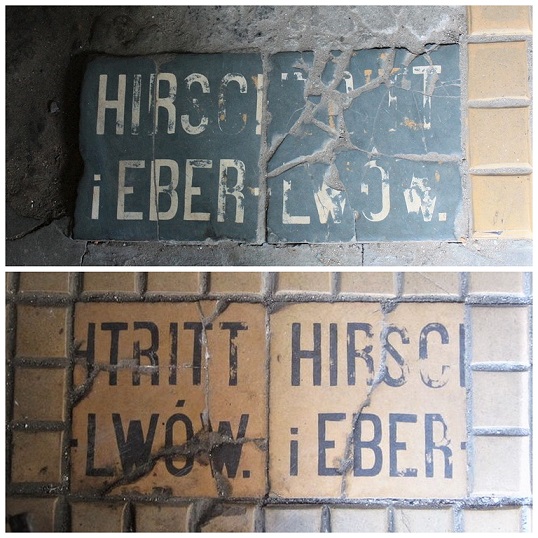 Buchsbaum & Kindler Lwów
Founded in 1911 by Michal Buchsbaum and Jozef Kindler, the company sold and installed cement and asphalt products.
Adolf Kampel Lwów
Entrepreneur Adolf Kampel started his business in Lviv almost at the same time as the Mund brothers. The company was engaged in various works on construction work.
Kampel did not have its own production — in Lviv his company represented the Austrian factory of ordinary cement and a factory of hydraulic lime for facades in Kaltenleutgeben.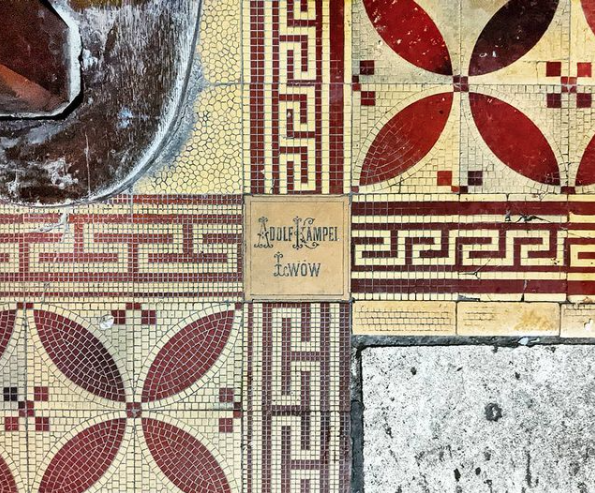 A. Gruber Lwów
The company worked mostly on budget projects using not very high quality tiles with widely known patterns.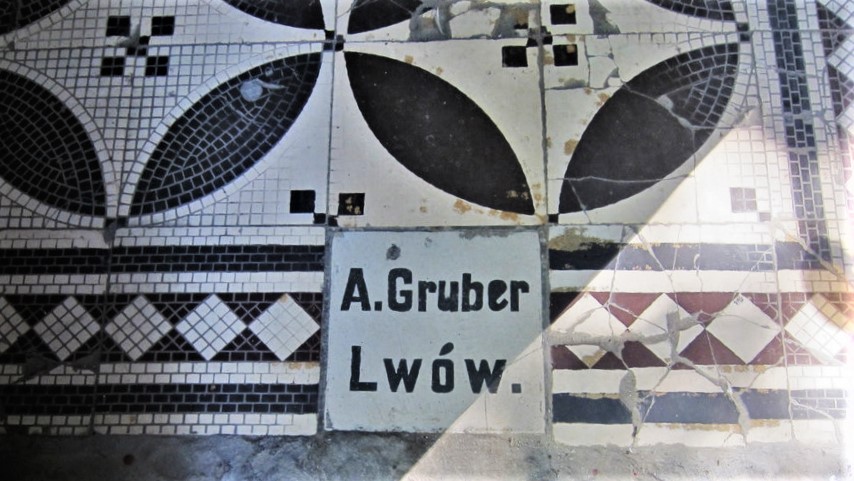 Hardtmuth SPA Lwów
One of the world's oldest manufacturers and suppliers of pencils, Hardtmuth began its activity by producing building material. The company was founded in Austria in 1790 by Joseph Hardtmuth. In 1848, Joseph's sons, Karl and Ludwig, took over the family business, and the production was relocated to Bohemia. The company became very successful, selling its products across Europe.
Since kaolin clay deposits could be found near Lviv, the company opened a branch in the Galician capital, which engaged in the mining of clay and manufacture of bricks, tiles, and dishware.
Villeroy & Boch Mettlach Merzig
A German manufacturer of ceramics founded in 1748 and which developed into the world's largest manufacturer of plants for wall and floor tiles.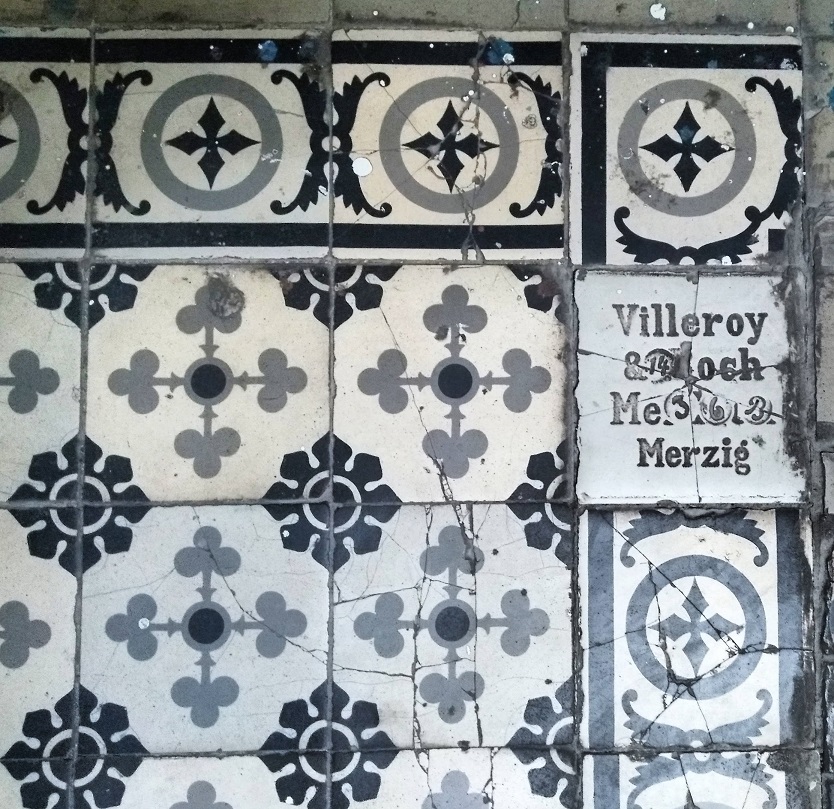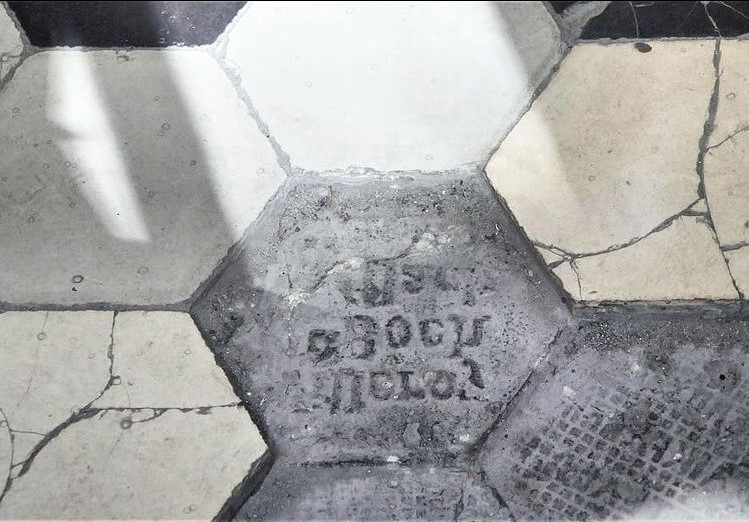 Tiles with Year or Address of Building
Sometimes, the year of the building's construction or the building's street name and number were printed on the tiles.
Purely Decorative
But in most cases, the tiles were without any inscriptions — just beautiful polychromic designs.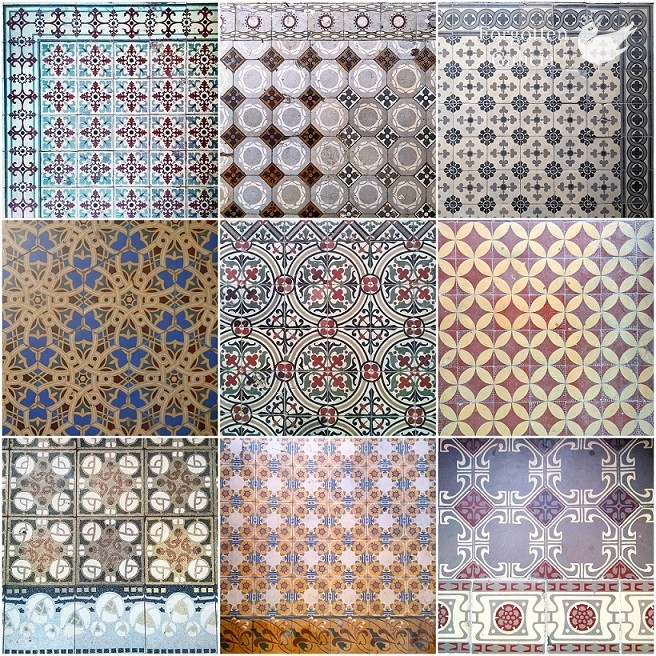 Cracked
Hodgepodges
Especially in poorer neighborhoods, floors may have been covered using up left-over tiles from other projects, creating mosaic hodgepodges.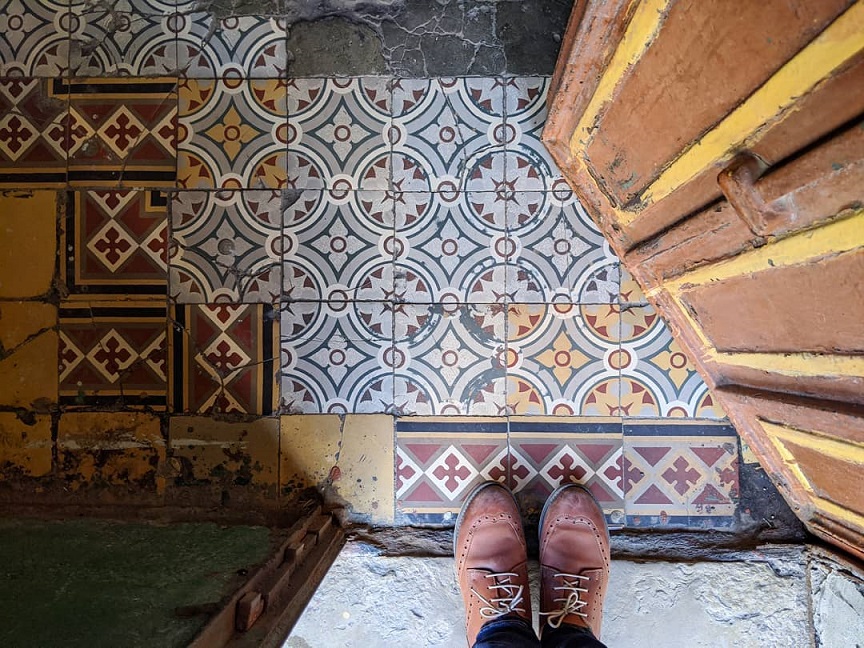 Here is a mix of Historicism and Secession style tiles.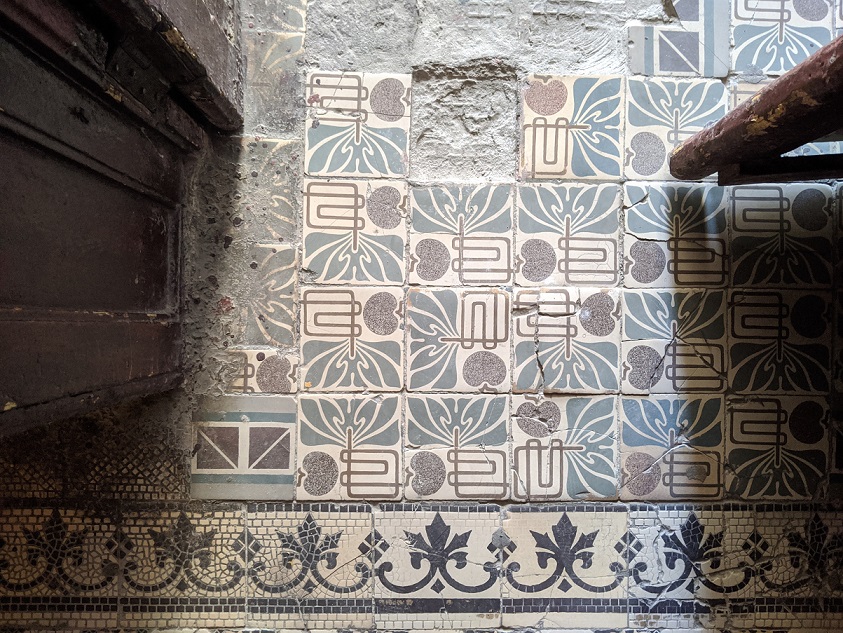 The best example of flooring which uses a wide range of mismatching tiles can be found in a building on Shevchenka Street.
But such floors can be found in quite a few buildings.
Replacements
Sometimes missing or broken tiles were replaced with ones that didn't quite match the rest, often taken from other parts of the floor.
Missing
After wear and tear, tiles can get in such bad shape that they need to be covered by cement or are simply lost or removed leaving blank spaces in the floors.
By Areta Kovalska
Sources:
Ksenia Borodin, Ivanna Honak. Lviv po-polsku: Znak Yakosti. 2015
Tetiana Kazantseva. "Evolution of the Polychromy in Lviv Architecture of the Second Half of the 19th Century."