The Recovered Story of a Prewar Metalworks Owner
Countless people contributed to the urban development of Lviv and left their enduring mark on the city. It is thanks to these architects, urban planners, engineers, entrepreneurs, craftsmen, construction workers, and factory workers that we have the beautiful architecture, cobblestone roads, infrastructure, and parks that we still adore and use today.
The architectural and physical heritage that they created is also a good representation of the city's multicultural past for it was not only people of different professions but also of different ethnicities and religions — from Italians and Austrians to Poles, Jews, and Ukrainians — who built it.
By the late nineteenth and early twentieth centuries, a number of factories were producing the city's hardware, construction materials, ironwork, and elements of architecture. And the marks they were leaving were quite literal for their products were stamped with their names. Etched in marble, carved in cement, embossed in metal, or painted on tile — these manufacturer's marks acted as advertisements and signs of quality.
Yet while many of these inscriptions can still be found today in the nooks and crannies of the urban landscape, the people and the companies that produced them are long gone. WWII and its aftermath killed or exiled many of the owners of these companies and the operations were shut down or taken over by the Soviet regime. As a result, the stories and the fates of many of the people are unknown in Lviv today.
An Inscription Comes to Life
One of those people who left their mark on the city was Bolesław Słowik — a Polish engineer and the owner of a metalworks factory in Lviv. I had come across his name, usually rendered as "inz. Słowik" ("inz." short for inżynier, Polish for "engineer") embossed on manhole covers and storm drains around the city. But his name was just a name along with the many others I had come across in my urban explorations. It didn't mean anything to me; I didn't know anything about the man, who he was, or what happened to him. I included some of the photos I had taken of his manhole covers in a blog post I wrote about Lviv's historical manhole covers and that was it. That was the end of his story. Or so I thought.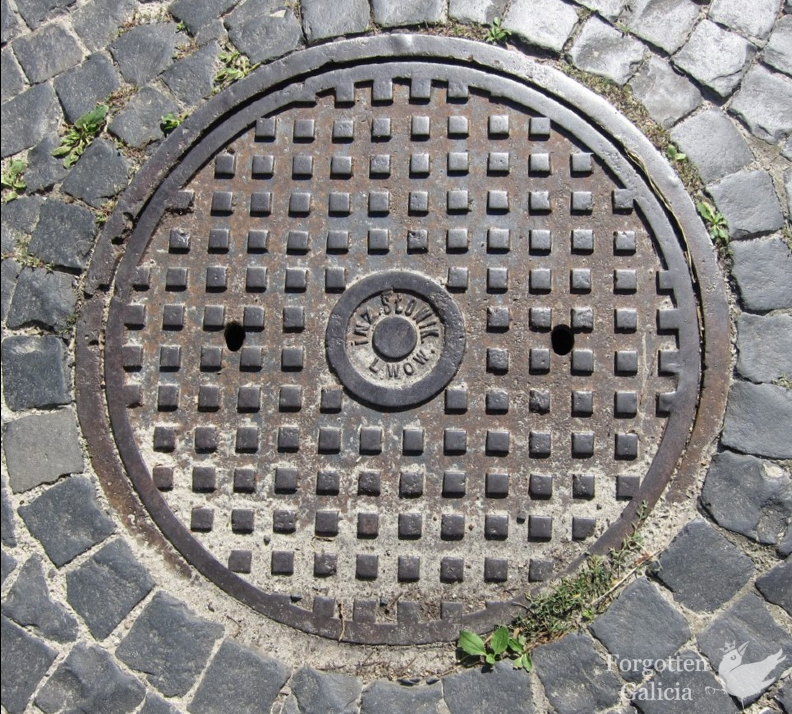 So last year when I was contacted by Engineer Słowik's granddaughter, Barbara Urbanowicz, who had just come across my blog and was inquiring whether I knew anything more about Bolesław or his products — it took me by surprise. It was as if Bolesław suddenly came to life to me, and I realized that all these people who built the city had their own stories to tell. While many of their fates I may never know, I was fortunate to have the opportunity to learn what happened to Bolesław — and to even meet in person his direct descendant.
Though she was separated geographically and temporally from the place where her grandfather lived and worked — and never even met the man — Barbara thought of her grandfather often and continued to research his life and keep his memory alive. She willingly shared any information she had about him with me. And now every time I come across one of his manhole covers I feel a personal connection to the spot, to the person behind it, to Lviv's past.
Engineer Bolesław Słowik & His Factory
Bolesław Słowik was born in Lwów / Lviv in 1889, was baptized in St. Maria Magdalena Church, and grew up at 7 Sapiehy Street (today Stepana Bandery Street). He went to Gimnazium Jana Długosza and then studied engineering at the Polytechnic — both of which were located just a stone's throw away from his home.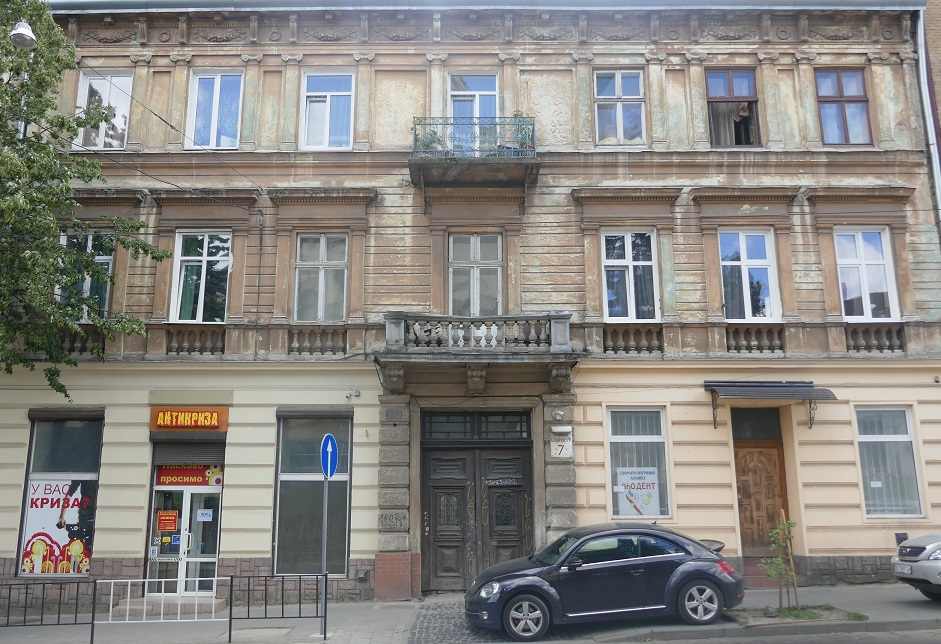 Before he founded his own enterprise, he held a prominent position at the manufacturer Ferrum, where in addition to his engineering assignments, he lobbied the interests of the company. Bolesław was also involved in academic work — he delivered reports at meetings of the Polish Polytechnic Society (1926) and the Polish Economic Society (1936) (from Львів po polsku).
His experiences he later used in his own company, which he started around 1931. His factory was located on Żółkiewska Street (today Khmelnytskoho Street). In addition to manhole covers and storm drains, his factory produced metal geodetic pillars – leveling marks.
The factory still stands today. In Soviet times it was part of the tram and trolleybus trust.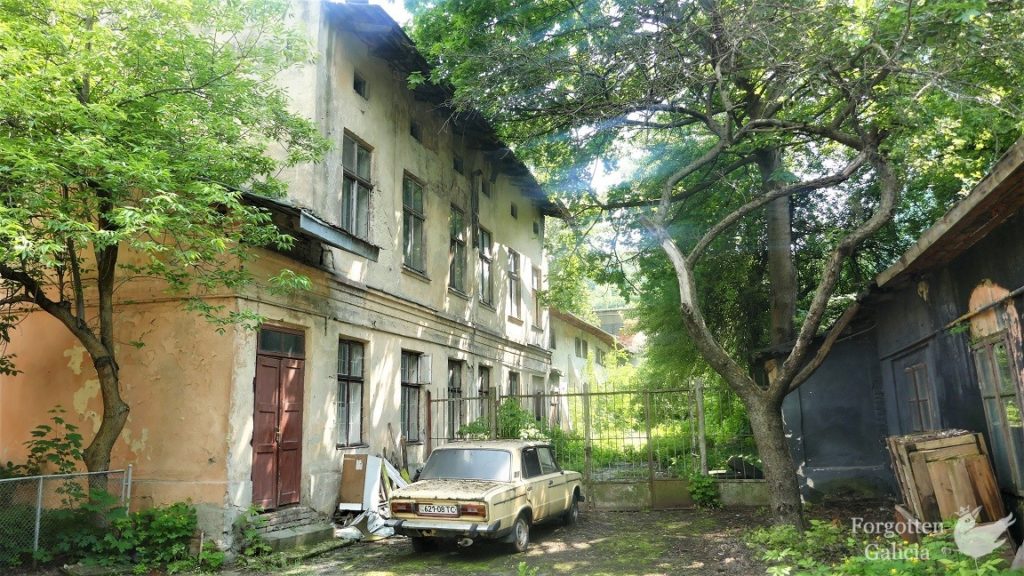 Słowik's Public Utility Covers
Słowik's factory produced several different types of cast iron manhole covers and storm drains. They were all marked with the inscription "Inz. Słowik." Many of these products can still be found around Lviv — from the very center of the city to historic neighborhoods in the outskirts.
Inz. Słowik Lwów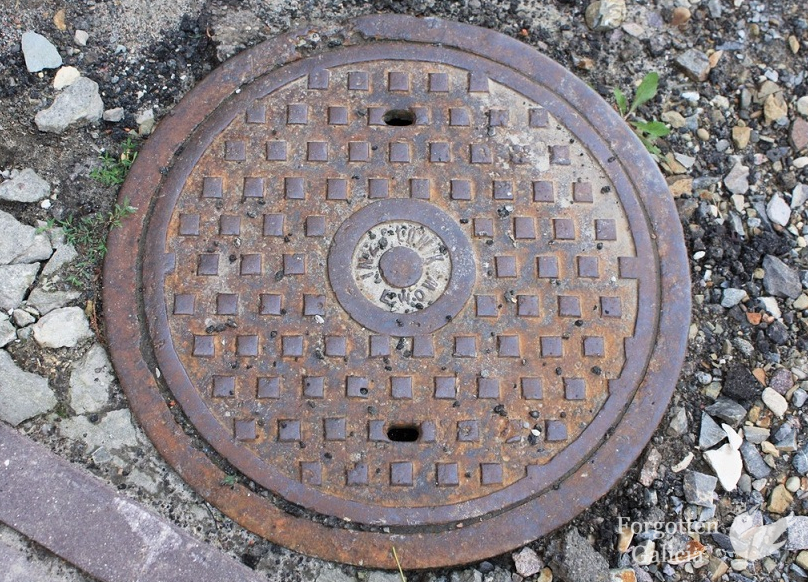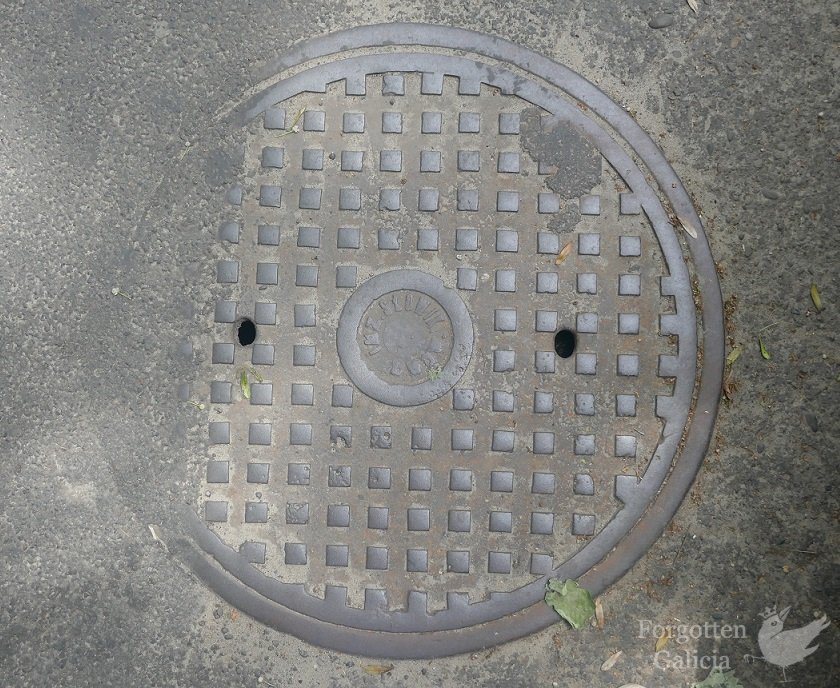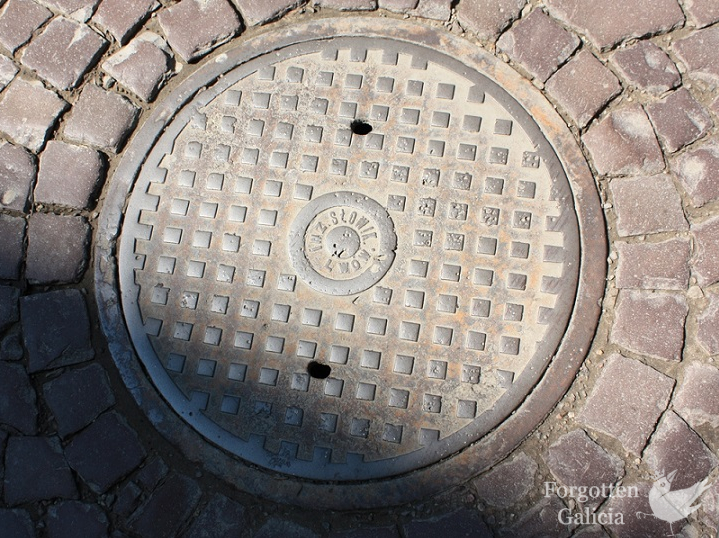 Kanalizacja M. Lwowa – Inz Słowik
The center stamp means "Sewer system of the city of Lviv." His manufacturer's mark was left on the trim.
Inz Słowik 1939 – Inz Słowik Lwów
Słowik's Family and Fate
Bolesław married Zofia Nadachowska in 1919 in Stanisławów (today Ivano-Frankivsk). They had two daughters, Krystyna, born in 1927, and Haneczka.
The Słowiks lived in a building at the site of the factory. Bolesław also owned a huge country estate in Gruziatyn, Wołyń, where he employed many people. The family usually spent a part of the summer there. In his blog, a nephew of Bolesław's, Franciszek Nadachowski, recalls visiting the Słowiks at their estate. He writes that Uncle Bolek was a massively tall man who liked to spend time with the children and to joke around. He also liked to sing French operettas (especially from "Orpheus and Eurydice").
During WWII Bolesław's wife and two daughters were bundled into a cattle wagon at Podzamcze Station in Lviv and transported into slave labor in Semipalatinsk, Kazakhstan. Bolesław was arrested by the NKVD and kept for a year in Prison No. 1 in Lviv before being sentenced to a gulag in Kazakhstan. He and Haneczka died. His wife and daughter Krystyna ended up in the U.K.
Słowik's Daughter's Account of the Słowiks' Fate
Krystyna's daughter Barbara, who lives in the U.K., found in the Hoover Institution archive her 15-year-old mother's witness statement, which describes in details what happened to the Słowik family in the terrible years of the war.
This is Barbara's translation of the statement:
Krystyna Słowik
30 December 1942
Class VIa
PAGES FROM MY JOURNAL
Following a twelve day battle on the outskirts of Lwów, a sinister silence descended. It lasted only one day. On the 22 September, 1939, tidings that the Russian army is entering the town. This was the most tragic moment of my life. They instructed our soldiers to assemble at the D.O.K. from where they would leave unharmed and armed, but the Moskals did not keep their word. Some they arrested and others they shot. This was the beginning of the persecution. Immediately on the next day they began to bring about the changes. In my school they threw out the Nun headteacher and in her place they put in a Moskal who lacked intelligence and knew nothing. My Grandfather remained in our country estate (folwark – grange) in the Vovoideship of Wołyń. The gang (mob) wanted to murder him. They robbed all the livestock and agricultural machinery. In the main mansion house, the Ukrainian women ripped up the curtains and embroidered throws to make aprons and headscarves. All the crystal was smashed up with a frenzy. A man servant who tried to defend the house was badly beaten up and thrown into a ditch. My Grandfather lay hidden for two days in the cellar beneath a sheaf of hemp. One of the leaders of a gang which arrived later found him in the cellar and took him to the governor who did not wish to see him. During the next ten days Grandfather lived in the home of the stable groom. After ten days a visiting commissar gave him permission to travel to Lwów. Grandfather arrived looking thin, disheveled, his clothes torn. We were just so happy to have him with us because we thought that we had lost him. Christmas was very sad. On Christmas Eve they nationalised our factory and forced us to move out. We rented accommodation in a convent and continued to live there until our deportation. Around Easter elections were held. Everyone, without exception, was forced to vote. In our district, the election took place in the apartment of the owner of the steam mill (the owner had been thrown out). My Parents also went to vote, but neither my Father nor my Mother placed their votes into the urn. Our governors promised a pleasant surprise after the elections and so it came to pass. On 13 April 1940 we were bundled into a cattle wagon. Father was away from home on business. In the morning we were waiting at the station. My Father came and wanted to join us in the cattle truck, but the train supervisor said that Father was the "rabbit" that had run away from them, which was clearly untrue. This was the day on which I saw my Father for the last time. On the 14 April the train set off, taking deportees to Siberia. God only knows why we were subjected to such cruelty. In the first winter transport (10 February 1940), the little daughter of my Mother's cousin froze to death in the wagon. They had to dispose of her body through the window. No funeral, the poor little mite was left behind in a hostile land. We also were not certain as to our fate. The soldiers guarding the train spoke to us as if we were animals not human beings. They transported us in cattle trucks for 22 days and we were not allowed to alight at any time. In spite of this we were in good spirits. We arrived in an old Kazak hole named Semipalatinsk. At the station we were greeted by the chief of the NKVD. They loaded us into vehicles and dispersed us into collectives and brickworks. On the third day they forced people to go to work at the brickworks. Payment was very meagre. Every so often, the NKVD chief would threaten us with prison. So amongst hostile people and in harsh working conditions, summer passed. Then came winter and the frosts. Lack of fuel was one of the greatest concerns, but somehow we managed. One of our ladies, mother of three young children, lived in a freezing outbuilding. At night time the bedding froze to the walls and the children were frozen to the bone. The distressed mother, despite knowing that stealing was punishable with imprisonment, filled a bucket with coal. She was seen by an old Cossack who reported her to the authorities. For this crime the woman was sentenced to a year in prison. Her children were each sent to a different Russian orphanage. This way they tried to wipe out the National identity of Polish children. We did the same as this poor woman. The extreme cold was very debilitating. We knew, of course, that our "carers" had stolen our lands, our wealth, and had cast us out to our fate. In spring, under orders from the town authorities, we were forced to move because of the threat of flooding. After the flood subsided we returned to the hard labour of the brickworks, wheeling around the clay and forming the bricks. Suddenly, there was a horrific accident which affected everyone at the brickworks. On the 24 June my younger sister and a friend, who was older than me, drowned. The Bolsheviks who were in a boat on the river saw how the girls kept coming to the surface. Another girl who was with them but remained on the bank begged them to rescue her friends but they said that they were not allowed. Yes, they were not able to. They were able to loot our country. They wanted less witnesses to their crimes. Their consciences were not clean. They knew that much innocent blood was calling for vengeance from heaven. After the funeral, life continued at its normal pace. In the meantime they arrested four Polish women who attempted to escape. The joyous day came of the signing of the pact between Poland and Russia. Everyone was waiting for their loved ones to be released from the prisons. Conditions at the brickworks improved. The authorities said that either we work or we leave our accommodation. We chose the latter and moved into Semipalatinsk. Many Poles remained at the brickworks. One old man was forced to work to the point where he ripped his insides and died. He lay outside for three days because the authorities would not provide a coffin. Christmas came, and immediately before we were informed that Father was in Turkistan. Days flashed by in an air of expectancy, then a card arrived from a delegate saying that Father had died of typhus. I was beside myself with grief and the desire for retribution gave me no peace, but in the end I was forced to come to terms with fate. Departure. After many hardships, our delegate got us a place in a wagon with an orphanage to Kitab. We remained there a few months and then left for Krasnovodsk and then by ship to Persia. After such harsh experiences, there was a glimmer of hope for our return to our beloved Poland.
***
Słowik's Mark Endures
As Barbara so aptly wrote when she and her husband stumbled across her grandfather Bolesław Słowik's name on my blog: "Sadly, my beloved Dziadek [Grandpa] continues to play peek-a-boo with me, revealing himself little bit by little bit, and I still don't have a photo of him. His life ended in the inhospitable wastes of Kazakhstan yet he continues to live underfoot in the streets of his much loved city of Lwów."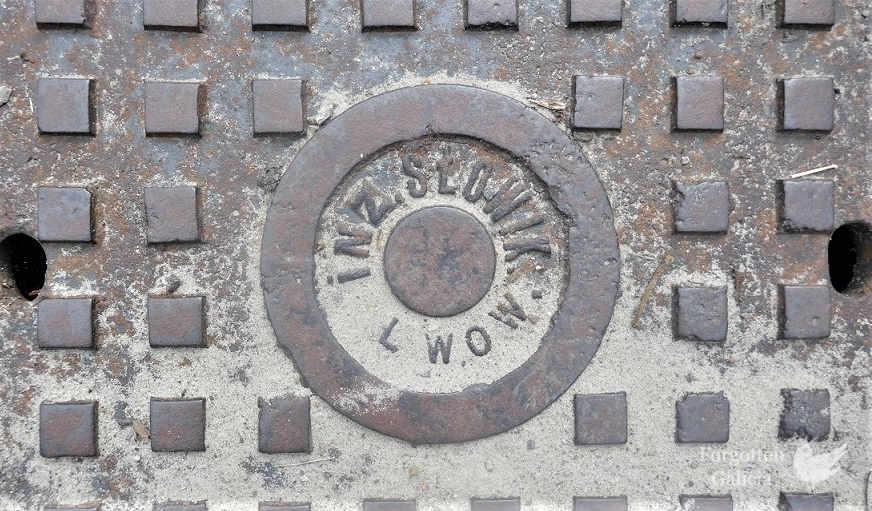 Indeed, close to 100 years later, he continues to live and serve in the city –his mark on the city continues to endure.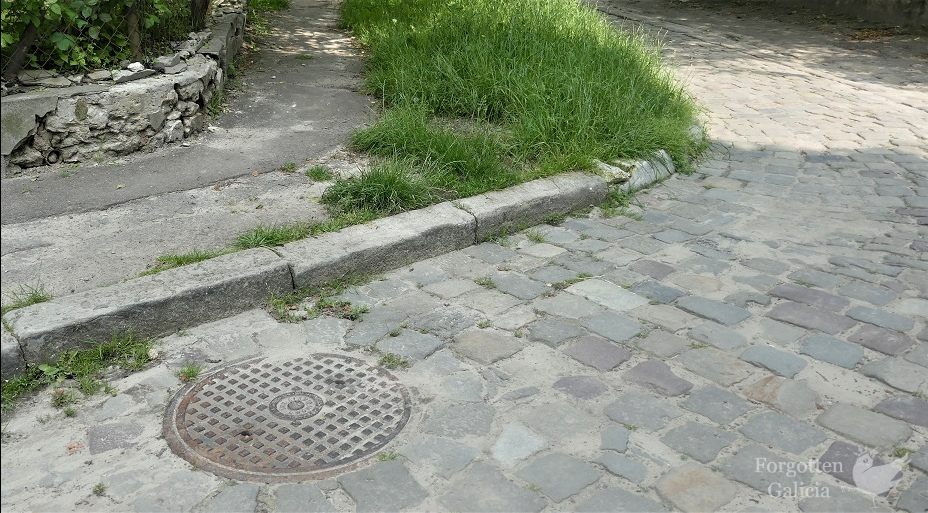 By Areta Kovalska