Name: Maslosoyuz (The Dairy Union)
Type: Association of dairy cooperatives
Founded by: Yevhen Olesnytsky, Ostap Nyzhankivsky, L. Horalevych, I. Bachynsky
Years active: 1904-1944
The Ukrainian Cooperative Movement, which began in Galicia in 1883, addressed the economic plight of the Ukrainian people through the creation of financial, agricultural, and trade cooperatives that enabled Ukrainians to pool their resources, obtain less expensive loans and insurance, and pay less for products such as farm equipment. The cooperatives played a major role in the social and economic mobilization of Ukrainians, most of whom were peasants. Maslosoyuz, founded in 1904, was an important part of the cooperative movement in Western Ukraine and together with Silskyi Hospodar played a major role in modernizing agriculture in the region.
***
The first Ukrainian cooperative dairy was founded in Zavadiv in 1904 by the Stryi branch of Prosvita. A year later the Union of Ruthenian Dairy Cooperatives was formed, and in 1907 it became the Provincial Farm and Dairy Union. The organizers and first leaders of the association were Yevhen Olesnytskyi, Ostap Nyzhankivskyi, Lev Horalevych, and Ilariy Bachynskyi. By 1914 the association represented about 100 small dairy unions, which together collected around 7.5 million liters of milk from eastern Galician peasants and produced about 300,000 kg of butter annually.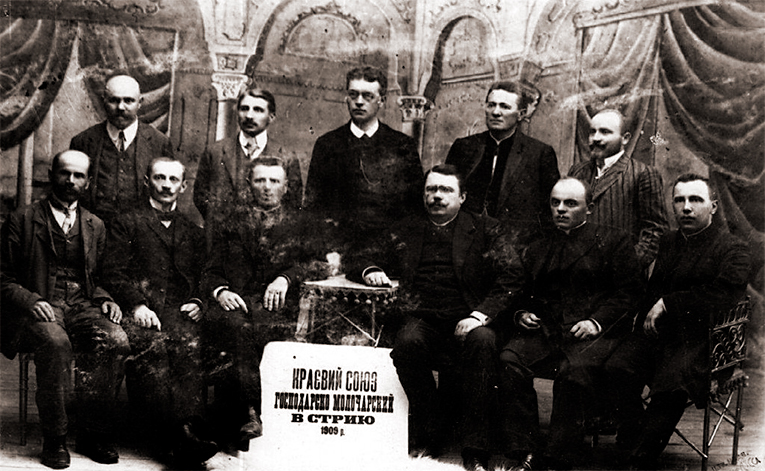 After the First World War, the union was restructured and in 1925 officially became called Maslosoyuz. Individual members were replaced by corporate members, and new people—mostly former officers of the Ukrainian Galician Army who had graduated from professional schools abroad—took over the management of the union.
Around this time, Maslosoyuz began to modernize its production and launched professional training courses. Maslosoyuz opened stores in Stanislaviv, Stryi, and Lviv, and was making over 41,500 kg of butter a year.
In 1926 Maslosoyuz began to export its products to such countries as Germany, Austria, Czechoslovakia, Denmark, France, Switzerland, Australia, and Palestine, competing with other local producers.
The trademark of Maslosoyuz was a rectangle, inside which between the letters "M" and "C" (for the Cyrillic "M" and "S" from the Ukrainian "Маслосоюз") was a green four-leaf clover.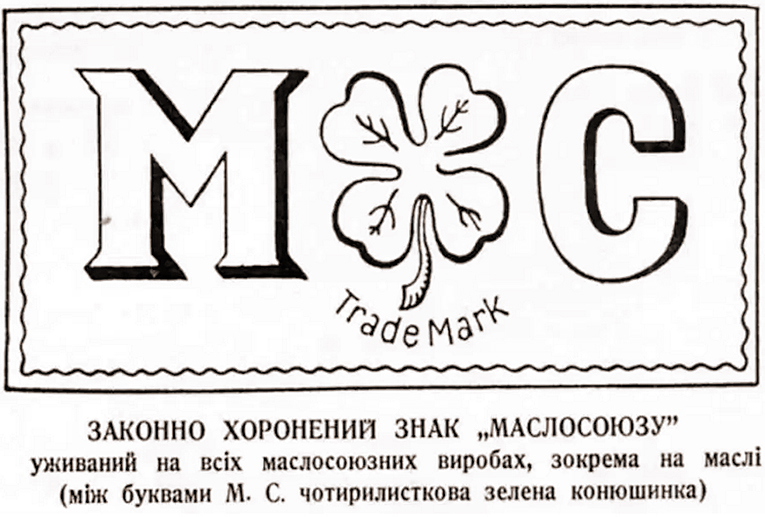 In 1927 the central office of Maslosoyuz moved from Stryi to Lviv.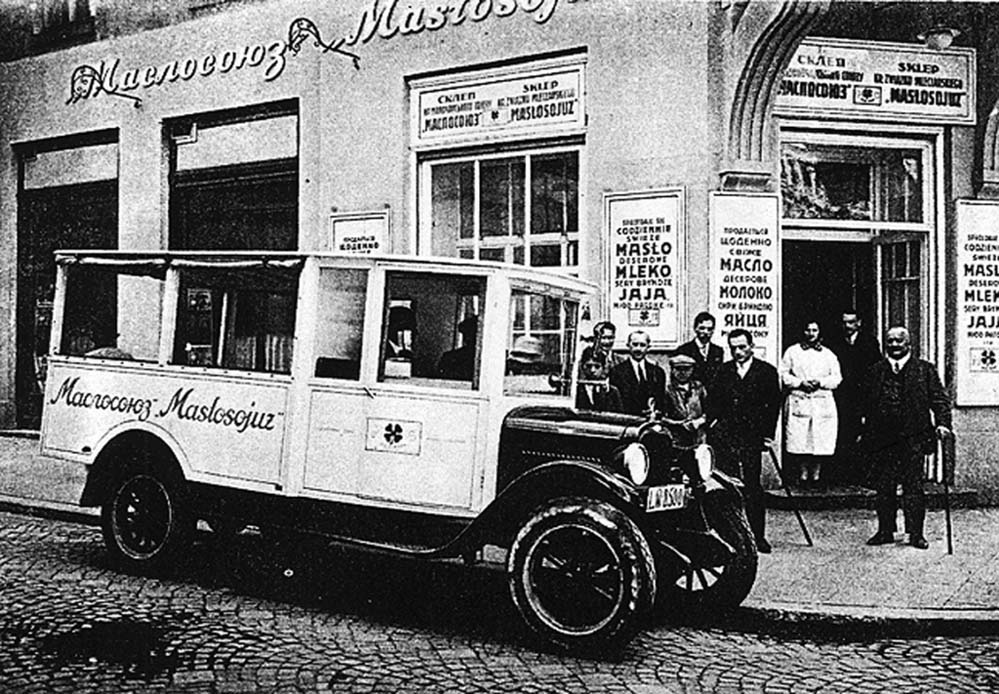 Soon after, a whole "dairy" quarter — with offices, refrigerated warehouses, and a vehicle fleet — was built in the area of the modern streets of Mikhnovskykh and Holovatskoho.
Throughout the interwar period, the Ukrainian dairy production continued to grow and it became a respectable part of the economic sector. In 1937 the leading Polish daily Ilustrowany Kurier Codzienny wrote: "The products of Maslosoyuz are well known across the nation, and the corporation itself controls all dairy markets of former Eastern Galicia."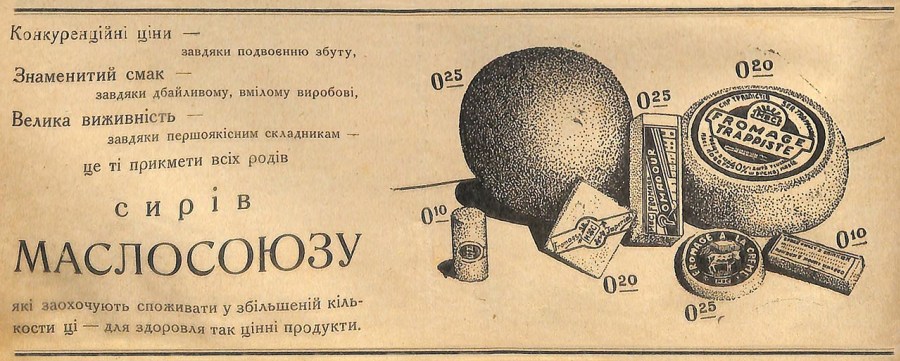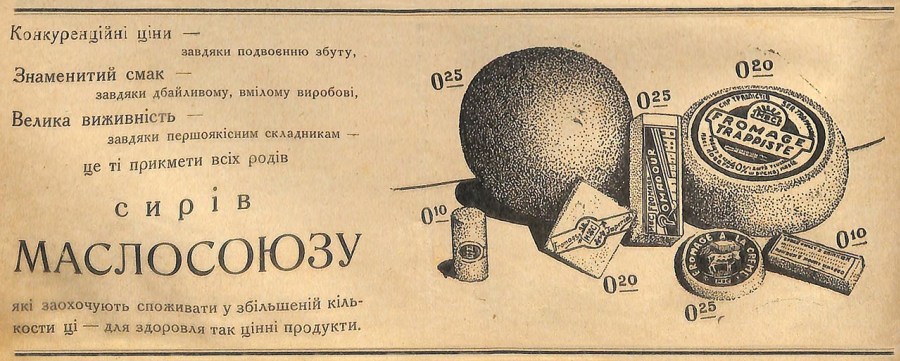 By 1938 Maslosoyuz had 12 departments, with 26 wholesale and 57 retail stores. Its base consisted of 136 district dairies with a total membership of 205,000 farms, which supplied the milk. Maslosoyuz itself employed about 300 people, and the district dairies employed 150 dairy technicians, 64 farming experts (mostly professional agronomists), and 18 veterinarians.
Before the Second World War, the trade turnover of Maslosoyuz exceeded PLN 12 million, and the organization had branches not only in the major towns of eastern Galicia (including Ternopil, Drohobych, Sambir, Peremyshl, Kolomyia), but also west in Katowice and Bielsko and north in Lutsk.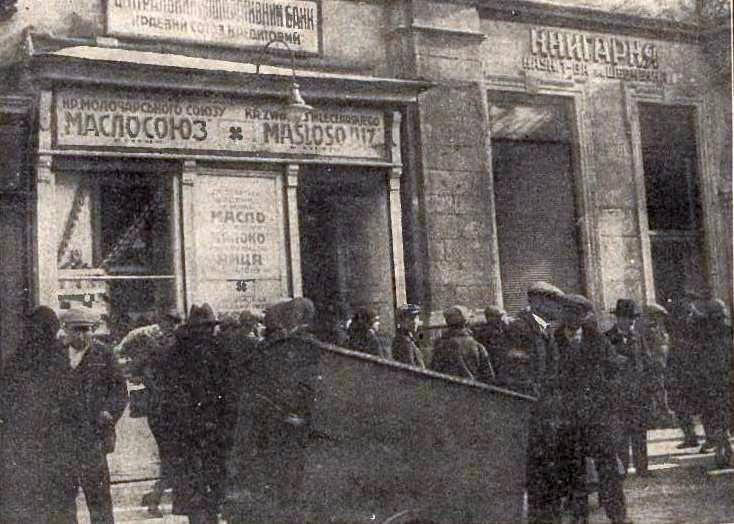 In Galicia it achieved almost complete control of the butter market, and was popular not only among Ukrainians but also among Poles and Jews.
After the invasion of Poland in 1939, its operations were halted. Maslosoyuz returned in 1941, and was active during German occupation. Finally, it was dissolved by the Soviets in 1944.
Maslosoyuz in Memoirs
In her memoirs, my great-aunt Maria Levytska-Zahorujko, who worked at a district dairy of Maslosoyuz in Brody in 1937-1939, writes:
"A position opened up in Brody's Maslosoyuz shop and I was offered the job. At that time Maslosoyuz was famous across Europe for its high quality products. Their products were in great demand in many European markets and they had a well-recognized emblem—a clover with the Cyrillic letters 'MC.'
Maslosoyuz's dairies could be found not only in every city of Galicia, but also in the Lemko, Pidliashia, Kholm, and Volyn regions, and they competed comfortably with other dairies in Western Ukraine, so when I received such a tempting offer, I did not hesitate for a moment. I was first sent to Lviv for training. There at the Pidzamche train station, I was met by Dr. [Oleskander] Baryliak, and I stayed with his family in their home on Teatynska Street. From the administrative offices I was directed to one of their stores on Lychakivska Street, where my training lasted two weeks. After successfully passing the exams, I returned to Brody and began work. […]
"From my first days at work I took it upon myself to clean and put the storefront in order, trying to give it an aesthetic and attractive look, polishing everything until it shined. A square white table with stools stood along one wall, and a mirror hung opposite. From spring to autumn I always placed fresh flowers from our garden on the table and the display case, and in the winter fake ones. Petro Burachok, a talented artist from Brody who had graduated from an art academy in Krakow, staged the large window that faced the street, themed depending on the time of year. The well-staged window drew the attention of passersby, and Burachok was paid well for his work, through which he was able to support himself to some extent.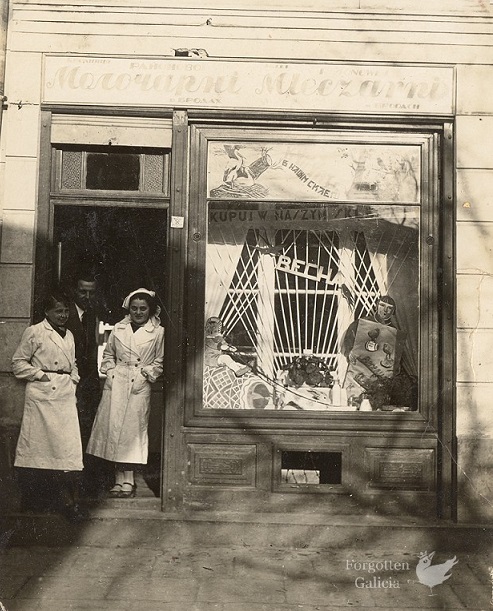 "Every Maslosoyuz dairy had its own veterinarian. This allowed our Ukrainian youth to work and make a living, in particular those who had finished their veterinarian studies abroad and did not expect to find work for the government or to nostrificate—that is, redo their degree work in Polish. In the shop we expanded the assortment of goods offered, adding different sorts of hard cheeses, honey, preserves, and so on. Every purchase we wrapped neatly in white paper and tied with a piece of string. We were polite and respectful to our customers, and our store became more and more popular. Almost all of the intelligentsia in Brody, not only Ukrainian but of all nationalities, bought their dairy products from us. Profits quickly rose and the store prospered."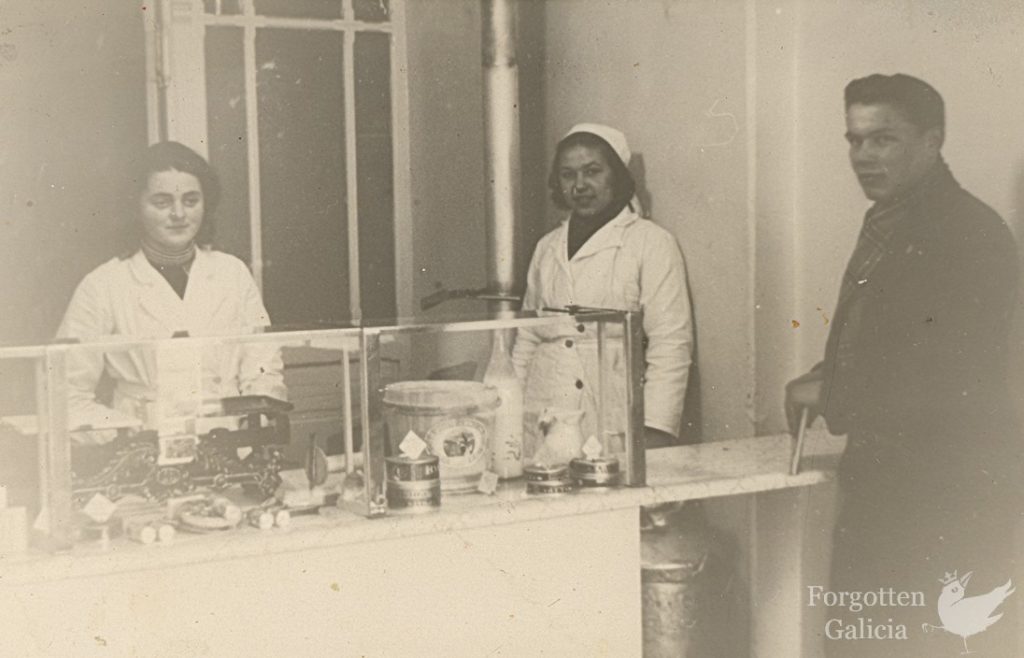 In 1939, "More and more Bolsheviks flowed into Brody. They immediately took over the town and all the seats relevant to its governance, as well as other high-level administrative or other positions. All Ukrainian business, including Maslosoyuz, Tsentrosoyuz, and Narodna Torhovlia, and all the private firms, offices, and stores were closed and nationalized, and their leaders and owners arrested. Ukrainian associations also all ceased to exist."
The Legacy Continues in Canada
Although Maslosoyuz returned briefly during the German occupation of Galicia, it was again dissolved by the Soviets in 1944.
However, that was in fact not the end of Maslosoyuz.
After the war, Maslosoyuz directors moved to the West, first to Munich, Germany, then to Toronto, Canada, and began a new Maslosoyuz dairy plant in 1955.
In the 1980s, M-C Dairy was producing the best sour cream in Toronto. Production was limited but the quality of their dairy products was phenomenal. In 1991 M-C Dairy was purchased by Future Bakery, a famous Ukrainian bakery in Toronto, and a new factory was built.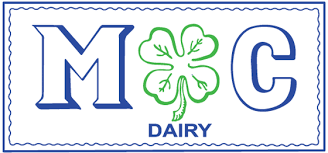 Today various products made by M-C Dairy — all of which are branded with with an updated Maslosoyuz logo — can be found on the shelves of independent stores and supermarkets in Canada. In addition to Ukrainian products, they even produce dairy products from other cuisines, such as Middle Eastern labneh and Indian mango lassi.
In this video you can watch a short tour of the M-C Dairy production factory in Toronto. Owner Borys Wrzesnewskyj also talks about the history of Maslosoyuz. The video is in Ukrainian but an English transcription is in the description.
By Areta Kovalska
Sources:
"Maslosoiuz Provincial Dairy Union," Encyclopedia of Ukraine
ДІЯЛЬНІСТЬ "МАСЛОСОЮЗУ'—СТРАТЕГІЯ ВИЖИВАННЯ ЧИ ЕКОНОМІЧНА КОЛАБОРАЦІЯ?
Маслосоюз: історія кооперативу, що годував Європу маслом та рятував українців під час Другої світової
Maria Zahorujko-Levytska. U kozhnoho svoya dolia
"Maslosoyuz," Entsyklopedia Lvova. Litopys. Lviv, 2012.
M-C Dairy
See also: