By Daniel Carkner
Frank Seiden is an enigmatic figure of the early Jewish entertainment world in the United States. Born in Galicia in 1860, he arrived in New York's Lower East side in 1877 and eventually became known as a street performer, magician, and vaudeville actor. By 1900 he became one of America's first Yiddish-language recording artists, recording hundreds of Wax Cylinder and 78rpm Records of folk songs, Yiddish Theatre songs, and religious melodies. After 1905, he turned to silent films from recording, operating Nickelodeon theaters and vaudeville clubs until his retirement during the First World War.
Frank the Barber
There isn't much evidence of what Frank Seiden was doing in New York between his arrival in 1877 and when he applied to become a naturalized citizen in 1886, or anything at all about his life in Galicia before then. By 1885, he started appearing in Brooklyn directories as a barber, moving his shop regularly, from Chrystie Street to Ridge Street to Willett Street to Ludlow Street during the following decade. There is a connection between the barber trade and Jewish entertainers, in particular klezmer musicians, dating back to Europe and to the early generations of immigration to America.
Frank the Professor
The earliest mentions of Frank as a performer date to the late 1880s, identifying him as Professor Seiden. In an 1889 advertisement in the NY Clipper he called himself "the pupil of old Hermann," probably meaning Alexander Herrmann, the French-born magician who had become a naturalized U.S. citizen in 1876. There is no evidence of a direct link between them, but Frank was probably trying to associate himself with Herrmann's extreme wealth and success. Indeed, there were many immigrant magicians in New York at that time trying to follow in Herrmann's success. Frank developed an impressive range of tricks which were mentioned in newspapers at the time: ventriloquism, fire-eating, sleight of hand, Punch and Judy acts, and general entertainment aimed at children.
At some point in the late 1880s, Frank took on a young protégé, a fellow Galician Jewish immigrant named Max Katz Breit, who renamed himself Max Malini. Malini was also very impressed by the performances of Alexander Herrmann, and continued to develop his tricks to the point that he surpassed Seiden and became internationally famous.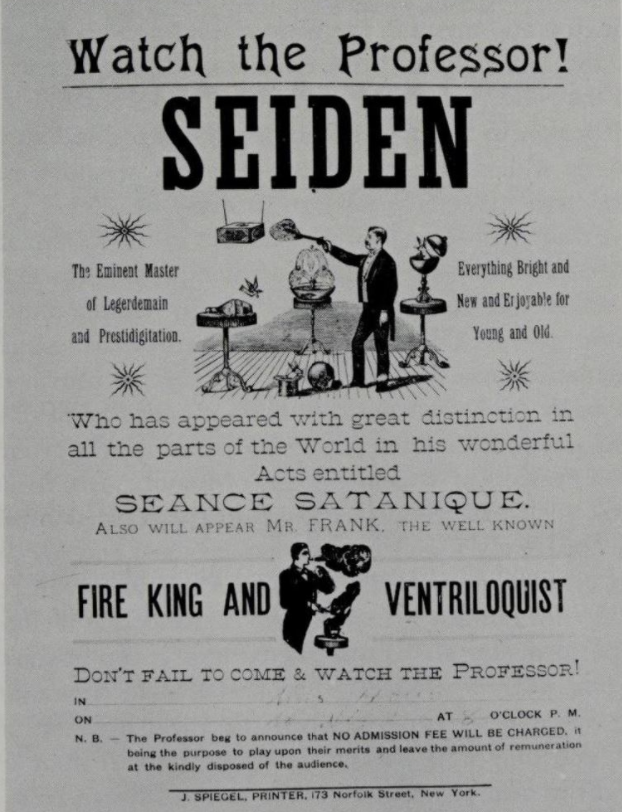 Frank the Bartender
Many histories of American magicians mention that Seiden ran a bar in the Bowery where he tutored Malini, that he had won the bar in a poker game, and that he had retired from entertainment to operate it. He definitely didn't retire, since he acted and sang for another two decades, but he probably did run a bar on the Bowery. Although it had previously been an upscale area, by the 1880s it was under a pair of elevated train tracks which brought constant noise and grime to the street. Many of the bars and auction houses there specialized in cheap entertainment, tourist traps, and even scams. It isn't clear exactly where or for how long he ran the bar there, but in the 1889 city directory he was listed as running another beer house a few blocks away at 122 Attorney.
Frank the Recording Artist
In 1901, Frank had another change of career. He was hired to record Yiddish and Hebrew Wax Cylinders and 78 rpm Records for Berliner and Victor records. He may have come to their attention after touring with non-Jewish vaudeville troupes in the late 1890s. He entered the studio and churned out dozens of Yiddish theatre and parody songs; his first record for Berliner was apparently the well-known Avram Goldfaden song "Rozhinkes mit Mandlen" (Raisins with almonds). By 1902 he had also joined the roster of Columbia Records, with his recordings being included (uncredited) in the first ethnic catalogue in 1902.
Frank had a very coarse singing voice, but could certainly sing with expression and skill. Most of his recordings were of him singing alone with a piano hammering out a theatrical, flowery accompaniment. His style and material have a lot in common with his contemporary Yiddish recording artists who had stayed in Galicia and were influenced heavily by the nineteenth-century Broderzinger movement, such as Pepi Litman or Shloyme Prizament.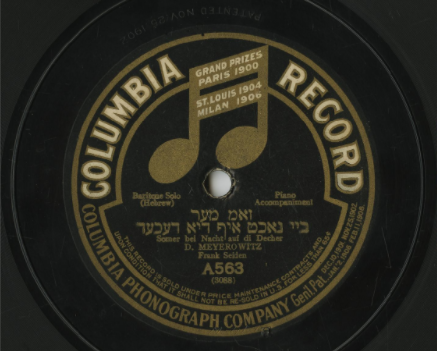 One of his songs was recently digitized and translated by the YIVO Sound Archive in New York. In this song, "Somer Bei Nacht Auf di Decher" (Summer at night on the roof), Louis Gilrod took the melody and themes of a popular English-language song, "On a Good old Trolley Ride," and rewrote it with rude Yiddish lyrics. Frank recorded it for Columbia Records in 1905:
Oh, summer at night on the rooftops,
That is a golden time.
They run from the roomlets, the tiny holes,
They're freed from "prison."
No policemen go there –
There you can do anything!
You haven't seen anything really nice
If you haven't been
On the rooftops in summer at night.
Frank does not seem to have recorded anything else after 1905. Out of his total recordings, which are said to be around 200, only a dozen have been digitized by music archives like FAU's Judaica collection.
Frank the Theater Operator
After leaving the recording industry, Frank turned to the nascent silent film industry, opening a combination nickelodeon theater and vaudeville hall at 66 Columbia Street. The comedian George Burns actually worked there as a child, operating the curtains and occasionally doing a a song and dance routine with a friend as the "Burns Brothers." In his 1956 autobiography, he described it: "This was a picture house which ran vaudeville acts as well. There was a pool hall downstairs and it was difficult to hear either the vaudeville acts before the movie or the music accompanying the picture the noise of the pool balls drowned out almost all other sounds. The movies were made as silent pictures, but by the time the Seidens, father and sons, finished with them they were anything but. I guess they figured competition was so great that they had better add something to get the customers in. So the three of them, Mr. Seiden, Joe, and Jack, stood behind the screen and talked for the actors. They had a few regular parts. Joe was always the girl, although he played other parts as well. Sometimes he'd get mixed up about what was going on. In The Great Train Robbery, William Farnum sounded a little like Mary Pickford. The theater ran two vaudeville acts — one in Yiddish and one in English."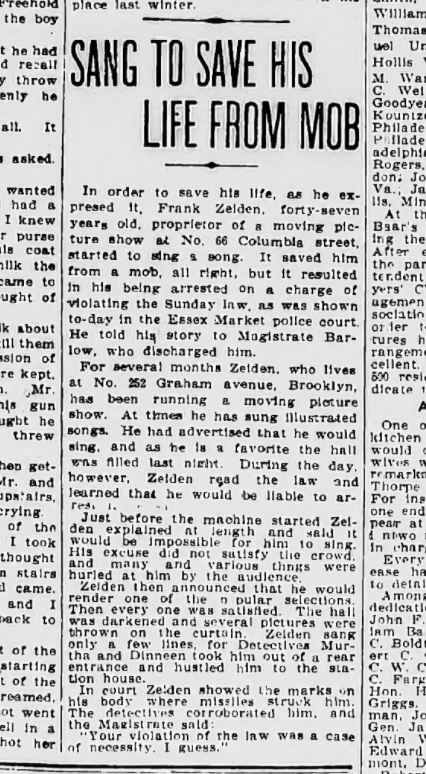 By 1910 he had traded the Columbia Street hall for a new location around the corner at 58 Willett Street. It was probably just as noisy as the old location, as he paid to have a billiard bar built and also rented out the second floor to a Galician Jewish fraternal organization, the Progressive Rozodov Young Men's Lodge. While running both the Columbia and Willett street theaters, he also increasingly involved himself in the buying and selling of real estate, and gradually withdrew from entertainment.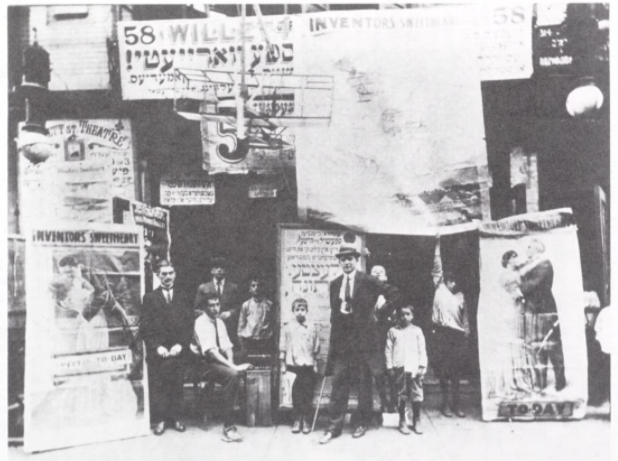 After the First World War, Frank seems to have retired from both show business and real estate dealing. His sons Joseph and Jacob, who had worked with him in his theater halls, both entered the film and camera industry. Joseph in particular became the most successful member of the family, first as a cameraman and maker of industrial films, and eventually in the 1930s as a producer of low-budget Yiddish talkies. Frank was a board member of Joseph's early production companies after the war, but it is unclear whether he continued to involve himself in the 1920s. He died in New York in 1931.