One of the best well-preserved examples of prewar Lviv hand-painted signs is found on the façade of a lovely cafe called Sztuka. A cafe of the same name existed in Lviv during the Austrian era. Today's cafe, though continuing the tradition of the original cafe which was founded in 1909, is located in a different location—in a former store. Fortunately, the original hand-painted signs on the façade as well the original frescoes on the ceilings were restored.
"The recreated atmosphere will help you immerse yourself in the times of Austro-Hungarian Lviv, which had its own unique air and style. We were helped by Lviv restorers, who restored the signage on the façade and screen-printed murals on the ceilings from the beginning of the twentieth century." Images of before and after the restoration can be found on the cafe's website.
In addition, the cafe is decorated with various antiques from prewar Lviv, including original street signs from the pre-Soviet era, an antique sink, and a terrainkur sign.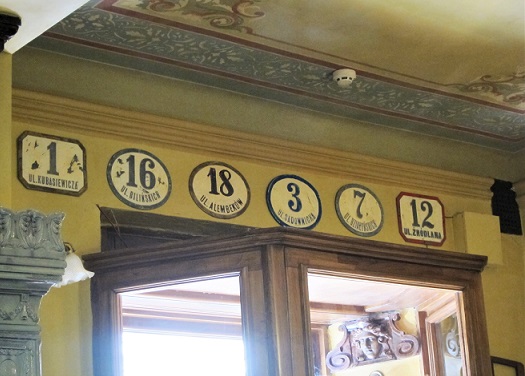 A new picture of the cafe made to look like an old photo:
A photograph of the original cafe, which was located on Teatralna Street: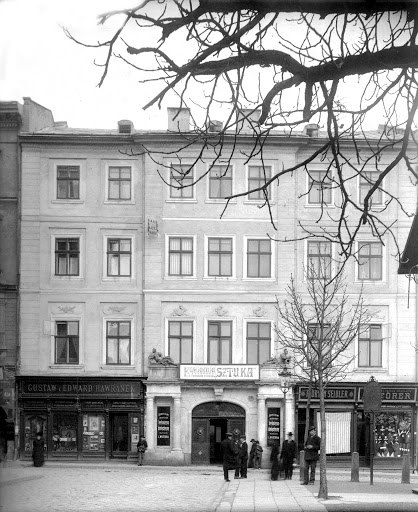 A documentary film about Lviv during the first Soviet occupation of Galicia in 1939 uses the signs in some of its scenes, as seen in the trailer:
Recent shots of the façade with the Yiddish and Polish ghost signs, advertising such things as "sugar, chocolate, and cocoa factory" and "bookbinder and school and office supplies retailer Ozyasz Leib Schacht."