While today the term "masochism" is widely known, few know its origin, let alone anything about the man behind the name—Leopold von Sacher-Masoch. A while back I posted about this Lviv native's childhood experiences in the Galician capital (found here), but now I'd like to share a few curious, lesser-known facts about his life, many of which I learned from André Savetier's article Leopold von Sacher-Masoch. And so with André's permission I list these facts below, for as André so aptly writes, "Leopold von Sacher-Masoch cannot not be reduced solely to what we nowadays know as 'masochism.'"
Facts about Sacher-Masoch's Life
♦ Leopold von Sacher-Masoch was born and brought up in the Galician capital city of Lemberg (today: Lviv).
♦ His family lived in Lviv and he had ancestors from Slovenia, Spain and Bohemia.
♦ Through all his life Sacher-Masoch lived in several different cities, including Lviv, Vienna, Graz, Salzburg and Prague.
♦ Sacher-Masoch started to learn German, the language of all his literary work, at the age of 12, when his family moved to Prague.
♦ All his life Sacher-Masoch felt a deep connection to the region of Galicia. His non-fictional works dealt mainly with the folklore and culture of Galicia and the history of Austria. Generally, he showed a deep interest in the ethnic variety of his home region.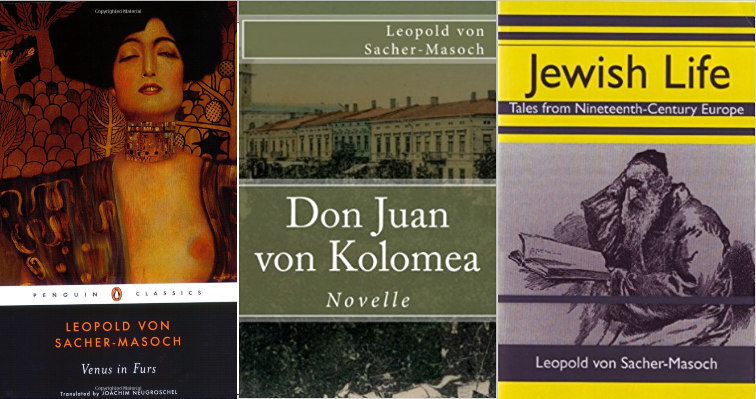 ♦ He was one of the first to draw a realistic picture of the Jews in Galicia and fought all his life against anti-Semitism. Victor Hugo, Émile Zola, Henrik Ibsen and King Ludwig II of Bavaria were among the fans of Sacher-Masoch.
♦ Sacher-Masoch published his works also under the pseudonyms Charlotte Arand and Zoe von Rodenbach.
♦ The literary fame of Sacher-Masoch started with the novel Don Juan of Kolomea (1866). He changed the Don Juan essentially. Love between men and women is depicted as such that it would always lead to unhappiness.
♦ Sacher-Masoch studied history and mathematics in Graz and became a professor. Later he abandoned his teaching activity to become an author.
♦ There is a real story behind Venus in Furs. In 1869 Sacher-Masoch signed a contract with his mistress Baroness Fanny Pistor making him her slave for the period of six months.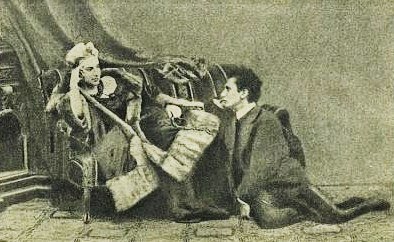 ♦ Sacher-Masoch himself and his followers refused the use of the term masochism – in vain. In the following Leopold von Sacher-Masoch, as well as his works, gained a bad reputation and fell into oblivion. Because of this discreditation only Venus in Furs remained popular, but was put on the index in 1958. Nowadays the book is again freely available.
♦ In 1873 he married Angelika Aurora Rümelin, who also was active as an author under the pseudonyms Wanda von Dunajew and Wanda von Sacher-Masoch.
♦ The last few years of his life Sacher-Masoch spent under psychiatric care. It is not clear, where and when he died exactly, some sources claim that he died in an asylum in Germany in 1905.
His Legacy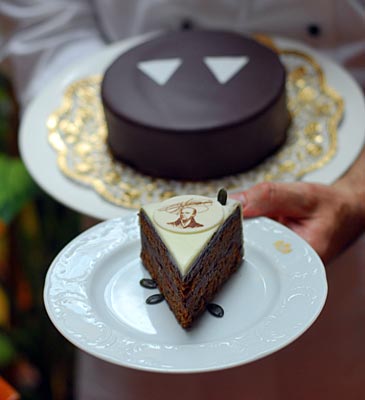 ♦ The Sacher-Masoch cake, a variation of the world famous Sacher cake, was presented when Graz was the cultural capital of Europe in 2003. This spin-off, as befitting, incorporates bitter chocolate and marzipan.
♦ The Velvet Underground's 1967 debut album The Velvet Underground & Nico included the song "Venus in Furs," inspired by Sacher-Masoch's book. Today it is one of their most legendary and distinctive tracks. (The album cover for The Velvet Underground & Nico is recognizable for featuring a Warhol print of a banana. Warhol too has a connection to the Austrian Empire for as his parents were Lemkos from the village of Mikó.)
♦ The song "Venus in Furs" was covered by the British band The Ukrainians in their 1993 album Vorony, renamed Chekannya" (Waiting). In the liner notes, they write: "Venus in Furs is the title of a controversial book written in Ukraine which inspired the Velvet Underground to write and record their classic song. We have transformed the mood of the song, and the lyric, to express optimism and hope for the future."
♦ Sacher-Masoch's novel Venus in Furs has been adapted for film several times. In 2013, Roman Polanski directed the film Venus in Fur (original French title La Vénus à la fourrure), which is based on David Ives play. The film premiered in competition for the Palme d'Or at the 2013 Cannes Film Festival and in January 2014 it won the Best Director award at the 39th César Awards.

♦ In his hometown Lviv, a statue of Sacher-Masoch was unveiled next to Masoch Cafe, a restaurant dedicated to Masochism.