The small city of Przemyśl (Peremyshl in Ukrainian transliteration) now lies a few miles west of the Polish-Ukrainian border. Under the Austrian Empire, Przemyśl was one of the major Galician towns.
Like nearby Lviv, the city's population consisted of many nationalities, including Ukrainians, Poles, Jews, Germans, and Czechs. According to the Austrian census of 1910, Przemyśl had 54,692 permanent inhabitants, of whom 47% were Roman Catholics, 30% Jews, and 22% Greek Catholics (including 7,500 military personnel).
After being transferred to Austria, the city's old ramparts were leveled, and the town was allowed to expand. At first the pace of population growth was slow, but the rate increased in the second part of the nineteenth century as new railway lines lined the city with Krakow (1859), Lviv (1861), and Hungary (1872). Railway yards and agricultural machinery factories were set up in the town, and the local fortress and garrison were expanded after 1876.
The postcards below are from the websites of the State Archives in Przemyśl and the Przemyśl tourist portal. These images recreate both general city views as well as specific sites and landmarks such as squares, monuments, churches, historic buildings, and public utility buildings. Dating from the first two decades of the twentieth century, the collection also includes postcards from WWI, for example, showing the damaged bridge over the Sian River.
The captions on the postcards are in Polish and German and according to the State Archives in Przemyśl website, the languages of correspondence found on these postcards include Polish, German, Czech, and Hungarian.
Some of the postcards, in particular the ones with many people in the forefront, are photomontages — a popular trend in postcards at the time. Interestingly, there is also an example of two of the same postcard (ul. Mickiewicza i Dworskiego) with just a few differences — a lamppost as well as few more people seem to have been added to the forefront of one of them. (Fore more information about photomontages, see Lederer & Popper Montage Postcards of Galicia and Beyond.)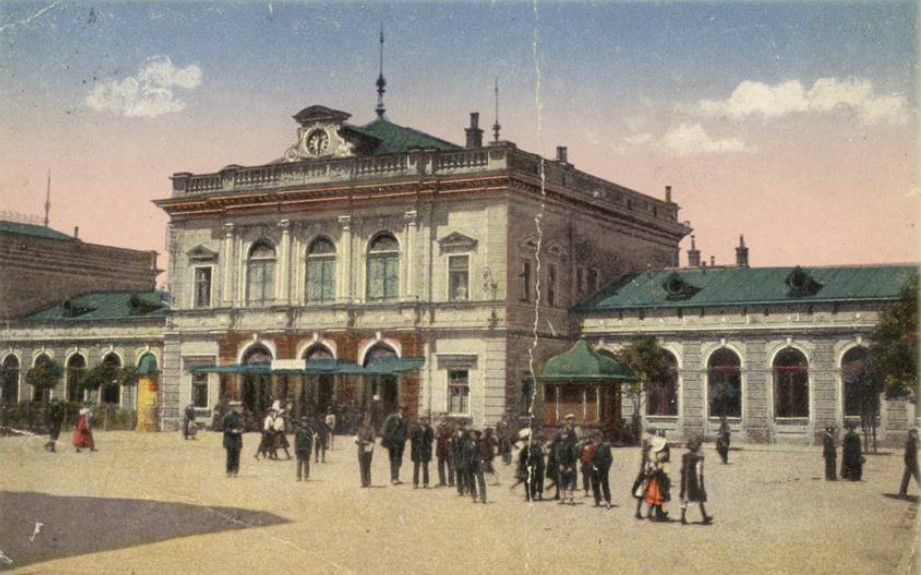 Sources:
Archiwum Państwowym w Przemyślu
Przemyśl
Peremyshl, Internet Encyclopedia of Ukraine.