One of the most successful businesses in Galicia was Bracia Mund, which was founded in 1898 in Lwów (Lviv). It was co-owned by three brothers Maurycy Mund (1869-~1943), Jakób Mund (1872-~1943), and Ignacy Mund (?-~1943).
The company started off with a storefront at 23 Sykstuska Street (now Doroshenka), selling architectural hardware, building materials, and decorative tiles.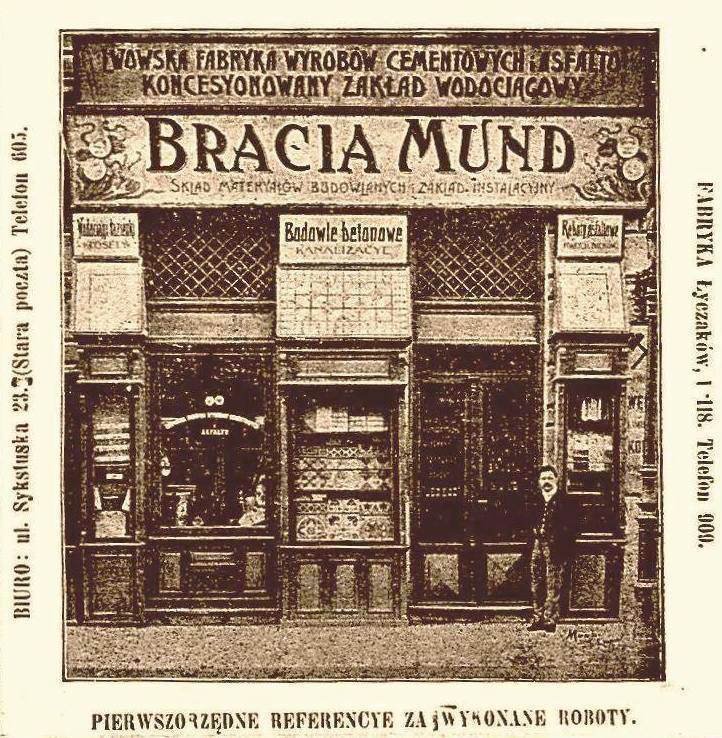 In 1906, Maurycy Mund opened a building materials factory at 118 Lychakivska Street, which would come to produce a wide range of asphalt and cement products.
The Munds also had an Enterprise for Sanitary Equipment, which manufactured sinks, equipped and serviced public toilets, and installed water pipes.
Finally, Bracia Mund installed other types of hardware, most notably decorative tiles made by companies from across the Austrian Empire.
Due to their prolific activity, it is no surprise that the name Bracia Mund is today one of the most commonly found inscriptions in Lviv's urban landscape — and while their maker's mark can be found on all sorts of objects, it is most widespread on wall and floor tiles. Indeed, they were responsible for decorating dozens of Lviv's vestibules.
The brothers were active in Lviv's Jewish community. They met the same fate as most of Lviv's Jewish families during WWII.
Traces of Bracia Mund's Store
As mentioned above, the Mund brothers had a storefront on Doroshenka Street. Today, the only traces are the authentic tiles that can still be found in the entryway. By displaying a sampling of various designs, Bracia Mund both beautified this space and advertised their products.
In the fall of 2019, a group of Lvivians cleaned entryway, thanks to which these lovely tiles that for decades were unappreciated and all but forgotten have now been restored to their former glory.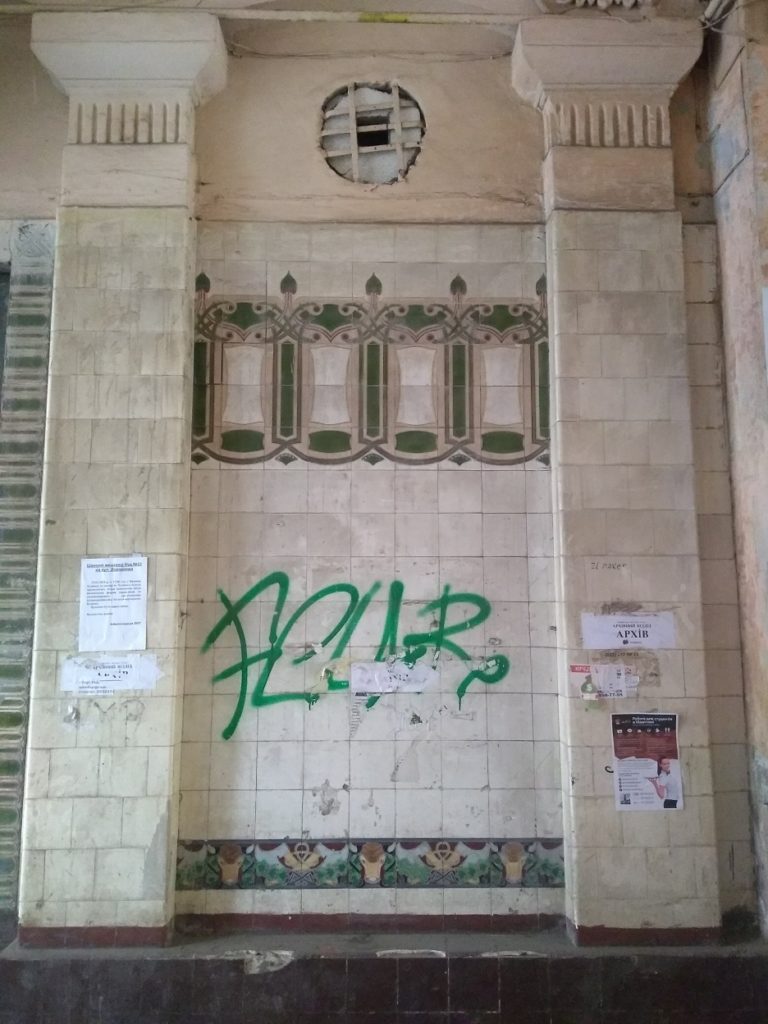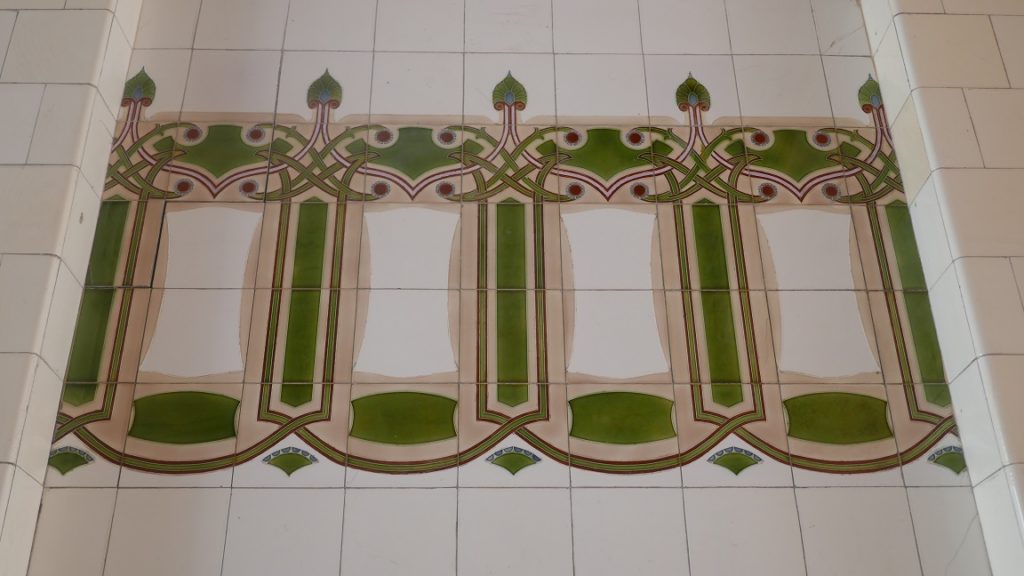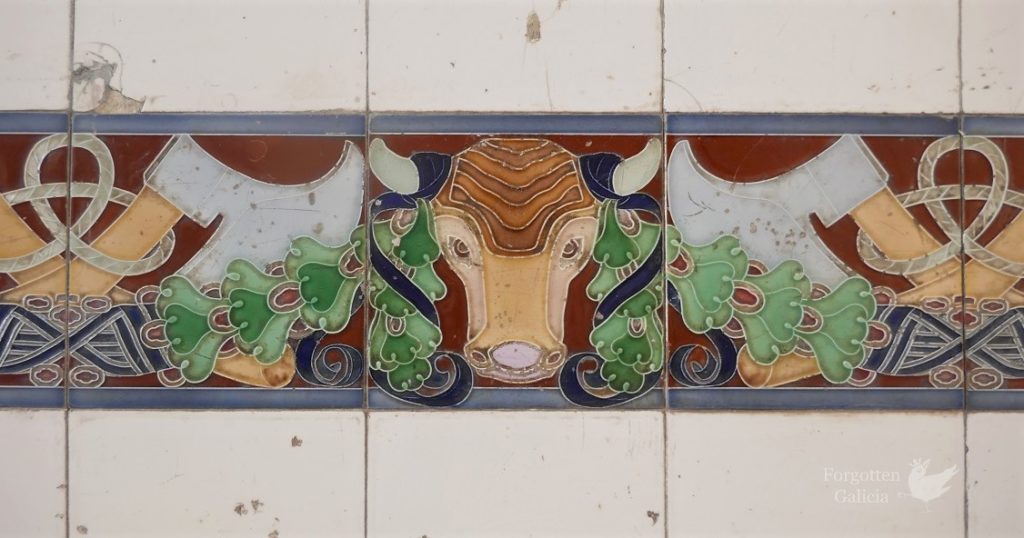 Westböhmen Tiles
Western Bohemia (Westböhmen) Kaolin and Chamotte Works, based in Oberbris, was one of the companies that produced the tiles that Bracia Mund sold and installed. The Westböhmen designs found in Lviv can be found not only in Galicia but in other cities in central Europe, including in Romania. A few examples can also be found on the German website Jugendstil Fiesen dedicated to Art Nouveau tiles.
In Lviv a few variations of these designs can be found in several buildings. They vary not only in color but also in texture — some are smooth, others have raised outlines. The pharaoh-like tile is at times upside down and other times right side up. Sometimes these two tiles are found on their own, sometimes together.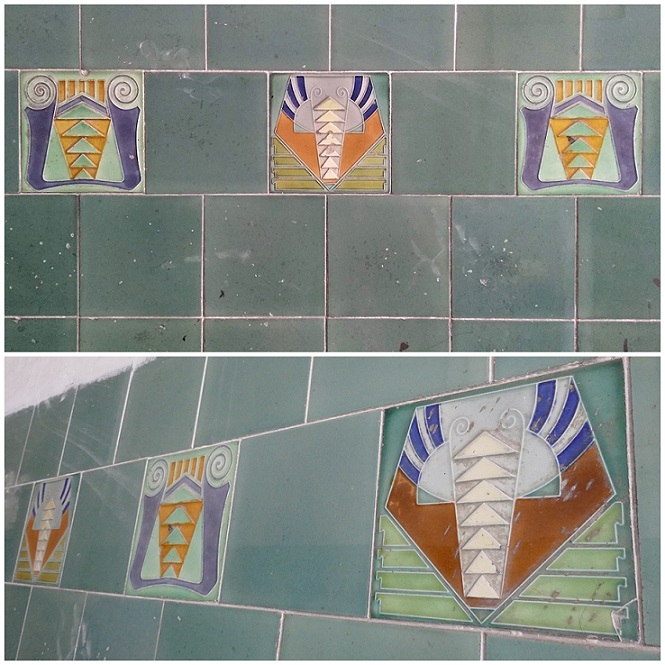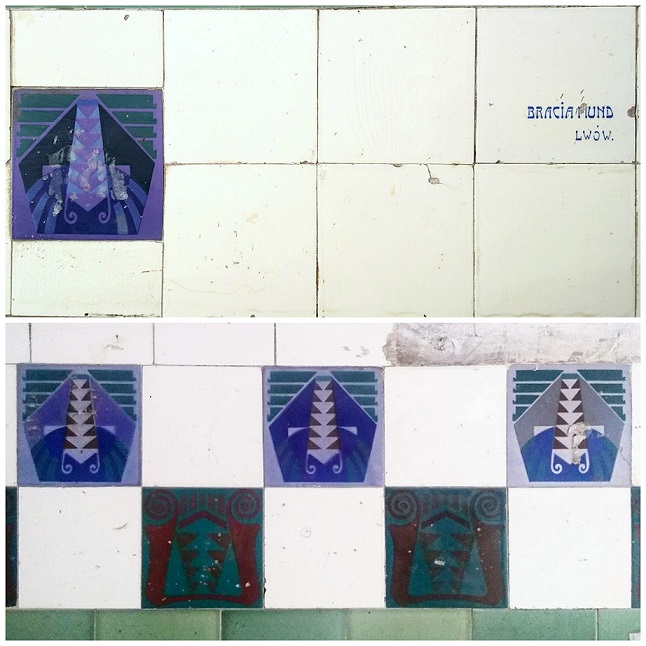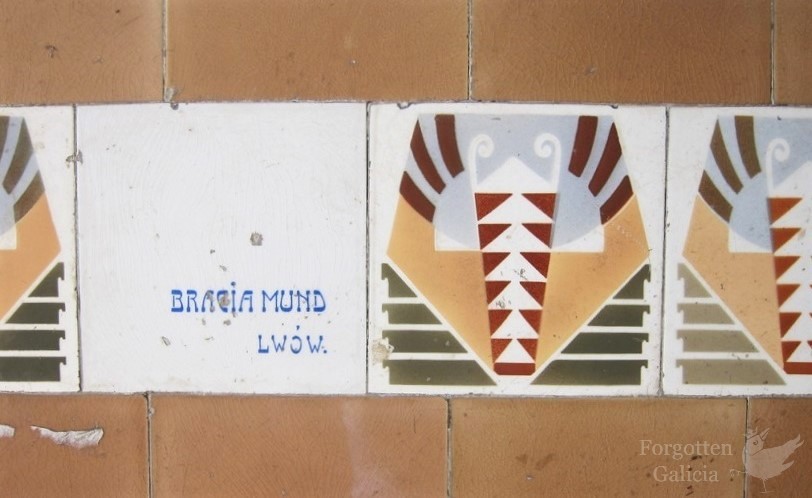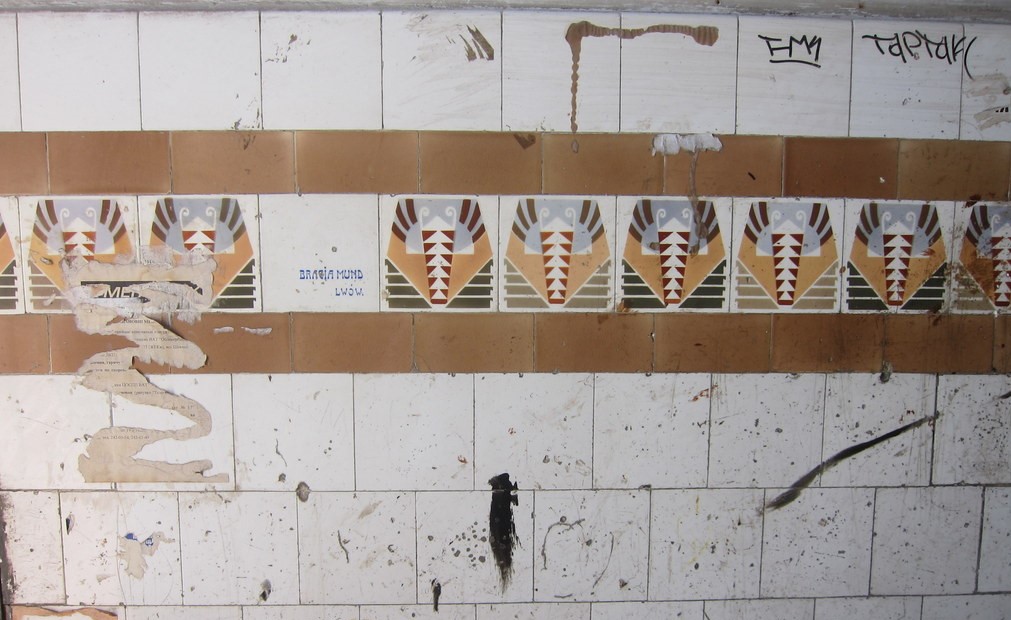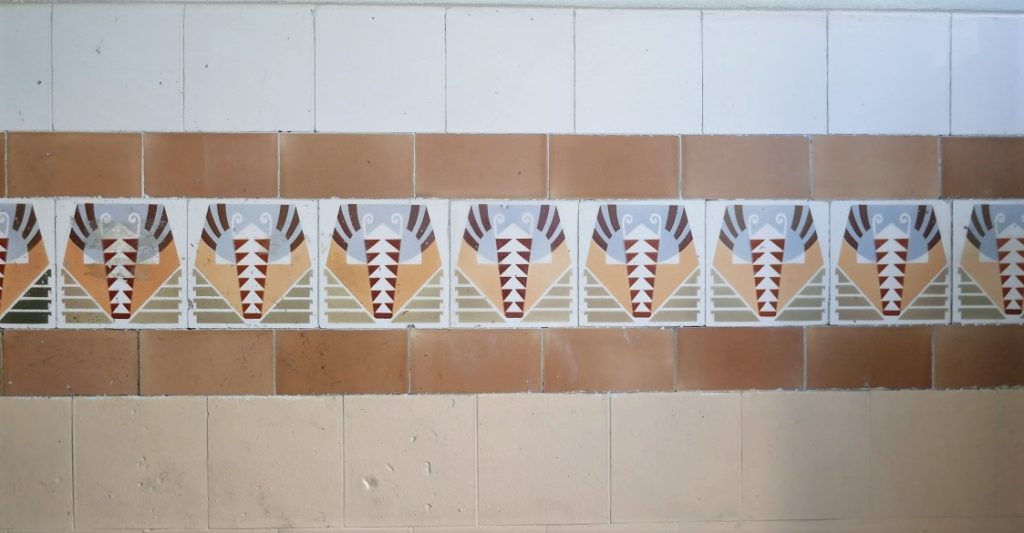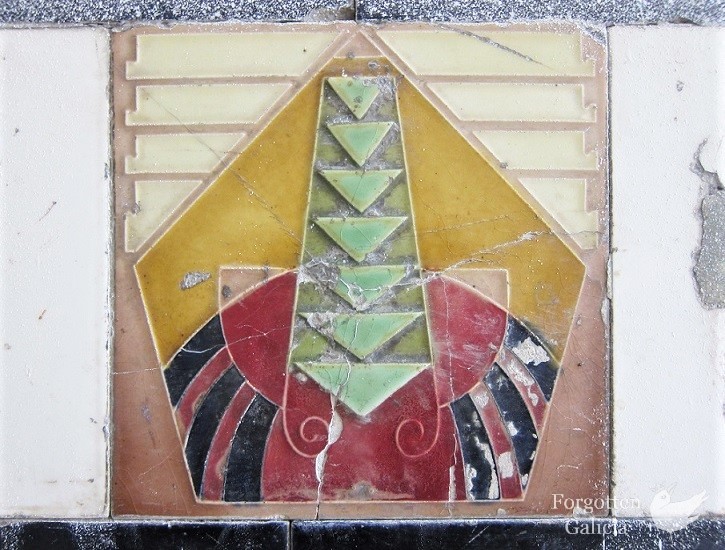 Wienerberger Tiles
Another producer of ceramic tiles that Bracia Mund worked with was the Viennese company Wienerberger.
Some of their tiles can be found in the vestibule of a Late Secession residential building, as seen below. While in this case no inscription is found near the tiles, the "Bracia Mund Lwów" inscription can be found in Lviv with other tiles that were produced by Wienerberger.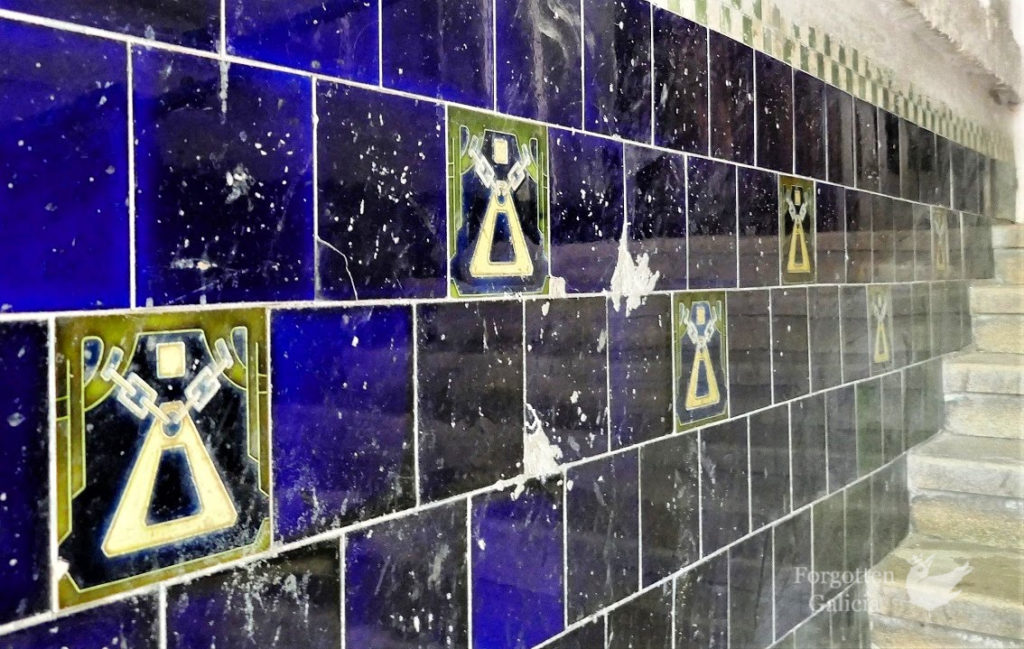 Unfortunately, some of the tiles in this vestibule have been painted over:
These are examples of Wienerberger tiles found in places outside of Lviv that I found on Jugendstil Fiesen and on Pinterest: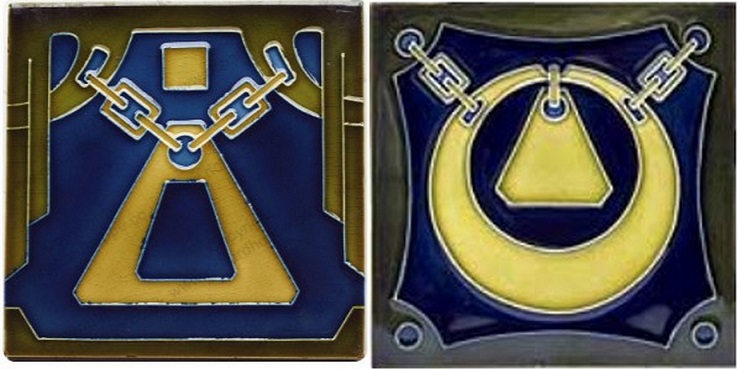 According to Jugendstil Fliesen, the square flower design was produced by Wienerberger. However, according to this auction site, the flower ones below were produced by Westböhmen. This means that Bracia Mund may have installed tiles produced by various companies in one building:
RAKO
In this building, the tile with the maker's mark has been stolen. However, its removal revealed the manufacturer of the tiles — RAKO, a Czech company which was founded in 1883 and which still exists today.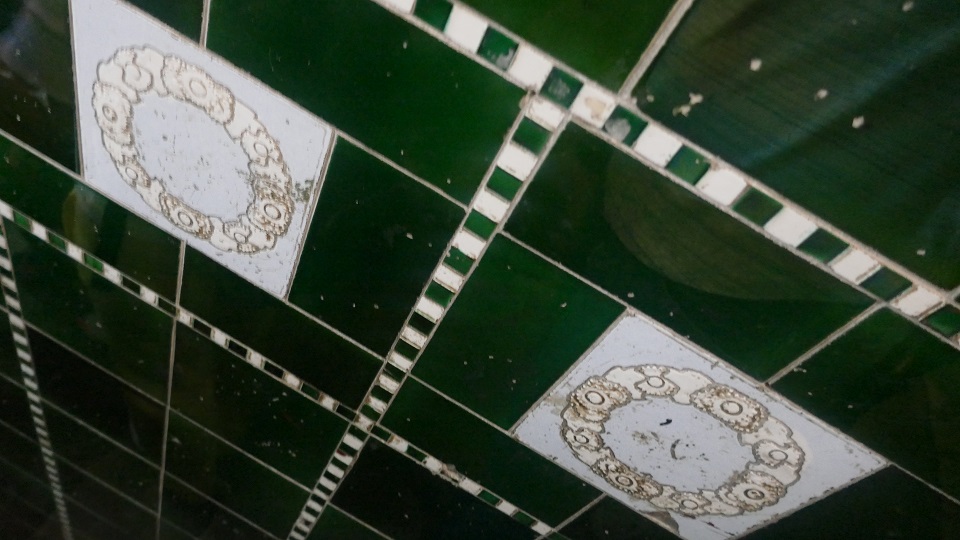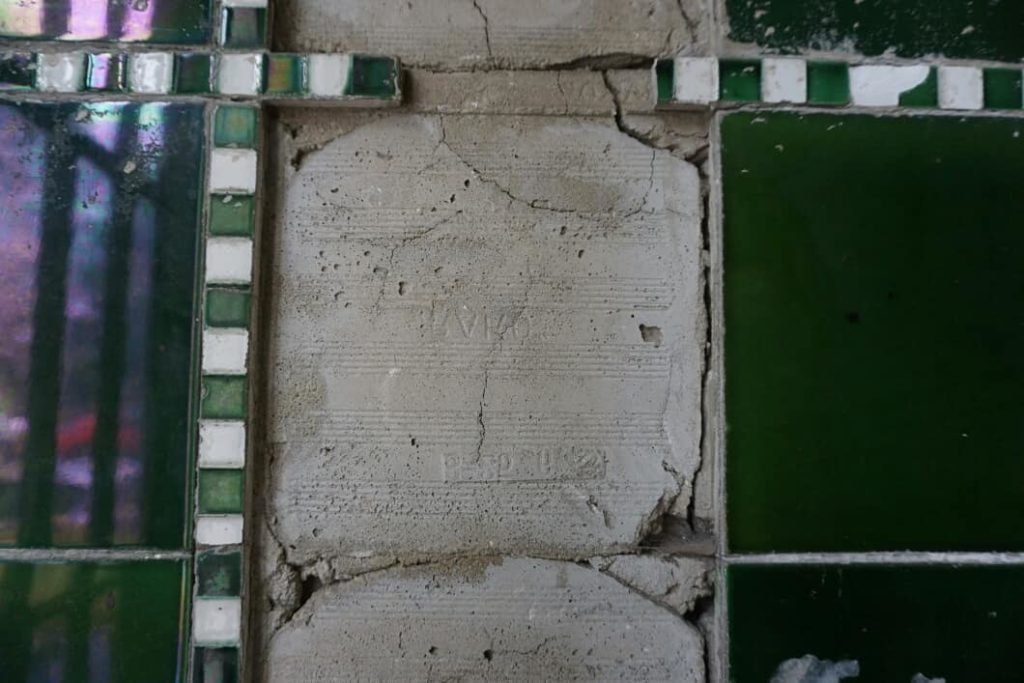 Tiles with inscriptions are especially at risk of being stolen — that is why I avoid writing addresses when I post photographs of such relics.
Poppy Flowers
I haven't been able to figure out who produced these tiles, but they were installed by Bracia Mund, as can be seen by their inscription on one of the tiles. Unfortunately, the name has been scratched out, but enough remains to see that it was indeed Bracia Mund.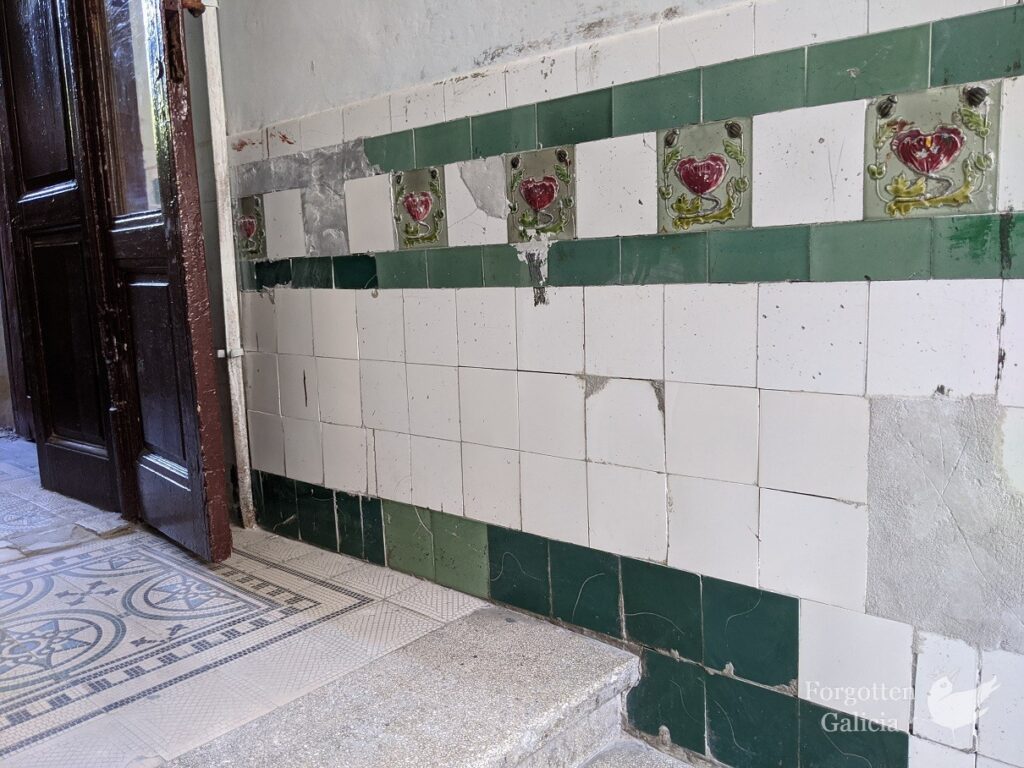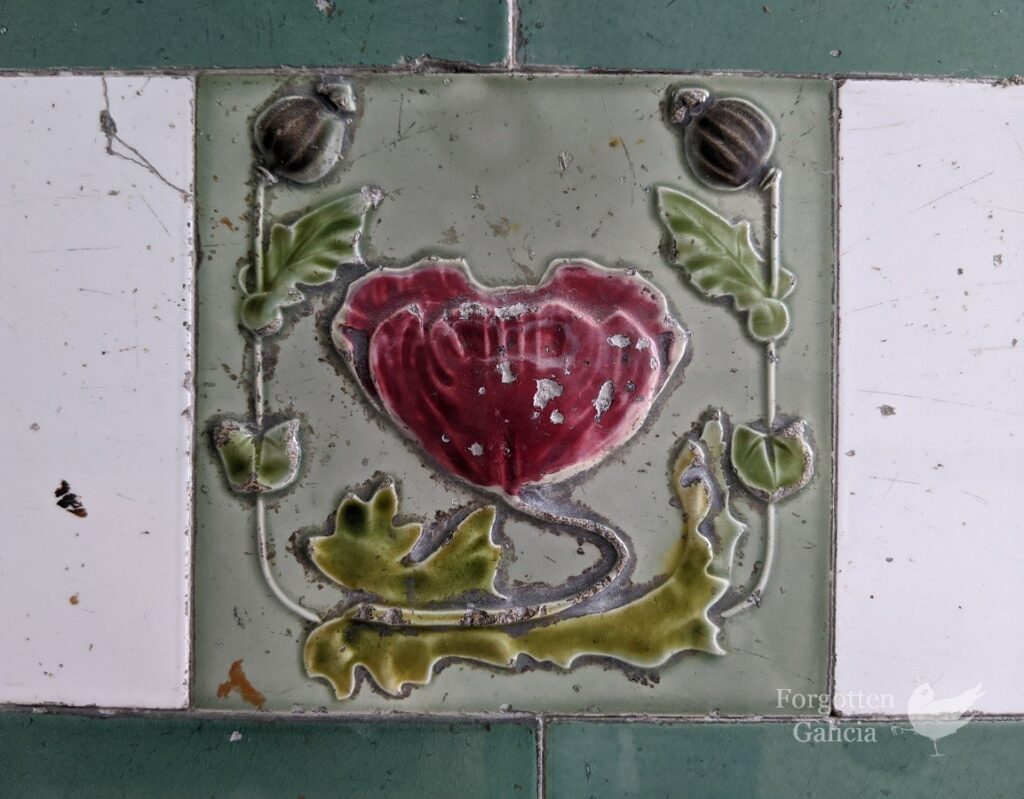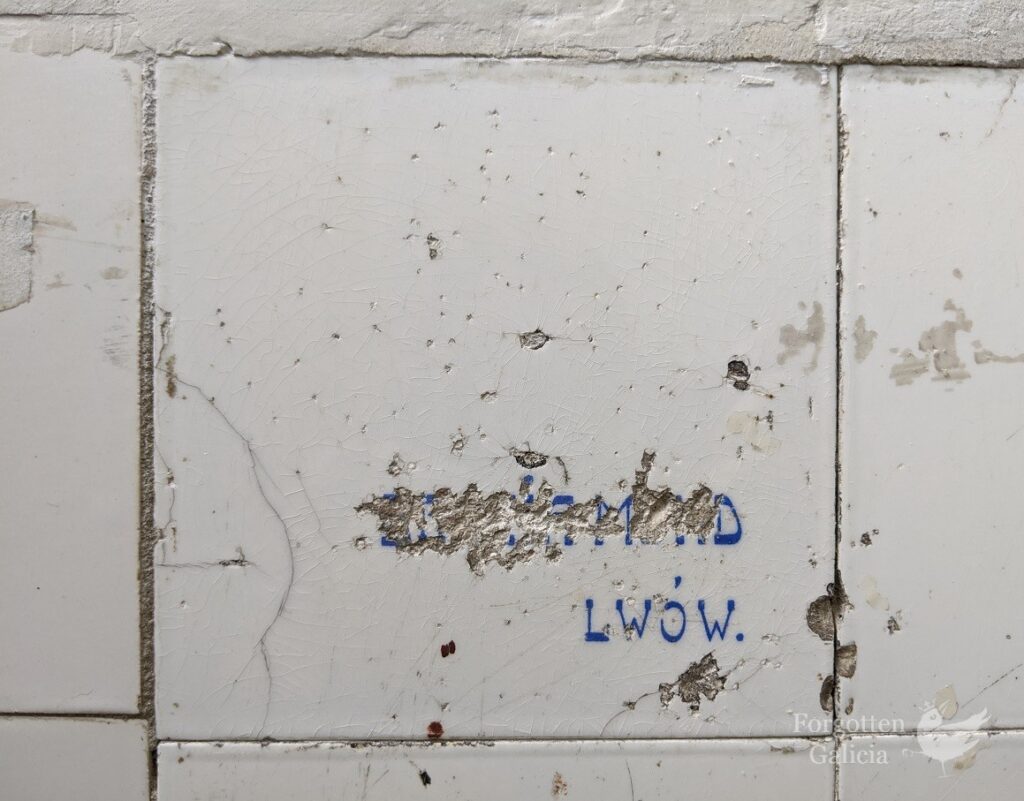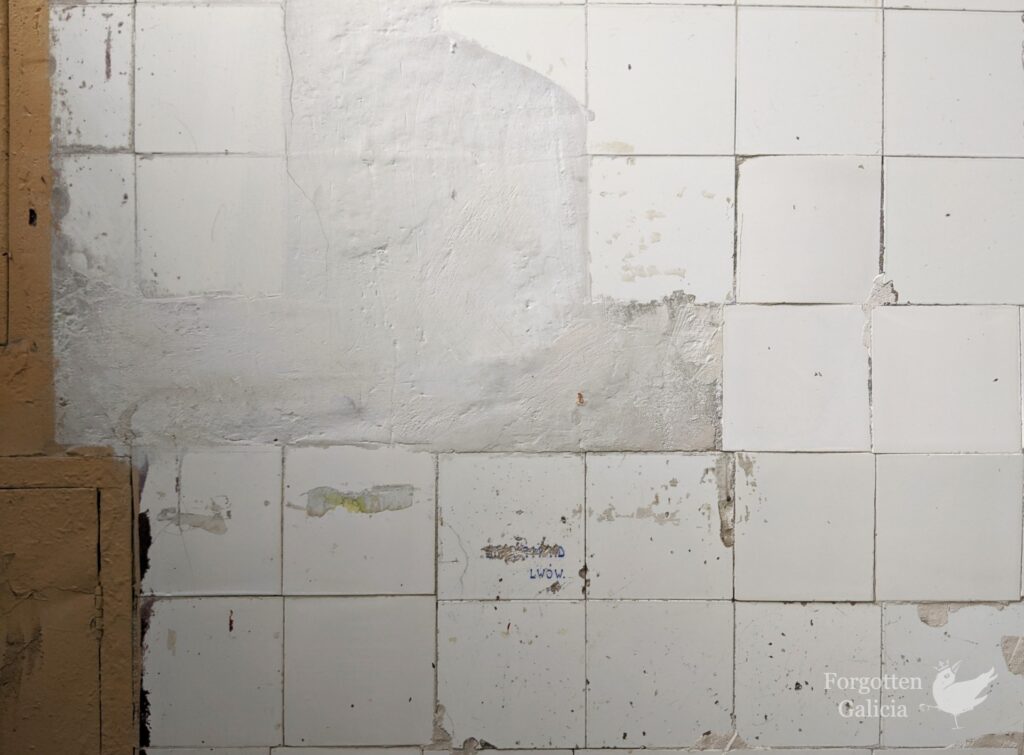 Lviv's 'Majolica House'
Lviv's "Majolica House" was built in 1905-1907, by order of Isaak Gersh Sandl in the style of Secession. Architect Henryk Salver designed the plan and facade of the house, while Lviv architect Salomon Rimer completed the designs of the facade and interior using Bracia Mund's ceramic products.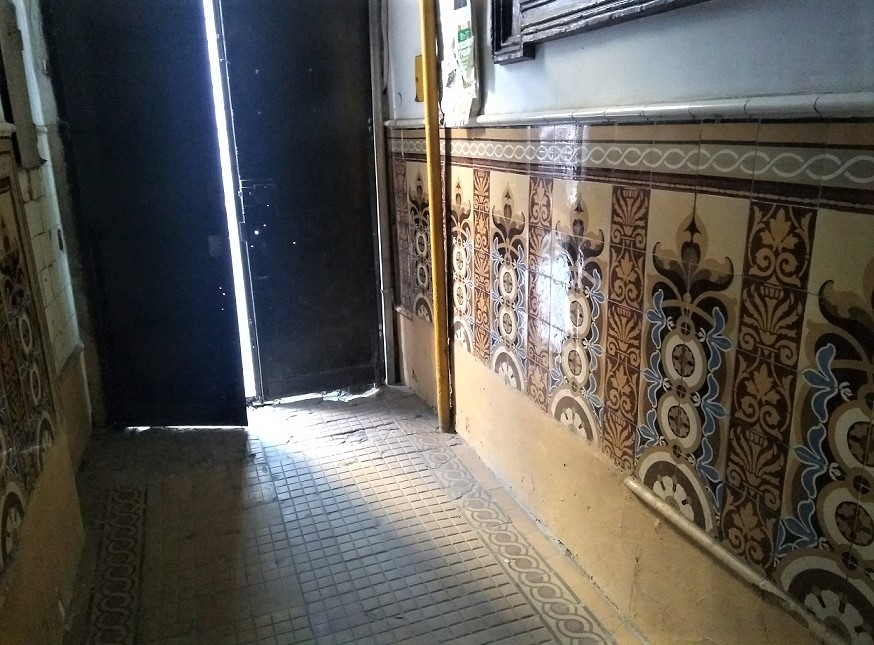 Floor Tiles
In addition to the glazed decorative wall tiles, Bracia Mund's mark can be found on dozens of vestibule floors. Unfortunately, many of these are in bad shape. While the wall tiles are more likely to be stolen, floor tiles are in a much more fragile position and are slowly being lost to wear and tear.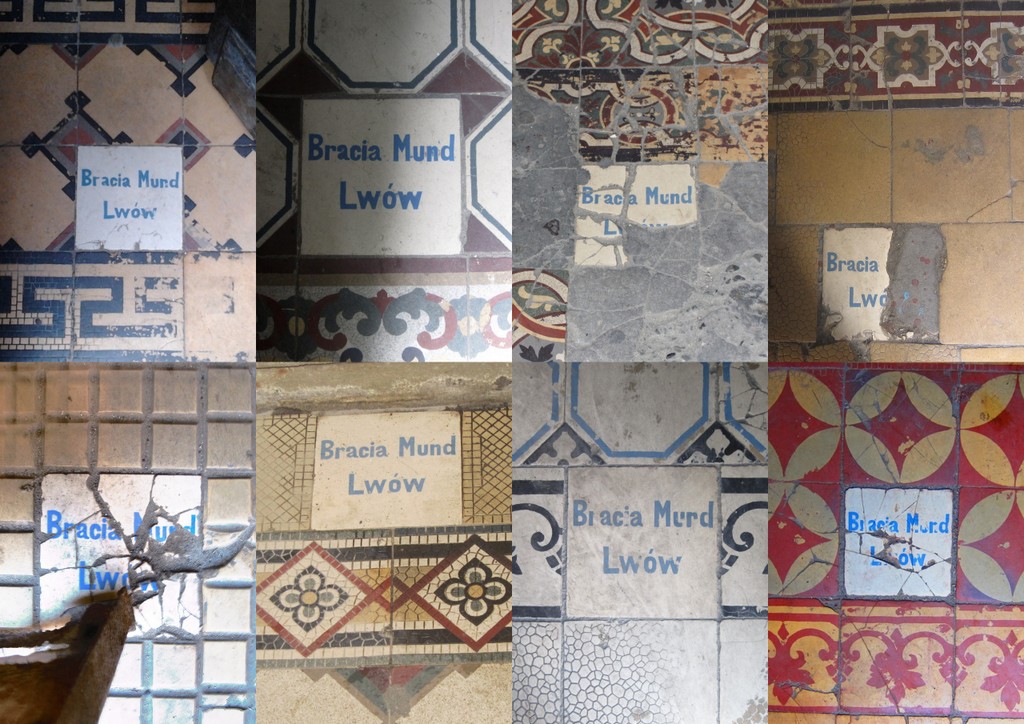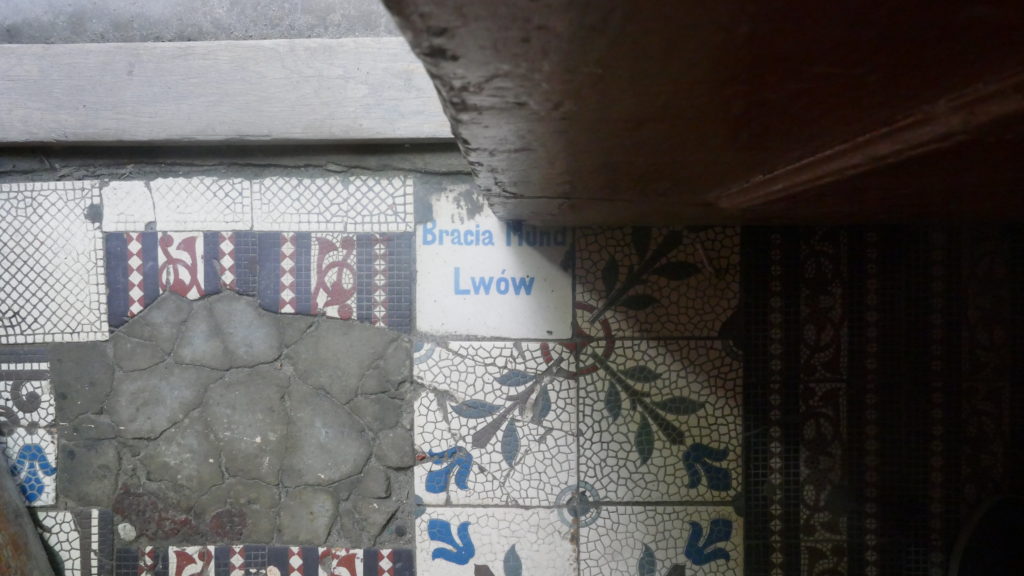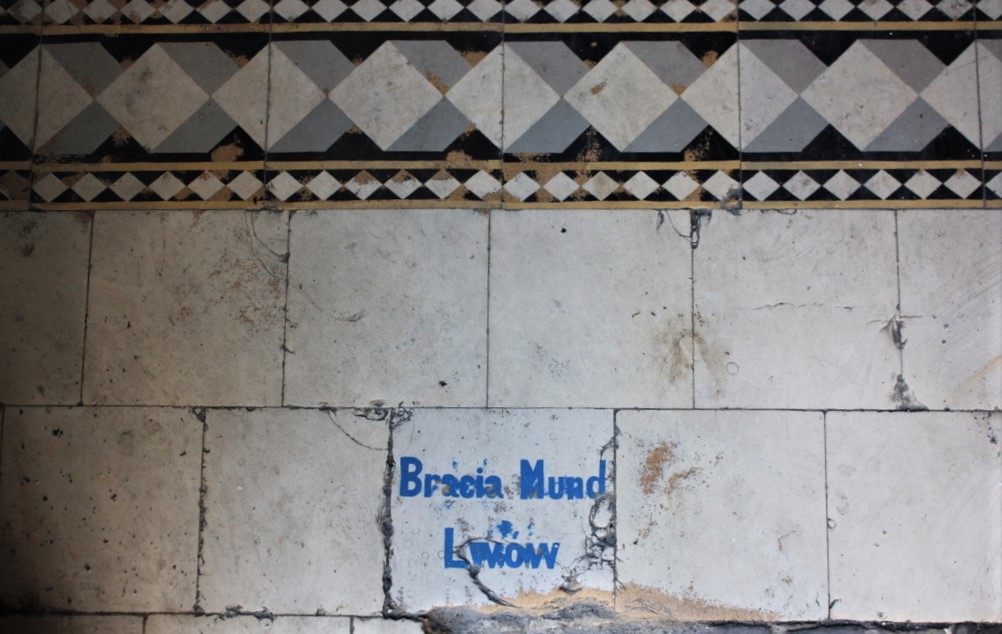 Tile Pins
For some time I wanted to create a piece of clothing or accessory featuring traces of Lviv's architectural heritage. In the end, I decided to make a series of enamel tiles inspired by the designs that can be found on Bracia Mund's tiles in Lviv. What I love about the format is that the texture of the enamel pins mimics that of the raised surfaces of the real glazed ceramic tiles.
The pins can be purchased in Lviv at Open Store on 8 Fedorova Street. They can also be purchased directly through me by messaging me at forgottengalicia@gmail.com or by sending a message to my Forgotten Galicia Facebook account. The price for one pin is UAH 180 / USD 7, or if you buy all four then a discount price of UAH 600 / USD 22. The shipping cost from Lviv to other cities in Ukraine and to Europe is about $2.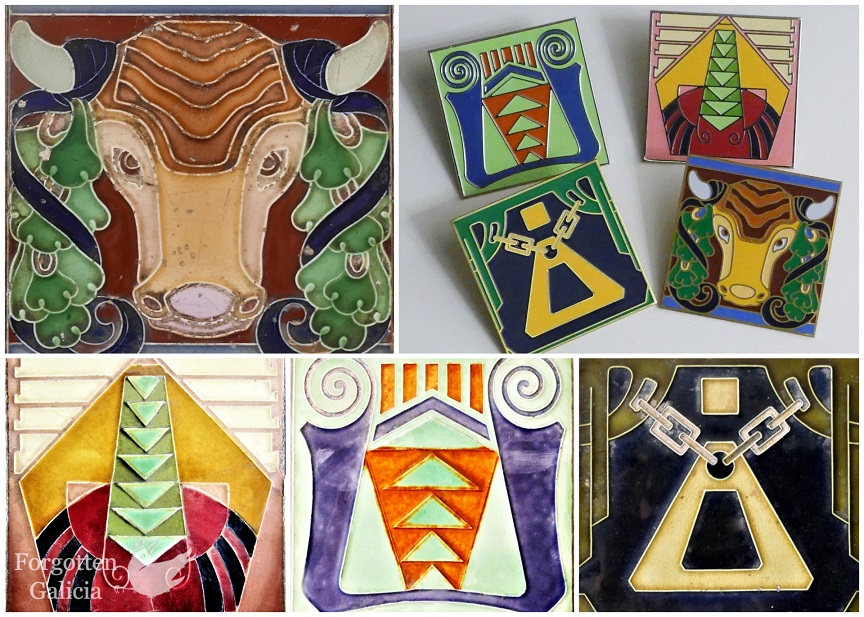 By Areta Kovalska
Sources:
Lviv po-polsku. Znak yakosti, 2015, pp. 18-24
Entsyklopedia Lvova, Volume 4, 2012, p. 807