By Iwona Dakiniewicz
It's a stroke of luck for those researching Galician ancestors, the next potential source of genealogical information — and, to the delight of those interested, it can be browsed online.
The Schematyzm Galicyjski [Galician Schematism] — a staff yearbook with personnel details of authorities, offices, societies, and institutions — was published during the years 1782 to 1914. Every issue was arranged according to the administrative divisions in effect at the time. The main central points obwody or districts, followed by the so-called cyrkuly [from Latin circuli, "little circles"], powiat starostwos, and the smallest administrative units, the rural gminas. The district seats as of 1875 were Lwów, Sambor, Stanislawów, Tarnopol, Zloczów, Czernio wee, Przernysl, Kraków, Tarnów, Nowy Sącz, and Rzeszów. [The first six cities are now in Ukraine and are called Lviv, Sambir, Ivano-Frankivsk, Ternopil, Zolochiv, and Chernivtsi, respectively].
Finding specific localities and surnames is simple and quick, because there are lists in the beginning and indexes at the end of every issue. The lists are arranged by administrative district, and the indexes contain the names of localities and surnames. The page ratio of the lists and of the indexes definitely favors the latter. The number of surnames is impressive, and this is due to the very detailed treatment of the publication by the Austrian partitioners. From the first issue, published in 1870, the schematisms were written in German (Schematismus), and until World War I, that is, until 1914, in Polish (Szematyzm).
The surnames of all officials and work ers were printed, from the whole palette of community life. The occupational positions begin with the bosses and go all the way to the storehouse keepers, with the mayors to the trainees, with the judges to the bailiffs. Also listed are midwives, veterinarians, surveyors, mailmen, railroad workers, alder men of rural gminas, and so forth.
Undoubtedly, not all will identify ancestors here. But they will gain other valuable information such as, for example, precise geographic-administrative localization. Information on the gmina may be useful in researching registration books; information on the territorial extent of a given jurisdiction can be valuable in searching court and notary records; and information on a given starostwo's seat can help in searching for entries on recruiting in the army, in peas ant enfranchisement, and in records and cadastral maps.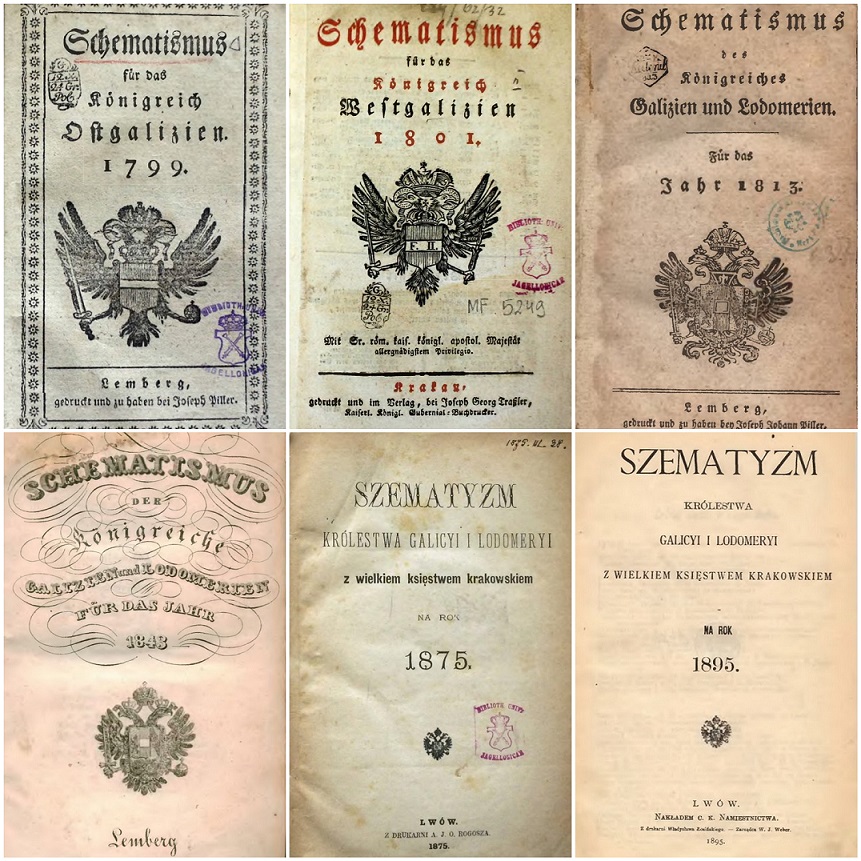 As an example, the 1875 schematism lists the teachers of one-class schools in the gminas of Tarnów powiat:
Adolf Kotulski – Brzozowa
Józef Kukulka – Burzyn
Hermenegild Gabryelski – Gromnik
Franciszek Regiec – Janowice
Jan Michniewski – Łeg ad Partyn [now Łeg Tarnowski]
Erazm Ziolowski – Łekawica
Marceli Stohandel – Lisia Góra
Jan Przybyszowski – Piotrkowice
Jan Bronikowski – Pogórska Wola
Wojciech Klocek – Poręba Radlna
Józef Bereczkowski – Rzedzin
Jan Frączkiewicz – Rzuchowa
Jan Lewandowski – Siedliska
Feliks Zalasiński – Siemiechów
Pawel Zegleń – Skrzyszów
Grzegorz Kaim – Szynwald
Stanisław Proszak – Wierzchoslawice
Jan Kuk – Wola Rzędzińska
Wawrzyniec Wilczkiewicz – Zabno
Alojzy Dudzik – Zalasowa
Antoni Rzeszutko – Żbytkowska Góra
Józef Bala – Żukowice
That issue also lists court interpreters, for example, of the District Court in Dubiecko:
Jan Kanty Dydyński – Krzemienna
Aleksander Bobczyński – Niewistka
Zbigniew Trzecieski – Dynów
Alfonzy Reisenstein – Końskie
Cyprian Jaworski – Sielnica
Wincenty Dwernicki – Temeszów
Gabriel Zaleski – Iskań
The 1871 issue lists a variety of people working at the Lwów Royal-Imperial Directorate of Road Supervision:
Director, Jan Gros
Cashier, Antoni Hiff
Cashier clerk, Jędrzej Wiersing
Master of carpentry, Jozef Zeemann
Stoker, Jan Wolff
In Construction 
Ferdynand Franta
Antoni Happe
Supervisors 
Franciszek Stadler
Antoni Stamler
Tomasz Dolleschal
Leopold Engl
Peter Golling
Jozef Odenkirchen
Ferdynand Delapina
Jozef Pappesch
Karol Jedl
Sebastyan Wayzenegger
Krystian Bayer
Jan Edelbeck
Karol Hartmann
Floryan Schirl
Filipp Bertha
Antoni Jugel
Ignacy Schlagenhanfer
40-Man Administrative Board
Of merchants:
Jakob Spytowski
Kasper Jakubowski
Antoni Pubacki
Mikolaj Bialecki
Józef Zgierski
Franciszek Rossler
Alexander Krzyżanowski
Jan Lubacki
Anastazy Manowarda
Kasper Solski
Lukasz Bialostocki
Maciey Lantwerth
W oyciech Barankiewicz
Józef Au
Michal Stotnicki
Jan Fugirowicz
Antoni Rogalski
Kazimierz Szlichtyn
Of craftsmen 
Jan Hakiel
Jan Weiss
Stefan Komarnicki
Grzegorz Markowski
Antoni Kaminski
Jan Niedzwiacki
Stanislaw Bartoszewski
Salamon Bensdorf
Piotr Chalier
Jakob Trachopeus
Teodor Jaroszewski
P. Sokolowski
Antoni Marquand
Jozef Opuchlack
There is also a listing of postmasters for various routes:
The Bilka route:
Jan Polty – Janów
Jan Derfa – Szklo
Karol Derza – Jaworów
Jozef Nadasty – Kobielnica
Karol a Bek – Bobrówka
Jan Klings – Jaroslaw
Marcin Misionkiewicz – Przeworsk
Józef Matakiewicz – Lancut
Anna Marza Oberlenderowa – Rzeszów
Jan Bogdani, postal clerk, also in Rzeszów
Jan Leskowski – Szedziszow [Sedziszow]
Jan Nep. Rolle – Dembica [Dębica]
Andrzey Leychnamszneyder – Pilzno
Maciej Józef Szyfer – Tarnów
Karol Ebert – Wojnicz
Antoni Rakowski – Brzesko
Piotr Cyryan – Bochnia
Wiktoryn Pino – Staniątki
Henryk Brandl – Kazimierz
Jan Weiss – Skawina
Ignacy Antoni Szlama – Brzesnica [? Brzeznica]
Franciszek Przyrodek – Zator
Fryd. Gottfryd Czerna – Kenty [Kęty]
The Rzeszów-Dukla route:
Antoni Franner – Frysztak
Jakob Barthelmi – Krosno
Han Chrystyan, also Commissioner of the Royal Road in Dukla
Krzysztof Angoulan -Szczerzec
Antoni Oziwat – Rawa
Szymon Thader – Łaszowce [?]
Antoni Derl – Krynica
Daniel Walter de Ogilwie – Zamość
The Husiatyn route:
Antoni Rettel – Bilka
Andrzey Rettel – Gliniany
Vacant – Olszanica
Henryk Prewot – Zloczów
Antoni Rottel – Zborów
Joz. Alex. Borabas – Kozlow
Antoni Lenczewski – Mikulince
JozefTeclaf – Chorostków
Maciey Jersabek – Husiatyn
The Zaleszczyki route:
Jan Roloff – Chmielowiec
Daniel Horn – Czapowice
Jan Chrystyan – Zaleszczyki
The Śniatyn route:
Wladyslaw Kullmann – Dawidów
Jozef Jan Funger – Bóbrka
Chrystyan Kieter – Strzeliski
Jan a Sylwa – Knichenica [? Knihynice]
Ignacy Joz. Flemming – Brusztyn [? Bursztyn]
Antoni Zechtner – Halicz
Jan Fryder. Handszucher – Stanislaw
Francisz. Ulrych – Tlumaczów
Eustachi Gaberle – Winogród
Jan Trnka – Sniatyn
The Brody route:
Jan Jerzy Hochstetter – Jaryczów
Antoni Wagner – Busk
Franciszek de Bourla – Sokołów
Wincenty Rhainisz – Brody
The route to Zamość through Rubieszów [Hrubieszów]:
Krzysztof Land – Uchanic [? Uchanie]
Jozef Lewicki – Rubieszów
The Sambor route:
Jan Strasser – Sambor
The Galician Schematism is available on the Web site of the Malopolskie Genealogical Society, at http://www.mtg-malopolska.org.pl/bibliotekacyfrowa.html. The site credits the source as "From the collections of the Jagiellonian Library in Kraków. Digitalization and publication with the permission of the Library Directorate with thanks to its Workers for their considerable assistance."
Source:
Iwona's Sources – Galician "Yellow Pages" on the website of the internet Polish Genealogical Source
Iwona Dakiniewicz, Łódź, Poland – genealogy@pro.onet.pl
[with translation assistance from William F. Hoffman]
Images selected by Areta Kovalsky