Wells and fountains were both a practical and aesthetic part of Lviv's landscape. Records and photographs reveal that there were indeed many of them all around the city, especially near churches and monasteries. In time, with the advent of new infrastructures, these once vital water access points became obsolete, and as new urban planning strategies were implemented, most were eventually wiped from the urban landscape. A few original wells and fountains remain, but most have been concealed under flower beds, monuments, or squares, or lost entirely without a trace under pavement or overgrowth.
Below I list some of Lviv's most famous wells and fountains, as well as a few lesser known ones, especially those whose remnants can still be seen today.
Ancient Wells
Fountains on Rynok Square
The beautiful fountains we see today on Rynok Square were built on the places of ancient wells that supplied water to the city.
Beginning as early as 1407, a water distribution point was built on Rynok Square. To improve access to water, especially for drinking and for fires, throughout the sixteenth century two wells with water "chests" were built on Rynok Square. The city's main water pipes converged at these basins, from where water was then supplied to residential buildings via wooden pipes. In 1697 another well was built to meet the growing water demand, followed by another one in 1744. The basins of both were decorated with wooden statues of Neptune. Only the wealthiest nobles had the right to take water from these fountains.
By 1770 each corner of Rynok Square had four wells with stone masonry. Two of the four were built on old water wells (today Diana and Neptune).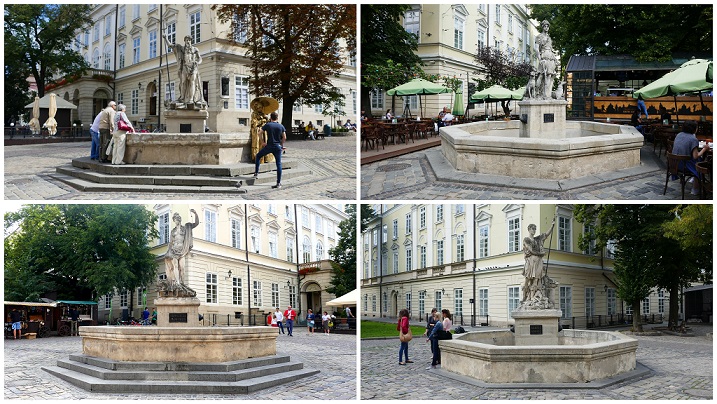 Then in the early nineteenth century, in place of the wells four fountains were built, and famous Lviv architecture Hartman Vitver adorned them with stone statues of the mythological deities Neptune, Amphitrite, Adonis, and Diana, each with an eight-sided basin.
St. Lazarus Monastery Well (17th century)
In 1634-1640 the St. Lazarus Church & Monastery and Hospital were built on a hill at the end of today's Kopernyka Street. A stone well was built nearby, which is flanked by two lion statues that used to be on the tower of the city hall. Water was collected via wooden pipes, which are still buried in the ground. The well functioned until the 1950s. Shortly afterwards, the pipes were cut off and a flower bed was planted in the well.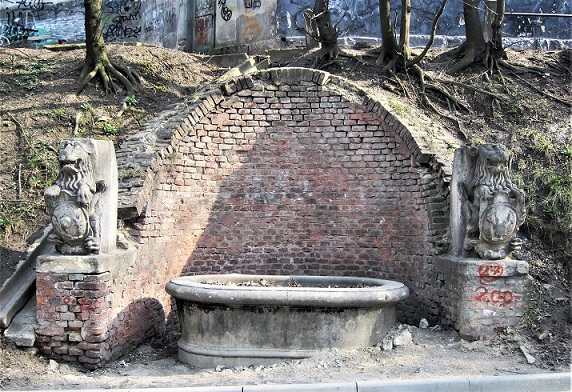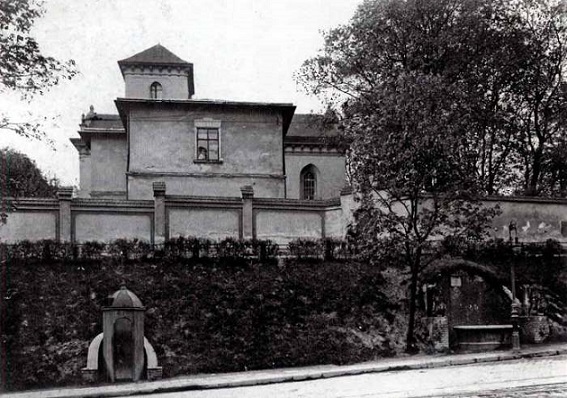 Bernardine Church & Monastery Well (1761)
The Bernardine well was built in 1620, to the right of the church's main entrance. In 1761 it was decorated with a Late Baroque rotunda, created in the form of an open arched gazebo and crowned with a dome and a sculpture. A painting depicting the miracles of St. John of Dukla is preserved on the dome.
There are two legends associated with this well. According to one, the well was built on a freshwater spring that was struck on the site of the burial place of St. John of Dukla. The other legend goes that during the siege of Lviv in 1648 by Bohdan Khmelnytsky's army, Bernardine monks threw in the well bodies of slain Ukrainian burghers, which the monks had invited to a banquet.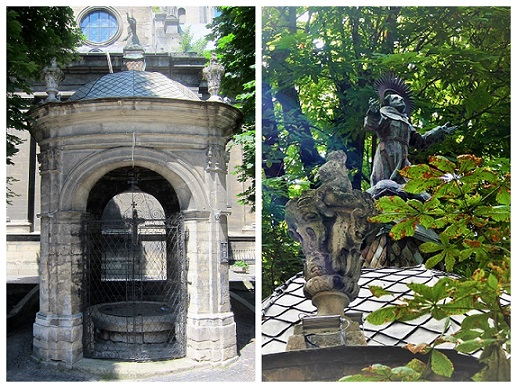 Nineteenth Century Wells
During the nineteenth century many stone wells and fountains were built in Lviv, but very few of these remain.
In 1839 two stone wells were built on the territory of the Jesuit Garden (today Ivan Franko Park). In the place of one of them, today is a flower bed, in the middle of which is a metal vase that used to sit in front of the the Galician Sejm (today Ivan Franko University). The cast-iron vase, which depicts Bertel Thorvaldsen's "The Allegory of Life," was cast in 1839 by a sculptor from Krakow. The vase was moved to its new location in 1949. The other well is covered.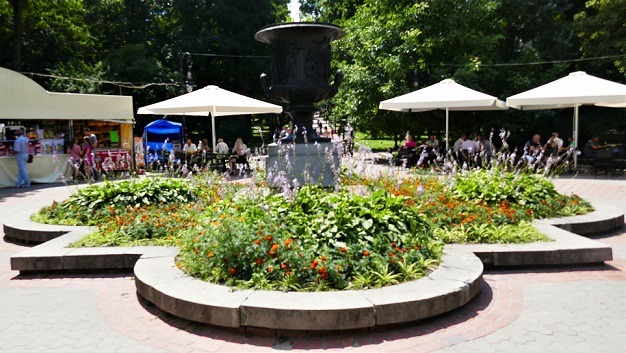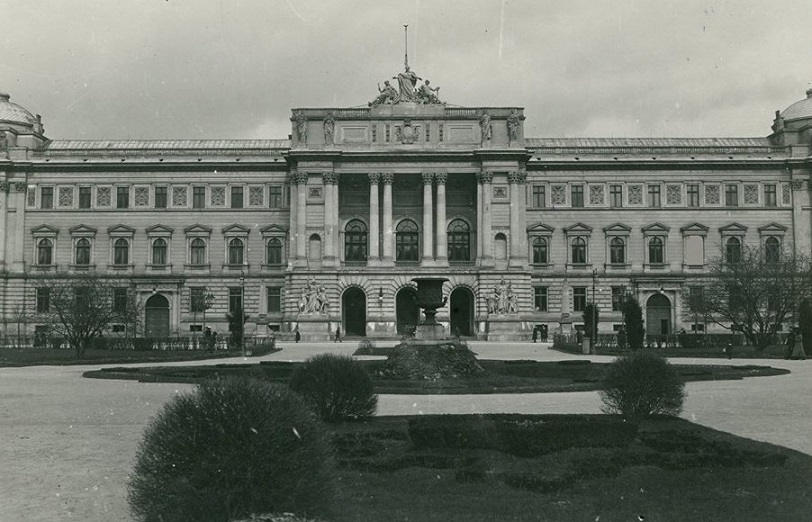 On the place of several old wells now stand monuments. For example, the monuments to Adam Mickiewicz, Mykhailo Hrushevsky, and St. George replaced earlier monuments to the Virgin Mary, Aleksander Fredro, and Franciszek Smolka, respectively, all of which were built on wells.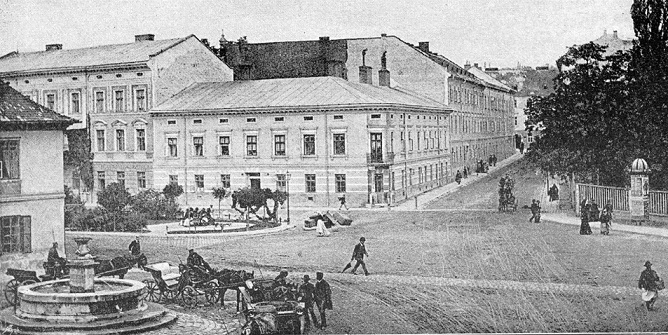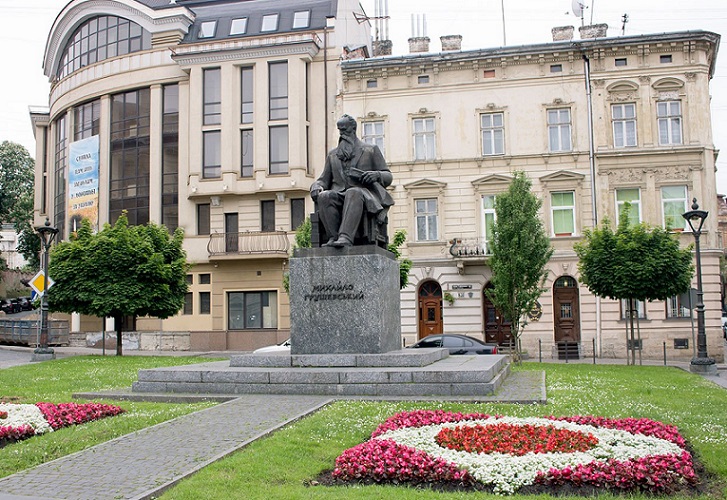 On General Hryhorenko Square (formerly Franciszek Smolka Square) there used to be well with a six-sided basin. In 1912 a statue to Franciszek Smolka was built on the place of the well, where it stood until 1949. In 1999 a statue of St. George was erected in its place.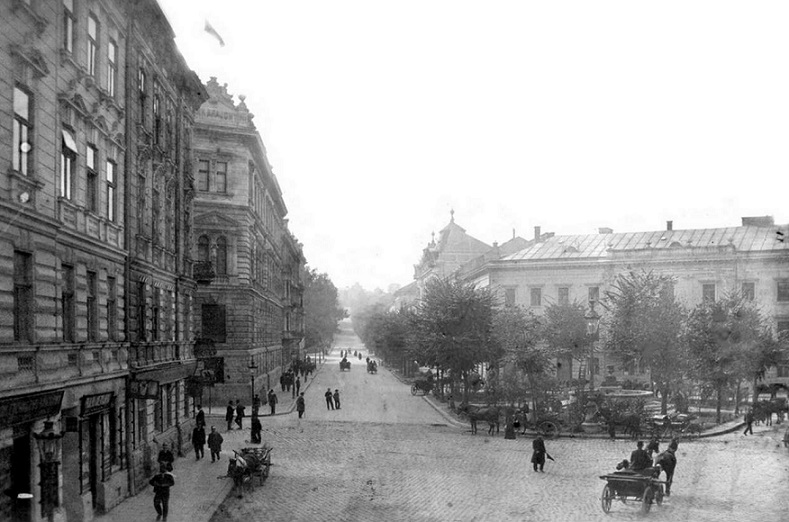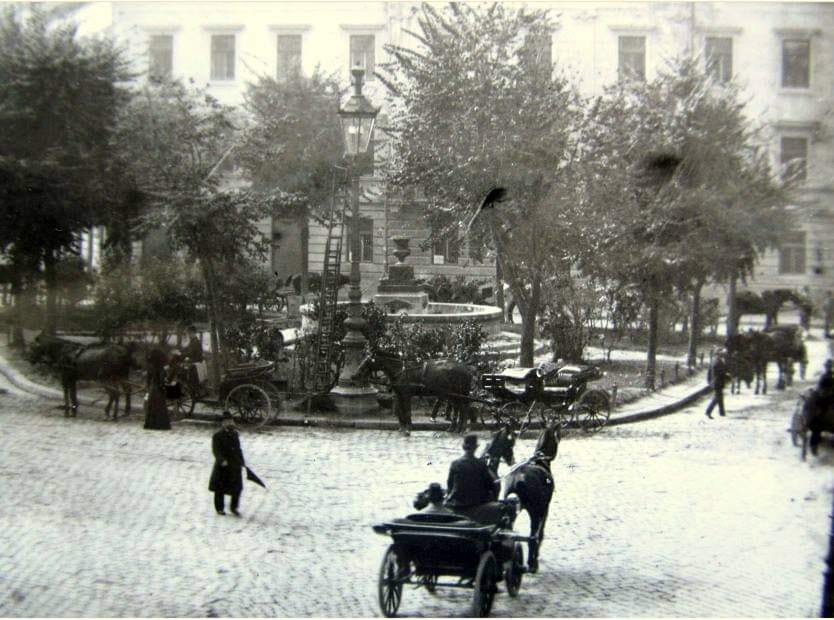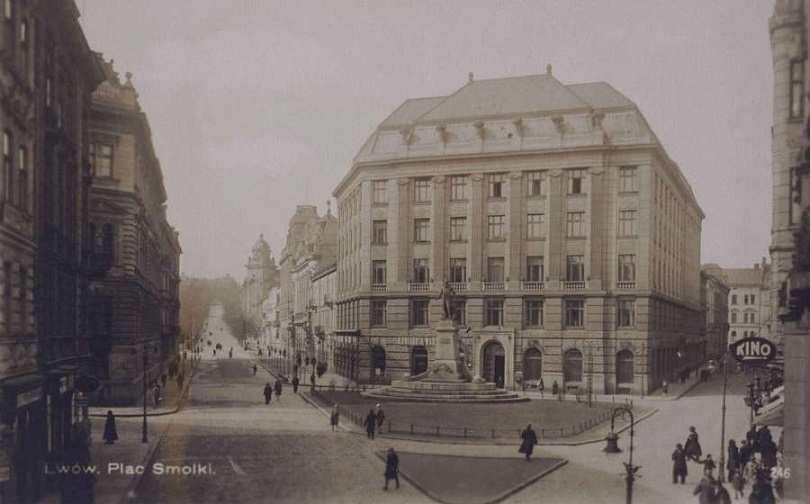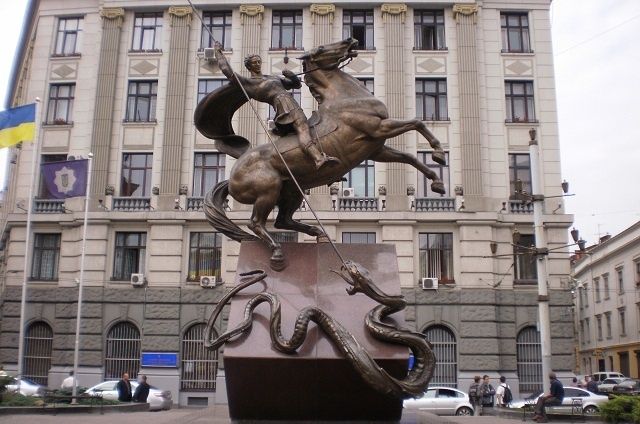 A well was located on Malaniuk Square (formerly Dombrovsky Square) until the 1950s. Until recently, on its place was a statue to the Ukrainian writer Stepan Tudor.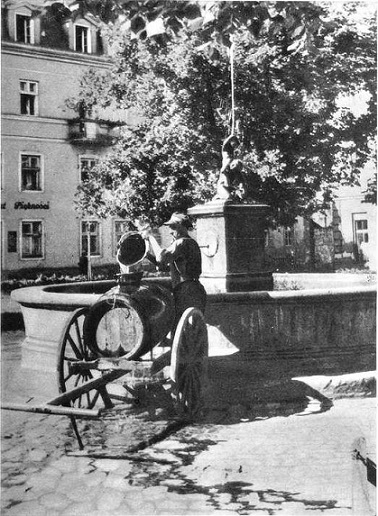 In 1880 a fountain with a sculpture was built on an ancient well on Halytska Square. In 1950 the sculpture of the woman was replaced with a with that of a boy. Today there is reconstructed fountain with a metal ball that squirts water.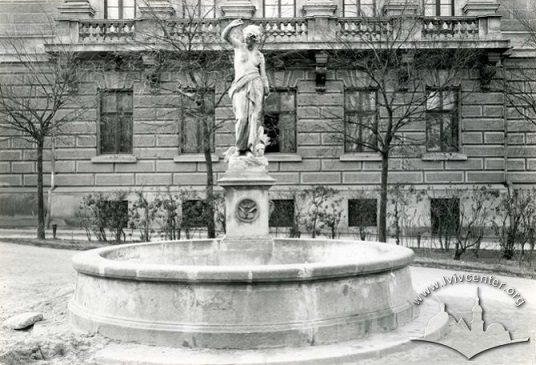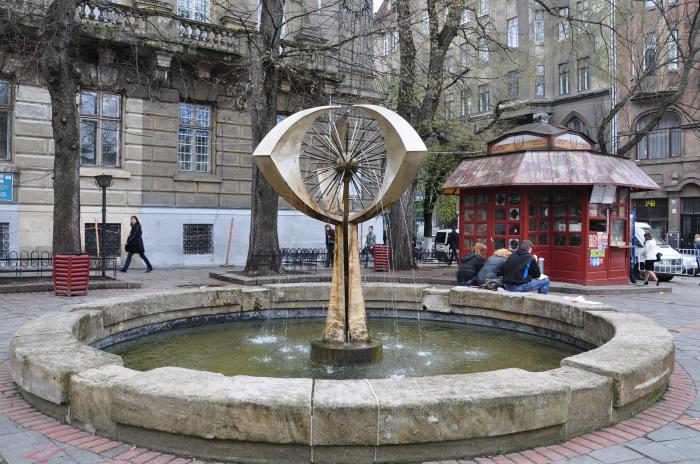 There used to be a well on Staryi Rynok in front of the Temple Synagogue. Like most of the wells nears churches and monasteries, this one no longer exists – however, today in place of the original well is a replica.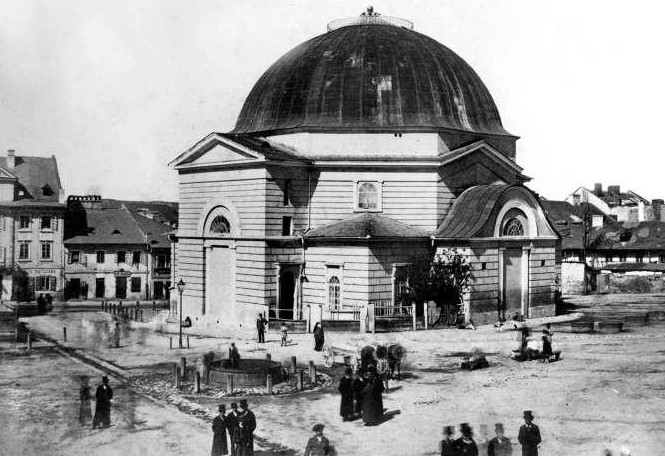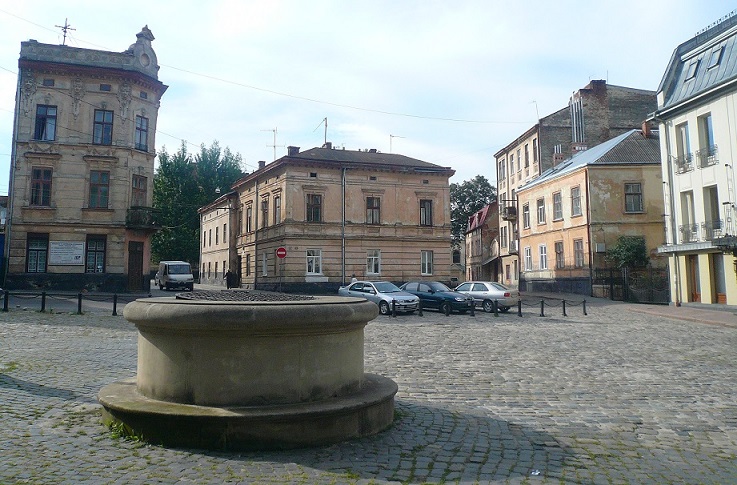 In courtyards and front yards around the city we can find traces of former wells, especially remnants of stone basins:
35 Doroshenka Street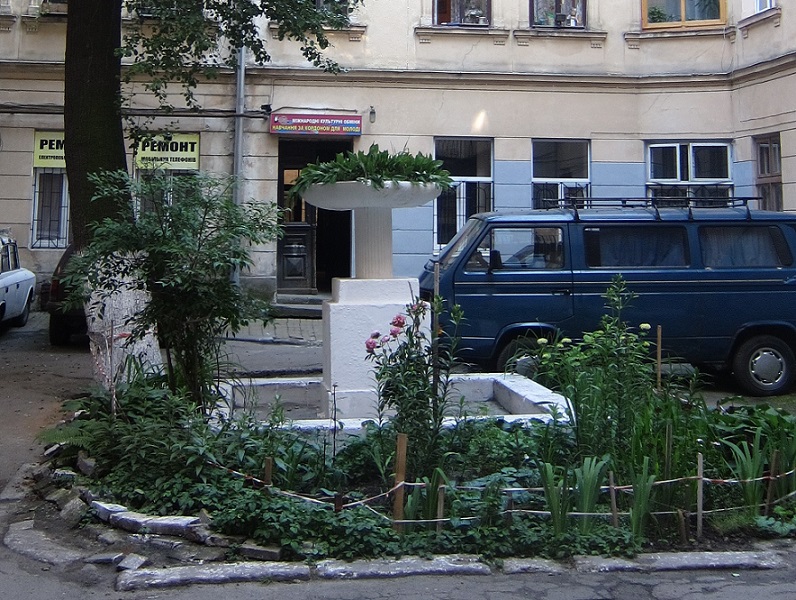 45 Horodоtska Street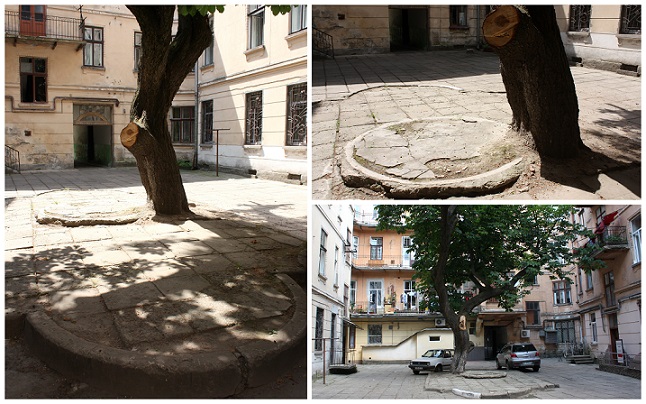 3 Leontovycha Street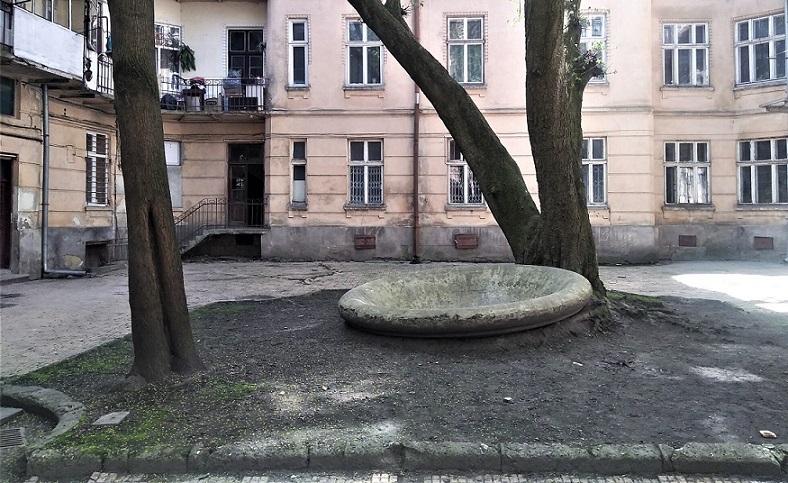 10-12 Lepkoho Street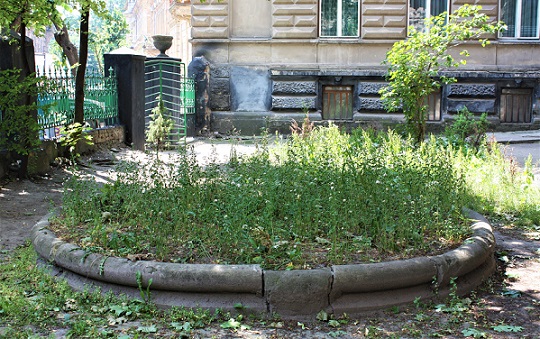 Source: Kharchuk, Khrystyna. "L'vivski fontany." Halytska Brama, April-May 2009.