Many years ago in Lviv I came across what looked like a metal door matt. I had no idea what it was until I saw similar panels in Edinburgh and Tallinn and turned to the Internet for help. Turns out it is a vault light to illuminate the basement.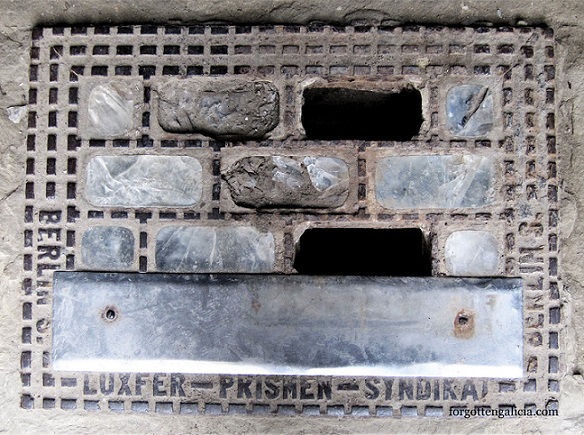 It is located at the front entrance of one of Lviv's most interesting and unique buildings.
"Vault Lights, also known as Sidewalk Lights (or Pavement Lights in the UK), are those old glass prisms set into sidewalks to let light into vaults and basements below. Prisms were used instead of flat glass to disperse the light, diffusing it over a large area; plain flat glass would simply form a bright spot on the floor below, not providing much useful general lighting."
"The idea originated in the 1840s as deck lights. They were used on ships to let light below-decks… The idea caught on; by the late 19th century they were common in the larger downtowns, especially New York. Their use declined as electric light became cheaper and better, and by the 1930s were on their way out. Now, they are endangered relics," from Glassian.
Oddly enough, the pavement light in Lviv has a connection to my hometown, Chicago. The company that made it, Deutsches Luxfer Prismen Syndikat, was founded in 1899 in Berlin as a foreign branch of the Luxfer Prism Company. The Luxfer Prism Company was established in 1897 in Chicago "to produce glass panels with integral prisms which could capture light from the daytime sky and refract it deep into interior spaces. Such panels would transmit twice the amount of light of an ordinary glass pane, providing safe, low-cost energy efficient illumination for businesses, schools, hospitals, residences and other users."
Later, I found another example of a Luxfer vault light, in a very beautiful Secession building in Pidzamche, an old industrial district of Lviv. Strangely, the vault light is not located outside the front door, as I've usually seen, but at the end of the front corridor—it doesn't seem that there would have been a lot of sunlight going into that part of the corridor, unless the doors at either end were left open.
Just like the first Luxfer vault light I came across, this one too is associated with a very beautiful building.
Since then, I've come across several more examples (all I've seen in person except for the first example below). Not all have the Luxfer inscription – accordingly, maybe not all were produced by Luxfer.