Interethnic marriages are common on territories where together with the indigenous population live representatives of other ethnic groups. Most often they are between ethnic groups that have close religious, linguistic, and cultural characteristics.
"In interwar Galicia the largest number of such marriages was between Ukrainians and Poles, especially on the border of the two ethnic groups. Ethnic mixing of the two communities occurred for centuries. Polish nobility in Galicia was partly of Ukrainian descent, and many Polish immigrants mixed with the Ukrainian population. Even during times of interethnic tension mixed marriages were common, as evidenced by the saying, according to which 'the Polish-Ukrainian border ran through the marriage bed,'" from Histor!ans.
In Lviv, in particular, "before the war, marriages between Roman Catholics and Greek Catholics were fairly common. In 1910 and 1911 there were more than three hundred mixed marriages every year, making up almost 17 percent of all marriages." However, this high rate of intermarriage was tempered by WWI: "The Polish-Ukrainian war and the increasing enmity between Poles and Ukrainians reduced the number of mixed couples," Lemberg, Lwow, Lviv 1914-1947.
From the religious perspective, there were no rules against inter-rite marriage: "Inter-rite marriage was not to be prevented; a priest of the wife's rite must perform the ceremony. A child was to be raised in the rite of the parent of its gender (i.e., a boy was to be raised in his father's rite, a girl in her mother's). Among the exceptions to this rule were the children of Greek-Catholic priests. Illegitimate children of either gender followed the mother's rite," from Andrew Denis Sorokowski's The Greek-Catholic Parish Clergy in Galicia 1900-1939.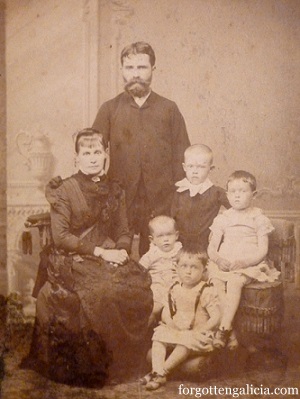 An example of an interethnic marriage is that of my great-great grandparents: My great-great grandfather Leon Bednawski was a Roman Catholic Polish-speaker of noble Polish and Austrian descent, while his wife, my great-great grandmother Josefa Kühn, was a Ukrainian-speaking Greek Catholic woman whose ancestors included both Greek Catholic priests and Germans.
As my great aunt describes: "In Austrian times, mixed marriages did not normally pose any problems for Ukrainian-Polish families. Leon and Josefa agreed that they would baptize their boys in the Roman Catholic Church and the girls in the Greek Catholic Church. Poles lived mainly in cities where there were kościóły [Roman Catholic churches]. In the villages were primarily Greek Catholic churches and priests. At home the Bednawskis spoke Polish. Leon didn't know Ukrainian, but tried to speak Ukrainian with their maid—nanny Parania from Tsishky, who lived with the family for many years. All the children spoke to her in Ukrainian."
Leon and Josefa had eight children, five of whom died as young adults from tuberculosis. Two of the children, Yuliya and Włodzimierz, are buried in Tsishky (today Chishky): a brother and sister who died within two years of each other, at age 19 and 21.
They are buried in the same plot and share a gravestone—but Yuliya's is in Ukrainian, while her brother's is in Polish. I thought it was quite fascinating to come across this and see the different languagues used on the same memorial—a good example of the mixed marriages and existence of the two languages side by side. (Information on the Ukrainian orthography can be found here.)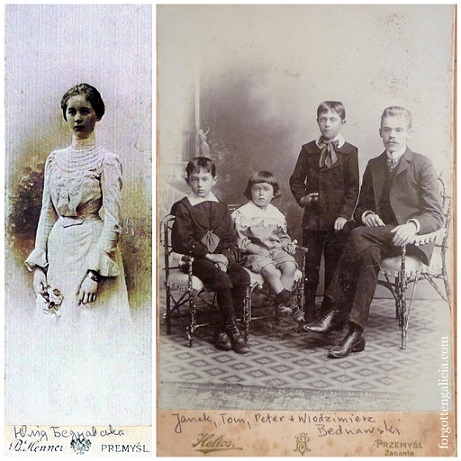 Another daughter, however, was buried in Przemyśl, and her grave is in Polish. Her father is also buried there nearby, so that may be why hers was not in Ukrainian like her sister's.
Of the three children who survived, the sons ended up in Poland and raised families in Poland. The only surviving daughter, Ivanna, my great grandmother, married a Greek Catholic priest, and raised her children Ukrainian.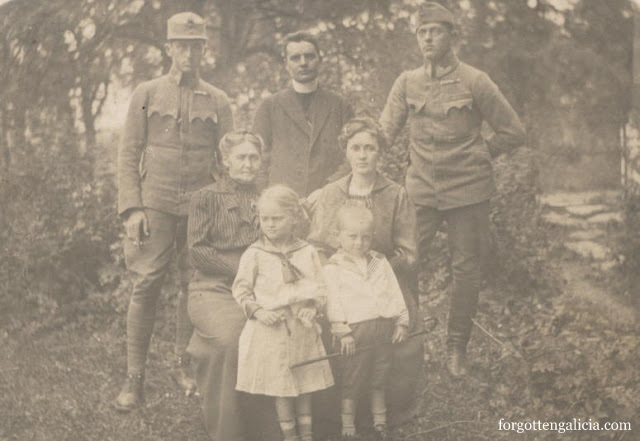 Galicia in one family photograph: one family, a Greek Catholic grandmother of Ukrainian and German ancestry (who was married to a Roman Catholic Polish man with Polish and Austrian ancestry) with her two sons, Roman Catholic Austrian army soldiers; her son-in-law, a Ukrainian Greek Catholic priest; her daughter; and her two grandchildren.
Note: Around Galicia it's not uncommon to find cemeteries where the gravestones are written in different languages as well as individual graves with a mix of languages. Lviv's Lychakiv Cemetery has many examples of this.