Lviv has always felt like my native town; however, in recent times none of my ancestors were from here. But in the last few years I discovered that my direct ancestors on two sides of my family (Polish and Austrian) did live in Lviv – though over 200 years ago, in the early 1800s.
The Lipińskis
My great-great-great-great-great grandfather was Feliks Lipiński. "Born in 1765 in Zakliczyn near Tarnów, his life had presumably followed a course similar to that of other talented peasant children. He may have been educated in music in one of the numerous monasteries and then probably took up a teaching career at aristocratic courts where he tutored his charges in playing several instruments."
"The end of the 18th century saw Feliks Lipiński in the estate of the Potocki family at Radzyn near Lublin. His first born was the son Karol Józef who came into the world on 30 October 1790."


It was this son, Karol Józef, a distant relative of mine, who would become famous across Europe.
In 1799 the Lipińskis moved to Lwów (Lemberg / Lviv).
"Feliks Lipiński found the atmosphere in [Lwów] to be artistically stimulating. In the household of Count Adam Starzenski he held the position of music teacher and head of a small orchestra. Having at his disposal fairly good instrumentalists, he also organized a chamber music ensemble in which he entrusted the part of the leader to young Karol.
"Lipiński, at that time in his twenties, must have been a fairly well-known personality in Lvov since towards the end of 1809 he was offered the position of leading violinist or concertmaster in the orchestra of the local theatre supervised by the Austrians. This was a true mark of distinction and no wonder that the young Karol accepted this job without hesitation."
Working in Lwów's First Theater
In 1795 Heinrich Bulla opened Lwów's first professional theater in the Church of the Holy Cross and the Franciscan Monastery, which he had acquired three years earlier. It was in this Lwów theater that Lipiński spent many of the early years of his artistic career.
The church and monastery were built in the 14-15th centuries, but at various times parts of the complex were rebuilt. In 1789 as a result of Joseph II's reforms, the Franciscans were expelled to the outskirts of the city, thus abandoning the church and monastery.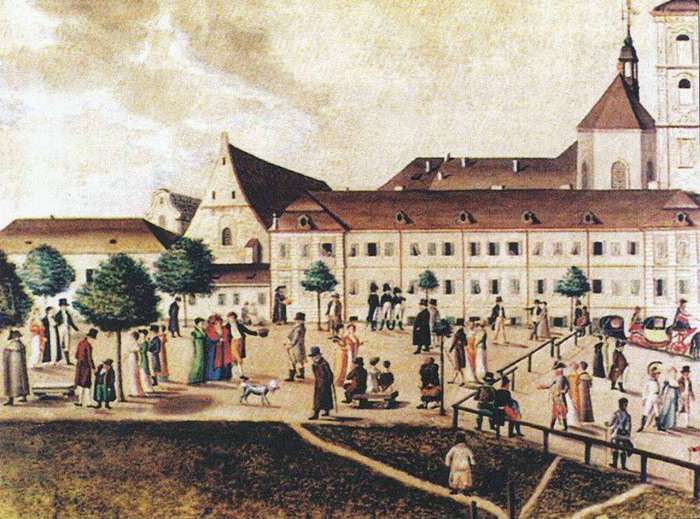 The complex was located at what today is 15 Teatralna Street. The entrance to the theater was from what is today Prospekt Svobody. The last play in this theater was held in 1842. The building was severely damaged in a raid in 1848 and then ultimately demolished. The theater was moved to Count Skarbek's theater building (today Maria Zankovetska Theater).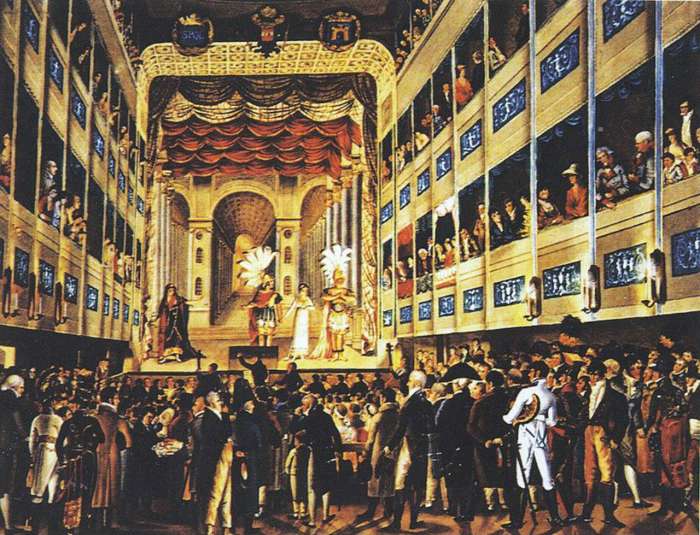 More about the theater in Ukrainian here.

Lwów's Admiration for Lipiński
In 1817 Lipiński went to Italy to hear Niccolo Paganini. They met and even played two concerts together. For the next few decades Lipiński toured extensively across Europe, where he met many famous musicians of the time. Eventually he developed a great reputation as the only serious rival to Paganini. Then in In June 1839 Lipiński received a double appointment in Dresden, as concertmaster of the Royal Oratory and kapellmeister at the court chapel.
"Before his departure for Dresden Lipiński gave two leavetaking concerts in [Lwów], during which–as the [Lwów] press reported–'as usual, he enchanted and enraptured' the listeners with his playing. All admirers of his talent, it was written, are sorry that he leaves [Lwów] and ask him to remember them."
"Lipiński's arrival in Dresden and his appointment as the first concertmaster of the royal orchestra was an important even in the artistic life of the Saxon capital."
In the winter of 1844 Lipiński visited Lwów. "When news of his arrival spread in the city, a torch-light procession of members of the Music society set off from the town hall. With new admirers of Lipiński joining on the way, they reached the artist's residence at the Goblentz house where they sang a welcoming song and two arias from Oprheus to the general applause of the assisting crowds.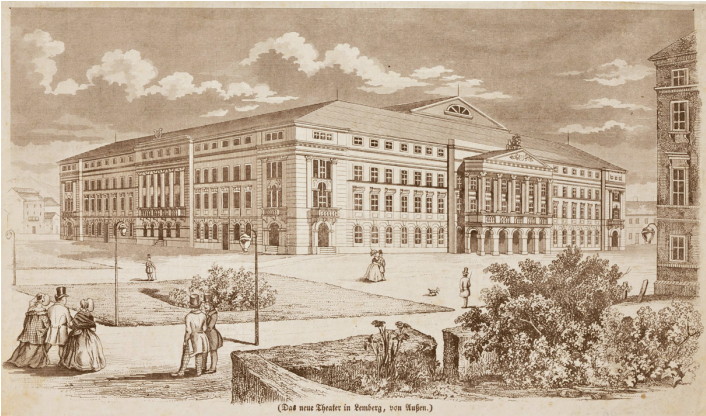 "First Lipiński gave two concerts…in the newly built theatre of Count Skarbek. … The master was showered with flowers and after he had completed his programme, he was decorated with a laurel wreath. On the day following the concert the citizens of [Lwów] gave a dinner in his honour, which lasted from 5:30 p.m. until 5 a.m. During toasts and ovations in honour of the violinist he was asked to settle again in [Lwów] and the press published a poem entitled:
Stay with Us
Stay with us here and give people back
The heart you gave them in your younger days!
Long years of waiting our hearts did rack,
While your sweet music sang far from this place!
[…]
To this fair country your music belongs;
You were raised here in your youthful years;
Look how men listen to your lovely songs!
Look how their faces are streaming with tears!
[…]
We'll call the Tatars to keep you with us,
And we will send out the Carpathian Gale
To take to Dresden the news that ends thus:
We will not ever let you go away.
Rozmaitosci, Lwow, 1844; No. 3
In token of gratitude for such hospitable reception the artist gave one more concert with the proceeds destined for charity.
Music
Some music by Karol Lipiński

Lipiński, Karol 3rd violin concerto
Karol Lipinski – Violin Concerto No.2 in D-major, Op.21 "Militaire" (1826)
"Among his works are four violin concertos, studies, polonaises, rondos, variations, capriccios. He wrote three symphonies. His adaptation, with some of his own original music interpolated, of Ferdinand Kauer's Donauweibchen was played every season at Lwow for nearly thirty years from 1814, but the music is now lost," from Wikipedia.
Retirement and Death in Urłów
Karol Lipiński purchased the estate in the village Urłów (today, Virliv), located between Lwów and Złoczów (Zolochiv), in 1845. He spent his vacations there, and in 1859 settled there permanently. After his death in 1861, the property was passed to his sons Gustaw and Konstanty. According to his will, the estate's profits were used to establish a foundation, which gave scholarships to young violinists to study in Lwów, Naples, and Vienna. The foundation existed until the beginning of WWI.
This is the grave of Karol Jozef Lipiński in Virliv.
Connection
Below is the birth record of my great-great grandfather's brother, Stanislaus Bednawski, who was born in 1861 in Brody. In the record are the names of Stanislaus's parents and grandparents, including his grandmother (my great x4 grandmother) Josepha Lipińska (born 1792), Karol Lipiński's sister.
***
The quoted excerpts in this article are from the book Lipinski: His Life and Times by Jozef Powrozniak.
Here's a good article about Karol and his life in Lviv (in Ukrainian).
And here's another from zbruc.eu
See also: