By Chris Wilkinson
Lviv gained many things from its association with Vienna while under Austrian rule. Among the most enduring have been Baroque and Secessionist architecture, railways, industrialization and a European cosmopolitanism that still permeates the city today. Many visitors to Lviv assume coffee and Viennese coffeehouse culture were also transmitted from the imperial capital. This is open to debate as a recently erected monument placed in Lviv's Danylo Halyts'koho Square has drawn attention to a surprising story, that a son of western Ukraine first brought coffee to Austria. This took place almost a century before Habsburg Rule was extended to Galicia. The monument, dedicated in 2013, features Yuriy Kulchytsky. He was born in 1640 in a small village close to Sambir, approximately 80 kilometers southwest of Lviv. This is one of two famous monuments to Kulchytsky, the first of which was unveiled 130 years earlier in Vienna. It still stands today on a pediment above the corner of Kolchitskygasse and Favorittenstrasse. That monument, like the one in Lviv, features Kulchytsky in Turkish dress. This is ironic since he helped put an end to the Turkish presence in central Europe. Among his many professions, Kulchytsky was a soldier and spy who gained lasting fame by assisting in the defeat of the Ottoman Turks at the gates of Vienna in 1683. At the same time many now believe that he brought lasting Turkish influence to Imperial Austria, via coffee.
Merchant, Linguist, Spy & Soldier – A Man For All Sieges
Yuriy Kulchytsky is one of the great forgotten characters of European history. Born into the lower ranks of the nobility, historians are not quite sure whether he was ethnically Ruthenian or Polish. What cannot be disputed is Kulchytsky's gift as a linguist and merchant. After taking an interest in Turkish customs and culture, he learned to speak the language. This, along with his proficiency in German, Hungarian, Serbian, Romanian, Ruthenian and Polish made him a force to be reckoned with in trade. He spent time in Turkish ruled Belgrade working for the Austrian Oriental Company. Turkish suspicion that he might be a spy led him to resettle in Vienna where he opened his own trading company in 1678. Five years later, he rendered invaluable service to the Austrians during the siege of Vienna. Kulchytsky managed to disguise himself as Turkish in order to get through the Ottoman lines. He gained an audience with Charles Duke of Lorraine, where he secured a promise that help would be sent to lift the siege. He also was able to supply critical information on the enemy camp's size and strength.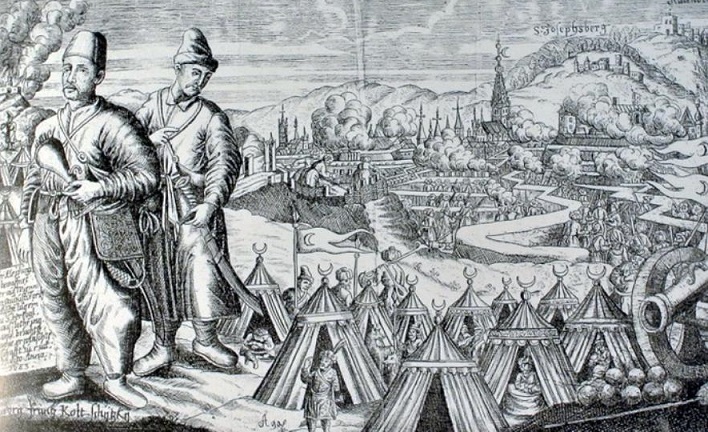 Kulchytsky then snuck back into Vienna where he informed city leaders that help would soon arrive. This news kept them from surrendering. Sure enough, a devastating attack by allied forces led by Polish King and erstwhile Lviv resident Jan Sobieski lifted the siege. The defeated Turks fled the area in chaos. Among the many items they abandoned were several hundred bags of coffee beans. As the story goes the Austrians had no idea what these were used for. Kulchytsky explained that the Turks ground coffee from the beans to make an energizing drink. From this serendipitous start it is believed that coffee came to Vienna. Kulchytsky was the genie opening a new bottle.
The Discovery Of Coffee – Kulchytsky & Everything After
For his efforts in lending assistance to the Austrian cause, Kulchytsky was rewarded with a large monetary reward and a house in the Leopoldstadt section of Vienna. Kulchytsky then started the very first Viennese coffee house, known as the "Hof zur Blauen Flasche" (House under the Blue Bottle). Historians debate the veracity of this claim. Some say an Armenian merchant was the first to open a coffee house in the city. Others state that not only did Kulchytsky bring coffee to Vienna, but he also added an invigorating twist when he experimented by adding sugar and milk to it. Another of Kulchytsky's reputed innovations was a delicious pastry shaped in the form of a Turkish crescent. Kulchytsky never forgot his roots though, as he is said to have reverted to dressing in Ruthenian folk costume while serving Vienna's elite at his highly successful coffeehouse.
Whether this is all true or not is seems beside the point. Kulchytsky certainly had much to do with the popularization of coffee in Vienna. His knowledge and transmission of this Turkish concoction to central Europe would later be transmitted by the Austrians to Galicia in the late 18th century. In another paradoxical twist it was not an Austrian, but an ethnic Pole who opened the first coffeehouse in Lviv in 1802. Its owner was the confectioner Jakub Lewandowski. He could have scarcely picked a better spot as it occupied the ground floor of the Scholz-Wolfowicz House on the western side of Rynok Square. From that start, coffeehouse culture exploded across Lviv, a legacy of Austrian rule that remains today.
Contemplating The Truth– Under The Blue Bottle
It has been said to never let the truth get in the way of a good story. When it comes to coffee in Lviv and Vienna, the truth is defined by the vagaries and complexities of history. Who would think that a Polonized Ruthenian nobleman, who once was a trader in Ottoman Turkish ruled lands in the Balkans, would end up helping to save Vienna and in the process cultivate the city's love for coffee? Who would believe that the first coffeehouse in Lviv was opened by an ethnic Pole, rather than an ethnic German? Are these facts and stories just legends? Is this historical fact or is the truth to be found somewhere in between. Perhaps the truth will one day become apparent, but it could hardly be more interesting. In the meantime, one of the best places to ponder the roots of coffee in Lviv is at Rus'ka 4 just beyond the southeastern corner of Rynok Square. The name of the coffeehouse, Pid Synioyu Plyashkoyu, literally translated means "Under the Blue Bottle."
Source: Europe Between East And West