When I was in Annapolis I saw some oval plaques with images of trees, eagles, engines, etc. on some of the old buildings. I thought they were something exclusive to Annapolis, but when I returned to my suburb I found a couple of them there and realized it was something worth researching. It turns out that they are fire marks (insurance plaques), meaning they indicated that a building was insured against fire.
"Beginning in the 1750s, some American insurance companies issued metal fire marks to policyholders to signify that their property was insured against fire damage. The fire marks bore the name and/or symbol of the insurer, and some included the customer's policy number. The company or agent would then affix the mark to the policyholder's home or business. For owners the mark served as proof of insurance and a deterrent against arson. For insurance companies the mark served as a form of advertising, and alerted volunteer firefighters that the property was insured," from the The Smithsonian National Museum of American History website.
Fire marks became obsolete when municipal fire services were formed, so probably sometime in the late nineteenth century.
Some more interesting history about firefighting and fire marks from Antiques Digest:
"American fire marks were first used in the 1750's although even before then America had organized methods of fire fighting. In 1696 bucket brigades were formed. In 1718 the first fire engine was brought over from London; and in 1721 we find a public chimney sweep appointed, although this was in the line of fire prevention rather than fire fighting.
In 1735 the first fire brigade was formed, and in 1752 the first American fire insurance company was formed. In America, the fire brigades knew that the insurance company, whose mark was on a building, would reward the fire brigade which successfully put out the fire. And if two or more brigades showed up to put out the fire, many times fights broke out among the firemen, with bloody noses and black eyes attesting to their claim that their brigade, and their brigade alone, was the one which put out the fire."
***
F.I.Co.
F.I.Co. stands for Fire Insurance Company. The image depicts a hand-operated pumper (30 men were needed to pump less than two gallons of water per stroke). (1830s)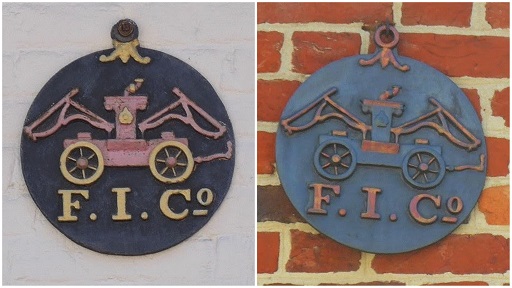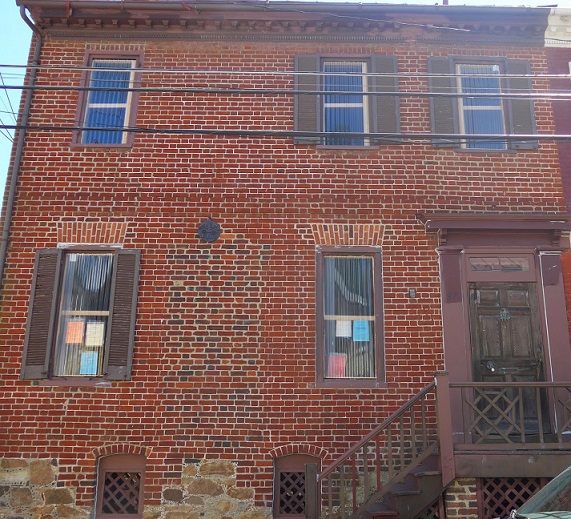 U.F.
U.F. Fireman – depicts one of the first steam powered fire engines ever used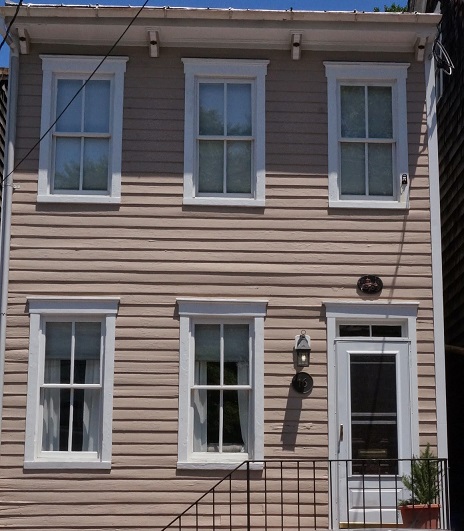 Here these three brick buildings each has a different fire mark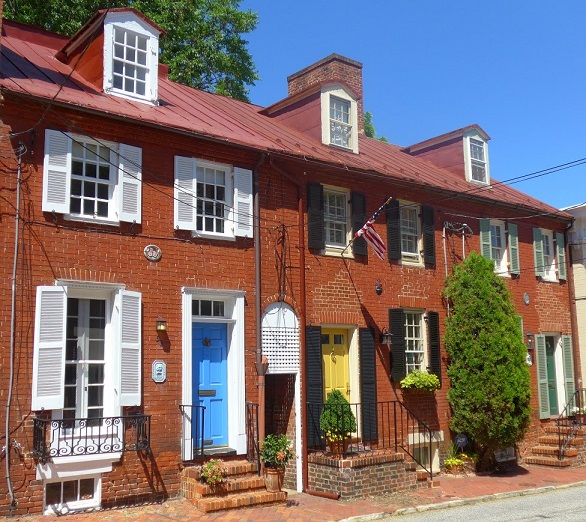 F. A.
Fire Association
This plaque depicts an early fire hydrant with hose attached (symbol was used to celebrate the innovative public water system used in fighting fire).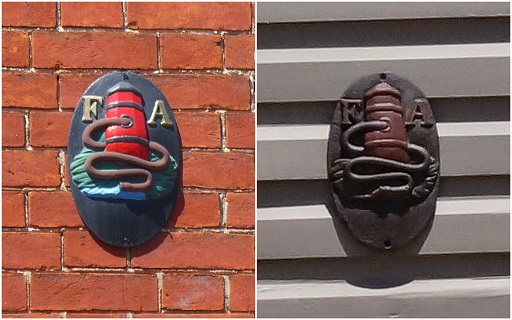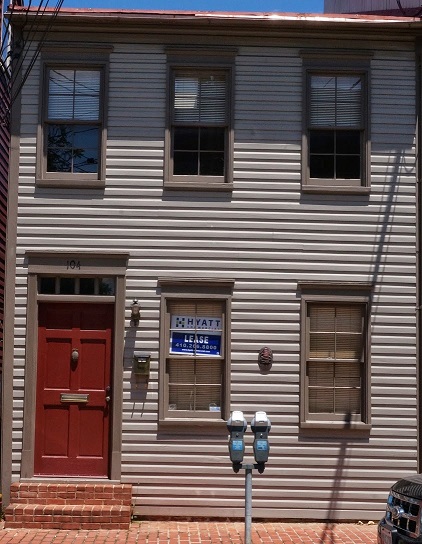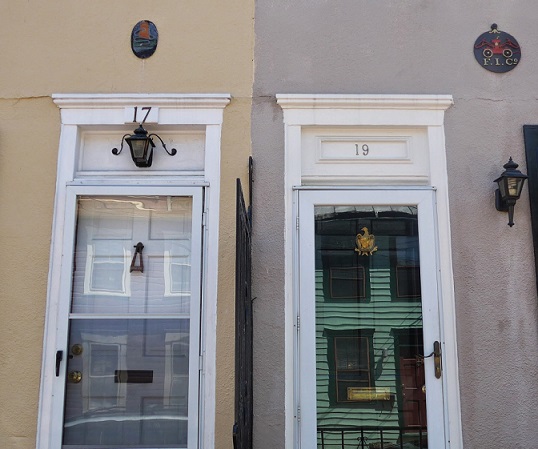 Eagle
An eagle was depicted on fire marks issued by the Insurance Co. of North America during the period 1790-1880.  The Eagle Fire Mark was adopted in 1796 when INA changed from it's original (1792) symbol which was a six pointed star. The original Eagle Fire Mark was made of lead and was mounted on an oval wooden board with a widely beveled edge.
Tree
"Because of Ben Franklin's theory that trees attracted lightening, causing fires to spread and hampered fire fighting equipment, insurance companies used to refuse to issue policies for buildings surrounded by trees. The tree fire mark, issued in 1784 by the 40 members of the Philadelphia Contributorship which split off and formed the Mutual Assurance of Philadelphia symbolized their opposition to the accepted belief of the day," from
www.iicfiremark.com
.