Today marks one year since the start of Russia's full-scale war against Ukraine. One year since I packed a backpack and left for the Polish border, not knowing when or if I would ever return to my home in Lviv. So much can be said about the last year, the amount of suffering and destruction and death is too much fathom, too much to describe here.
As this is a blog dedicated to the historical built environment of Galicia and especially of Lviv, I thought I would mark this day by looking at the measures that are being taken to protect Lviv's citizens and architectural heritage.
In the early days of the war, the threat of aerial bombardment and the destruction of Lviv was very possible. We had no idea how the events would unfold, and soon we understood that the war was not just about occupying Ukraine but also about destroying Ukraine's cultural and architectural heritage. As Lviv started to prepare itself for all possible scenarios, with a UNESCO-protected Old Town and as an important cultural center in Ukraine, many measures were taken and are still in place today.
I left Lviv on the first day of the full-scale invasion, returning exactly 5 months later. Although I had seen many photos of the efforts to protect monuments and buildings, it was very emotional to see it first hand. Stories about wartime Lviv and Ukraine I heard from my grandparents – it was not something I ever imagined I would have to experience myself so many decades later. It was an obvious reminder that the country is still very much at war.
During that first walk in wartime Lviv, however, I was also struck by how lively and positive the atmosphere was in the center – it felt like a typical summer day bustling with people who were enjoying the cafes and strolling through the main square.
It took me a while to get used to seeing my city wrapped up like this, but with time it became almost "normal." Nonetheless, to this day, I still find the balance between life going on as normal and all the sights and sounds of war surreal. For it's not only the visual reminders of war, but also auditory ones – the wailing of air raid sirens, the drone of generators during blackouts, and even the rumble of explosions during missile attacks.
***
Below I have gathered images of Lviv that I took at different times of the year, mostly in the summer and fall of 2022. Most images are of the great historical buildings contrasted against the vivid reminders of war.
Sandbags
Sandbags are being used to help protect architectural objects and monuments from explosions, to add a layer of security around the perimeter of administrative and police buildings, and to block large basement windows to ensure the safety of people seeking shelter inside.
The first image features an old manhole cover with an inscription in Polish – "Kanalizacja Lwowa." This picture in particular could have been from one of the previous world wars.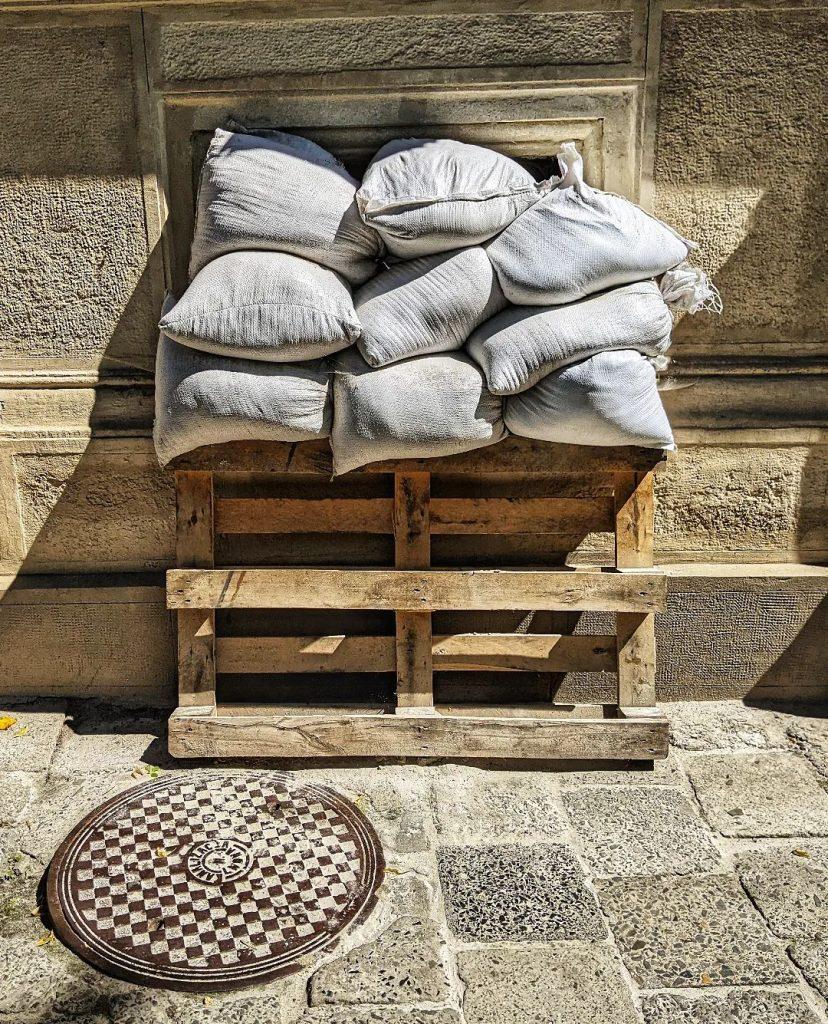 After several months had passed, I found many places where the sandbags had burst open, sand spilling out on to the sidewalks….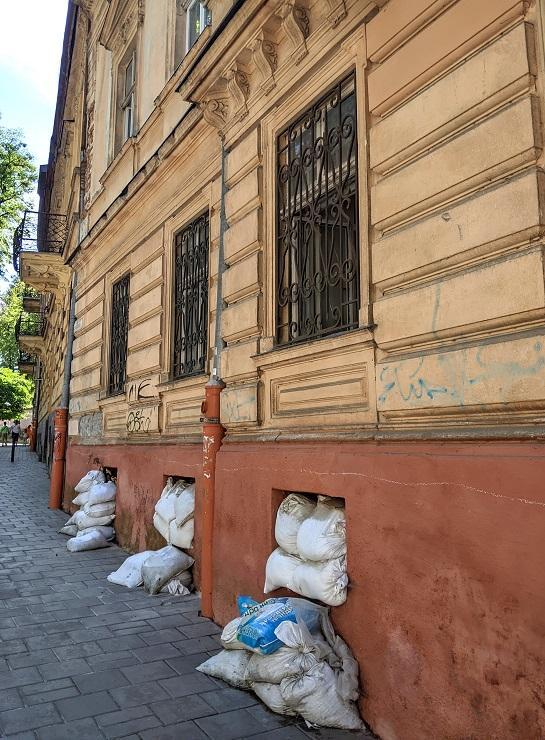 Some places took extra measures against weather damage, for example, by covering the sandbags with large sheets of thick plastic.
Taped Windows
Another safety measure many Lviv residents took after the start of the full-scale war was taping their windows to prevent flying glass – in an X shape from corner to corner. These reminders of war can be found on buildings across the city. Some have been removed, but many still remain. But even where the tape has been removed, marks were left behind on the windows.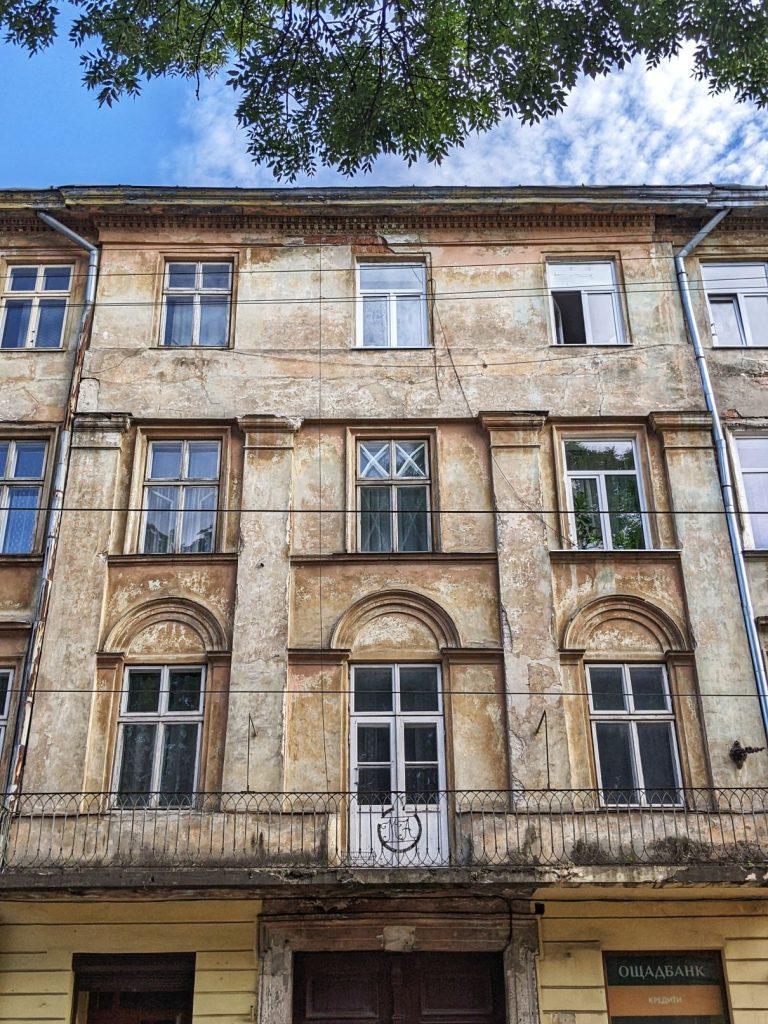 Anti-Tank Obstacles
Near governmental and other strategic buildings, in addition to barricades, anti-tank obstacles (also known as Czech hedgehogs) have been installed. They can also be found at the check-points to reach the city, as seen in the last two photos.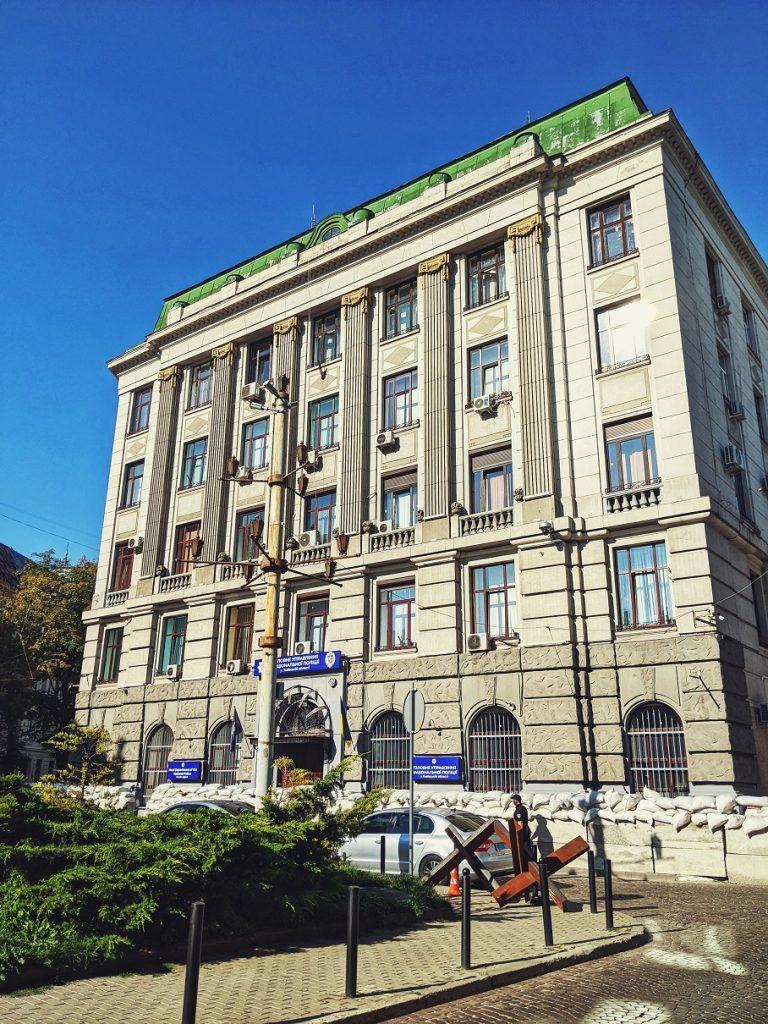 Boarded-Up Windows and Architectural Elements
Many windows, especially with historic stained-glass, have been boarded up to protect them. Other architectural details on the facades of buildings, such as statues on the front of the railway station or the fresco portraits on Boim Chapel, have also been covered.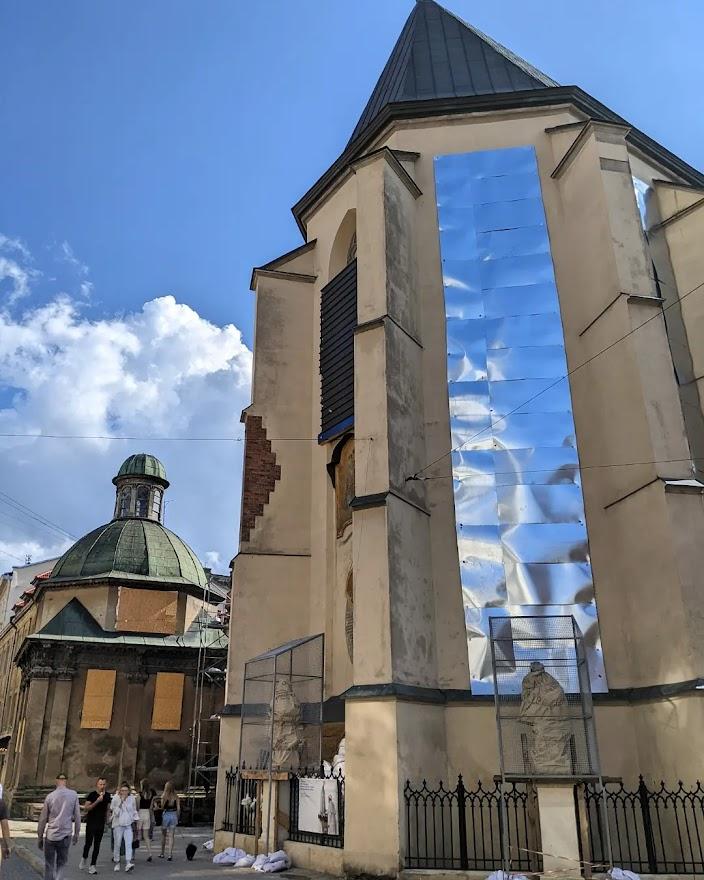 Protective Material Encasing Monuments
Special material and protective scaffolding have been used to protect monuments and statues that cannot be moved to a safer place. These valuable cultural monuments have been wrapped in several layers, with such material as non-combustible fabric, glass, and foil. In particular, the fountains on Rynok Square and some of the statues around the main cathedrals of the city have been protected like this. The statues on the fountains are also covered with a fabric depicting the actual statue with the inscription: "We will admire the original after victory."
"We will admire the original after victory."
Other monuments were dismantled by local restorers and moved to basements. For example, this was done with a wooden altar from the 14th-century Armenian Church depicting the Passion of Christ on Calvary – the oldest not only in Lviv, but also in Ukraine.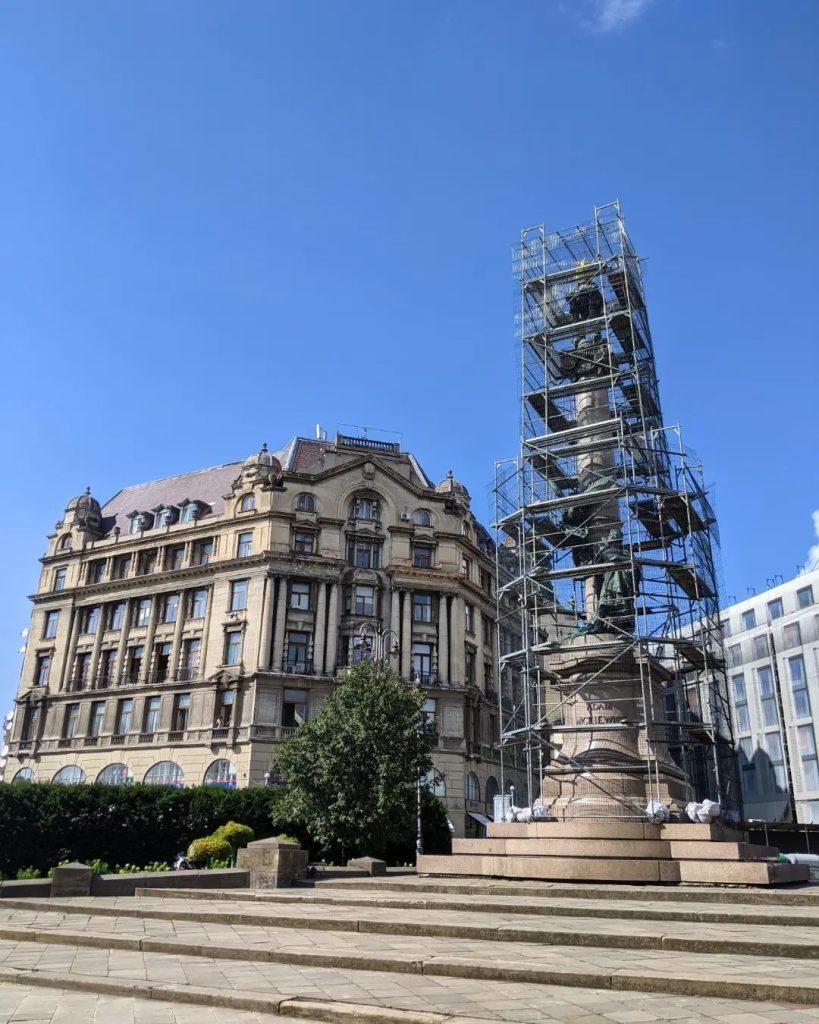 "Someone saved it for us, we have to save it for others."
***
When Ukraine wins the war, the soldiers return from the frontlines, displaced families return home, in Lviv and cities across Ukraine, we will take down these protective measures. Once again we will know that not only will people be safe again, but also our architectural heritage. In Lviv, its architecture is one of the reasons that it is such a special place in the world. I cannot even image the feeling of being able to see these monuments uncovered again.
By Areta Kovalska