By Iwona Dakiniewicz
The journey to America was long, costly, and tedious. The majority of emigrants came from remote villages. Peasants began their journey with teams of horses or on foot, to get to the nearest railroad station. This article gives you a possibility of locating the railroad station from which your ancestors set out into the wide world.
The second half of the 19th century was a period of intensive railroad line construction. The foreign powers that ruled Polish territory did not have traveling emigrants in mind when they built railroads; they were thinking only of strengthening their own political, military, and economic positions. The railroads were to serve for transporting troops, heavy weapons, and straw for the army, as well as wood, grain, cattle, and so forth. Passenger trains were not a priority, but automatically became a new general means of transportation.
The Galician Railway (Polish name Galicyjska Koleja im. Karola Ludwika, German name Galizische Carl Ludwig Bahn) ran a total of 1,540 kilometers and was divided into seven sections, each with its own name: 1) the Emperor Ferdinand, 2) the Carl Ludwig, 3) the Lwów-Czerniowce-Iasy, 4) the Hungarian-Galician (Lupków), 5) the Dniestr, 6) the Albrecht, and 7) the Leluchów. In terms of equipment, the railroad had 103 locomotives, 51 official cars, 171 cars for the public, and 2,047 for freight.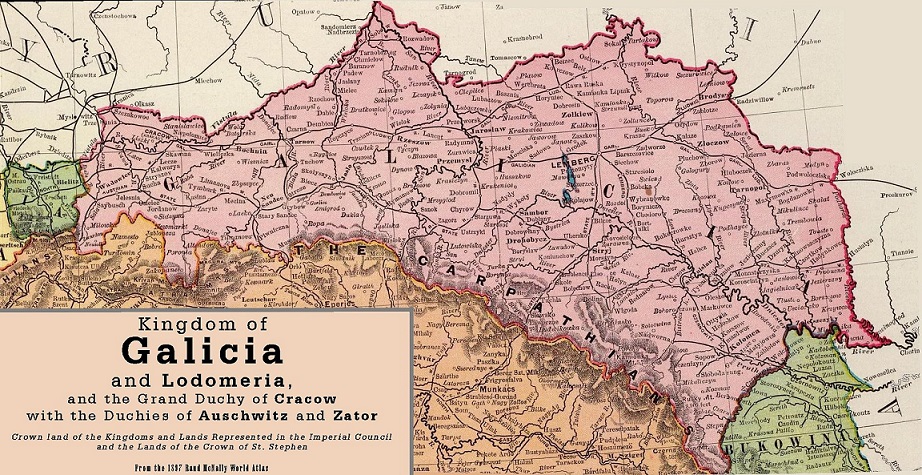 The Galician Railway became a pioneering line, constructed as it was on the difficult, mountainous terrain of the Carpathians, and it joined the two distant metropolises of Galicia, Kraków and Lwów. From Kraków there were also connections with Vienna, Warsaw, and Berlin (1848). The first line, put in service in 1847, ran from Kraków to Myslowice, from which there were connections with Austria and the rest of the European railway network.
The main line of the Galician Railway, Kraków-Lwów, was created from 1856 to 1861, and numerous local connections were built over subsequent decades. The Galician railway belonged to private companies and was not nationalized until 1892 (by a general directive from Vienna).
It is an interesting fact that the realization of the Austrian plans was undertaken by Polish engineers. The nobleman Leon Sapieha was the first to receive a license to build a railroad. The local populace was employed for the physical labor. At that time the occupation of railroader was a position of enormous distinction.
The local community greeted the arrival of the first trains with a lot of emotion. People gathered at the new station, and at the sight of the approaching locomotive they shouted, cheered, and cried for joy. The day the first train arrived was a great holiday, an extravaganza. In time, small railroad stations came to be meeting sites for societies; habitual observers awaited the arrival of each train, after which they commented on the appearance of the locomotives or the cars.
Most small, local stations came into existence during the years 1870-1880. This was a turning point for underdeveloped mountainous areas.
On average, two trains ran daily on the main Kraków-Lwów line. Their composition varied: 1st-, 2nd-, 3rd-class passenger and freight cars. Each of the steam engines had its own name corresponding to the name of one of the stations. All were painted a dark-green color, with red stripes. The mechanical parts were made of bronze or brass, which produced the visual effect of shining gold.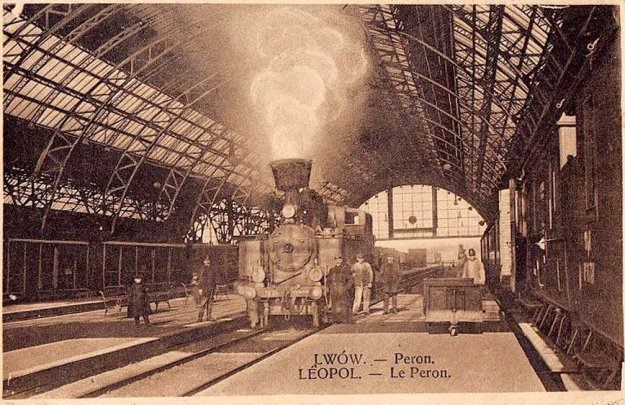 The compartments in first class were painted in bright colors, the seats covered with red plush. In second class the seats were upholstered with dark leather, stuffed with horsehair. Third class was fitted with plain wooden benches. The cars were lit with oil lamps. Tickets had to be purchased two hours before the train left and given to the porter at the station for inspection. Places were numbered. The train's departure was announced with three gongs. After the last signal, the conductor locked the doors and did not open them till the next station.
There were frequent delays, caused usually by atmospheric conditions, but not always. Sometimes, for instance, they were due to traditional wedding processions or grazing sheep or cattle. In mountainous terrain the train got up to a speed of around 25 kilometers per hour. The trip from Kraków to Debica lasted 4 hours, 10 minutes; from Tarnów to Vienna took over 19 hours.
Local trains ran less often, one to four times a week, depending on the line. Sometimes more trains were added to towns in which church fairs were taking place.
Ticket prices were relatively expensive: 10 Rhenish zlotys for the trip from Kraków to Lwów (the price of two pairs of men's luxury shoes, the weekly income of a good blacksmith, half a year's income for a rural farmhand).
The first line of the Karol Ludwik Railway ran from Kraków through Bochnia, Tarnów, Debica (in the original plans the tracks were to run from Tarnów to Pilzno, but the Town Council there did not agree, arguing that the "iron monster" would scare their domestic animals, and the cows would stop giving milk), Sedziszów, Rzeszów, Lancut, Przeworsk, Jaroslaw, Radymno, Przemyśl, Mosciska, Sadowa Wisznia, Gródek Jagiellonski, to Lwów. From Lwów there were connections with Krasne to Brody and Zloczów, Zborów, Tarnopol, and Podwoloczyska. From Kraków two short branch lines ran to Wieliczka and Niepolomice as well as to Cieszyn (and on to Hungary).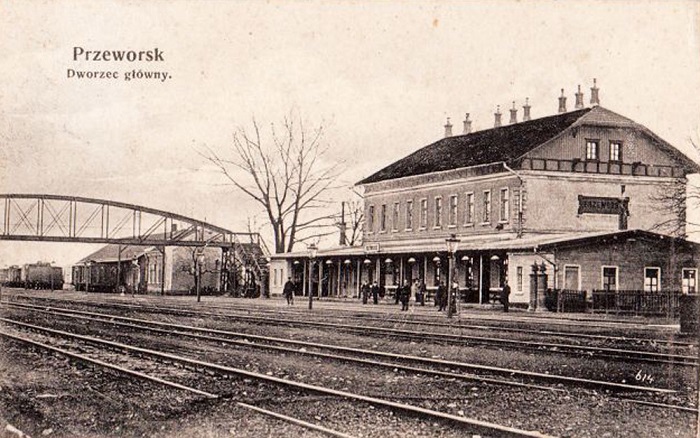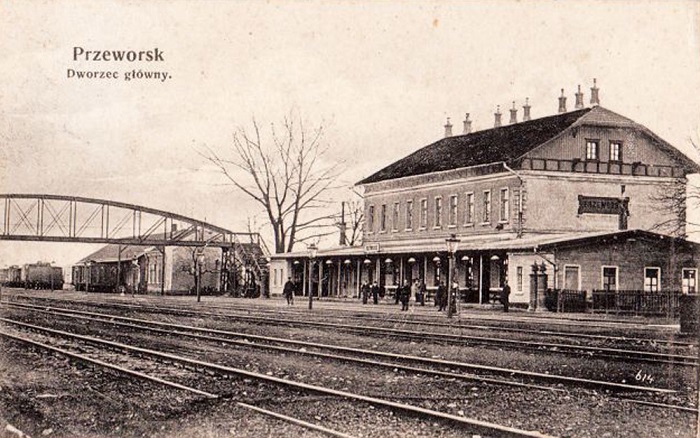 During the years 1860-1900 these individual connections of the Galician railway came into existence:
1858 Kraków – Debica – Rzeszów
1860 Przeworsk – Przemyśl – Lwów
1866 Lwów – Czerniowce
1869 Lwów – Brody
1871 Zloczew – Tarnopol – Wloczyska
1872 Chyrowa – Sambor -Stryj
1872 Zagórz – Kroscienko – Chyrów – Przemyśl
1873 Lwów – Stryj
1873 Stryj – Dolina – Stanislawów
1876 Tarnów -Nowy Sacz – Leluchów – Stróze
1878 Zywiec – Bielsko
1884 Stróze – Zagórz
1884 Grybów – Zagórz
1884 Cadca – Zwardon – Zywiec – Sucha – Chabówka – Limanowa – Nowy Sacz
1884 Nowy Sacz – Skawina – Podgórze
1884 Stróze – Jaslo
1884 Sucha – Skawina – Oswiecim
1884 Jaroslaw – Sokal
1885 Zywiec – Nowy Sacz
1885 Skawina – Podgórze
1885 Zagórz – Gorlice
1887 Debica – Rozwadów
1887 Lwów – Kolomyja
1887 Lwów – Belzec
1888 Bielsko – Kalwaria – Wadowice
1889 Kraków – Kocmyrzów
1897 Tarnopol – Podwysokie
1898 Borki Wielkie – Grzymalów
1898 Lupków – Cisna
1899 Sierza – Trzebinia – Skawina
1899 Spytkowice – Wadowice
1899 Chabówka – Nowy Targ – Zakopane
1899 Delatyn – Kolomyja – Stefanówka
1899 Lezajsk -Przeworsk
1903 Lwów – Jaworów
1903 Lwów – Sambor
1904 Przeworsk – Dynów
1906 Sambor – Uzok
1906 Tarnopol – Zbaraz
1909 Lwów – Podhajce
1911 Krynica – Muszyna
1912 Drohobycz – Truskawiec
Numerous railway stations have survived from Galician times. Among the most interesting buildings of a Neogothic character are the stations in Kraków, Tarnów, Sanok, Przemyśl, and Lezajsk. You can still come across old fragments of tracks.
In Chabówka, not far from Zakopane, a rolling-stock skansen has been created, which collected the most interesting exhibits connected with the history of railroads in Polish lands. The museum is open daily from 7 a.m. till nightfall. (The Chabówka skansen has a Website with an English-language page at http://www.parowozy.pl/steamtrains/.)
Source:
Iwona's Sources – The Galician Railroad on the website of the internet Polish Genealogical Source
Iwona Dakiniewicz, Łódź, Poland – genealogy@pro.onet.pl
[with translation assistance from William F. Hoffman]
See also: