By Chris Wilkinson
There is an odd symmetry to the fact that Wolfgang Amadeus Mozart's life and music is most often identified with Vienna and Austria, while his son, Franz Xaver Mozart's musical career took place in the obscurity of Galicia and Lviv. The son headed off to the most far flung region of the Habsburg Empire, in an effort to both escape and try to live up to his father's legacy. This was a leap of liberation and desperation.
When he arrived in Galicia, the province had been part of the empire for less than forty years. It was a cultural netherworld, just the place for a Mozart of lesser talents to try and find his own way. Far from the refined music scene and critical hothouse of Vienna, Franz Xaver went in search of artistic brilliance. What he found was paradoxical, artistic failure and the love of his life.
A Failure of Epic Expectations
When Franz Xaver Mozart was four months old his father died. He would have no memory of the man who bequeathed to the world some of the greatest music ever written. A bit of the father's musical talent was passed on to his youngest child, but no one could ever match the elder Mozart's creative genius. That certainly did not stop the son from devoting a much of his life to trying. His efforts would only meet with limited success.
Despite his creative limitations, Franz Xaver was groomed from an early age by his mother Constanze to follow in his father's footsteps. His early musical training came from none other than the great composer Joseph Haydn. At the tender age of six he was on stage in Prague for his first performance, singing the aria from his father's opera The Magic Flute. When he was fourteen, he gave a piano recital in Vienna in honor of Haydn on the famous composer's birthday. While the performance was successful, one review offered a prescient warning that "may he (Franz Xaver) not forget that for now the name Mozart will inspire leniency, in the future it will entail great expectations."

At some point during his formative years, Constanze Mozart had Franz Xaver's name changed to that of his father. Henceforth he would also be known as Wolfgang Amadeus Mozart Junior. The weight of carrying his father's name and legacy forward was an incredible burden for a young man with limited gifts. He was musically talented, but not a genius. As long as he lived in Vienna, the son was destined to be forever compared with his father.
In an attempt to allow his own creative instincts to flourish, Franz Xaver decided to try his luck in the farthest reaches of the Imperial lands. At the age of seventeen he moved to the remote village of Podkamien (Pidkamin, Ukraine) near Rohatyn, in the empire's poorest province, Galicia. He accepted a job offer teaching piano to the daughters of a wealthy Polish noble. The pay was excellent with a nice salary, in addition to food and lodging. He was now far from the glittering refinement and critical focus of the Imperial capital, but he was also far removed from the newest musical trends, such as the emergence of Romanticism.
Franz Xaver spent four hours each day teaching and the rest of his time stultified by the repressive creative environment of a rural backwater. He alluded to this in a letter written to a friend a year after his arrival. Franz Xaver stated that, "he would perhaps not feel so much the comical contrast between Vienna and a desolate Polish village, if I did not have to be completely deprived of the pleasure of seeing my friends, of hearing good music and of reading the journals and intellectual productions that deal with my own art…" 
It was not long before he was on the move again to another rural locale in Galicia. This time he gained employment teaching music to the daughters of a leading Habsburg provincial official in the town of Burshtyn. The outcome was much the same, with Franz Xaver mired in a creative stupor. This led him to uproot once again. In 1813 he moved to Lviv, the largest city by far in eastern Galicia. Culturally it was no Vienna, but did offer a more vibrant artistic scene. Franz Xaver would spend most of the next twenty-five years of his life in Lviv.
Threesome – Marriages & Affairs of Convenience
During his time in Lviv, Mozart's life had less to do with music and everything to do with romance. Franz Xaver's entire life was proscribed by two needs, trying to emulate his father's musical genius and staying as close as possible to the love of his life, Josephine. He met the latter after being hired by her husband, Ludwig Cajetan von Baroni-Cavalcabò, to give piano lessons to their daughters. Baroni-Cavalcabo, the Habsburg Government's Chief Councillor in Lviv, was much older than his wife and their marriage was one of social convenience.
Franz-Xaver and the beautiful Josephine fell deeply in love. They spent many hours alone rehearsing for musical performances that were to be hosted by the family. Their affection grew through the years and Franz-Xaver stayed as close to her as possible. He kept an apartment close to the present day location of the Les Kurbas Theater, at the time just west of the still uncovered Poltva River. The only extended periods he spent away from her were two attempts at making a fortune on concert tours. In this way he hoped to provide Josephine with a lifestyle and social standing that would allow the couple to marry. It was not to be. His musical ability lacked the genius of his father.
Franz Xaver's need to stay near Josephine in Lviv inadvertently led to the stagnation of his artistic development. While the new era of Romanticism was blossoming in Vienna, Franz Xaver was stuck in the past, trying to recreate his father's magic. While his creative struggles with music usually led to mediocrity, he did have a notable success in Lviv's musical development. He spent several years conducting a successful choral group with hundreds of amateur singers known as the Brotherhood of St. Cecilia. This eventually led to the creation of Lviv's first musical school.
A Mozart had made a name for himself in Lviv, unfortunately few would remember it then or now. The one thing Franz Xaver took away from the city was his love for Josephine, which continued up to the very end of his life. As for his legacy in Lviv, it began to dissipate as soon as he left. A small plaque on the wall at St. Yura's Cathedral is the only thing commemorating his time in the city.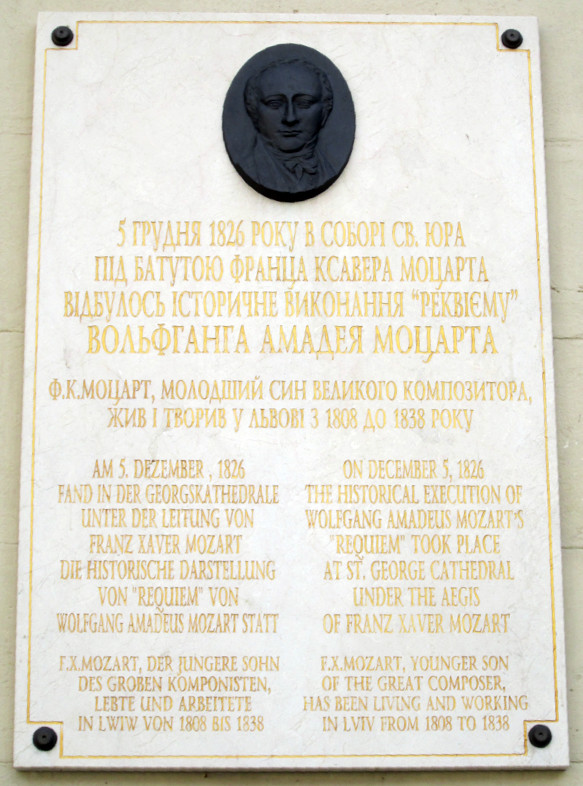 Deathbed Impressions – Soul Mates
Franz Xaver would spend the last weeks of his life at the spa town of Karlovy Vary in Bohemia, hoping to find a cure for what would turn out to be a fatal stomach ailment. When his condition worsened, Josephine traveled to Karlovy Vary so she could be at his bedside. She was the one person who always thought of him, remembered him and was with him in his final hours.
Franz Xaver's quest to become a famous composer and performer had met with failure, but through that quest he found something deeper and more meaningful. In Lviv he had found Josephine and together they had found love.
Source: Europe Between East and West
Featured image: LvivMozArt