When Lviv's Lenin statue was toppled in 1990, fragments of Jewish tombstones were discovered in the foundation. This came as no surprise, however, as it was a known fact that Nazi and Soviet authorities not only destroyed Lviv's Jewish cemeteries, but also used the stone to pave the city.
Lviv had two Jewish cemeteries: an ancient cemetery on Rappaporta Street (one of eastern Europe's oldest, first mentioned in 1414), and a new cemetery near Yanovska Street (established in 1855).
Lviv's ancient Jewish cemetery was destroyed first during Nazi occupation and then entirely by the Soviet authorities, who in 1947 built a bazaar on top of it. The bazaar still functions today. The ancient tombstones were used to pave the city's streets and for the construction of retaining walls. Pieces were also used to cover the Lontsky Prison yard (1 Bandera Street).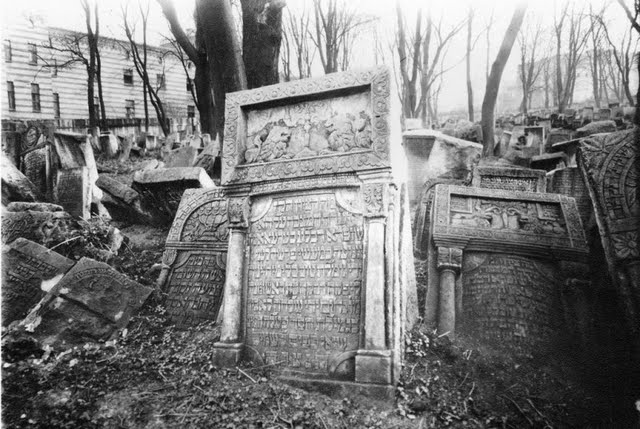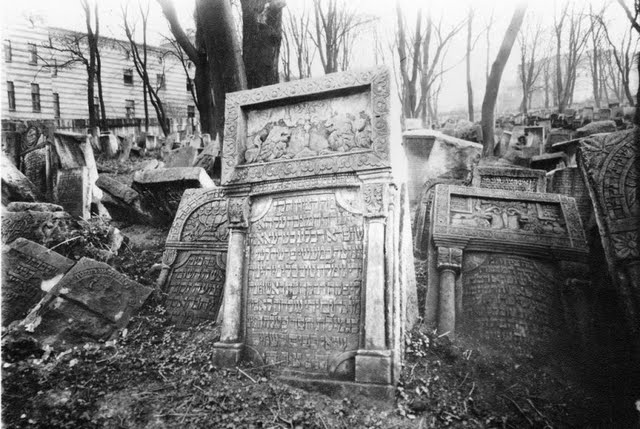 Today on one small section of the former cemetery lie broken pieces of headstones. They are found in the courtyard of the old Jewish hospital. Years ago the city authorities confiscated the fragments from a man who was planning to use them for a sidewalk and returned them to the cemetery. For now they just lie there, as there is still no agreement as to what to do with them and the territory.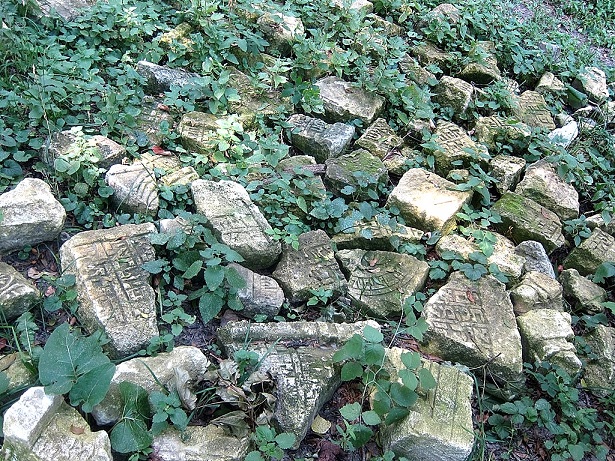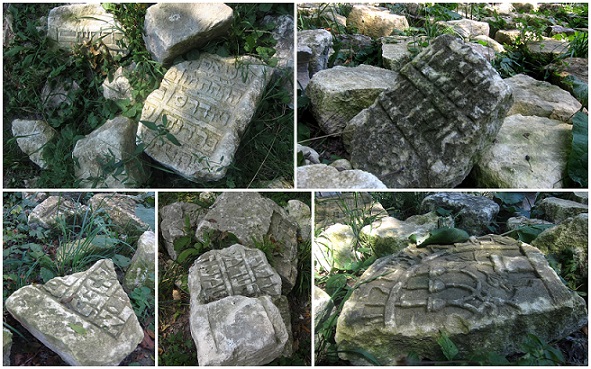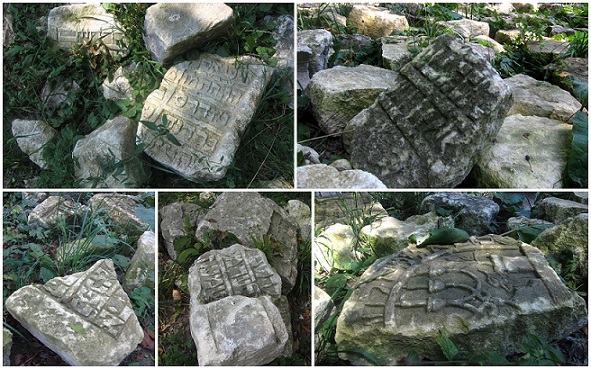 In the old Jewish district, one can see Hebrew engraved in the stone pavement of Arsenalna Square, the site of the Great City Synagogue (built 1801-4, destroyed by the Nazis in 1941). These are fragments of nineteenth-century tombstones from the Yanovska cemetery. Today, a cafe's summer terrace sits on the square, the inscriptions lost and forgotten underneath.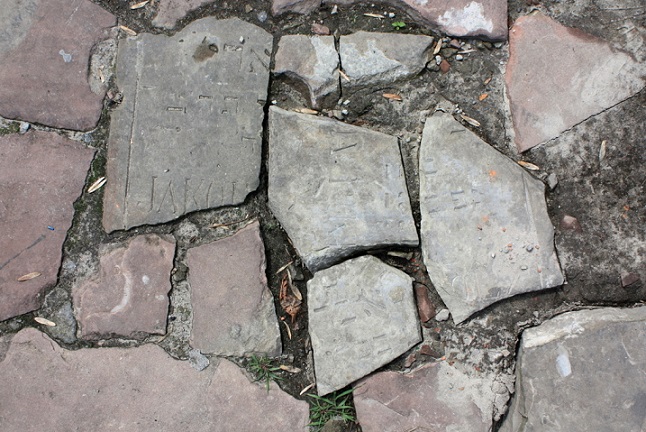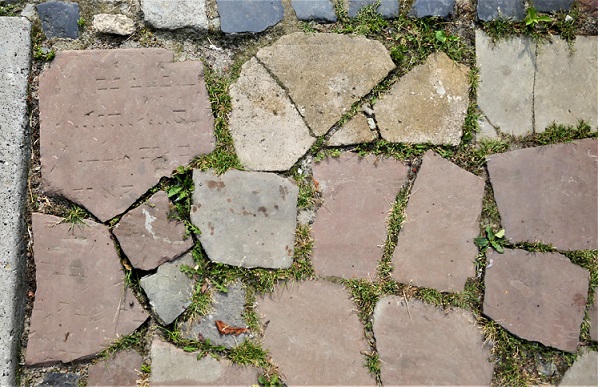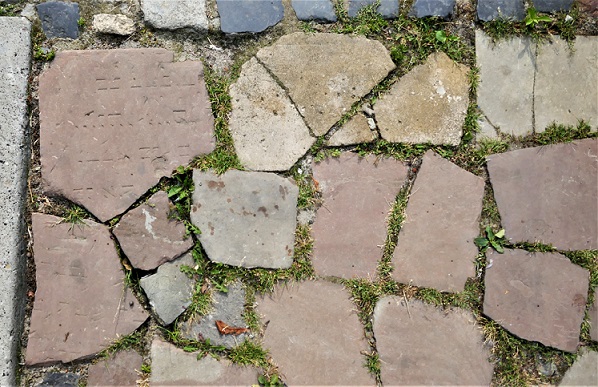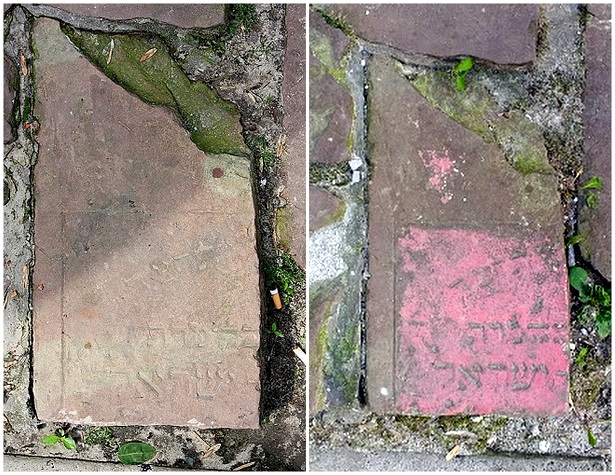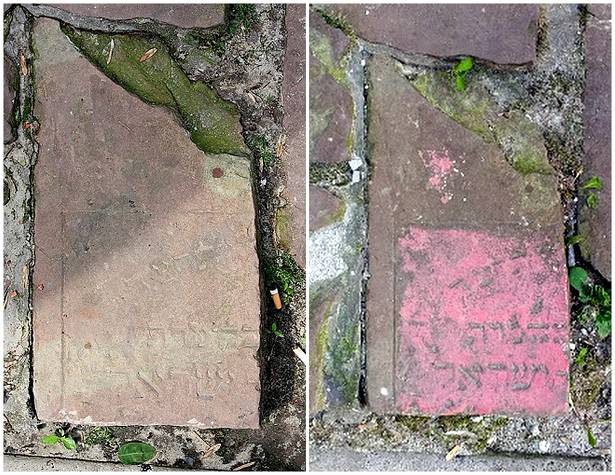 Seems this fragment was painted in recent years to better reveal the inscription
Just this summer, when Barvinok Street was opened for maintenance work, several Jewish headstones were uncovered. According to neighbors, it was not the first time—whenever there are road repairs, tombstones appear. The vicinity was a residential area of high ranking German police and SS officers during the German occupation and the streets were paved with Jewish tombstones by prisoners of the Yanovska concentration camp. Fortunately, thanks to the Lviv Volunteer Center of the All-Ukrainian Jewish Charitable Foundation "Hesed-Arieh" they were gathered and returned to Lviv's Yanovska Jewish cemetery.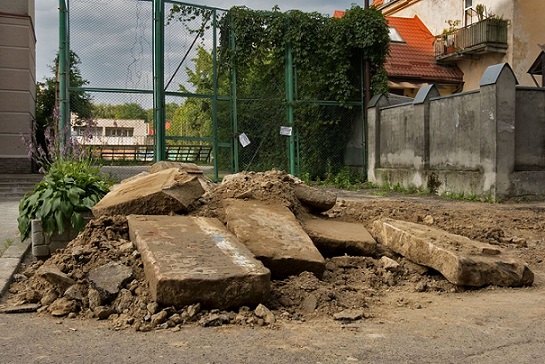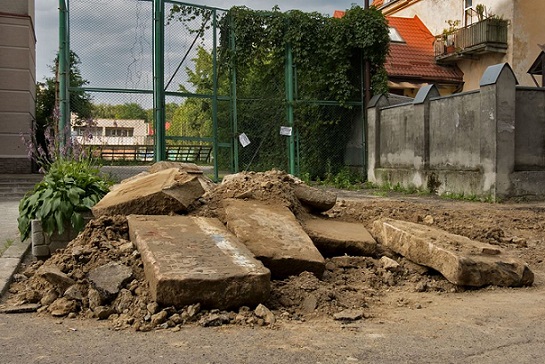 Photo by Christian Herrmann, who has a wonderful blog Vanished World about traces of Jewish life in eastern Europe and Galicia.
And recently on Facebook a photograph was circulating of stairs made from Jewish gravestones found in a courtyard in the center of Lviv. These are also from Yanovska cemetery.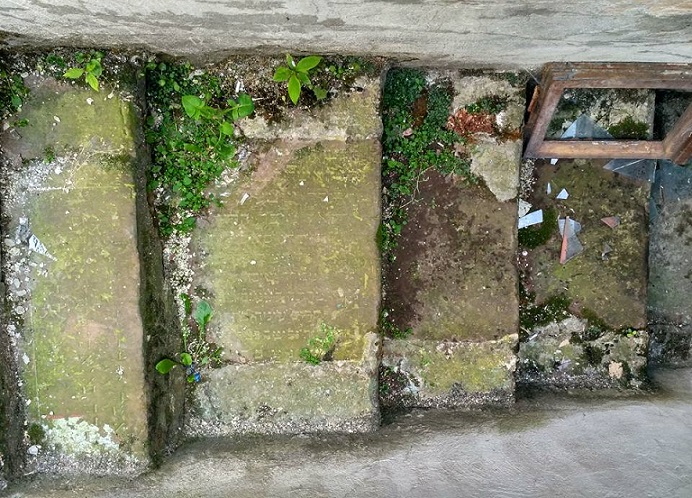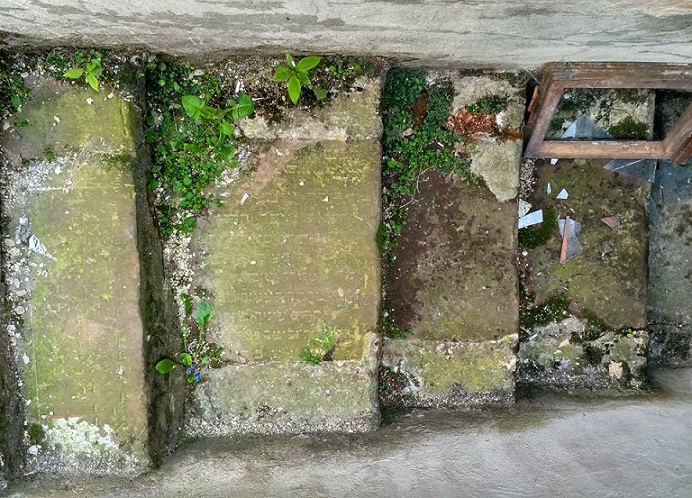 As we walk around Lviv, under our feet lie traces of some of the darkest pages of the region's history. Jewish tombstones are probably in many more places around the city that we still don't know about. And this phenomenon was not limited to Lviv—around Galicia Jewish headstones were used by the Nazis and Soviets to pave roads, parking lots, paths, etc. It's a somber thought, but fortunately, there are organizations today that are working to recover and preserve Jewish heritage and history.