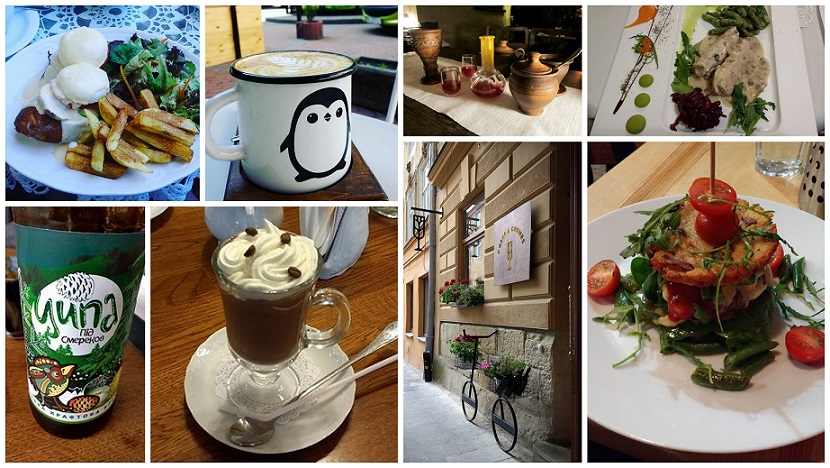 Especially in the last few years, Lviv has been experiencing a boom in the restaurant, cafe, and bar industry. It's getting hard to keep up—it seems like almost every few days I come across a new place. But as I enjoy checking out the new places and spending time in my favorite joints, I am on top of what is happening in the scene.
Lviv has traditionally been known for its coffee, chocolate, and beer, and these centuries-old culinary traditions have been well restored in post-Soviet times. So well that it is even being recognized internationally for these traditions: Lviv chocolate shops can now be found in other European cities and the city is beginning to make an internation name for itself in the craft beer scene.
Lviv has also become famous for its infused vodkas (nastoyanky) and liqueurs (nalyvky). Many restaurants and bars make make their own, and several shops sell large selections of these bottled drinks.
The nascent restaurant scene is finally starting to experiment with new dishes, ingredients, and fusions and coming up with great culinary offerings, especially ones using traditional Ukrainian recipes or ingredients. I'm looking forward what will come next. Though I must admit that there are still very few restaurants that specialize in good foreign (especially Asian or Indian) cuisine.
With coffee houses on almost every corner, delicious chocolate and sweets shops, and a blooming brewery, craft beer, and restaurant scene, Lviv will not disappoint even the most avid foodies.
I've put together a list of Top 5s of some of the best spots to wine and dine in Lviv. These are places that I recommend to friends or to people who ask me for tips. I'm sure new great places will be opening up all the time and I will continue to update this list.
Top 5 Restaurants
Top 5 Prewar Lviv Atmosphere Places
Top 5 Vegetarian Cafes
Top 5 Meat Restaurants
Top 5 Ukrainian Cuisine Places
Top 5 Foreign Cuisine Places
Top 5 Brunch Places
Top 5 Dessert Places
Top 5 Coffeehouses
Top 5 Pubs
Top 5 Nastoyanky (Infused Vodkas) Bars
Top 5 Wine Bars
Top 5 Cocktail Bars