It is not uncommon in Przemyśl to find two, three, or even four different number signs on one building (dating to different periods and regimes: Austrian, interwar Polish, Communist, modern). The reason is probably because unlike in Lviv, in Poland there was never a campaign to remove Polish inscriptions from the urban landscape. Thus old signs were generally kept, and so quite a few prewar plaques, which look similar like the prewar plaques in Lviv, remain in Przemyśl—many more than in Lviv.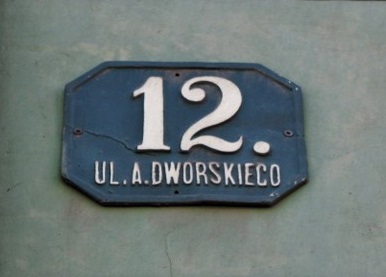 This building has three street number signs and one conscription number (carved into the building — No. 112). The next oldest is the one right above opening, and the other two are probably from the postwar era.
Examples of multiple street signs on one building (but without conscriptions numbers):
This one has four — in the metal work is "N 30 A"
Below was a very interesting find, because the
conscription number
is on a plaque located inside the building. I'm not sure whether it was always there or whether it was moved there.
L.K. = Liczba konskrypcyjną (Polish for "conscription number")